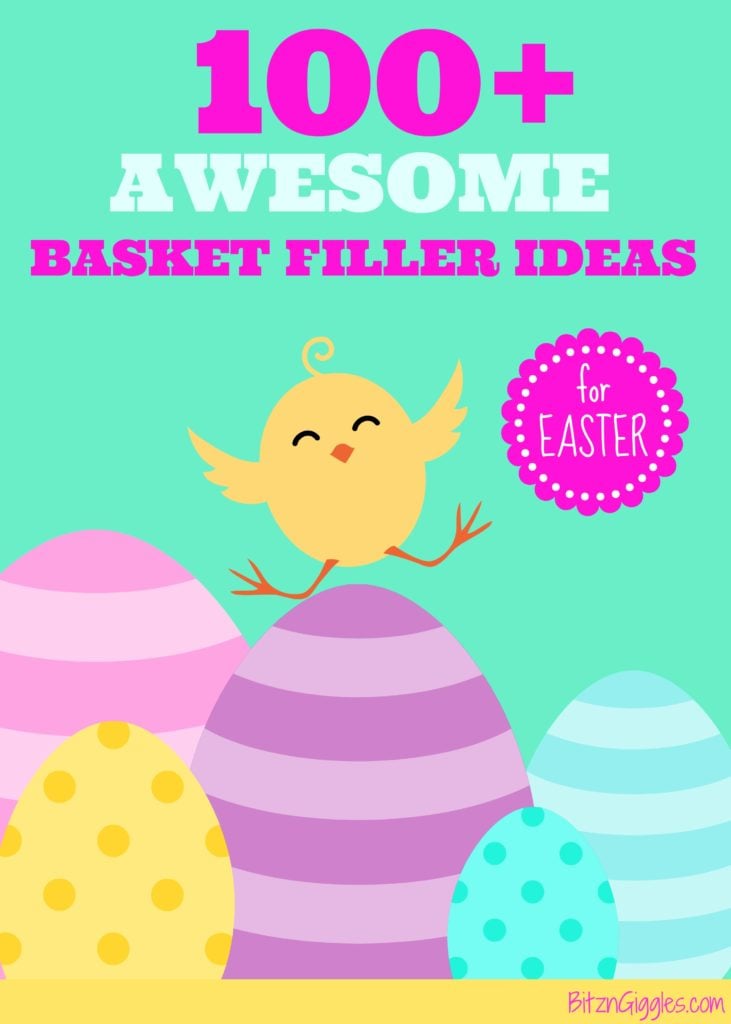 This post includes affiliate links. Please see my disclosure.
I had to run to the store this week to pick up a few items, and when I walked in the doors and turned the corner, all of the store associates were busy stocking shelves with boxes upon boxes of Easter goodies. The candy, oh the candy, the pastel colors, the beautiful Easter grass. I could hardly contain myself. Although there was hardly any room in aisles for customers, we all managed to push through anyway and squeeze ourselves between the boxes and the shelves just to stand there in awe and take it all in.
Here in Wisconsin we've had such a brutal winter. It's little things like Easter items on a store shelf that give us the glimmer of hope that spring will someday will arrive and rescue us from this blah, mundane, freezing cold. . . whiteness.
One of my favorite things of all time is putting Easter baskets together for my kids. No worries, I always consult with the Easter Bunny (multiple times) to ensure nothing gets duplicated. I will admit, I sometimes (all of the time) tend to go overboard with the baskets and buy oversize toys and treats, trying to shove things in them that obviously won't fit, and then the Bunny gets angry with me because there's no possible way to hide the baskets. I say, that's his problem.
Here are 100+ Awesome Easter Basket Filler Ideas (toys and snacks) to put into your kids' baskets. Because I absolutely love Amazon.com, I've also included links to fun examples of many of the items on the list. I'm not saying that these are the absolute rock bottom prices, so make sure to check your local stores, too. This list is meant to inspire!
The ideas span a wide range of ages. There are ideas for girls and boys. There are ideas you may have never heard of or seen before. There are SO many ideas you won't possibly fit them all in your kids' baskets (trust me on this one), but you can absolutely pick your favorites!
Your kids will be through-the-roof excited when they find their basket this year!
Gift cards (iTunes, McDonald's, local movie theater, etc.)
Puzzles and coloring books
Toothbrush/toothpaste
DVD movies
Music CDs
Re-usable water bottles/sippy cups
Swimsuit
Sunglasses
Swim goggles
Character dinnerware set (plate, fork, spoon, cup)
Slime/Flarp Noise Putty
Play-Doh eggs/Silly Putty
Matchbox/Hot Wheels cars
Stuffed animals
Slinky
Beef jerky/Slim Jim
Dress-up costume and accessories
DIY coupons (family movie night, stay up 30 minutes later, dessert before dinner, etc.)
Books/Board Books
Watercolor paint set
Small Lego sets (Mixels are new and a lot of fun!)
Crayons
Mini boxes of cereal your kids may not get very often
Small journals/drawing pads
Hair accessories (pony holders, barrettes, headbands)
Nail polish
Stickers
Hairbrush
Character band-aids
Super balls
Yard games (Paddle ball, etc.)
Pajamas
Clothing sets
Beach towel
Small blanket
Fun socks
Popcorn that pops right in the bowl
Body spray/perfume
Travel-size hand sanitizer
Money ($2 bills, half dollars, etc.)
Small bags of snacks (goldfish crackers, graham crackers, single serve cheese & crackers, etc.)
Juice boxes/Capri Sun/Kool-Aid single serve packets
Lip gloss/chapstick
Silly String
Fun, twisty drinking straws
Beach toys (bucket, shovel, beach ball)
Slinky
Flashlight
Action figures/Barbies/dolls
Flip flops/sandals/shoes/slippers
Mini garden tool set with flower pot and seeds
Squirt guns
Bike accessories (streamers for handles, horn, light-up bike wheels, etc.)
Crafting accessories (glue, glitter, puffy paint, etc.)
Airplane kit
Ink stampers
Bookmarks
Squirt guns like this Liquid Eliminator 
Fun bath soaps/body wash
Wrist watch
(Visited 3,053 times, 1 visits today)