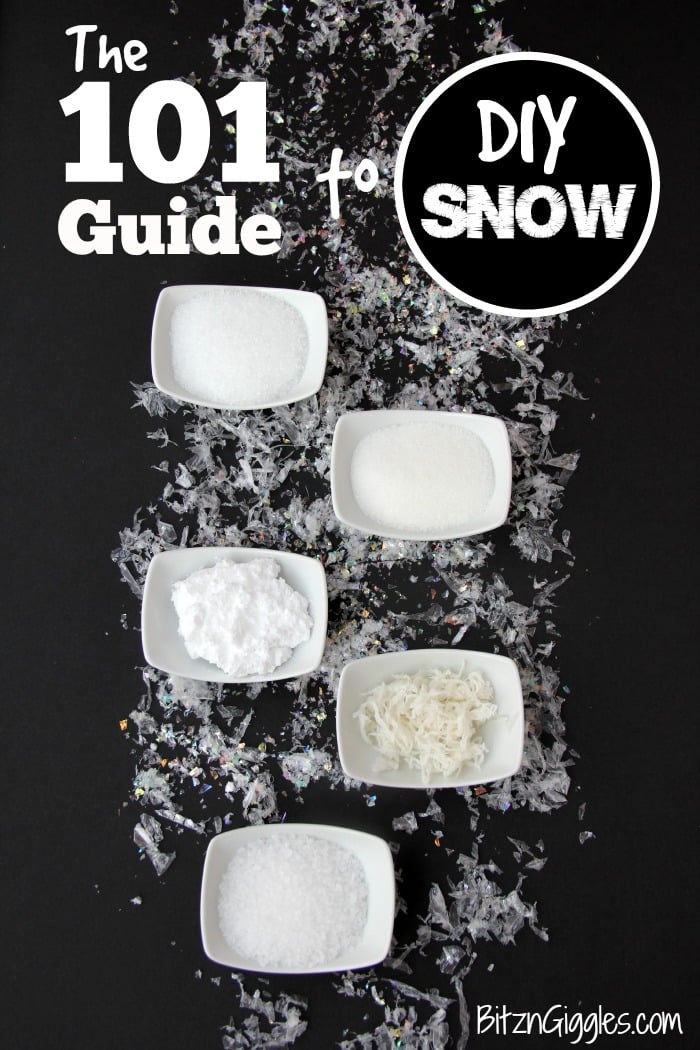 So, here in Wisconsin we get PLENTY of snow each winter. It usually comes way too early and lasts WAY too long. Is it pretty to look at? Of course. Would I mind if it only came around Christmas? Not really. However, I've been absolutely amazed at how many of my fans and readers have asked me to send some snow their way. Really? Are you sure? I suppose if I could just have some snow sent my way for the day I would request it, too, but believe me, I have more than enough already in my yard. . .and it's only November.
Today we're going to have some fun with snow. Real snow. . .and faux snow. . .otherwise known as fake snow (not authentic snow). I think you got it, right? Welcome to the 101 Guide to DIY Snow. Why would you want to make snow? Well, I was wondering the same thing when you all were going so gaga over it, but after I thought about it for awhile. . .I get it.
Snow does make things pretty. You want to put centerpieces together, snow globes and cool stuff like this glass hurricane. I get it. You got it? Even if you don't have it, I'm going to show you how to MAKE it! Let's get to talkin' snow, then.
So, first things first. This. . .is snow. The real stuff. The cold stuff. The stuff that we're always shoveling around here. I scooped this sample right off of my deck for you all. Pretty, right? Now, let me introduce you to the imposters: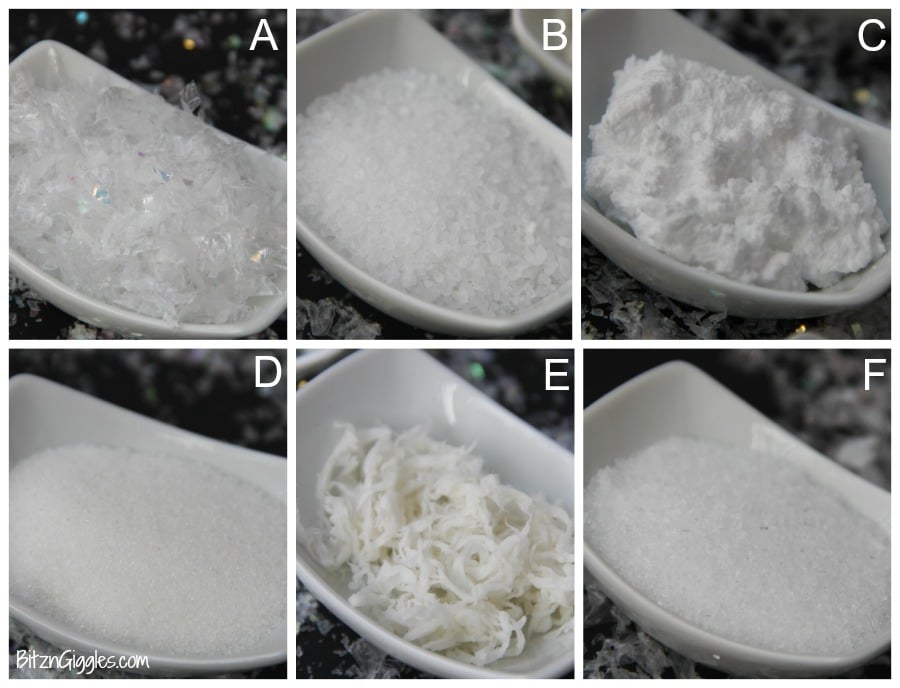 A. Store-Bought Fake Snow – Seriously, don't bother with this stuff. It looks like little pieces of plastic rather than real snow. It's what I have scattered about in most of the photos I'm showing you here. I think once you see the others, you'll agree that it just makes more sense to "make your own.
B. Coarse Salt – There's nothing even to "make" here. I love the look of the larger granules. If you want to give it a little sparkle, just add some glitter.
C. Shaving Cream + Baking Soda – Just take a 1:1 ratio of shaving cream and baking soda and mix it up. This is such a fun activity to do with the kids.

The combination actually feels cool to the touch. Oh, and it gets better. . .you can mold with it!

So while you may not use this for home décor, it's the perfect recipe for little hands, especially when the kiddos beg you for snow and you have none to give!
D. Granulated Sugar – Yep, that's all it is. Sugar. This is great for putting in clear glass globes or hurricanes. It's a finer look and is great combined with a little glitter, as well.
E. Damp Coffee Filters + Food Processor – What now? Okay, so this is a bit of a different look for snow, if you're going for more of a shredded look, this recipe is perfect. If you don't want to bother with small kitchen appliances, coconut used in baking can offer a similar look.
But if you do have the urge to plug something in and get a little crazy, you'll just need a couple of damp coffee filters AND a food processor. Tear the coffee filters into small pieces, put into the food processor and HIT IT!
F. Epsom Salts – Now onto something a tad bit less exciting. Epsom salts. Epsom salts give a look that's somewhere in between coarse salt and sugar. It also has a little sparkle all its own, so when I use Epsom salts in a centerpiece or arrangement I don't usually add any glitter. So, while I haven't listed out absolutely all options that are probably floating around in your mind right now, I'll list a couple that didn't make my photo collage:
Baking soda (could definitely be mistaken for snow but is SO fine that it tends to be very messy)
Baby powder (same story as baking soda)
Cotton balls (you could stretch out cotton balls to kind of look like snow – I imagine something like this being used in a nativity scene)
What other ideas do you have for DIY snow? I'd love to hear which idea I shared today was your favorite. Will you make your snow to decorate with or just to play with? I hope you say both! So, snow or no snow, you can still bring the look AND feel into your home this holiday season. Have fun everyone and stay warm!!