This is a Sponsored post written by me on behalf of American Frozen Foods Institute and the Frozen Food Roundtable for SocialSpark. All opinions are 100% mine.
So many people shudder at the idea of throwing a dinner party. The planning, the food preparation, the cost. If party planning has you stressed out, you need to check out my 30 Party Planning Tips before throwing your next big bash.

However, getting together with family and friends doesn't need to stress you out or always be a "big bash." There are plenty of ways to entertain without a huge dinner involved or lots of work, for that matter.
Today I'm sharing 4 Simple & Impromptu Entertaining Ideas to get your creative juices flowing and actually encourage you to invite guests over just on the fly. What? What if the house is a mess? What if I have no food in the refrigerator? What if the kids act out? What if. . .you realize that your "true" family and friends don't really care about those things and just enjoy spending time with you?
If you can get that concept to register, my friends, life is going to be so much more enjoyable, and you'll always surround yourself with those you care about most. Hmmm. . .something to think about. Now onto the fun.
There are endless ways to throw a wonderful get-together that don't involve a big, impressive dinner. If I were to guess, most people are more comfortable with a casual event, anyway. The entertaining ideas I'm sharing would technically last maybe only an hour or two and take less time than that to prepare. They're perfect for having a couple friends over or maybe just hosting a couple relatives you know are in town for the day.
Have you guessed what one of the secrets is to simple and stress-free entertaining? Incorporating frozen food into the menu, of course! fresh vs frozen Frozen food is made from real recipes and real ingredients. Freezing is simply a natural pause button that keeps just picked, just baked and just crafted foods at the peak of freshness.
Why not take advantage of the convenience, and take minutes, even hours out of the time it takes to prepare food for guests? There are tons of benefits of frozen foods. Smart? I think so. So, if you're not hosting a dinner, what else could you do to entertain?
1. Host a Breakfast or Brunch Breakfasts can, at times, be a major headache to prepare. Especially if you're serving the standard fare, eggs, bacon, sausage, toast, etc. The timing needs to be pretty perfect to have everything finish at the same time and serve together. Even breakfast bakes aren't always the answer because they still take a good deal of preparation time the night before. So, do something simple like this yogurt parfait brunch bar. So easy to put together and very little prep required.
Frozen Food to Save the Day: Jimmy Dean Sausage, Egg and Cheese Biscuits
Pair the yogurt bar with some OJ and these sausage, egg and cheese biscuits and you'll have a well-rounded breakfast buffet in no time at all!
2. Impress With a Light Lunch Everyone enjoys a light lunch. You don't need to go out of your way cooking and grilling though. Make some of this Fruit-Infused Water and pair it with these Sandwich Skewers from By Stephanie Lynn and. . .a salad.
Frozen Food to Save the Day: Lean Cuisine Salad Additions
I absolutely love these Salad Additions. They come with dressing and fixins' (including chicken!) to make any salad beautiful. All you need to provide is the lettuce!
Want to dress things up even more? Get creative and add some extra veggies that will make it look like you spent all morning preparing for this beautiful salad!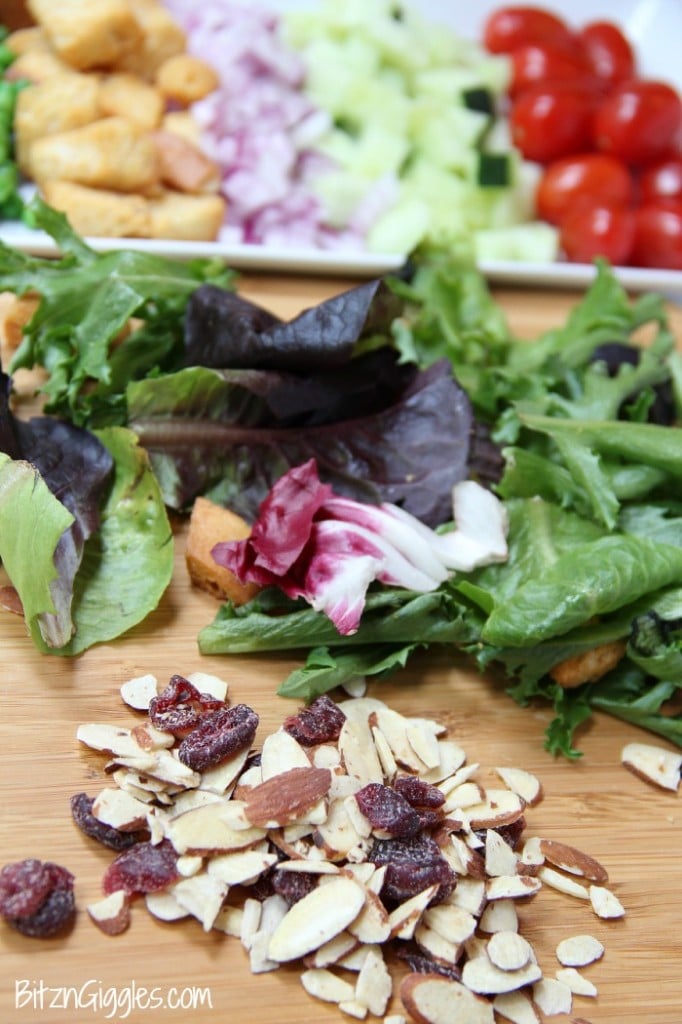 3. Delight With Dessert At the end of the day, why not invite the neighbors over for a glass of bubbly by putting together a champagne bar, like this one from Style Me Pretty. Relax and converse over a wonderful drink and a decadent frozen dessert!
Frozen Food to Save the Day: Smart Ones Peanut Butter Cup Sundae
These individually packaged desserts are perfectly portioned and just the thing to satisfy your chocolate cravings without all the guilt. At 130 calories per dessert, these sundaes are delicious and will certainly impress your guests.
4. Kick Back With Some Good Ole' Pizza There is really no excuse here. There are no additional sides to prepare. No dishes to even wash if you use paper plates. Remember that getting together with family and friends doesn't need to be a grand event. Sitting down with some of your closest friends for some pizza and a favorite movie can be just as memorable as the big New Year's Eve bash you may have thrown a couple years ago.
Whenever I attend a party or have a small get-together like this, I feel so good about it. I'm either REALLY happy I hosted or so glad that I attended.
Frozen Food to Save the Day: FRESCHETTA Pizza
One of our favorite pizza brands is FRESCHETTA. The pizza is made from all-natural cheeses, sauce made from real tomatoes and generously cut meats and vegetables. Every bite is full of flavor and topped with the finest ingredients.
Just remember, entertaining doesn't need to be stressful. It doesn't need to be something you plan weeks or even months in advance. Make things easy for yourself by balancing out the menu with fresh and frozen foods, and you'll look like a party planning pro. Frozen. How Fresh Stays Fresh
It all goes back to what's really important, and that's taking time out for friends and family. So stop cleaning, stop stressing, stop all of the intense planning and just invite some friends over and enjoy the time together. . .heck, you may even inspire them to start doing the same. Happy entertaining!