Alright, so I didn't "literally" cut the cord on my old vacuum, but let me put it this way, "We're through." Our relationship has officially ended. Buh bye. Adios. I'm done.
You all know I enjoy am obsessed with cleaning. It's something my body is compelled to do to stay "balanced." If I see a pile of dirt, fingerprints on my glass tabletop, water drooled all over the floor by the dog dish, I won't sleep unless it's cleaned up. All the stars align and I'm at peace with the world when my house is clean. These days, those moments last maybe 1-4 minutes. But you know what, it's okay.
Right? Right? Please tell me I'm not alone in this power struggle. I know I may be a bit extreme, but I'd have a hard time believing there aren't other moms out there who have these same feelings at one time or another. SO. . .because the messes are here to stay (at least for the next several years), I'm on a mission to make clean-up a bit easier. . .starting with my vacuum.
So, please allow me to introduce you to the new vacuum in my life.
Nice, right? Hoover has a line of 4 cordless cleaners – 3 vacuums and a hard floor wet cleaner; multiple products to help clean the entire house or just pick up a quick mess!
The Hoover® Air™ Cordless Lift Upright Vacuum I'm talking about today has been a game changer for me and my home. Wanna' know why? Well, here are 5 Reasons Why I Cut the Cord. . .On My Vacuum:
My old vacuum was heavy. I literally had to LIFT it out of the closet. When I finished vacuuming upstairs, I would attempt to carry it downstairs while hanging onto the stair railing for dear life. When I was pregnant, my hubby would carry it downstairs for me, after I had my c-sections, he actually DID the vacuuming for me and, today, my kids (ages 4 & 7) can't even push it. THAT's a problem. Because when you have a 7-year-old begging to do chores to earn an allowance, you give the kid a list! I mean, wouldn't YOU?!
I have a box overflowing with attachments I've never used. Why have I never used them? Well, let's just be honest here. I don't even know what half of them do or how to attach them. My user manual is long gone and I just haven't made it a priority to jump online, find the manual and read up about my vacuum attachments. Shocking, right? Bottom line. Just provide me with what I need – don't overwhelm me.
The cord was a pain in the butt. So, I'd take the vacuum out of the closet, plug it in and vacuum the kitchen and part of the living room. Next, I would unplug the vacuum cord and plug it back in to an outlet further down the hall so I could keep moving through the house. I plugged and unplugged at least four times just for the upper level of the house. Beyond that fiasco, the cord was always getting stuck, on furniture legs, around toys, between the dog's paws (yes, she would try and bite it). And just when I was wrapping up the cord to put the vacuum away I would look around the room, realize I missed some dirt, start unwrapping the cord and go through the same thing all over again.
My time is precious. Isn't yours, too? There are only so many hours in a day, and as a mom, I'm always trying to multitask to make my hours as productive as possible. We have a rug right in our entry that has to hold up to a lot of traffic each and every day – dirty shoes, dirty paws, dog hair, sand, you name it. It drives me bonkers to look at that rug because it needs to be vacuumed daily. I just don't always have the time to drag out the heavy vacuum for one rug. You know what I mean?
The messes in my home have multiplied. We have two children and we just welcomed a new puppy to the family last February. Her name is Belle and she doesn't like the vacuum. I think it's because whenever she turns around, it's following her. This is her "don't mess with me" look when she sees me going to get the vacuum from the closet. I mean, look at that face!

The Hoover® Air™ Cordless Lift Upright Vacuum has so many cool features I absolutely love. For starters, it's cordless. I'm able to move around the house with ease now, no plugging and unplugging. If I want to vacuum my entry rug, it's easy and it takes me maybe a minute.
Okay, now a couple of other things I love. If you watched the video, it went over some of these features already, but here's a closer look:
The canister lifts off of the main body of the vacuum allowing you to carry the canister ANYWHERE. It's especially helpful for stairs, window sills, patio door tracks and vehicle detailing.
All of the buttons you need are located on the top of the vacuum for easy access. Power button – check. Boost (for extra suction power) – check. Brush roll (turn on for carpet; off for hard floor) – check.
The vacuum is powered by an interchangeable battery system that works with all products in the Hoover cordless line. LithiumLife batteries have double the capacity of standard 18-volt Lithium Ion batteries which means longer run-time and fade-free power.
The vacuum comes with two batteries so you can always have one in the charger while using the other one in the vacuum. The blue light means the battery is charging and the light goes off when it's ready. LOVE this feature.
You detach and empty the canister with just the touch of a button. The vacuum was developed with Windtunnel 3 technology, packing a suction-power-punch to lift and remove any and all dirt from around your home. Is it weird that I love to see how much dirt I can pick up? It's actually rewarding to see all of the dirt and hair fall into the garbage. Good riddance I say.Belle, well, she's not as excited to see the dirt go. This dog has her nose into EVERYTHING. . .even the dirt piles that the new vacuum picks up. She's the queen of this house and makes it known when she doesn't like something.
I've broken the news to her (multiple times) that the Hoover is here to stay.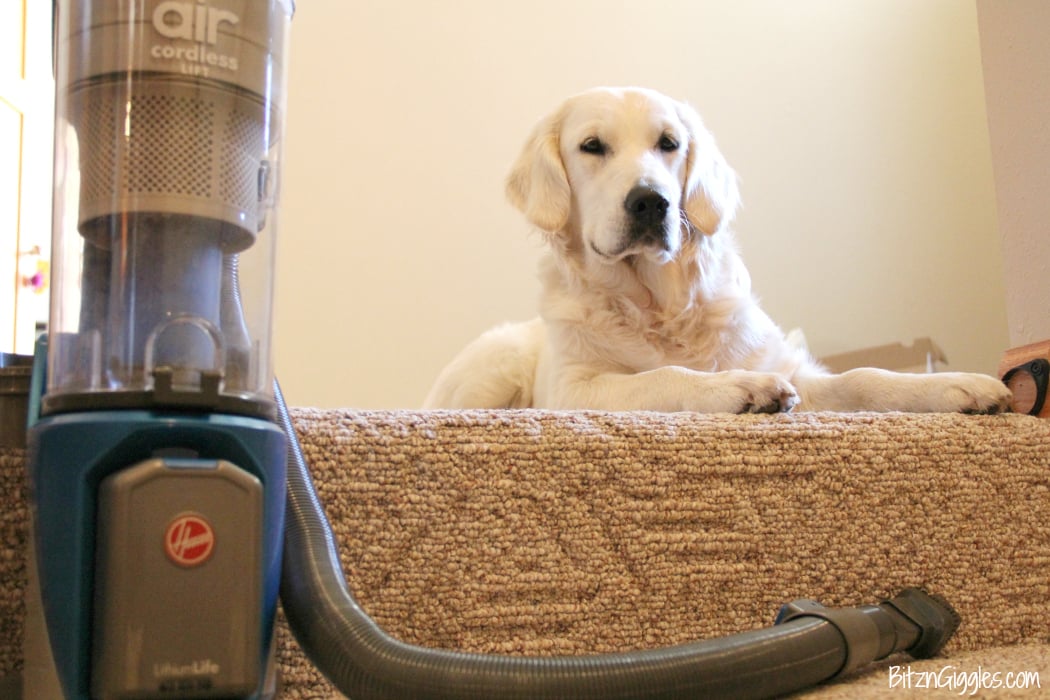 In a couple weeks she will befriend the vacuum (wishful thinking?) and we'll move forward as one happy family, right? Right, Belle? Until then, however, she will continue to watch. . . its every move. I'll keep you all posted on her progress. . .
For more information on Hoover's entire product line, visit their website and follow them on Facebook, Pinterest and Twitter!
I was selected for this opportunity as a member of Clever Girls and the content and opinions expressed here are all my own.
(Visited 1,904 times, 1 visits today)