5 Tips For a Safe Vacation to Mexico – Plan a safe and memorable trip to Mexico using these helpful travel tips!
This is a sponsored post written by me on behalf of Apple Vacations. All opinions are 100% mine.
Last February, my husband, Josh, and I booked a trip to an all-inclusive in Mexico with some of our closest friends. It was our first time to Riviera Maya, and I was in awe of the beauty that surrounded us.
Shortly after that trip we decided to book a cruise for the next year – to get away from the snow and ice here in Wisconsin. When talking to our parents about the trip they saw that one of our port stops was in Cozumel and began to worry.
If you've been following the news lately, you may have heard Mexico mentioned as an unsafe location for travelers. The U.S. State Department has issued warnings for some areas in Mexico, but there are other locations such as Cancun, Riviera Maya, Puerto Vallarta and Los Cabos which have been deemed safe for travelers and have no travel restrictions.
If you think about it, anywhere you go on vacation there's a risk for crime. It's a matter of getting educated about your destination before you go.
Today, I'm sharing 5 tips for a safe vacation to Mexico to help you plan your trip in confidence and look forward to some time away exploring and enjoying some of the most beautiful places on earth!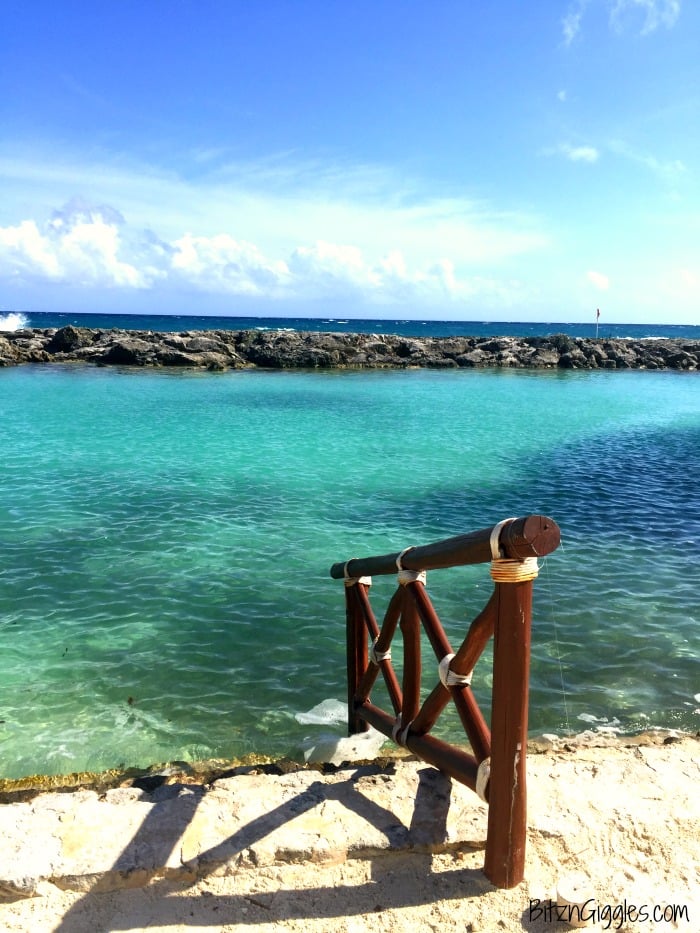 1. Do your homework. Before booking your trip, check your destination's U.S. State Department's risk level classification.
2. Book in bundle through a reputable vacation company. Vacation planning is so easy when you leave it to the trusted and reliable experts at Apple Vacations. When you book through Apple Vacations, round-trip airfare, hotel accommodations, round-trip airport transfers and the services of an in-resort Apple Representative are included with your booking.
They're Exclusive Vacation Flights are frequently among the few–or only–non-stop options to your destination, and most feature convenient morning departures and evening returns to give you ample time enjoying paradise!
Check out their Beach Beat to see what I mean!
3. Know your surroundings. When you arrive at your resort, familiarize yourself with the property right away. Find the information/security desks and scheduled desk hours at most resorts and welcome briefings in all of our most popular destinations.
Just remember, wherever you go, just don't stray too far from the beaten path.
4. Keep your valuables out of sight. Before leaving for your trip, make copies of your valuable documents. Email a copy to yourself so you have access to them at any time. As far as jewelry goes, either leave it at home or keep it in your in-room safe (ensure that the lock is working) while you're swimming or exploring.
My husband's wedding ring slipped off in the Pacific ocean on our trip to Hawaii. Believe it or not, after a couple minutes on our hands and knees sifting through the sand and water, we actually located it. It was a miracle, for sure.
And finally, cash. Carry limited amounts of cash if you need to and make sure to call your credit card company before your travel so they are aware you will be out of the country and don't deny any of your transactions while you're on your trip.
5. Just use common sense. I mean, I know you're sharp. 😉 As you would in any unfamiliar place, just exercise caution. Doing your homework ahead of time, reading reviews and joining online travel forums can give you valuable insight into your travel destination.
Once you're on property, chat with the concierge for recommendations on excursions in the area if have intentions to explore off-site. Don't forget to leverage your Apple Representative if you have any questions before or during your trip.
From my experience, they're always more than happy to help and have a lot of information about the destinations they're helping you book a vacation to. Many times, they've been there themselves – and more than once.
If you're wondering how our cruise stop in Cozumel went, it was AWESOME. Cozumel has some of the bluest water I've ever seen. We booked a clear bottom kayak and snorkeling excursion during our visit and thoroughly enjoyed it.
The bottom line is, there are plenty of gorgeous areas in Mexico that have NO travel restrictions. Do your homework, partner with a reputable vacation company like Apple Vacations and get out and explore!
There's SO much beauty, sun and fun awaiting you!