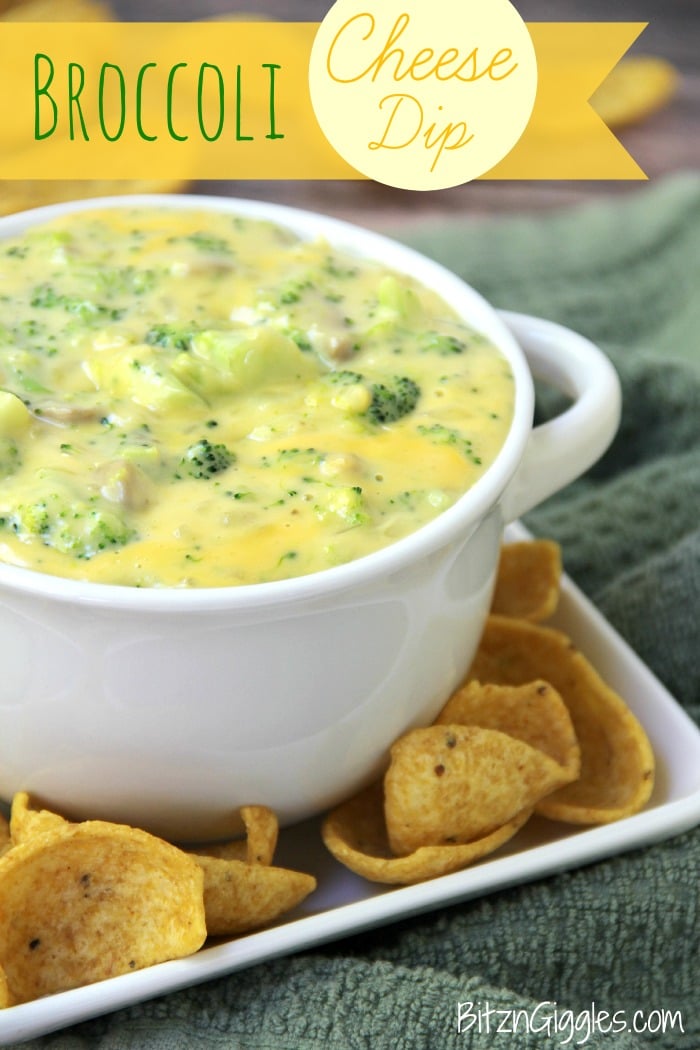 Another win for the Green Bay Packers yesterday! Woo hoo! We had quite a busy weekend packed with parties, both impromptu and planned. Impromptu parties happen around our neighborhood quite a bit. It starts with a little chit chat and then we get to talking about dinner. The conversation goes a little like this, "So, what are you having for dinner tonight?" "I haven't even thought about it. What are you having?" Once we establish that no one really is prepared to cook their family dinner, we join forces and either pool the food that we do have together or. . .order out.
On Friday, we weren't up to cooking (it was a LOOONNGG week) so we ordered some food for delivery. Thankfully, I had made this Broccoli Cheese Dip earlier that day to hold us over until our food arrived. So. . .this dip. Let me tell you. It's good. The whole crock pot was cleaned out in about 30 minutes or so.
And you know what? I MADE this dip in well under 30 minutes. Now, you know I like short cuts, right? Have you ever purchased broccoli in a bag? I know, I know it's more expensive than buying the normal broccoli that you clean and chop yourself, but hey, sometimes it's okay to just give yourself a break.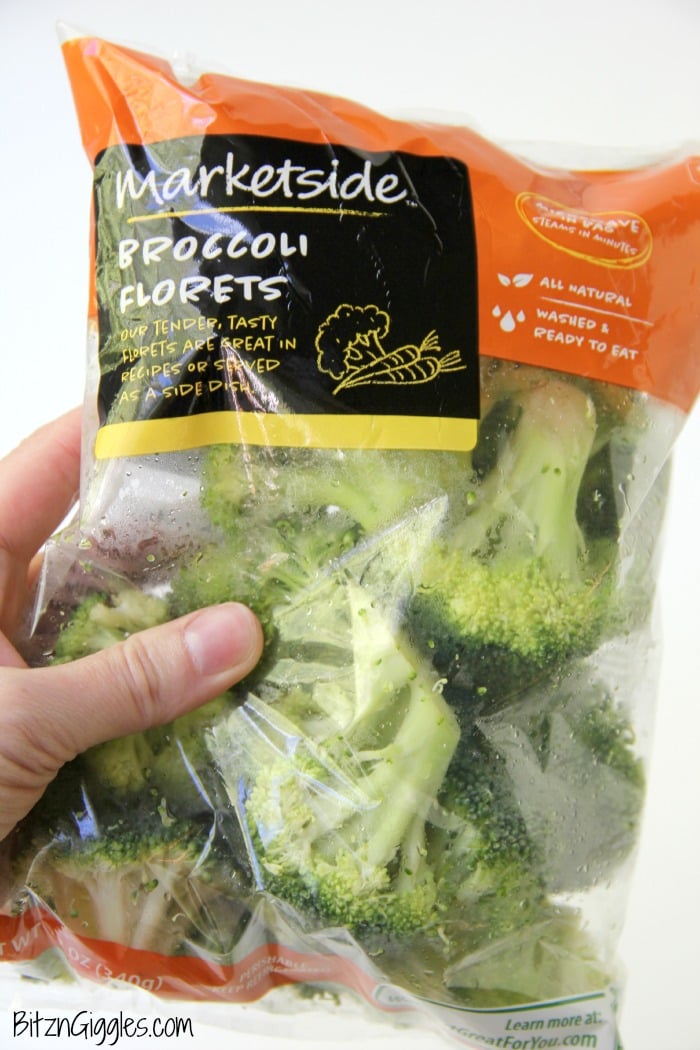 I did chop the broccoli up a bit more after I steamed it in the bag, but just this step saved me time. I had almost four minutes to spare while the broccoli was in the microwave. That left plenty of time to throw in a load of wash, help my daughter, Cora, locate her favorite stuffed puppy she had left in the car . . .strapped in to her brothers car seat and chop up the onions and mushrooms I would need for the next step in the recipe.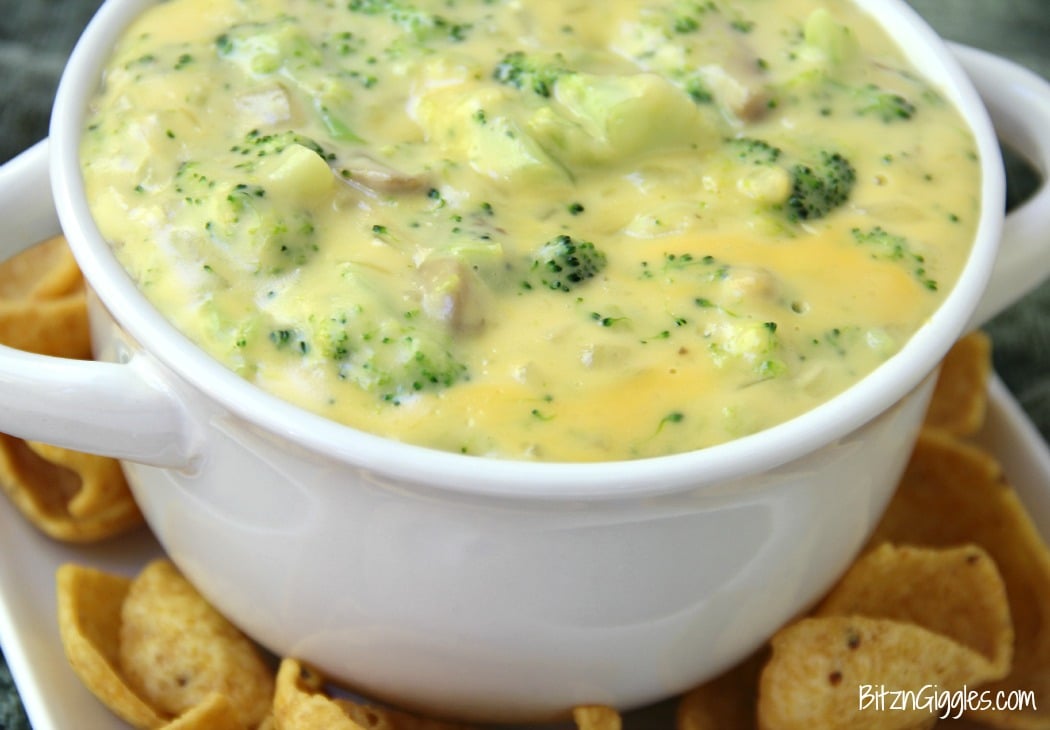 Ready for the next step? Mix all of the ingredients together until the cheese is melted. Let the flavors meld a bit and serve! You can keep it warm in a crock pot or right on the stove if you like. Remember I said I had made the dip earlier in the day the evening we ate it?
Yep, you can prepare this the night before or the day of and just heat it up later when you're ready to enjoy. I actually just heated mine up in the microwave and then transferred it to a crock pot. SO easy.
This cheesy dip hits the spot as an appetizer or a game day snack. Serve it with corn chips or even some small pieces of french bread. I uses pieces of bagels for my Cheesy Artichoke Dip and they would be perfect for this dip, too!
Just remember, it's okay to take short cuts. Especially when you throw a lot of impromptu parties and need to whip up something delicious in a matter of minutes. This dip doesn't disappoint. . .that is. . .until it runs out. 🙂 Hope you try it!!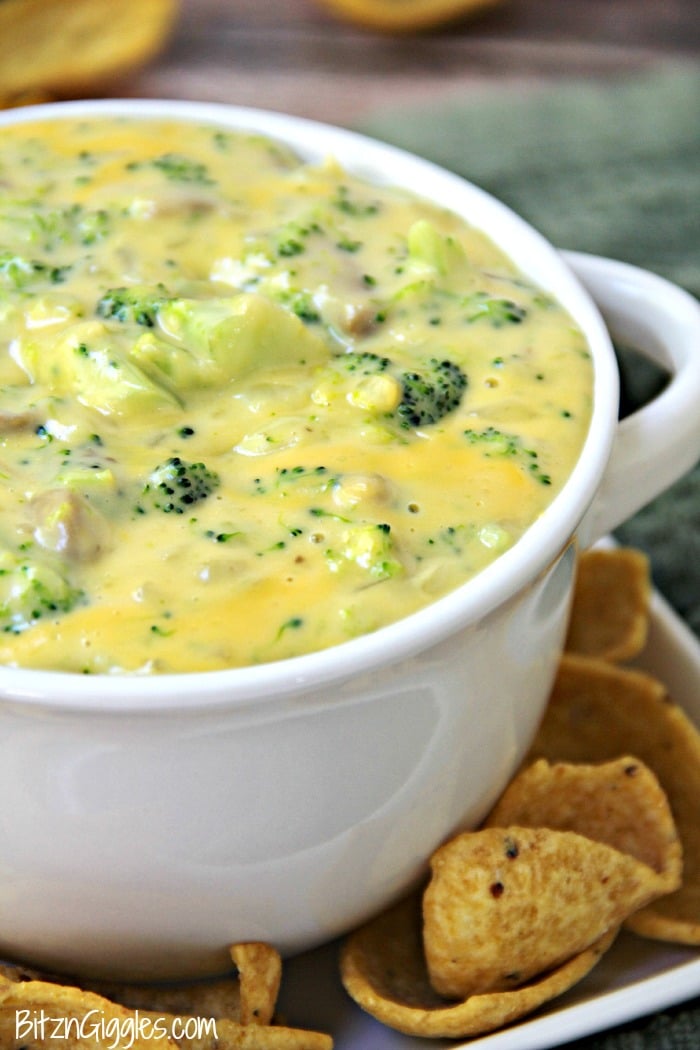 Broccoli Cheese Dip
Warm cheesy broccoli dip bursting with flavor! Perfect for parties!
Ingredients
12 ounces broccoli, chopped and steamed
1/4 cup butter
1 medium onion, chopped
4 ounce can mushrooms, chopped
1 can Cream of Celery soup
16 ounces Velveeta Cheese, cubed
1/2 cup milk
1/2 teaspoon minced garlic
Corn chips
Instructions
In a skillet, melt butter and saute onions and mushrooms.
Mix in remaining ingredients and stir until cheese is melted.
Place in a serving bowl or keep warm in a crock pot on warm.
Serve with corn chips
Nutrition
Serving Size: 4
Calories: 562
Sugar: 15
Sodium: 2140
Fat: 41
Saturated Fat: 25
Unsaturated Fat: 6
Trans Fat: 0
Carbohydrates: 27
Protein: 24
Cholesterol: 132
(Visited 18,352 times, 1 visits today)