This is a Sponsored post written by me on behalf of Bar-S Foods for SocialSpark. All opinions are 100% mine.
I loved being outdoors as a kid. My days in the summer (after chores, of course) were spent with friends catching minnows and crawfish, building forts, visiting the local tasty treat, riding our bikes and spending time in a tent Dad would pitch for us in the backyard. We rarely spent anytime indoors during the summer unless the weather was bad or we were just cooling off from a super warm day.
Fast forward to today and summertime for kids seems to be quite the opposite from what I had experienced. Tablets and smartphones have taken over. You see more and more kids lounging on the couch in their houses texting with their friends than being outside, enjoying the fresh air. Why is that? Is it because parents are afraid to let their kids out of the house alone? Are there no kid-friendly places to go anymore? Or is it just that kids prefer being on mobile devices to playing outside with their friends? I'm not sure, but it makes me kind of sad. There's so much to gain by being outdoors – learning, pretending, creating, discovering. . .
Don't get me wrong, our family loves technology. My husband, Josh's, career revolves around it and we have embraced it fully. Our kids do get screen-time and my son adores video games. If you took away my smart phone I would probably be having some words with you. 🙂 But I truly believe that even the most tech-savvy families need a break from being connected to devices and more opportunities to just connect with each other. For this reason and many others, Josh and I invested in a lake cabin four years ago. It was one of the best investments we've ever made and it's our way to "get away" from our devices and share the beauty of nature and the outdoors with our children.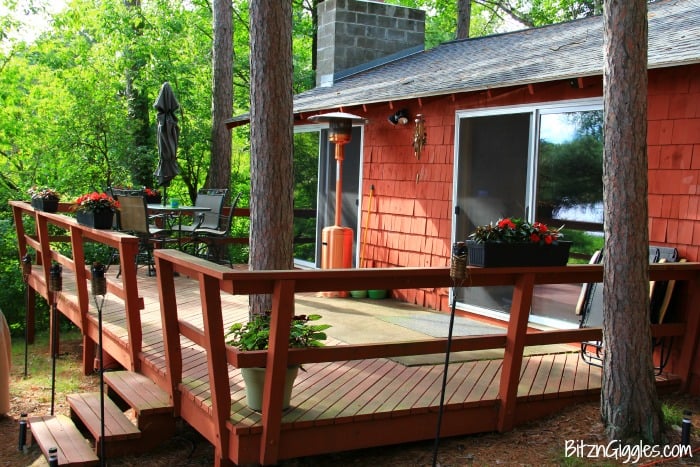 Meals up north are turned into picnics and mini-camping adventures. We cook over the fire, we fish, we play in the lake, we go on nature hikes, we take the paddle-boat out to examine lily pads; we just enjoy the time together.
Today I'm sharing one of those special days as well as some fun campfire cooking tips for your family's next outdoor cooking adventure. Are you ready? Let's go camping! Well, pseudo-camping. To my defense, we're still in the wilderness. I just sleep with a roof over my head. 🙂
Have you ever seen this book before? The Pocket Guide to Camping by Linda and Katherine White, a mother and daughter team. If your family loves the outdoors and is thinking about taking a camping adventure, this is a quick and fun read. It's, honestly, a 101 guide on the basics of camping from packing and first aid tips to cooking and camp activities.
A couple of the tips I'm sharing today came directly from this book. There are tons of tutorials and recipes included in it as well. A perfect gift for the little boy scout or girl scout in your life!
So, back to cooking over a fire. Most of us have roasted a marshmallow over a fire at some point in our lives. Whenever you think about food around the fire, marshmallows are most likely what come to mind. Or, maybe hotdogs? Absolutely! Hotdogs are actually what we're cookin' up today!
These Bar-S hotdogs can feed a big group and they are plump, juicy and so delicious! Get a Bar-S Coupon of your own and start planning your own outdoor cookout with the family!
Cooking hotdogs over a fire is just one of those things you need to be able to say you've done in your life. I think I love the nostalgia of it all. Get ready to take notes. Here are a couple tips to get you ready for your hotdog cooking:
Prepare your cooking sticks. Make sure you have cooking sticks that are at least 3 feet long. You can either whittle the end of a piece of green wood (meaning a piece of a branch that's still alive) that won't burn or purchase cooking sticks from the store made specifically for roasting hotdogs.
Gather your fixins. Put your plates, utinsels, buns, ketchup, mustard, wet wipes, chips, basically anything you think you'll need for your hotdog cooking adventure into a basket or caddy for easy transporting to the fire. It also keeps everything organized so you're not scrambling and trying to find buns, etc. when the hotdogs are ready to be served.
Start your fire. Did you know that pinecones covered with melted wax make great fire starters? If you don't want to mess around with paper or cardboard along with your kindling wood, try a natural fire starter to get your campfire ablazin'! Let the fire burn down a bit so you're not cooking directly in the flames – you'll end up with a hotdog that's cool on the inside and burnt on the outside. Cook over coals whenever possible.
Grab an oven mitt. One of the easiest and safest ways to protect your hands and arms from the heat of the fire is to wear an oven mitt while roasting your hotdogs. This is GREAT for kids and will make their roasting experience a much more comfortable one.
Clean up responsibly. When you're finished with your meal, burn any dirty napkins or food that may have fallen around the fire or your campsite to avoid littering and deter any animals from visiting at night. Any garbage that can't be burned, dispose of responsibly.
Put out the fire. When you're ready to put out the fire, use a shovel or stick to spread the coals into a thin, even layer. Slowly pour water, dirt or sand onto the coals (don't just throw a bucket of water onto the coals – you're at risk of being hit by flying sparks!). When it seems as if the coals are out, stir them around once more and repeat the process.
So, when the fire is out and everyone is full and tired, what do you do with the leftovers? Turn them into a casserole to eat the next day of course! This Baked Bean Campfire Casserole is pure picnic food and a favorite in our family! Get out an enjoy the outdoors with your family and take Bar-S along with you! You'll be glad you did and so will your kids!
Baked Bean Campfire Casserole
Smokey flavors combine with heartiness to create a magnificent flavor sensation in this baked bean campfire casserole. Perfect for camping, or anytime!
Ingredients
28 oz. can baked beans with pork
1/2 cup brown sugar
1/2 cup ketchup
1/2 cup onion, chopped
5–6 Bar-S Franks, chopped (either leftover from the campfire or straight from the package)
2 slices Bar-S Sliced Bacon, cooked and cut into small pieces
1 teaspoon Worcestershire sauce
1 tablespoon Dijon mustard
1 teaspoon red wine vinegar
Salt & pepper to taste
Instructions
Preheat oven to 350 degrees F.
Mix all of the ingredients in a bowl except the bacon and mix well.
Pour into a 9×9 inch baking dish and top with the bacon pieces.
Bake at 350 degrees for 1 hour or until heated through.
Nutrition
Calories: 2350
Sugar: 203
Sodium: 4400
Fat: 88
Saturated Fat: 34
Unsaturated Fat: 42
Trans Fat: 0
Carbohydrates: 317
Protein: 79
Cholesterol: 171
Don't forget to visit the Bar-S Facebook page and participate in their 100 Day of Summer Sweepstakes!
(Visited 1,186 times, 1 visits today)