Easy Campfire Eclairs – Crescent roll dough wrapped around roasting forks, browned over the campfire, then filled with pudding and topped with chocolate frosting! Such a great camping treat!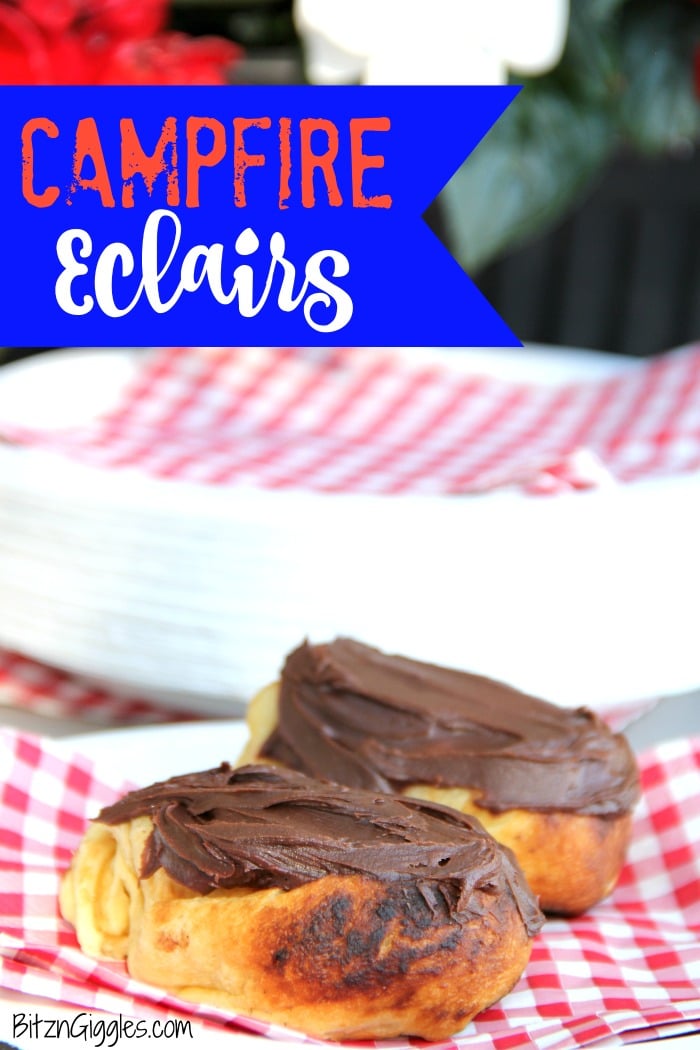 This is a sponsored post written by me on behalf of The Chinet® brand. All opinions are 100% mine.
Did you all have a great weekend? The 4th of July is one of my favorite holidays. The BBQs, the fireworks, the warm summer nights. . .it just doesn't get any better than that. We spent the weekend up at the lake hosting lots of friends and family. Entertaining is one of our favorite things to do, but when we're up north, we like to keep things a bit more simple.
Because let's face it. . .we want to be able to kick back, relax and enjoy a bit, too!
The grill gets a workout on the weekends up at the lake, and this weekend, is no different. After lunches and dinners, it's tradition to light a campfire and make some s'mores. Yes, we make s'mores in broad daylight. . .and then we do it again at dusk. Why not, right?
Because we find ourselves around a campfire quite often, we like to keep things interesting. I think we've tried every kind of chocolate and chocolate candy imaginable in our s'mores. We've made campfire cones and caramel apple s'mores – heck, we've even made frozen s'mores. But today, I'm showing you how to make one of our favorites. . .Campfire Eclairs.
Easy clean up is key, so up at the lake, I always pack my trusty Chinet® Classic White™ All Occasion plates, napkins and Chinet® Cut Crystal® cups. They make entertaining so easy because they're disposable and easy to clean up!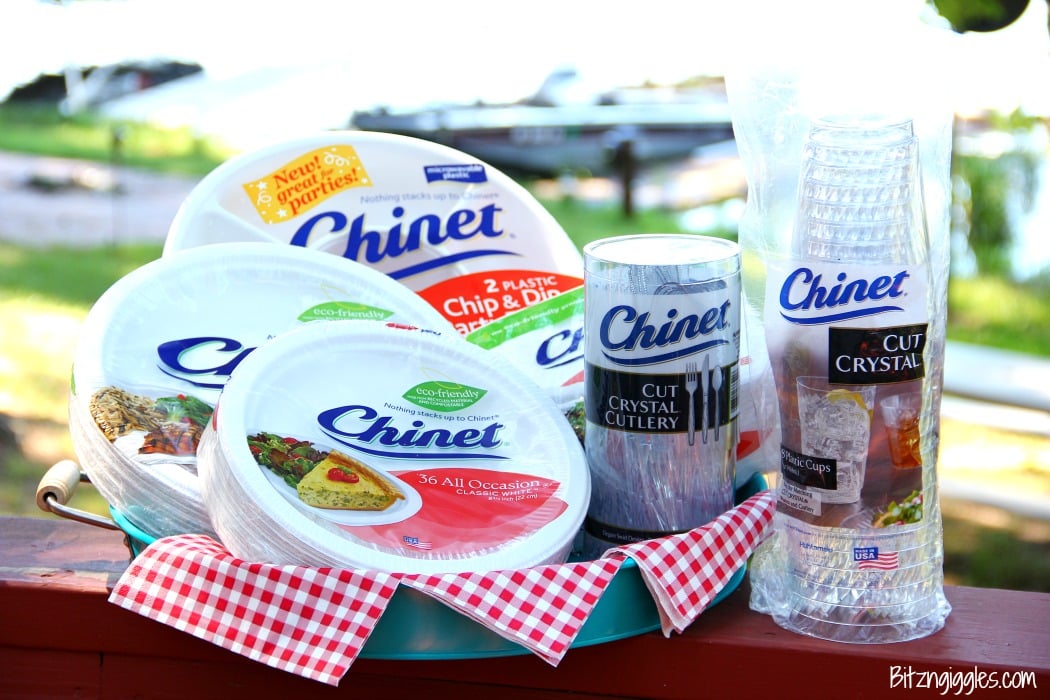 When you're outside, you need sturdy and durable plates, don't you agree? Have you ever melted a flimsy styrofoam plate from resting your roasting stick on it? Let me tell you what, Chinet® plates don't melt. They stand up wonderfully to piping hot marshmallows and screaming hot roasting sticks. And the cups? They're just as sturdy as the plates, and really pretty, too.
Heck, let me just introduce you to the full collection! The Chinet® collection includes:
 9 1/2″ square dinner plate
10 3/8″ round dinner plate
6 3/8″ square dessert plate
6 3/4″ appetizer or dessert plate
round all occasion plate
platter, compartment plate
20 oz. salad/side dish, 16 oz. bowl
occasion napkin
dinner napkin
beverage napkin
tablecover
And it's worth mentioning, especially coming off of this special holiday weekend, that the full Classic White™ collection is made in the USA from recycled material. Cool, right? Right.
So, these plates are also a perfect resting spot for these Campfire Eclairs. Crescent rolls are the star of the show for this treat.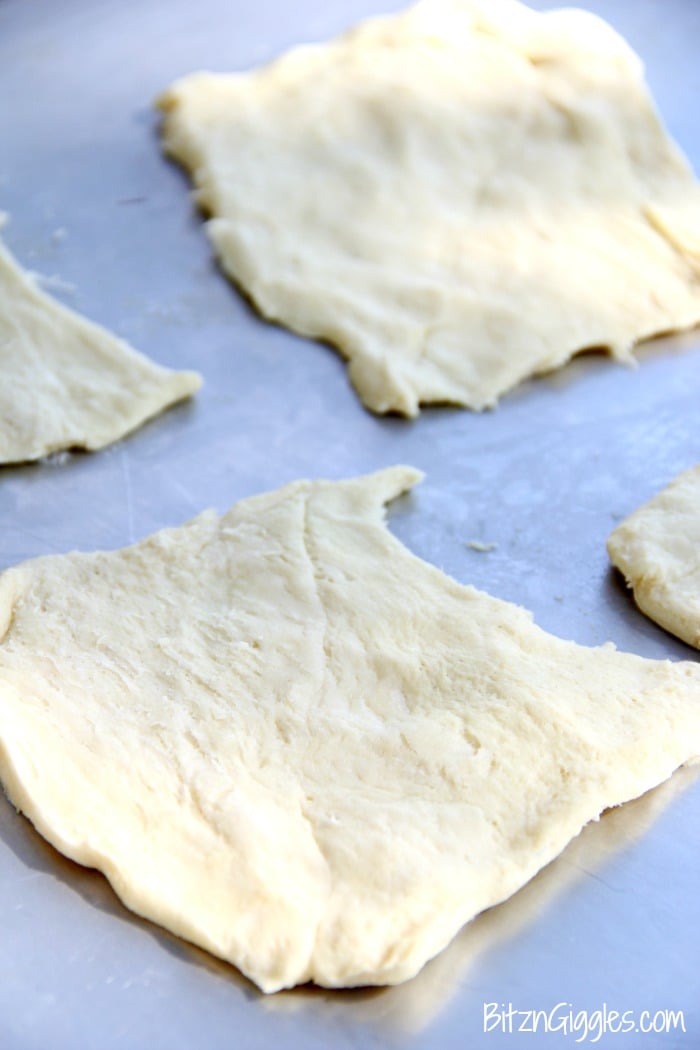 Divide the dough into four separate squares and use your fingers to smooth out the seams. Try and keep the dough as cool as possible, so it's easy to work with.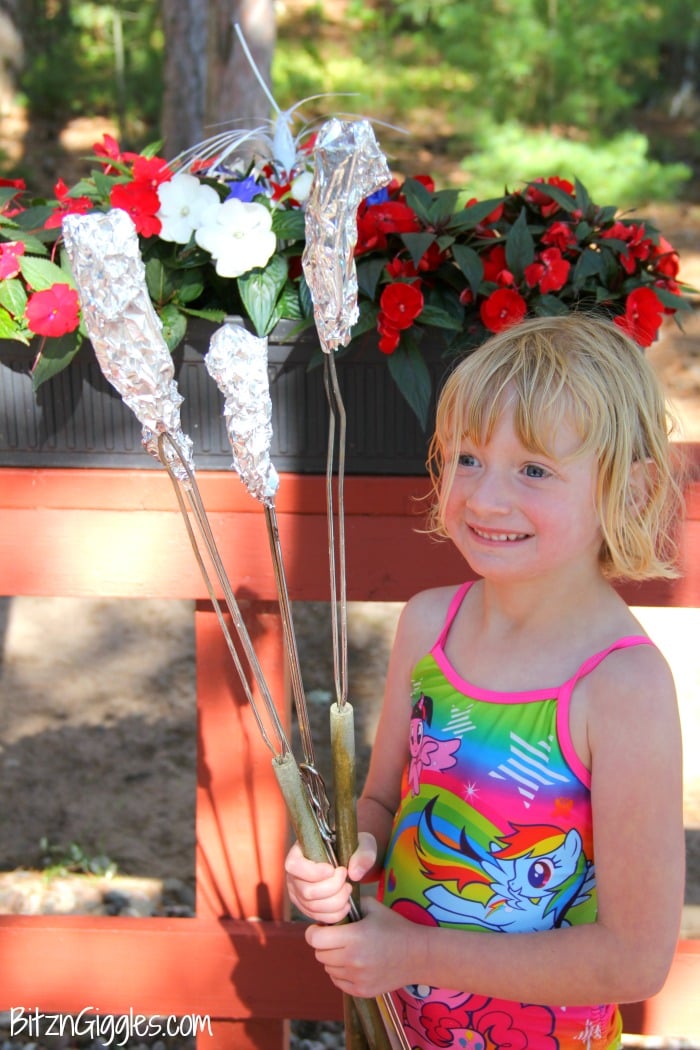 We wrapped the end of our roasting sticks with aluminum foil, and the campfire eclairs came out just fine. If you want a more "perfect" eclair, you can always use a smaller wooden dowel rather than a roasting stick.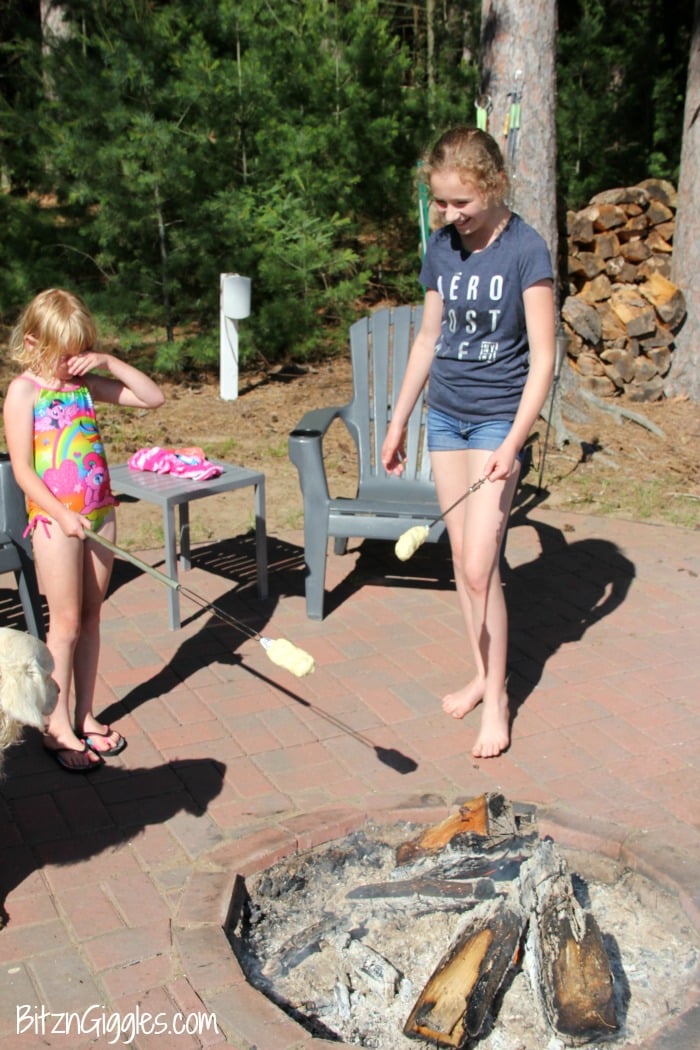 Cora had a little trouble near the hot coals. It got a bit warm for her, so I ended up taking over for her to help brown the crescent roll on all sides.
Once the crescent roll is browned, let it cool a bit, gently remove from the stick, fill with pudding and top with chocolate frosting. SO good!
The kids took these with them right on the boat. Of course they had disappeared before we even had time to leave the shore!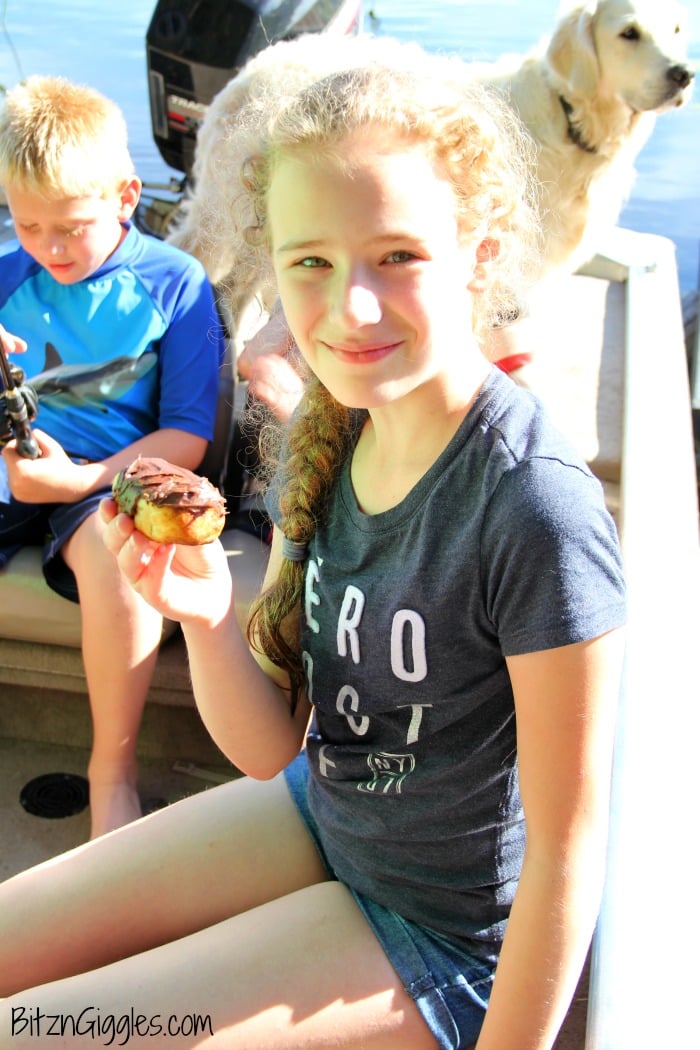 If you're spending time entertaining this summer, keep clean-up simple and easy with Chinet®.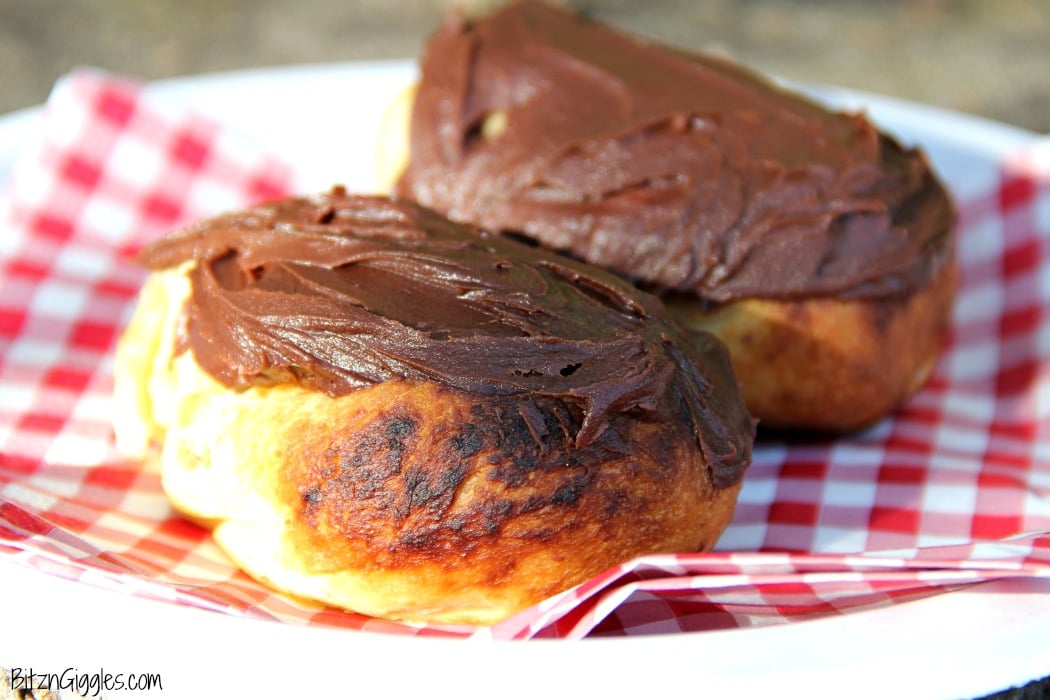 When you're running around re-stocking after the big holiday weekend, make a stop at Publix. They're currently running a BOGO sale on Chinet® Classic White™ plates (dinner, All-Occasion, Platters, appetizer/dessert and compartment) and napkins (dinner and All-Occasion).
It's a great opportunity to stock up on all your entertaining needs for the remainder of the summer.  Find a store near you where Chinet® products are sold!
Easy Campfire Eclairs
Easy Campfire Eclairs – Crescent roll dough wrapped around roasting forks, browned over the campfire, then filled with pudding and topped with chocolate frosting! Such a great camping treat!
Author:
Yield: 4
Category: Dessert
Ingredients
Vegetable oil
Refrigerated crescent rolls
Pudding cups
Chocolate frosting
Instructions
Wrap the ends of the roasting sticks with aluminum foil.
Split the crescent rolls into four separate squares using your fingers to press together.
Wrap a crescent roll around the top of the dowel, making sure there are no holes.
Rotate over hot coals until it is browned on all sides.
Remove carefully from the roasting stick by rotating the stick while you gently pull off the crescent roll.
Allow to cool.
Fill the inside of the "pastry" with pudding.
Frost the top of the pastry with the chocolate frosting.