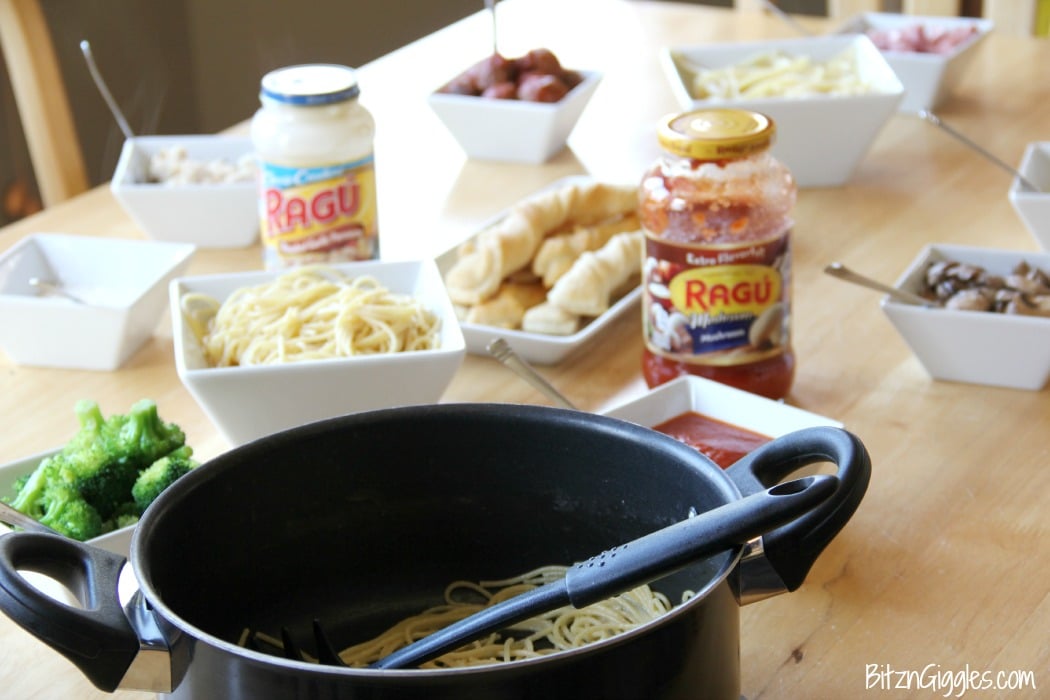 Our weekdays and evenings are busy. Right now I've been getting ready for a big conference my company is putting on in Chicago at the end of the month, my husband just got home from a work trip to San Francisco and the kids have spring fever and, well, have been all over the place.
We always think that life will start to slow down. . . and then it never does. Do you feel like this sometimes, too? Of course you do. That's when we just need to say, enough is enough and do something to break the cycle. This past Saturday, we knew we all needed a little break, so I decided to bring the family together for some fun for lunchtime. . .I planned a Family Pasta Bar!
I prepared two kinds of pasta, spaghetti and fettuccine and heated up our favorite Ragú sauces. We love Ragú for it's Authentic Italian taste and variety of delicious, quick and easy to make family favorite recipes. We always keep a couple jars of our favorite Ragú sauces on hand for hectic weeknights. For quick recipe mash ups and ideas, I go right to the Ragú Pinterest page and always find some inspiration when I can't figure out what to make.
In addition to the pasta and sauces for our pasta bar, I baked some breadsticks and set out a variety of toppings like cooked chicken, broccoli and ham, sautéed mushrooms, fresh parmesan cheese and flavorful meatballs.
To ensure everything ran smoothly, I put out my dishes beforehand so I had them ready when the toppings were ready. I have a pretty sweet tiered steamer, so I used it to steam the broccoli, chicken and ham all at the same time.
While the steamer was doing its thing, I boiled the noodles, baked the breadsticks and sautéed the mushrooms. It all came together quickly, believe it or not, and it was just nice to sit down with the family and unwind a bit.
The kids opted for spaghetti, and Josh and I chose the fettuccine. It was great just being together, enjoying good food, conversation and, of course, some silliness.
What made this meal really "Saucesome" was our noodle slurping contest! We gave Dane high scores for such a great technique. He's got this noodle slurpin' thing down!
And Cora, is quickly learning the ropes. We had so much fun with our noodle slurping that we probably sat there at the table for at least an hour. To get my kids to sit ANYWHERE for 30 minutes is incredible. But keeping the family together, eating, laughing and talking for an hour is what I call, Saucesome.
When the kids were finished eating and left the table to go and play, I looked at Josh and we just smiled at one another. We sat there together finishing our fettucine, and I said to him, "You know, we need to have meals like this more often." He nodded his head as he slurped up his last noodle and said, "Only if you're doing the dishes." Good one, Honey. Now help me clear this table. He did. What a Saucesome lunch.
Looking for more Saucesome fun? Visit ragusweeps.com for a chance to win a variety of #Saucesome prizes and don't forget to check out Ragú's Twitter page and join their Facebook community for additional, delicious recipe ideas!
Ragú is celebrating everything that makes family mealtime #Saucesome. From unique recipes to silly moments to crazy weeknights…we want to hear it all.
Do you have a recent #Saucesome moment or recipe? Share below!
(Visited 1,869 times, 1 visits today)