Heavy Duty Homemade Window Cleaner – a 3-ingredient DIY window cleaning solution perfect for dirty outdoor windows and glass surfaces!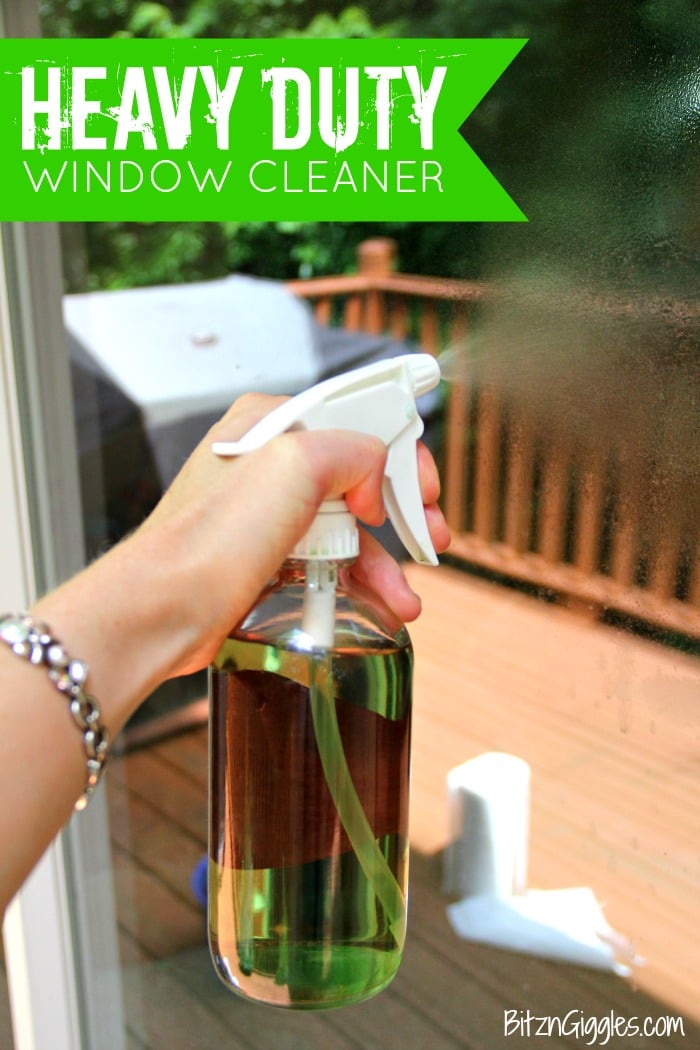 In the summer when we're not up at the lake, you'll often find me hanging out on our deck in the back of the house. We have a wooded backyard with a little creek running through it and I love to enjoy all the sights and sounds of summertime from the privacy of our deck.
I have my little patio garden out there, an herb garden, a couple tomato plants and two containers of flowers. It's my own little oasis that I retreat to during the week when I'm working from my home office. It's amazing how productive a person can be with little birds chirping in the background and a warm breeze blowing through your hair.
Even when I'm in the house I like sitting in the living room, gazing out our patio doors. The backdrop is green, lush and beautiful.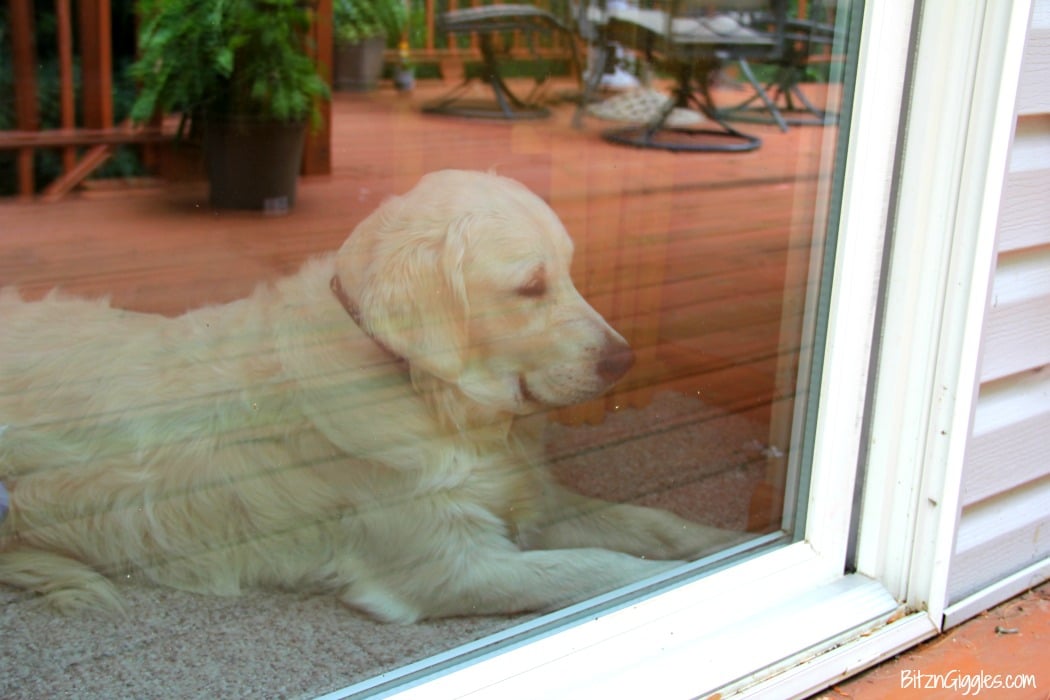 Belle enjoys it, too. She loves to lay by the patio doors and watch for squirrels, chipmunks and birds. The chipmunks that run by really get her going! I have more nose and paw prints on those doors than you can imagine.
Add a couple of kids to the mix who also like to look out of the doors and in the doors, and they begin to look a little like this.
Do you have the same problem at your house? When the sun comes in at a certain time of the day and shines just perfectly on the glass to expose all of the dirt, the haze and the smudges? You know what I'm talking about. I know you do. 🙂
That's why today we're talking about window cleaning and I'm going to share a recipe with you for a heavy duty homemade window cleaner that can tackle even the toughest of jobs.
Let's gather our supplies first. You're going to need a pail with a little water in it, a squeegee, some rubber gloves (optional), paper towels and my homemade window cleaner.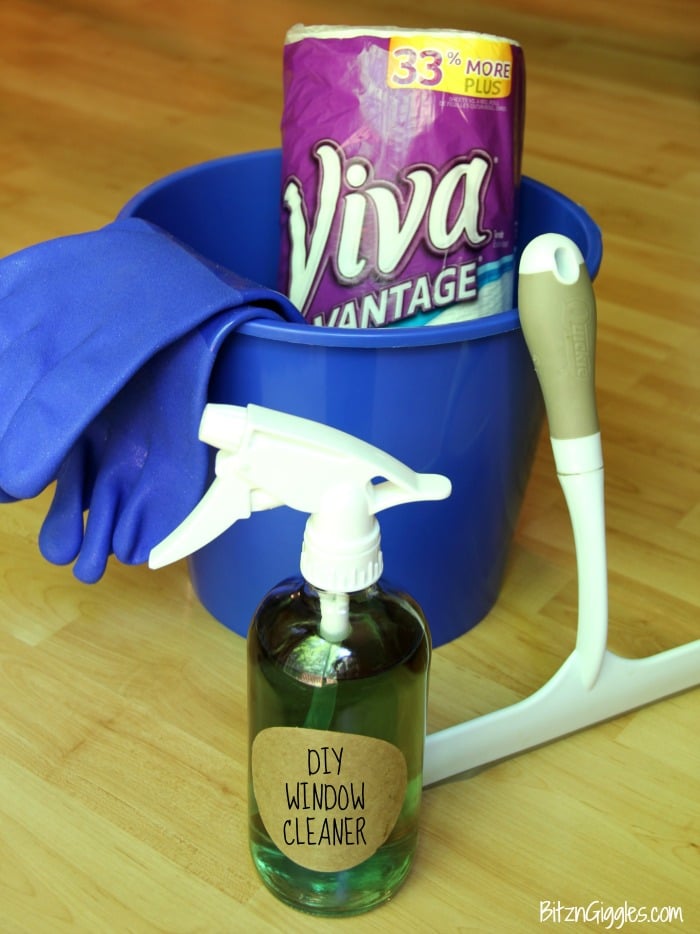 When it comes to paper towels, I'm a big fan of Viva. Their towels are strong and durable like cloth. Did you know they offer two types of everyday towels? They do! Their Viva Towels have a signature soft and smooth texture great for cleaning counter tops and coffee tables. Would you believe they're even delicate enough for the hands and face? They are!
Cleaning outdoor windows, however, isn't a very delicate job, so I turn to their other towel, Viva Vantage. Viva Vantage has a scrubby texture, kind of like a terrycloth. It's great for stainless steel, appliances, glassware and even outdoor patio furniture.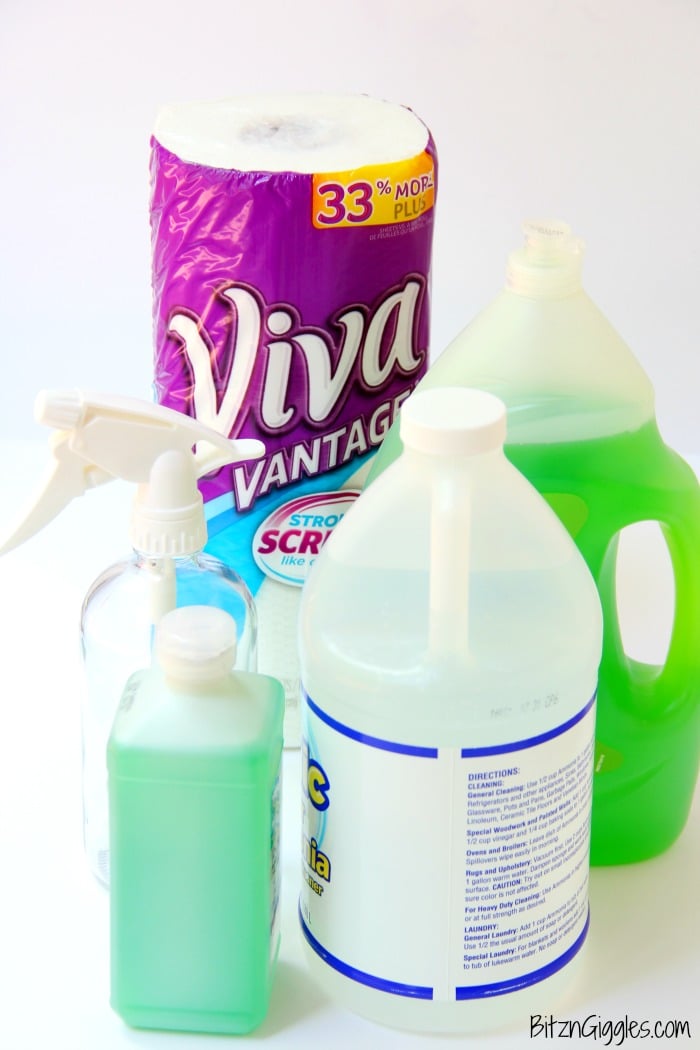 Viva Vantage is kind of like the last secret ingredient to my heavy duty homemade window cleaner. So, because I know you're here to grab the recipe, here you go!
Heavy Duty Homemade Window Cleaner
Ingredients
1 pint rubbing alcohol (I found rubbing alcohol with a mint scent and pretty green color)
2 tablespoons cleaning ammonia
2 tablespoons dishwashing liquid
Note: While most cleaning/household ammonia is diluted with water, you'll want to use this cleaner in a well-ventilated area. If the scent seems too strong for you, you can dilute it further with a bit of water. The rubbing alcohol I found had a mint scent which helped to mask the ammonia scent a bit and also gave the solution a pretty green color with the addition of the green dishwashing liquid I used. As with any cleaning solution, keep it out of the reach of kids and pets.
Instructions

Combine all ingredients and pour into a glass spray bottle like this one.
Once you have your cleaner ready to go, it's time to get to work! Begin by generously spraying your glass surface.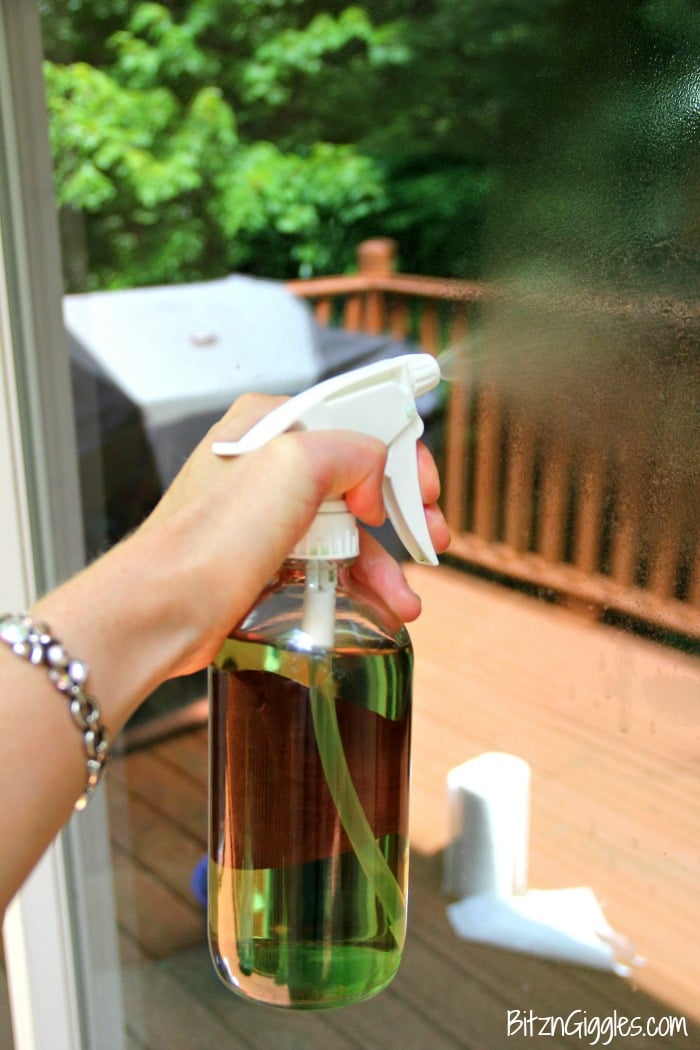 Wet your Viva Vantage towel with some water and scrub the window in a circular motion. It should create a soapy solution. Use some muscle to scrub off stubborn dirt and grime.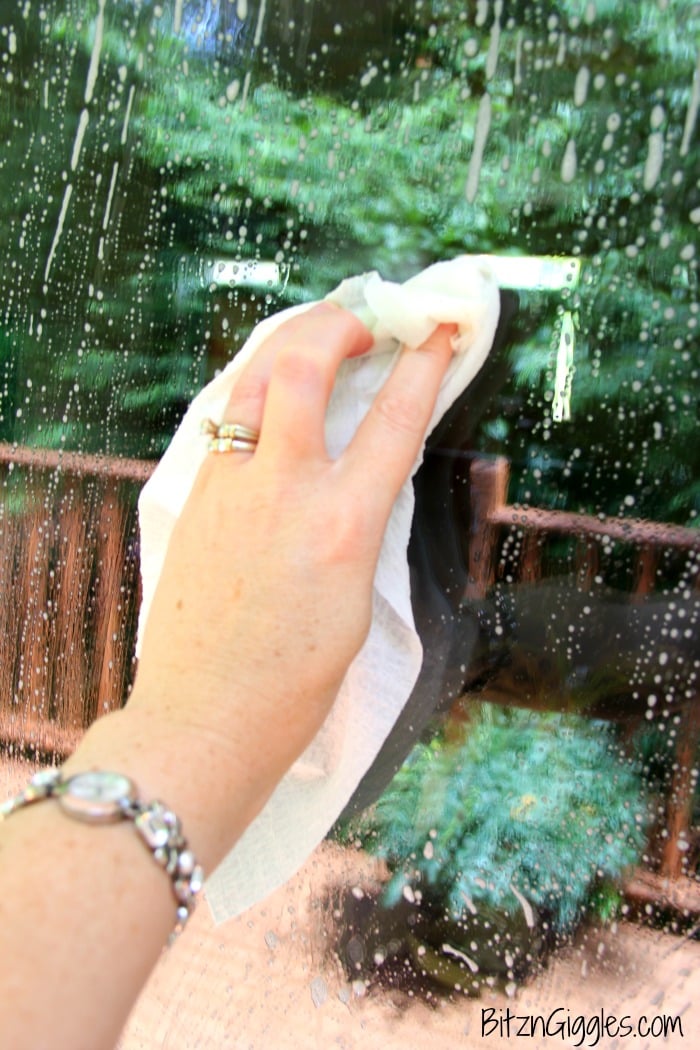 Starting at the top of the door, use a squeegee in a right to left motion to remove the soapy water. Then use another Viva Vantage towel to buff out any leftover smudges. Want to see it in action? Then take a look at the video below!
Note: If you're using this solution to clean windows that are harder to reach, after scrubbing them a bit, you can always use a hose to rinse, skipping the squeegee step. I have done this with success in the past!
What you end up with are squeaky clean and clear patio doors. What a difference clean glass makes! It's almost like bringing the outdoors, INDOORS!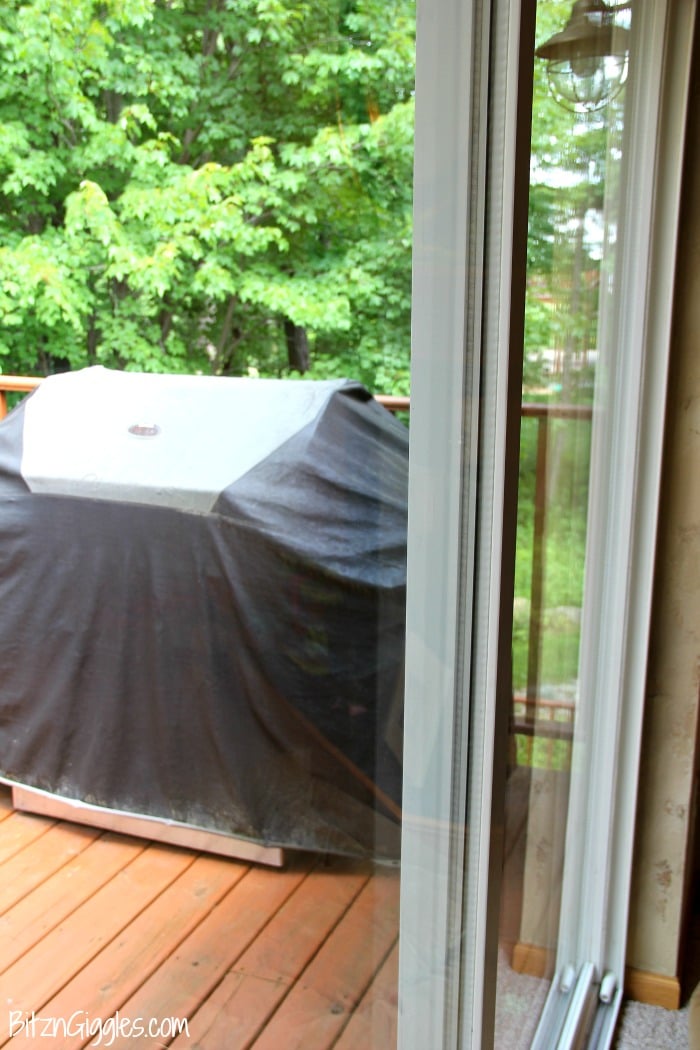 Just take a look at the before and after. Pretty impressive, right?
If you're ready to see clearly out your windows and patio doors again, then try this homemade window cleaner! You're going to want to tell all your friends about it! 😉
I was selected for this opportunity as a member of Clever Girls and the content and opinions expressed here are all my own.
(Visited 16,153 times, 1 visits today)