This is a Sponsored post written by me on behalf of American Frozen Foods Institute and the Frozen Food Roundtable for SocialSpark. All opinions are 100% mine.
I'm not going to lie, life is busy. In fact, some mornings I'm lucky if I make it out the door with matching shoes. Our family has a very busy schedule during the week as I would imagine most families out there do. My day starts around 4:45 am.
My alarm goes off, I shower, get myself ready, wake the kids up at 6:00 am, feed them, dress them, get everyone in the car by 7:00 am, drop the kids off at daycare, drive to the office, unpack my laptop, and finally start my work day around 7:45 am. I usually have about an hour before my first conference call and things continue to remain crazy from there on out. Whew!
If you've followed my blog for awhile, you'll know that all of the recipes I share are quick and easy, but always delicious. I really don't have time for meals that require a lot of prep work or cooking time. Do you? One of my secrets for getting through the week and successfully feeding myself, my husband and my children is incorporating frozen meal options into our weekly meal plans. Frozen food, really? What's the difference between fresh vs frozen?
Did you know that freezing naturally pauses recipes made with fresh, quality ingredients and suspends them there until the moment you're able to enjoy them? The freshness, nutrients and flavor are all locked in. Freezing is simply how fresh stays fresh.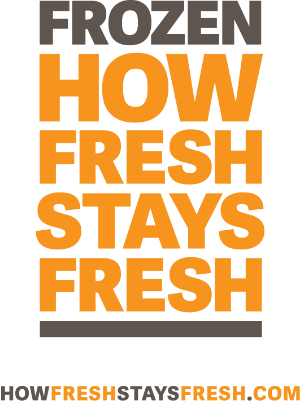 Check it out! Frozen. How Fresh Stays Fresh
Today I want to introduce you to a few of my favorite frozen food options that help get me and my family through our busy days. So, let's start with breakfast.
Here's what I like about frozen foods for breakfast. . . they're ready when you are! The kids love Kellogg's Eggo Waffles for their deliciousness, and I love how easy they are to store and prepare. All I need in the morning is a toaster, some maple syrup and some fresh fruit for our family to enjoy the heck out of them!
Another morning favorite are Pillsbury Toaster Strudels. Have you ever tasted these treats? The kids adore these small pastries, and their favorite part is squeezing on the creamy icing. I love that the icing comes in mini packets with enough to cover each pastry. You never use too much and you never run out until the final pastry is gone!
For lunch during the week, I often throw a frozen meal into my laptop bag and hit the road. Frozen foods really make calorie counting a breeze. With clear serving sizes and complete nutritional information, cooking the perfectly portioned meal couldn't be simpler.
One of my favorite frozen lunches is Stouffer's Lasagna Meat & Sauce! I do love lasagna, but I don't make it often at home because it makes SO MUCH! I can see myself taking huge amounts to work each day just to get rid of the leftovers. While I would enjoy it, my body would not, so I appreciate the fact I can just toss the Stouffer's tray into the microwave in the kitchenette at work and not have to over-think portion size!
Fast forward to the end of the day when I pick the kiddos up from daycare. They are HUNGRY! In fact, approximately two minutes or so after we walk in the door they are asking if dinner's ready. Really? Well, I've learned how to satisfy them until dinner is served. These TGI Fridays Mozzarella Sticks are just the ticket!
What kid doesn't like finger foods? Especially ones they can dip in marinara sauce? I actually prepare these on my rotating pizza oven at home and they come out just like they would at the restaurant. Crunchy on the outside with gooey, delicious cheese on the inside. It feels great knowing that I can prepare top-quality, restaurant-inspired appetizers without having to leave my house!
When the kids are in bed, and my hubby and I are looking for something sweet, these Edwards Dessert Singles are a favorite. Made with luscious layers of deliciousness and a homemade cookie crust, these convenient, individual servings of pie are a welcome treat at the end of the day.
I even add my own personal touch by throwing on a little extra whipped cream or ice cream, depending on what kind of day I've had! Beyond little touches like this, customizing frozen food dishes is becoming more popular than ever! Toss your favorite frozen vegetables in with chicken and rice or sprinkle some breadcrumbs on your mac & cheese after cooking. The ideas are endless and it's easy to add your own personal touch.
So if your life and days are as busy as mine, consider incorporating some frozen meal options into YOUR daily routine. It sure makes the work week easier and makes you feel good about being able to feed yourself and your family quality ingredients without the hassle of lengthy food preparation when you just don't have the time. Take control over the precious time in your day, your meals and your portion sizes! There are so many benefits of frozen foods. I'd love to hear how you incorporate frozen food into your meal plans during the week, too!
(Visited 747 times, 1 visits today)