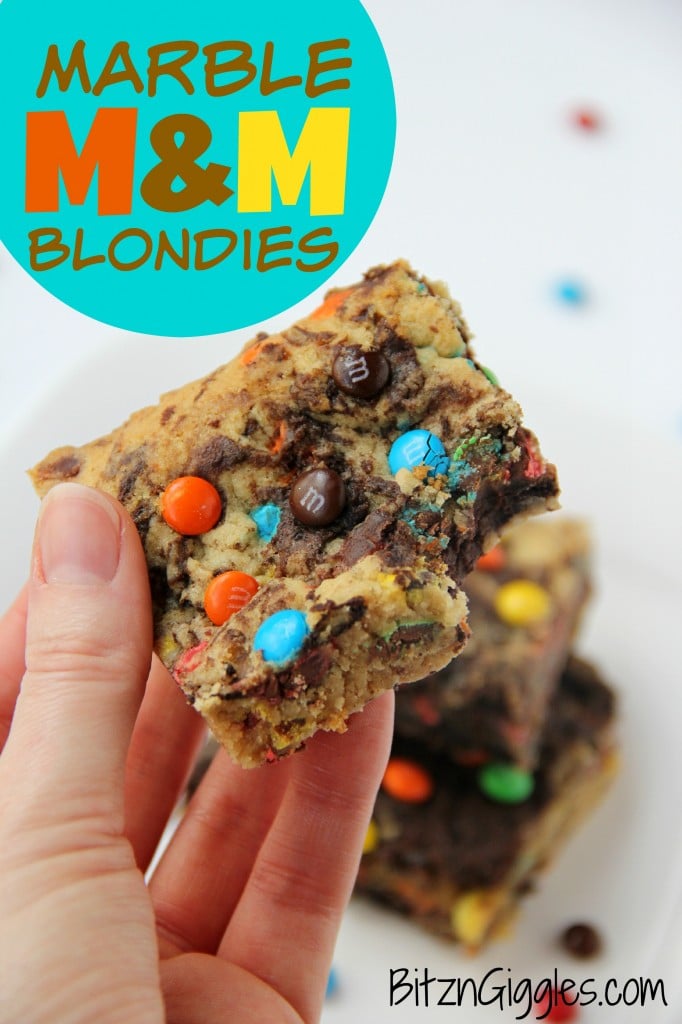 Has everyone recovered from Christmas? I know, I know. Not really, right? We're rolling from one holiday right into the next! Personally, I think it's great because I love to celebrate! This week we're spending some time in the Waterpark Capital of the World – Wisconsin Dells, WI!
Our family rarely visits the Dells in the summer because it's SO busy, but we love going during off-season. My sister and brother-in-law and their four children are joining us and we're so excited about spending some time together, just having fun and catching up.
Have you seen these Marble M&M Blondies around Pinterest yet? I shared these over at This Silly Girl's Life a little over a month ago, and today, I'm bringing the deliciousness to you!
Oh my goodness, these bars are seriously delicious and would be an awesome addition to any party dessert platter.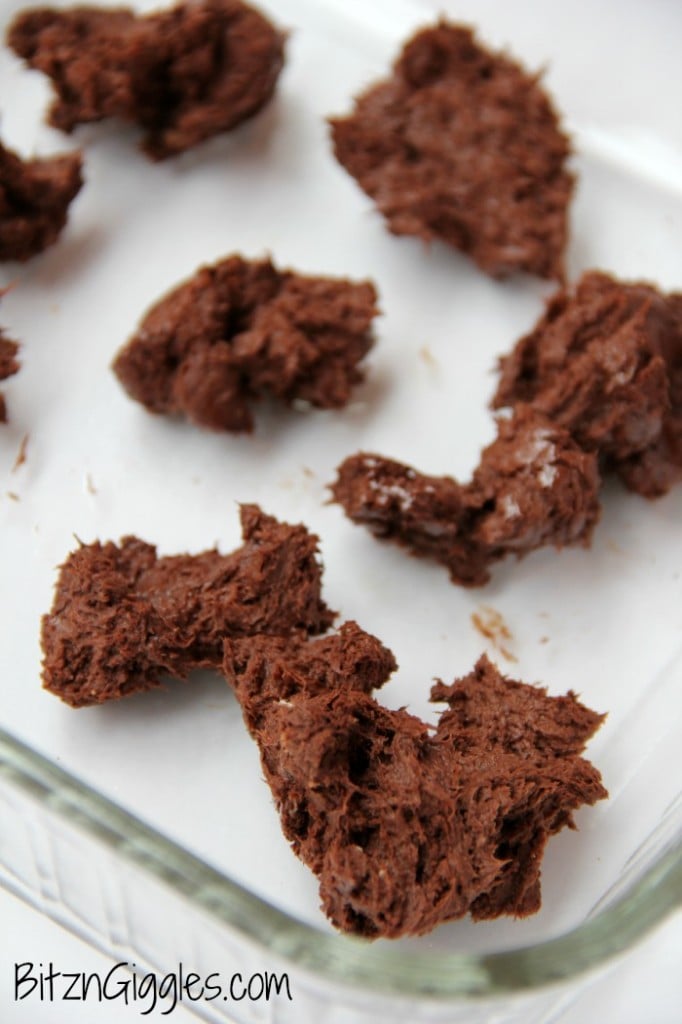 I love putting together dessert platters for parties and special occasions. A mixture of cookies, bars and candy gives everyone options and makes everyone happy. That's what we're going for, right?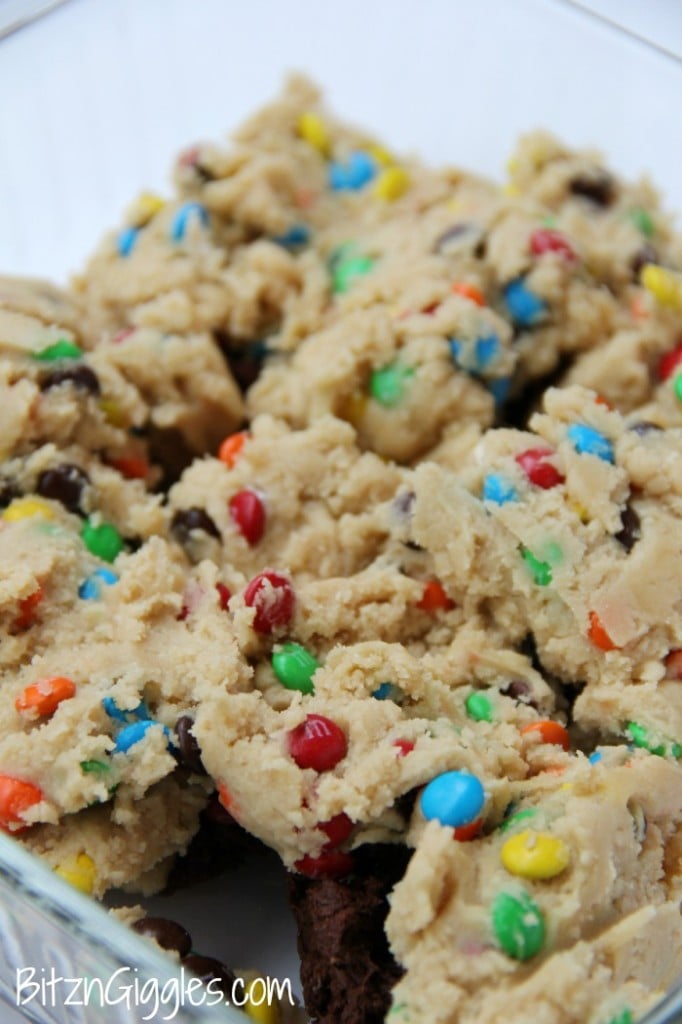 My mom always puts a sweets platter together for Christmas that she places on the dining room table. As we stroll from the living room to the kitchen, we have to walk through the dining room.
Let's just say that it has become a necessary part of our Christmas tradition and we make certain to make many trips back and forth just to snag another bar, cookie or piece of candy. This year she had wonderful chocolates and sugar cookies. My mouth is watering just thinking about it.

When the kids disappear from our sight, we know where to look first. I will warn you that these blondies I'm sharing today are kid magnets. Yep. I think it's the M&Ms that draw them in. I'm pretty sure that if I sprinkled some M&Ms on my kids' broccoli at dinner time, they might at least try a bite. That will be a goal for 2015. 😉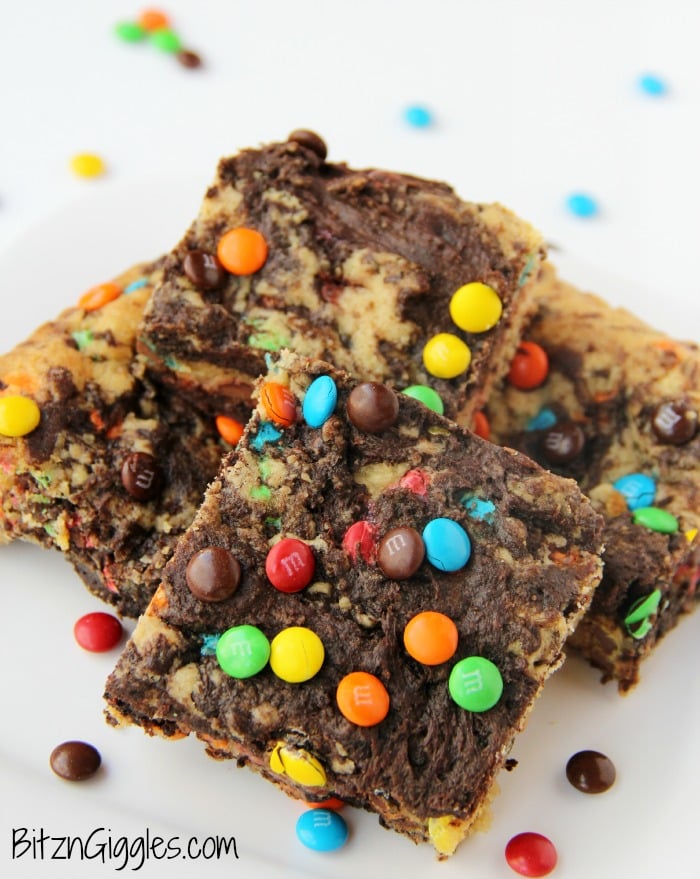 These bars are so versatile! If you'd like to give them a holiday twist, you could try using seasonal M&Ms or another chocolate candy you love.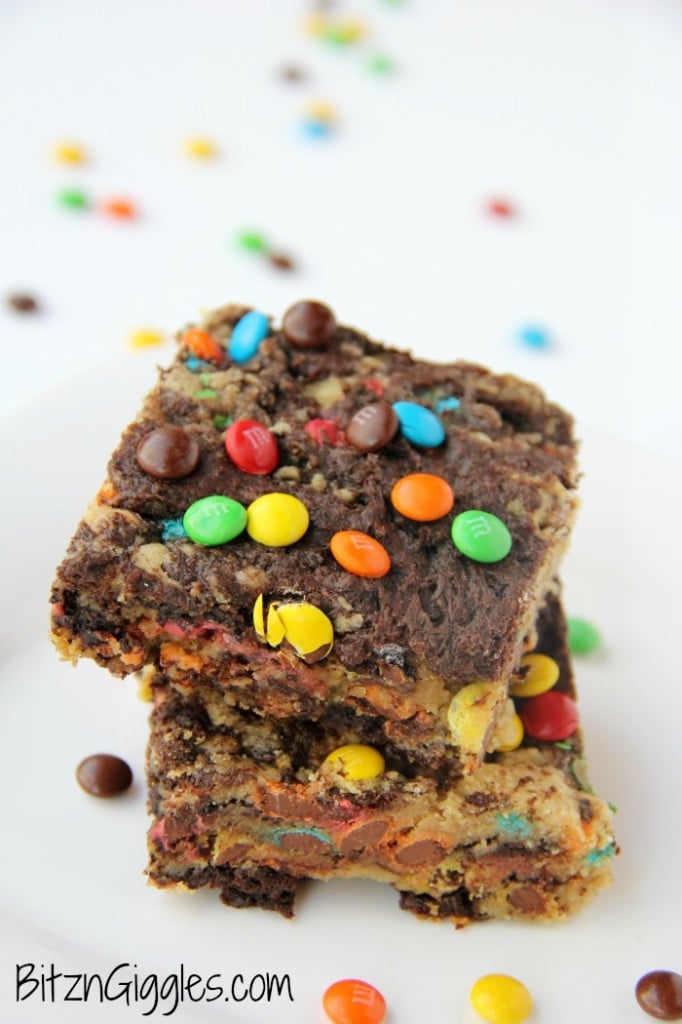 Regardless, I hope that they make it onto YOUR New Year's dessert platter this year. They may just become a favorite in your family, too!
Marble M&M Blondies
Blondies bursting with M&Ms and chocolate swirled throughout!
Ingredients
1/2 cup butter, softened
1/2 cup firmly packed light brown sugar
1 large egg
2 teaspoons vanilla extract
2 tablespoons sugar
1 1/2 teaspoons baking soda
1 1/2 cups all-purpose flour
1 cup mini M&Ms, divided
4 ounces cream cheese, softened
1 large egg yolk
1/4 cup unsweetened cocoa powder
Instructions
Preheat oven to 350 degrees Fahrenheit.
Grease a 9×9 inch pan and set aside.
In a large bowl, cream the butter and brown sugar; beat in the egg and the vanilla extract.
In another bowl, combine flour and baking soda; blend into the creamed mixture.
Stir in the M&Ms and set aside.
In a separate bowl, beat together the cream cheese, sugar and egg yolk until smooth; stir in cocoa powder until well-blended.
Place the chocolate-cheese mixture in little mounds, covering the entire pan.
Place the reserved dough around the cheese mixture and swirl the two mixtures slightly with a fork.
Pat down the mixture and sprinkle with remaining M&Ms.
Bake 25-30 minutes or until a toothpick inserted into the center of the bars comes out clean.
Cool completely and cut into bars.
Store in refrigerator in covered container.
Nutrition
Calories: 2599
Sugar: 138
Sodium: 2384
Fat: 145
Saturated Fat: 85
Unsaturated Fat: 46
Trans Fat: 4
Carbohydrates: 295
Protein: 40
Cholesterol: 739
Now For Some Holiday Drinks!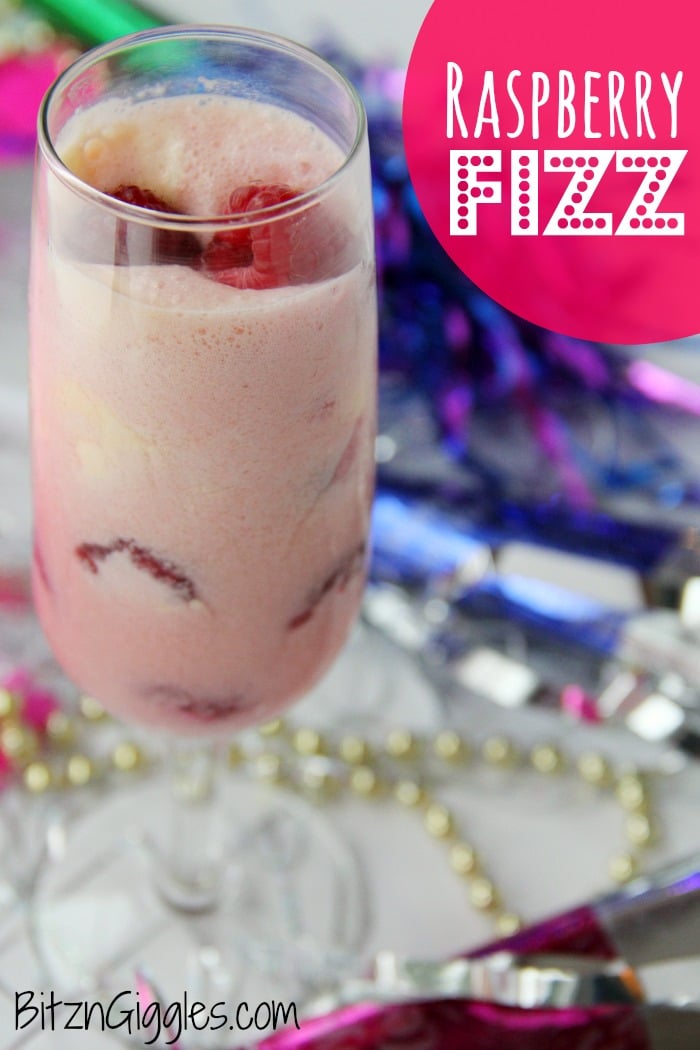 CONNECT WITH ME HERE:
Twitter | Instagram | Pinterest | Google+ | Facebook | Bloglovin'
(Visited 2,024 times, 1 visits today)