My Website Redesign: A New Look & Feel – Three reasons I invested in a new website design, a walkthrough of what's changed, what's been added and a promise of what lies ahead!

Well, hey there friends! It's been several days since my last post. Have you noticed anything "different" around here? I hope so because behind the scenes we've been hustling and putting the finishing touches on the new Bitz & Giggles site re-design! We've been "heads down" for the last few months getting the new site in place, and I was so happy to finally "go live" last week.
Why the New Look?
Why did I invest in a redesign? Well, there are a few reasons:
I needed better branding for my business.
While my old logo was sufficient to get my blog up and running it really wasn't a great visual example of what I was about. Honestly, I think it took me a couple years to figure that out. Heck, I may still be figuring that out! LOL My new logo is bright, colorful, fun and includes my new tagline, "Delicious bitz & tips for a happy life." It really speaks to what my site is about and truly is a reflection of me and my personality.
My site was not optimized for mobile.
60% of my visitors come to the site via mobile vs. desktop. The theme on my site that I had purchased when I began blogging was no longer being supported or updated. User experience on mobile wasn't the greatest, and with over half of my visitors coming in through that channel, it was important that I do something about my site to improve their experience.
I'm planning for the future.
As my blog and readership grows (and I find my little place in this world), I knew I needed to get a bit more focused and really highlight the areas where I knew I could provide value. My recipes were a "given," but new emphasis has been given to cleaning and pet tips. Annnnndd. . .there's a brand new travel category! More about that later. 😉
It Takes a Village. . .at Least a Small One
A big project like this is never accomplished alone. Nope. It takes a team – and I am eternally grateful to the two talented ladies, Melissa Rose of Melissa Rose Design and Lauren Gray of Once Coupled, who helped bring my vision to reality. Melissa was lead designer and Lauren was lead developer. Their level of professionalism and quick response time are second-to-none.
They are problem solvers and came up with solutions when I had questions or was having a difficult time making decisions. They walked me through every step of the process and made this whole revamp a pleasure rather than the nightmare it could have been if I would have chosen the wrong partners.
I truly believe these ladies have superpowers and I'm just so appreciative of their efforts, time, energy and most of all. . .patience. I'm not the easiest person to please, and their work was outstanding right from the get-go. I knew I was in good hands.
A Short Tour
So, with that being said, let me show you around. I talked briefly about my categories already (don't forget to hover over each of them on the site to see what happens!) but let me touch on why I've added Travel. I've found that when setting goals over the years, all of the motivation for accomplishing them has been tied to a trip or vacation. Taking my family somewhere, visiting new places, experiencing new things is very motivating to me.
It just makes sense to share all of the planning, best practices and lessons learned with my readers who love to travel as well. As the kids get older, I've found that travel becomes easier. It gets me so excited to think about all of the places we'll go, and all of the trips I'll be planning in the upcoming years. We leave for a Royal Caribbean cruise in June, and I can't wait to share all of our special moments with you!
In addition to travel, I've also added a sub-category – Time Management.
My readers have been telling me that they could really use some tips on getting their days organized, and so many of my blogging buddies wish they could get more focused and accomplish more during the day, too. I'm always asked how I juggle a full-time job, family and website. The secret is time management and the way I structure my day. If you find yourself challenged with getting the most out of your days or have a big dream you'd like to accomplish but just aren't sure where to start, start here. I promise there will be more to come.
You'll also notice that under the DIY & Cleaning category, I've added a subcategory for pets. How cute is that little paw print?!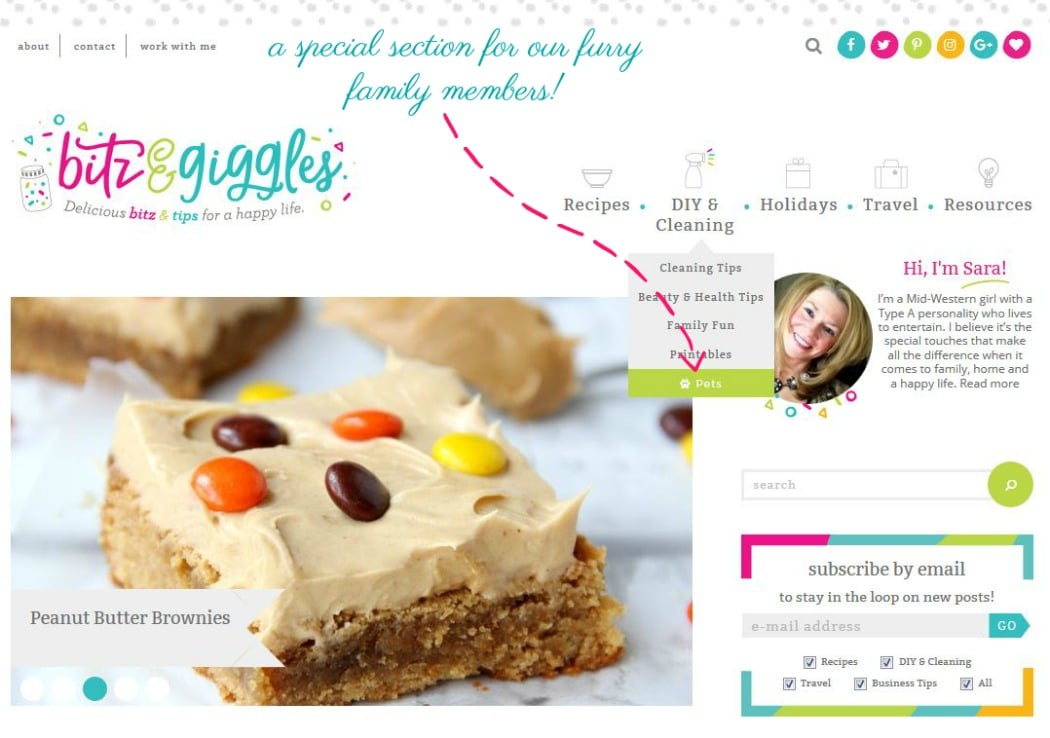 I've been having so much fun creating dog-friendly recipes and sharing pet tips and it makes my heart happy to know you love it, too. I thought it deserved a special call-out for all of my fur-loving friends. Check out that section for some great ideas to help pamper your pooch.
If you're already subscribed to my newsletter, THANK YOU! For those of you yet to sign up, I've made things a little easier by allowing you to check off what topics you're interested in.
You'll only receive updates on the topics that you choose! If you want all the content, you'll get all the content. You ask, I'll deliver.
A Promise of What Lies Ahead
So, that's about it. I'd love to hear what you think of the new design and layout. There are still a few kinks to iron out (as always), but I'm over-the-moon excited about this site. In the end, it's really not about the site itself or the new look and feel, it's what this project means to me and to my business. It's a reminder of how far I've come and what I've accomplished. It's a promise of what lies ahead in the future. It's proof that dreams don't need to remain just dreams.
Delicious Bitz & Tips For a Happy Life
Bitz & Giggles is all about finding happiness in the chaos we call life. It's often the little things that mean the most, like preparing a classic recipe that brings back memories of years past, finding a craft project to keep your kids or grandkids busy on a rainy day, starting a simple family tradition that your kids will pass down to their children or discovering tips to make the most out of your days so you can accomplish that "big thing" you're truly passionate about.
You'll find all of that here. . .and more. If you're a regular reader, I'm so happy to have you along on this journey. If you're a new reader, I sure hope you stick around! Subscribe to my email list for my latest posts and exclusive content I share only with my subscribers!
(Visited 1,174 times, 1 visits today)