Oreo Fluff Salad – A simple 4-ingredient sweet and fluffy no-bake dessert loaded with Oreo cookies folded into creamy vanilla pudding.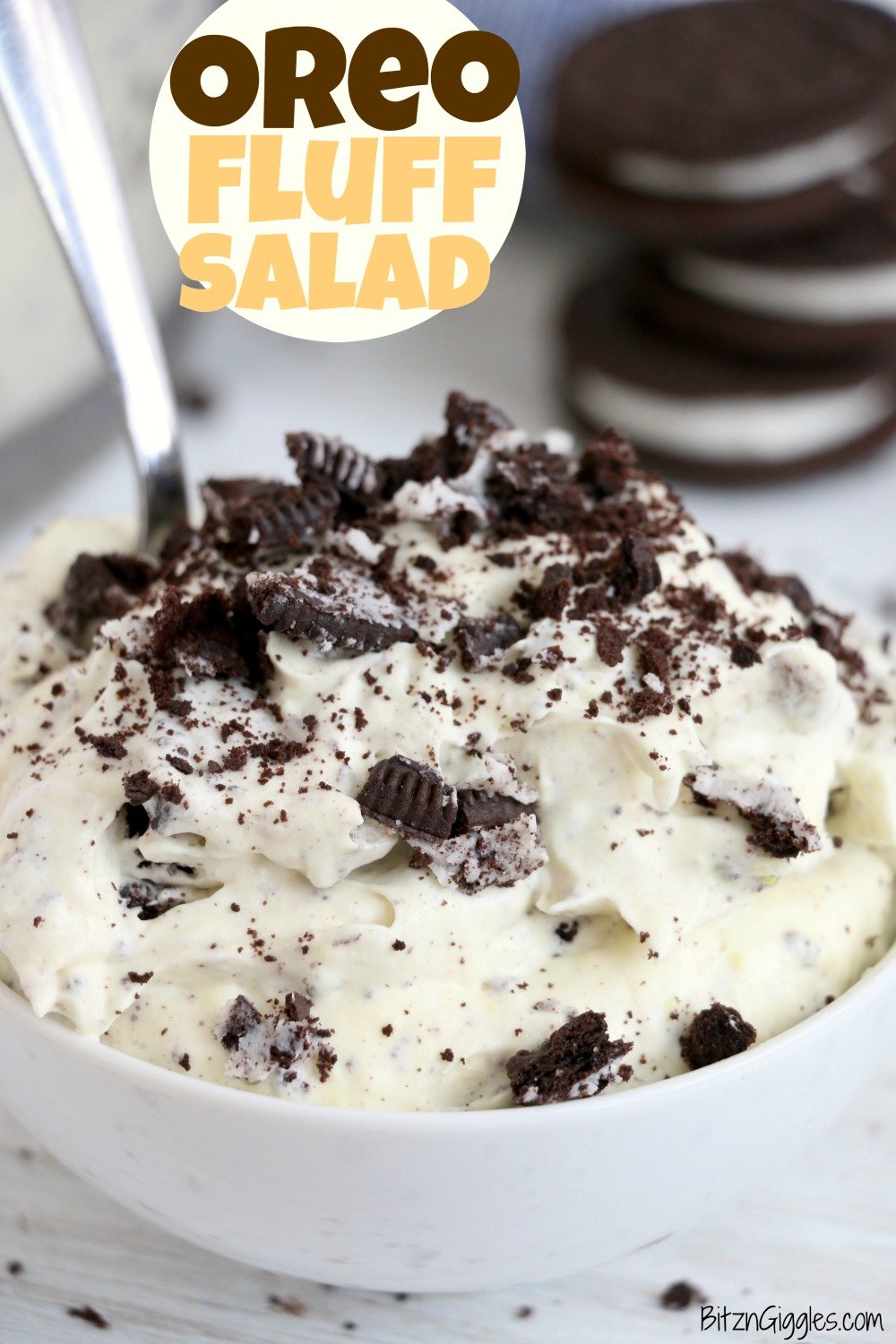 This post may include affiliate links. Please see my disclosure.
I thought it was about time to have the salad vs. dessert debate again. There's a lot of recipes we make here in the Midwest that have others questioning our sanity when it comes to how we label some of our side dishes.
Is something really a salad when you're adding Cool Whip and cookies? From my experience, yes. 😉Especially when you plop it down on a potluck table surrounded by other main dishes like casseroles and Sloppy Joes and you have a separate dessert table.
Is that really a thing, you ask? Well, yes, yes it is. Here in Wisconsin that's completely normal. Having dessert twice or three times during a meal is absolutely acceptable. I mean, who would really complain about that?🤷‍♀️
To appease everyone who may read this post, let's just call this Oreo Fluff we're making today a dessert salad. It's sweet, fluffy and loaded with Oreo cookies folded into creamy vanilla pudding.
It's a perfect summer or holiday side dish. And the best part? It's only 4 ingredients!
Ready to whip up some deliciousness? Me, too. Here we go!
HOW TO MAKE OREO FLUFF SALAD
To make this sweet and delicious side dish you'll need:
Vanilla pudding mix
Milk
Cool Whip
Start by beating together the pudding mix and milk until it thickens.
It should look like this when it's ready.
Fold in the Cool Whip.
Stir in the crushed Oreos.
CAN I USE A FOOD PROCESSOR TO CRUSH THE OREOS?
I wouldn't. I would use a plastic gallon baggie to put the Oreos in and then use a rolling pin to coarsely crush them. Don't pulverize them. Leave some larger Oreo pieces for texture.
If you want even more texture, you could always throw in some mini marshmallows as well.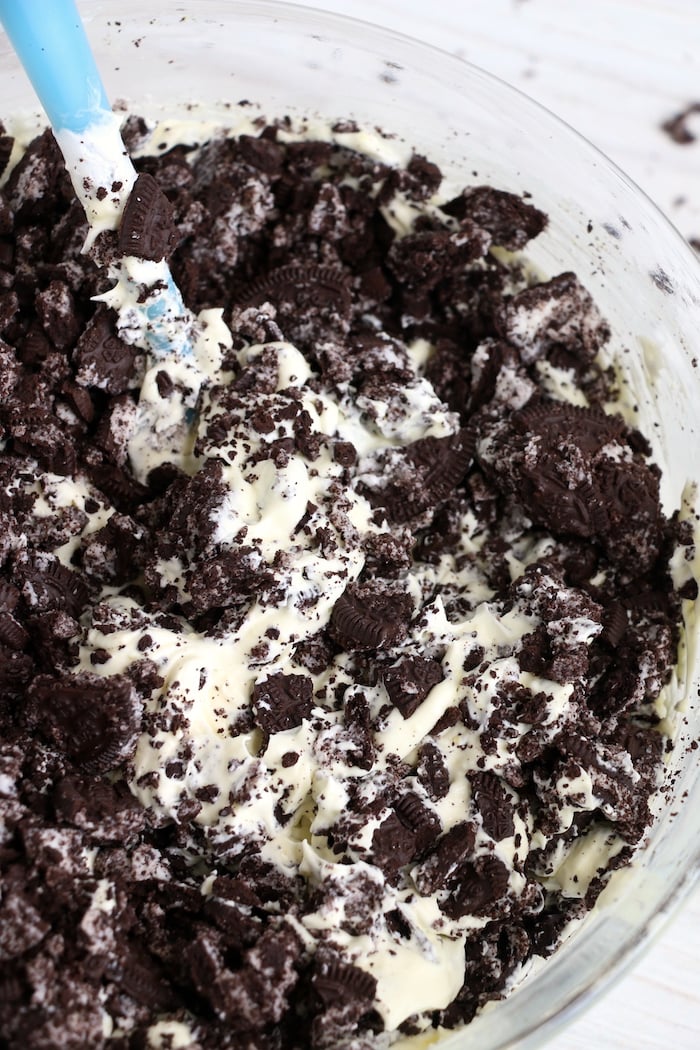 Make sure the cookie and pudding mixture is well-combined.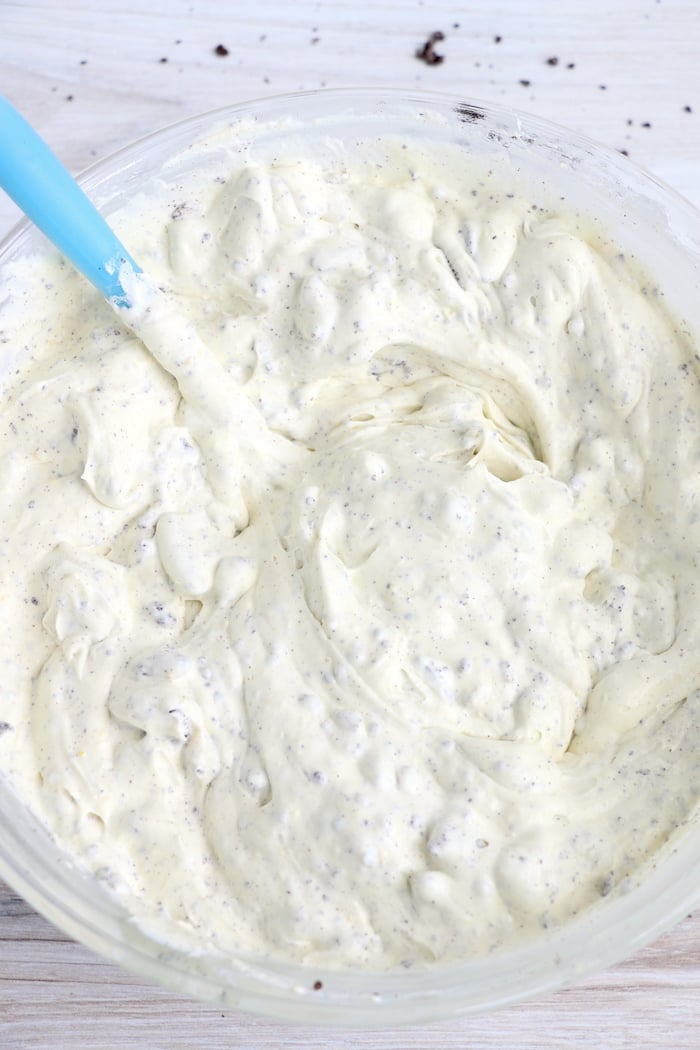 WHAT SHOULD I USE TO GARNISH THE OREO FLUFF?
I always use some extra crumbled Oreos for garnish on top of the salad. You could also try some strawberry slices or add in a little peanut butter flavor with some chopped up Reese's peanut butter cups.
CAN I MAKE OREO FLUFF AHEAD OF TIME?
Yep, in fact the recipe is perfect for that. If you are taking it to a potluck or picnic, make it the night before and keep it in the fridge until you are ready to serve.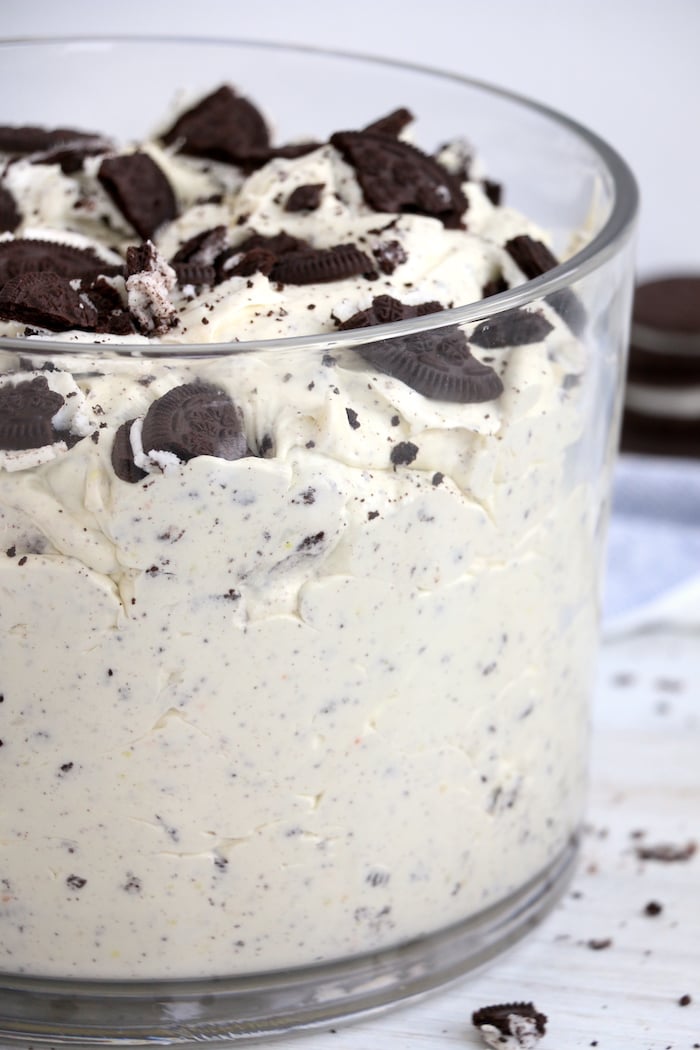 IS THERE A HEALTHIER VERSION OF THIS RECIPE?
I know it's actually a bit of a funny question, but believe me. . .someone is going to ask it.
So, yes it is possible. You can make this recipe to be a bit more healthy by using sugar-free pudding, sugar-free Cool Whip and reduced-fat Oreos.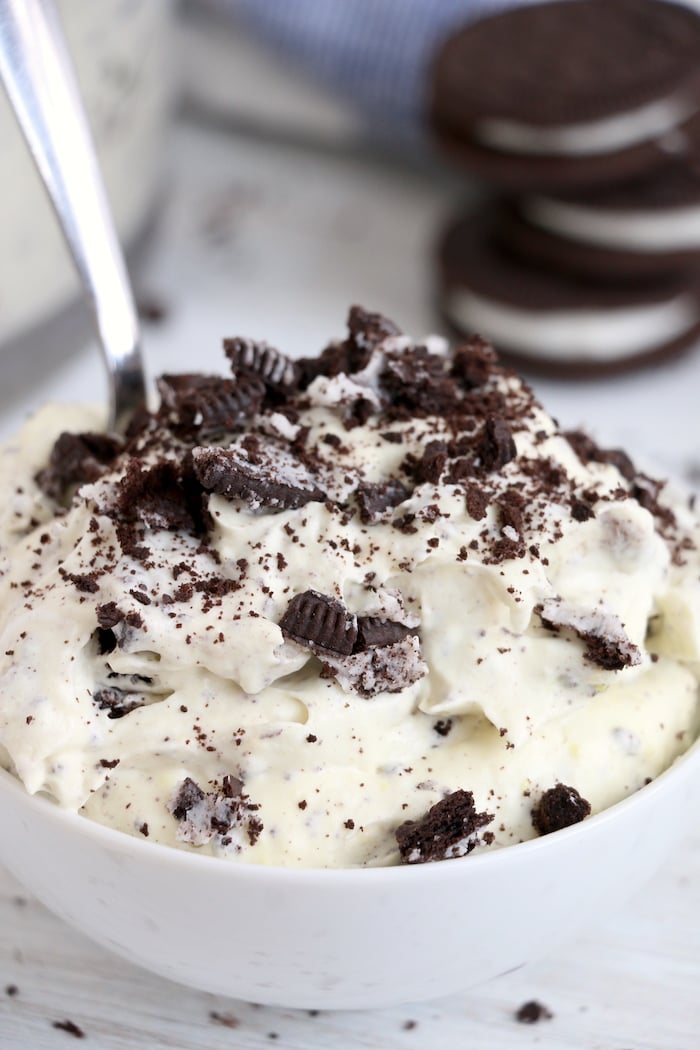 CAN I USE OTHER FLAVORS OF PUDDING FOR THE SALAD?
Sure! Go ahead and substitute any other flavor you prefer like chocolate, white chocolate, cheesecake, strawberry or get creative and start combining flavors!
You can even use different flavors of Oreos for a different spin on the salad.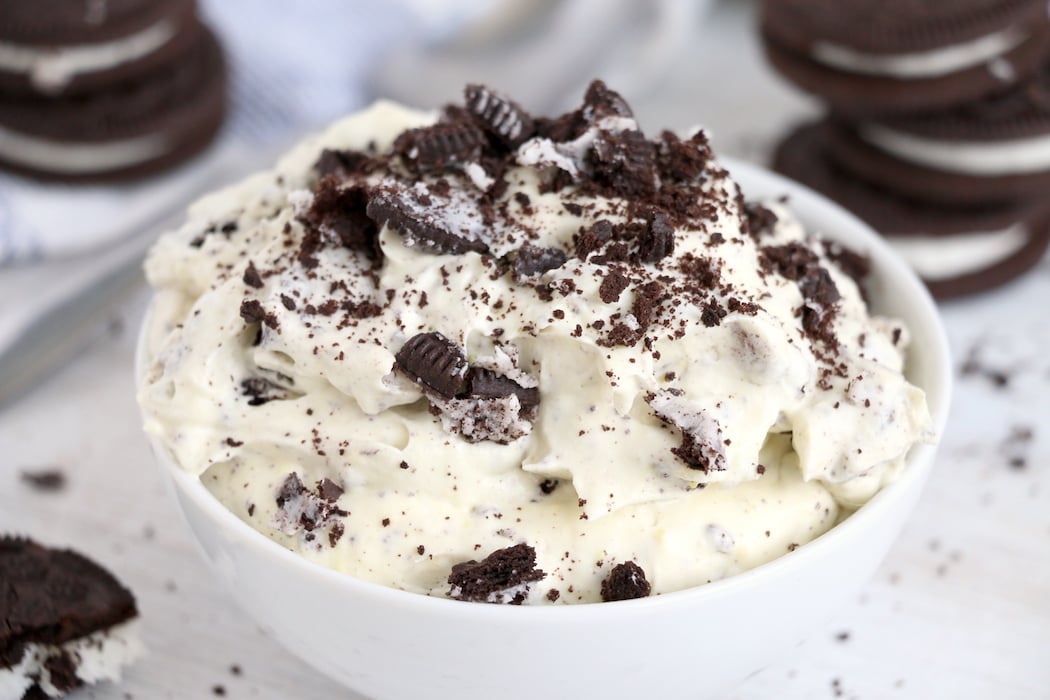 LOOKING FOR MORE SUMMER SALAD IDEAS?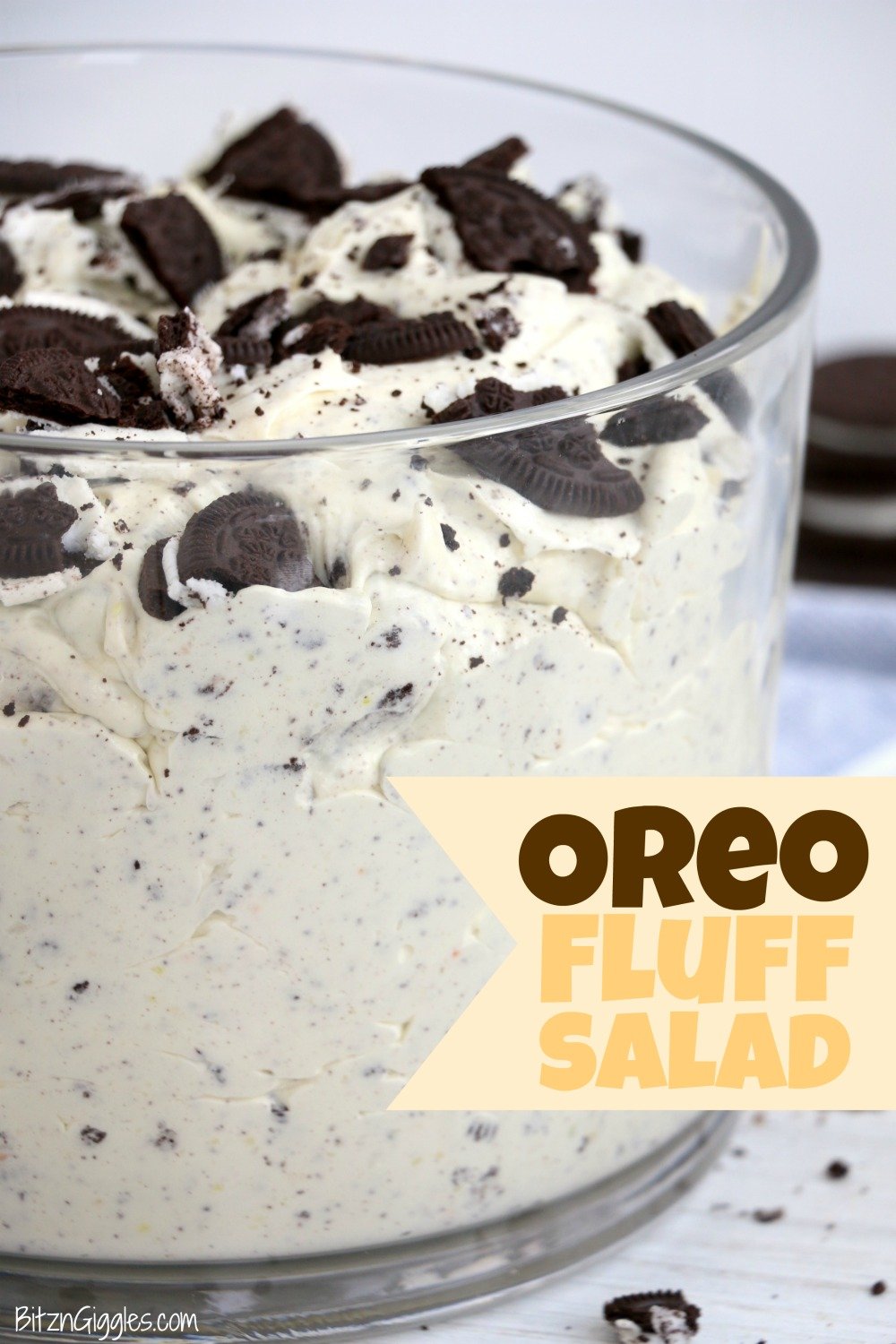 Oreo Fluff Salad
A simple 4-ingredient sweet and fluffy no-bake dessert loaded with Oreo cookies folded into creamy vanilla pudding.
Ingredients
2 – 3.4 oz boxes of instant vanilla pudding mix
3 cups milk
2 – 8 ounce tubs of Cool Whip
30 Oreos, crushed
Extra Oreos, for garnish
Instructions
Beat pudding mix and milk together until it thickens.
Fold in Cool Whip.
Stir in crushed Oreos.
Crumble some extra Oreos over the top of the dessert.
Chill at least 1 hour prior to serving.
(Visited 73,108 times, 1 visits today)