Ultimate Ice Cream Sundae Pie – Fudge and caramel topping-filled ice cream pie with a fluffy whipped topping covered in sprinkles!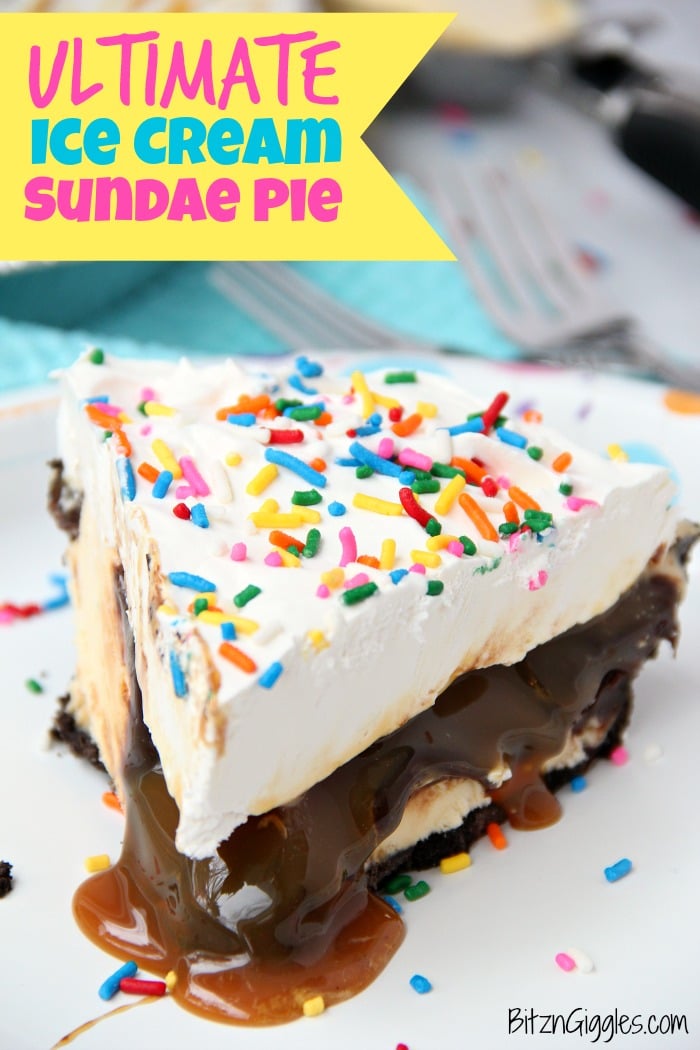 This is a sponsored post written by me on behalf of Acorn. All opinions are 100% my own.

I have the worst spring fever ever, and the blizzard we were hit with this month certainly didn't help the cause. I've made a vow that my mindset moving forward will be all about spring and summer regardless of what it really looks like outside. Mother Nature is not going to get me down. My garden may not be planted until June this year, but maybe that means I'll have fresh herbs and veggies until late in the fall. 🙂
Bottom line is, warm weather just makes me happy. In the summer, I literally spring out of bed, ready to take on the day. I also feel like I'm much more productive. . .and social in the summer. I really take advantage of the extra hours of daylight by going on walks, spending time with friends and playing with the kids, instead of changing into my yoga pants, fixing dinner and going to bed. Sound familiar?
Summer is really the season my husband and I entertain the most. It's also the season I spend the least amount of time in the kitchen. Wait, what? I know, I know. Normally if you're entertaining more, you're most likely spending MORE time in the kitchen, right? Nope, not me. It's all about simplifying, so I can get in on the fun, too! Simplifying to me is easy prep and easy clean up without skimping on the deliciousness, of course! That's why today I'm sharing the recipe for my Ultimate Ice Cream Sundae Pie!
Assembling the Pie
Not counting the sprinkles, this pie is literally five ingredients and it's super easy to prepare. Put the kiddos in charge. They'll be able to handle it, trust me.
All you need to do is scoop the ice cream into the pie crust and spread it out. Top it with some hot fudge and caramel topping and place it in the freezer to set.
The final step is spreading on the whipped topping (I use sugar-free to cut down on the sweetness) and garnishing the pie with sprinkles before placing it back in the freezer to set again.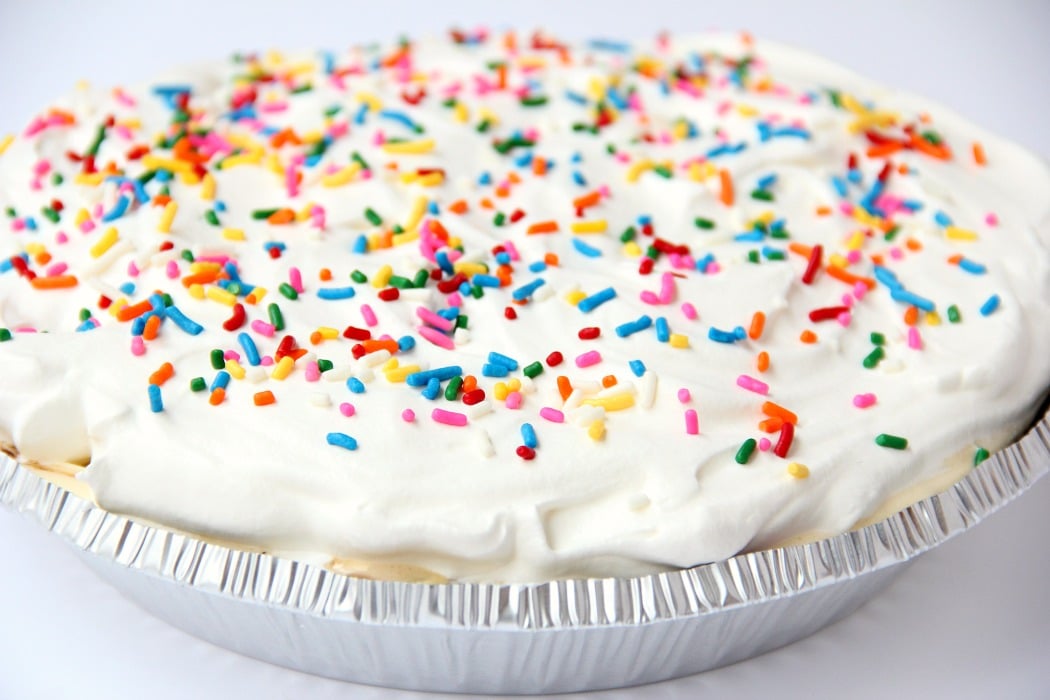 Serving the Pie
This ice cream pie cuts beautifully when you take it out of the freezer. It's the perfect dessert to serve on disposable Dixie plates, with their Soak Proof Shield™ that can stand up to anything from salad dressing to burger grease to pools of melted ice cream, fudge and caramel!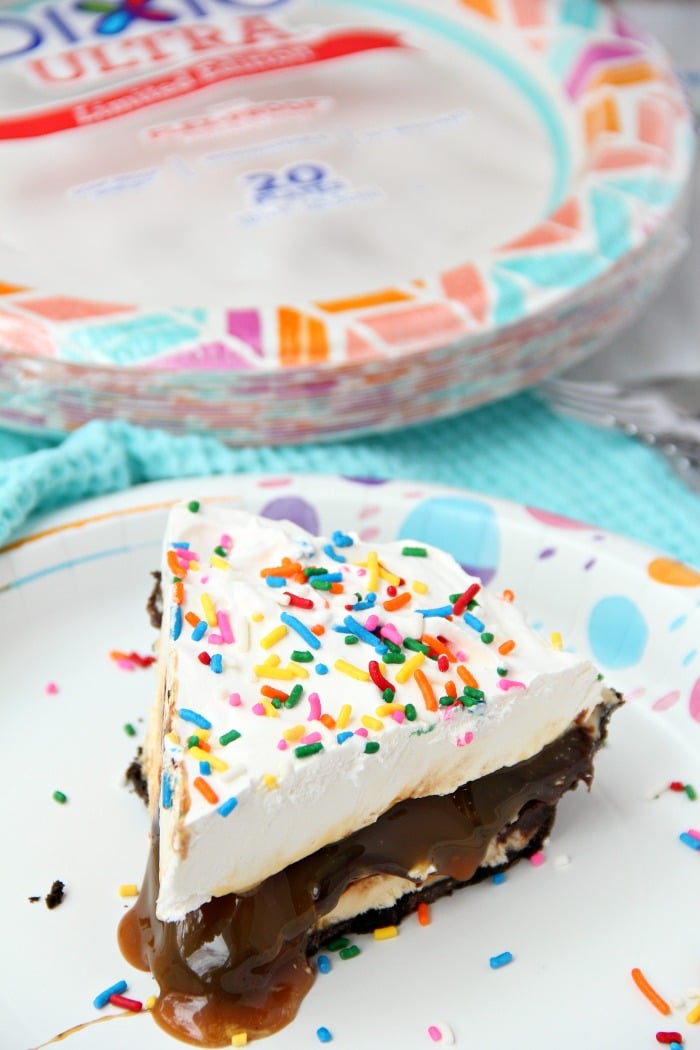 These plates are STRONG, friends – like 50% stronger than the leading store brand, so forget about having to double up if you're throwing a potluck meal. Did I mention they're also cut-resistant (great for steak) and microwavable (awesome for heating up leftovers)?
Beyond all of that, these plates are pretty. 🙂 They're colorful and fun. I found mine at our local Dollar General, kind of smack dab in the middle of the store. Since they're limited editions, they're only available now through the end of July. I grabbed several packages of these beauties on my way out of the store the other day.
Digging In
I'm pretty sure these plates and this dessert were meant for each other.
Once the pie is sliced and served, the fudge and caramel just ooze out of the pieces of pie, creating a pool of sweet deliciousness guests can dip their ice cream-filled forks into.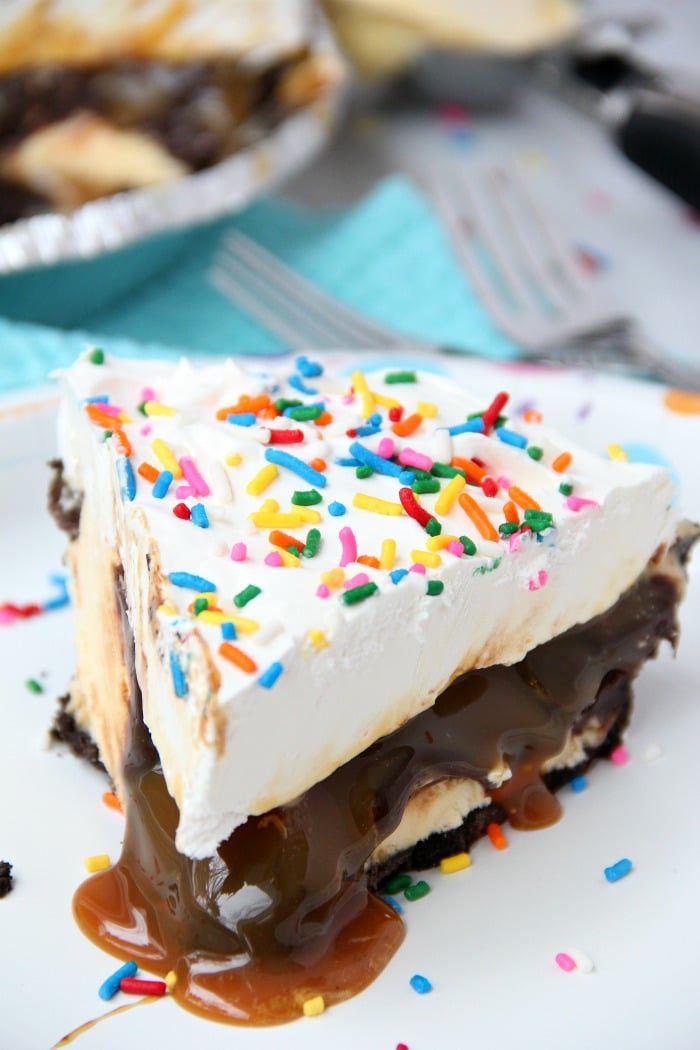 Oh my goodness. How decadent is this pie?!! Does entertaining get any easier than this? Easy ingredients, easy recipe, easy clean up. Just EASY. Exactly the way summer is supposed to be.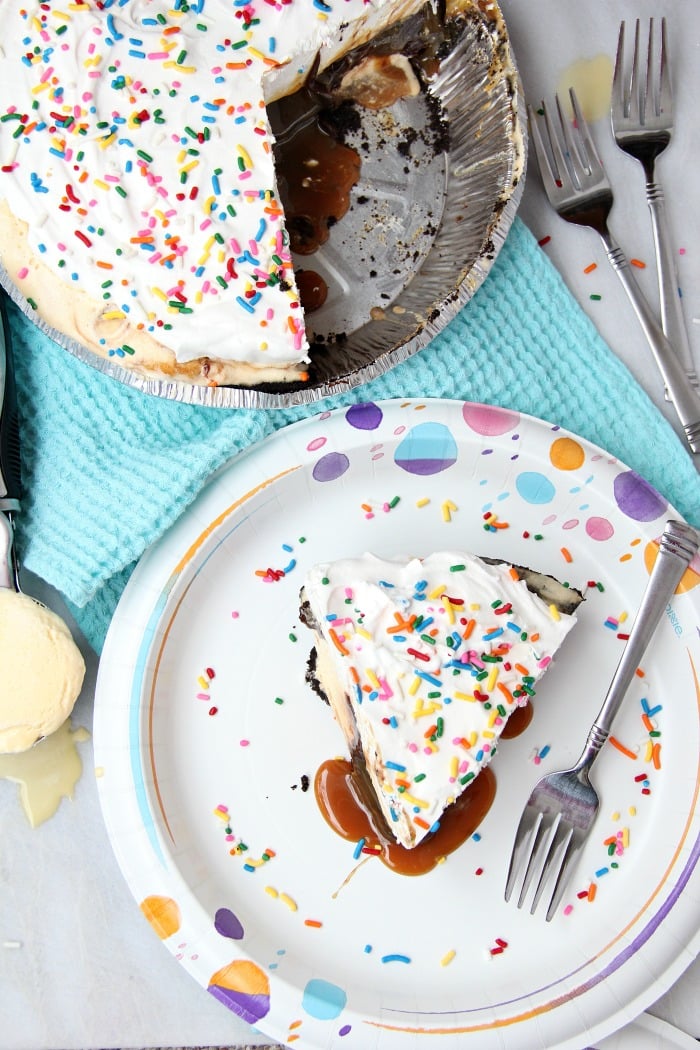 If you're as ready as I am for summer, call up some friends and family and invite them over to welcome in warmer weather with a piece or two of this ultimate ice cream sundae pie. I have a feeling I'll be making several of these over the next few months. 😉
Looking for more easy, no-bake desserts?
Ultimate Ice Cream Sundae Pie
Fudge and caramel topping filled ice cream pie with a fluffy whipped topping covered in sprinkles!
Author:
Yield: 8 pieces 1x
Ingredients
1 Oreo pie crust
1 pint vanilla ice cream, softened
1 11.75 ounce jar hot fudge topping, warmed
1/2 cup caramel ice cream topping
8 ounce carton sugar-free frozen whipped topping, thawed
Sprinkles, for garnish (optional)
Instructions
Scoop softened ice cream into Oreo pie crust and gently spread to fill crust.
Drizzle fudge topping over ice cream.
Drizzle caramel topping over fudge.
Freeze until set.
Spread on whipped topping.
Decorate with sprinkles.
Freeze for at least 2 hours.
Serve immediately upon slicing.
SaveSave
(Visited 4,315 times, 1 visits today)