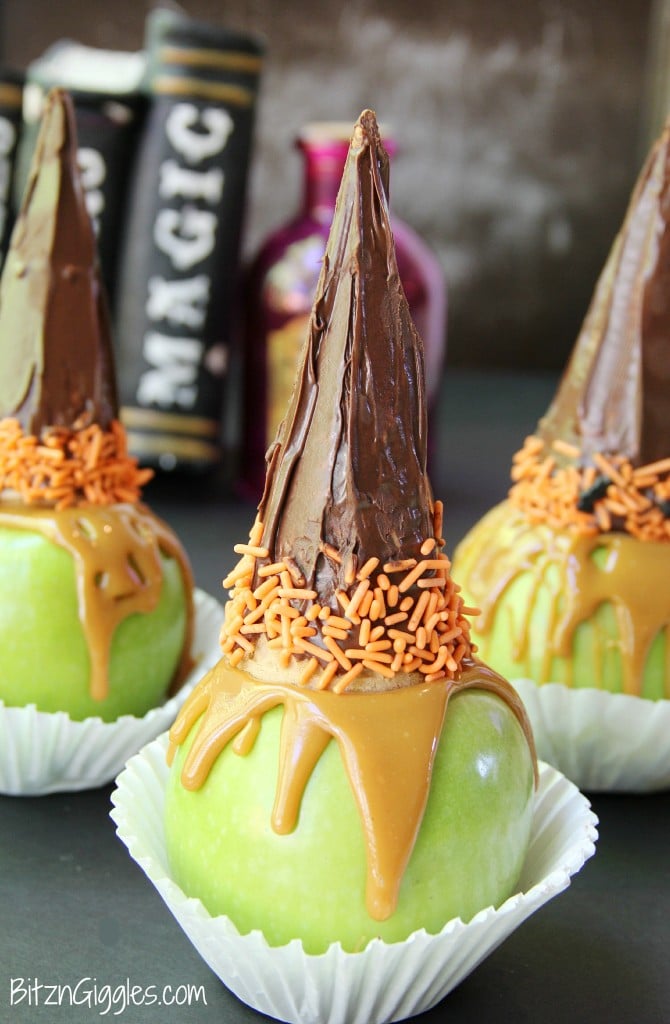 Although I'm never thrilled about the cooler weather as fall approaches, I do get excited about fall decorating and recipes. When September and October roll around it's a crazy busy time of year for our family. My husband and daughter celebrate birthdays in September and my son and I celebrate our birthdays in October. Maybe one of the reasons I do enjoy this time of year is because we get to eat lots of cake. 🙂
Cake aside, it's so much fun making treats and goodies for Halloween. Today I'm sharing these super cool Witchy Caramel Apples. Crisp and tart Granny Smith apples covered with melted caramel and topped with a chocolate covered sugar cone garnished with some Halloween-themed sprinkles. Yes, really. They are fantastic!
Start by melting some chocolate chips along with a little bit of shortening as the covering for the sugar cones. If you want a smoother look you could dip your cones in the chocolate. I wanted a rougher look so I poured the chocolate onto the cones with a spoons and then smoothed it out with the side of a butter knife. The goal wasn't perfection here. You want it looking a bit raggedy.
When you're finished with the chocolate, position some of the sprinkles along the "top" of the cone lining the entire perimeter to serve as the brim. Set aside the finished cones on a piece of waxed paper to dry and cool.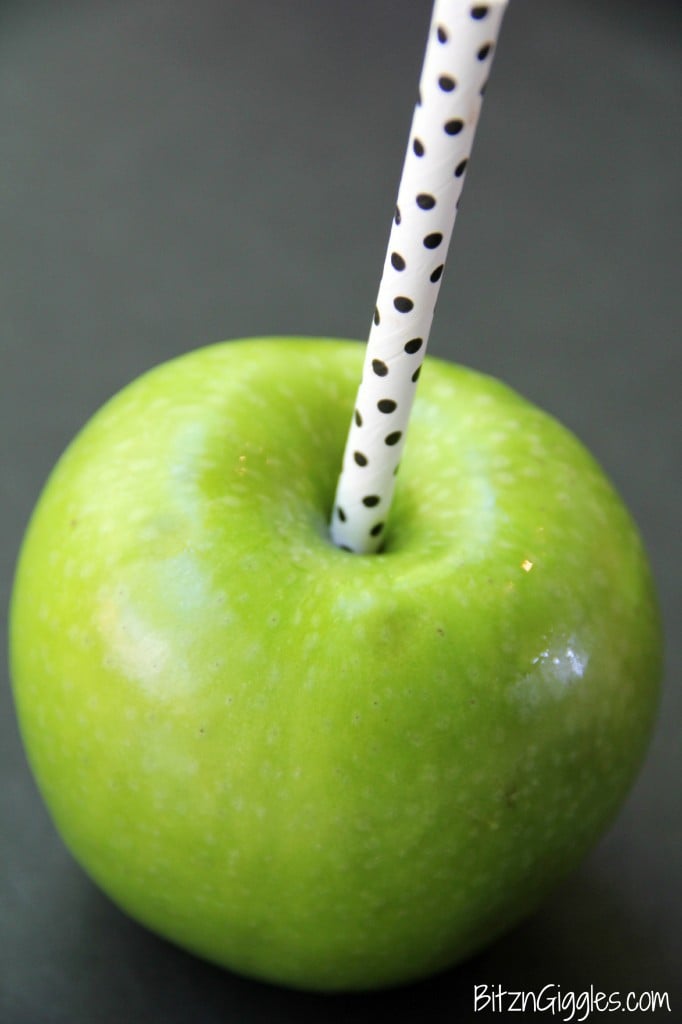 Now, it's time to break out those beautiful apples. Take a lollipop stick (I used Wilton's brand) and stick it into the top of the apple. Why use the sticks? Because, the easiest way to eat this treat is to remove the hat first and then use the lollipop stick hiding underneath the hat to devour the caramel apple!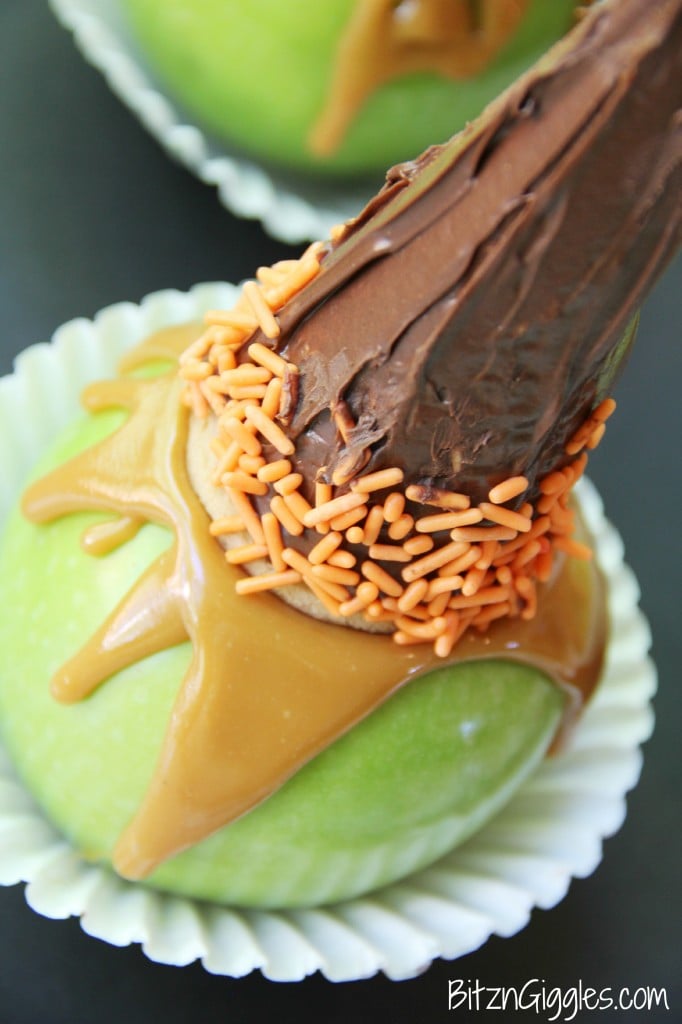 I placed the apples into larger cupcake liners and then melted about 1/2 bag of caramels with about 3-4 Tablespoons of water for the caramel topping. Once the caramel was melted to my liking, I drizzled it slowly over the apples. Each apple turned out a little bit differently which I loved. Some of the witch apples had crazier "hair" than others.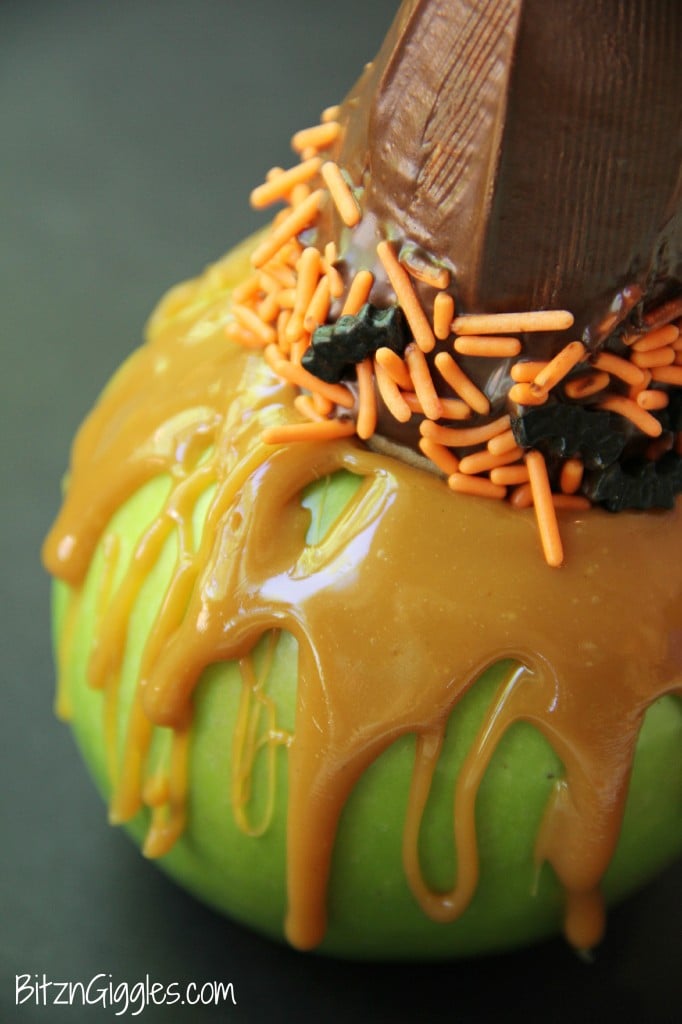 As you can see, I went a bit more crazy with this one and it turned out being quite possibly my favorite of the bunch. These are so much fun to make AND to eat. Both children and adults are delighted when they see these. Exercise your jaw before attempting your first bite! I think I may have pulled a muscle in my jaw. . .is that possible? Do you think it stopped me? Never.
If you are planning a Halloween party this year, these caramel apples are the perfect treat for your little ghosts and goblins. Enjoy making them and don't be afraid to give them your own personal touch!
Witchy Caramel Apples
Crisp and tart Granny Smith apples covered with melted caramel and topped with a chocolate covered sugar cone garnished with some Halloween-themed sprinkles.
Ingredients
4 large granny smith apples
4 sugar cones
6 ounces chocolate chips
1 tablespoon shortening
4 ounces caramels (or almost 1/3 of an 11 oz. bag)
4 lollipop sticks
4 jumbo cupcake or muffin liners
Sprinkles for garnish
Instructions
Use a microwave bowl and melt the chocolate chips and shortening in the microwave, heating and stirring at about 30 second intervals.
Cover the sugar cones with the melted chocolate using the side of a knife to smooth the chocolate out. Position the sprinkles around the "top" of the cone to serve as the brim of the hat.
Set the finished cones aside on a piece of waxed paper until completely cooled.
Wash and dry the apples, put a lollipop stick in the top of each one and place in a jumbo cupcake liner.
Combine the unwrapped caramels and water in a small sauce pan and warm over low heat until completely melted.
Use a spoon to drizzle caramel over each of the apples.
Place the hats on top of the apples taking care to cover the lollipop straws completely.
Set aside to cool and enjoy.
Nutrition
Serving Size: 4
Calories: 654
Sugar: 67
Sodium: 308
Fat: 20
Saturated Fat: 10
Unsaturated Fat: 9
Trans Fat: 0
Carbohydrates: 116
Protein: 8
Cholesterol: 12
I'd love for you to follow all of my recipes and adventures over at Bitz & Giggles, and don't forget to check me out online!
CONNECT WITH ME HERE:
Twitter | Instagram | Pinterest | Google+ | Facebook | Bloglovin'
(Visited 2,480 times, 1 visits today)