Sausage Potato & Sauerkraut Skillet – Kielbasa, potatoes and Coca-ColaⓇ-infused sauerkraut creates a winning combination for a traditional and comforting skillet meal.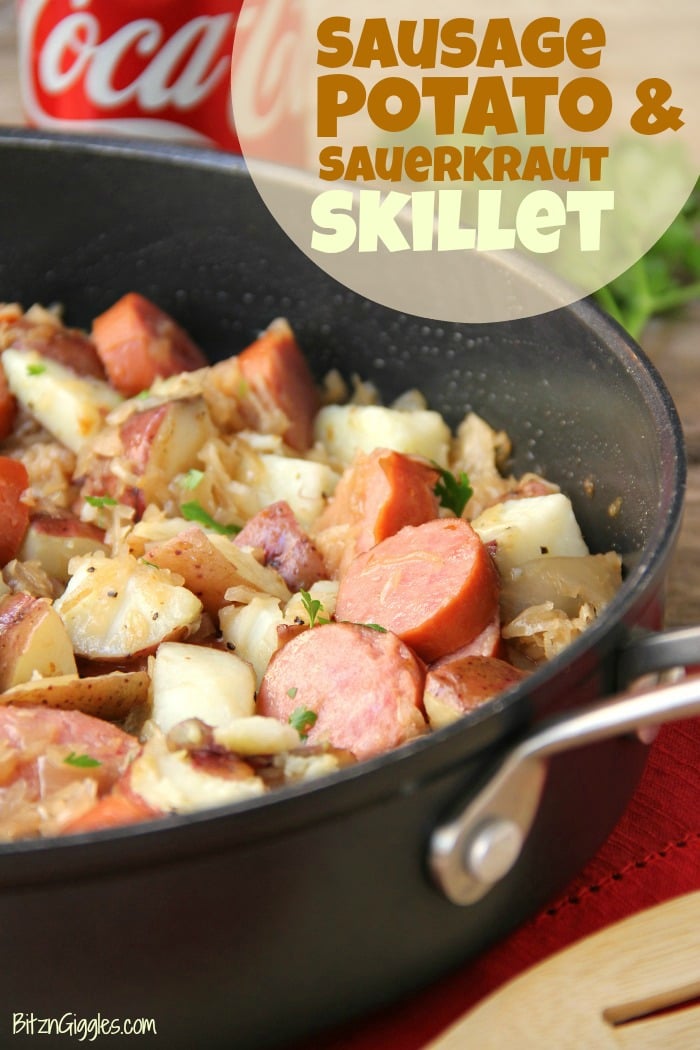 This post has been sponsored by THE COCA-COLA COMPANY. All thoughts and opinions are my own.
To think that the holidays are just around the corner is unbelievable. With the holidays comes lots of planning and preparation – home decorating, family get-togethers, wish lists and classic meals we  look forward to all year long.
Today I'm sharing one of my favorite meals to make around the holidays – this sausage potato & sauerkraut skillet. Sounds pretty Midwestern, doesn't it? Well, I guess it kind of is. My grandparents on my mom's side were Polish, and we ate lots of Kielbasa (Polish sausage) growing up. The sauerkraut  is a German thing and has always been a staple in my family on both sides. The potatoes. . .well, that's just a given for a classic Midwestern dish.
But here's a little twist you maybe weren't expecting. . .I use Coca-ColaⓇ to infuse the sauerkraut with a rich tangy, sweet and unexpected flavor.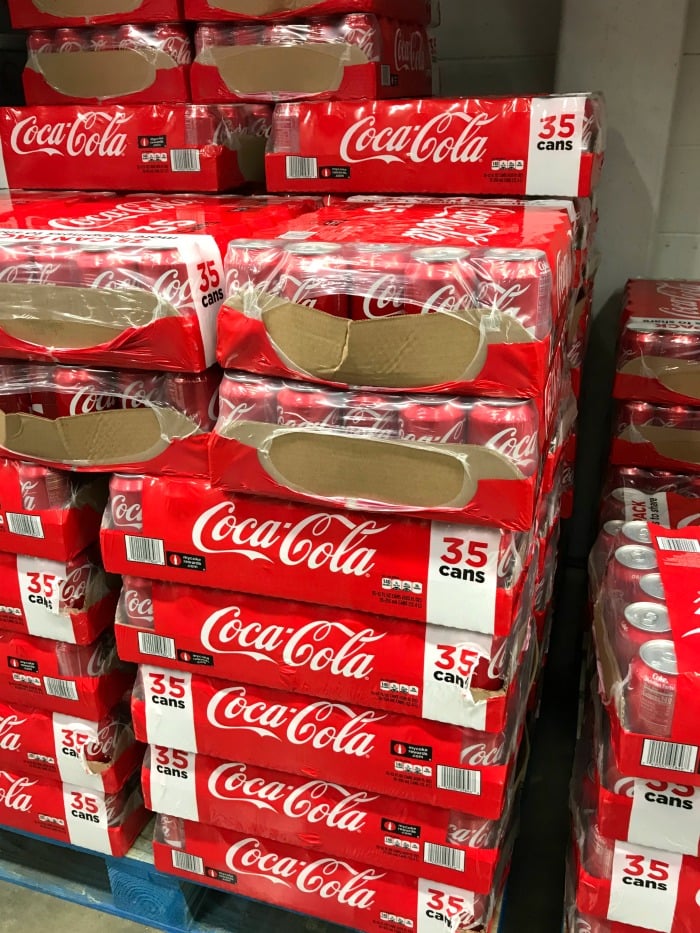 When I saw these huge 35 can packs at Sam's Club the other day, it made me think of this recipe. So, I snatched one of these big packs up, knowing that the rest of the cans would also be put to good use in the coming weeks.
Our family drinks Coca-ColaⓇ straight out of the can, we use it as a mixer for cocktails, and as I just mentioned, we cook with it, too. I've made marinades with it, used it in a slow cooker with roasts and have even baked with it. Today, though, it's all about the sauerkraut. And before we get started, here's a tip you're going to want to remember. . .don't forget to drain and rinse the kraut before you put it in the pan!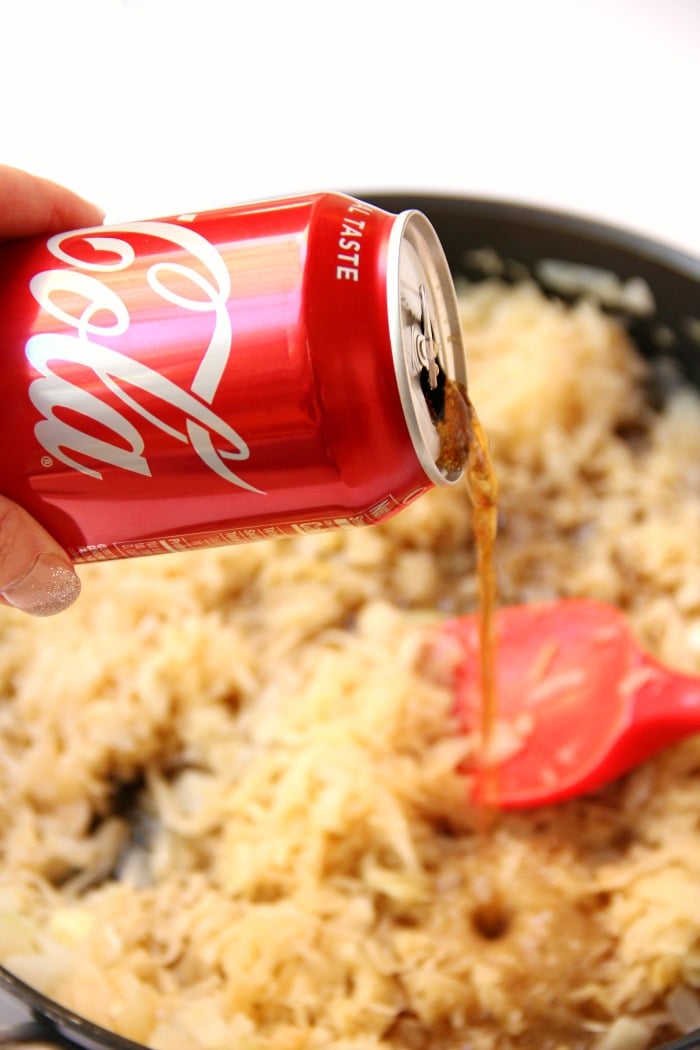 After adding the Coca-ColaⓇ, a little balsamic vinegar and brown sugar rounds out the flavor of the kraut. You just let it all simmer together for a good hour and then turn the heat up to let the remaining liquid cook down. Often I will make the sauerkraut the day before I make this skillet. I really believe that magical things happen when you set this in the fridge for 24 hours before you use it.
And for full disclosure, the amount of kraut I make is more than what's needed for the skillet recipe. I use about two cups for the skillet recipe and use the leftovers to top bratwurst, add to a pork roast or just eat on its own. It's a superfood, you know!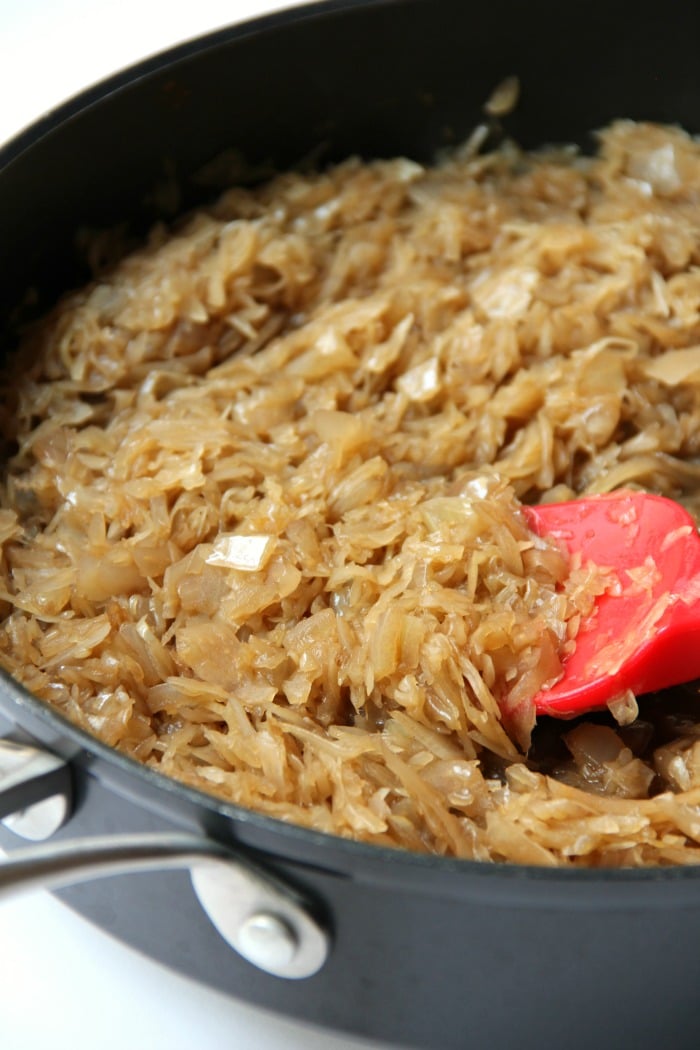 After the Coca-ColaⓇ cooks down, the sauerkraut will actually glisten. Pretty cool, right? Here's where we start putting everything together.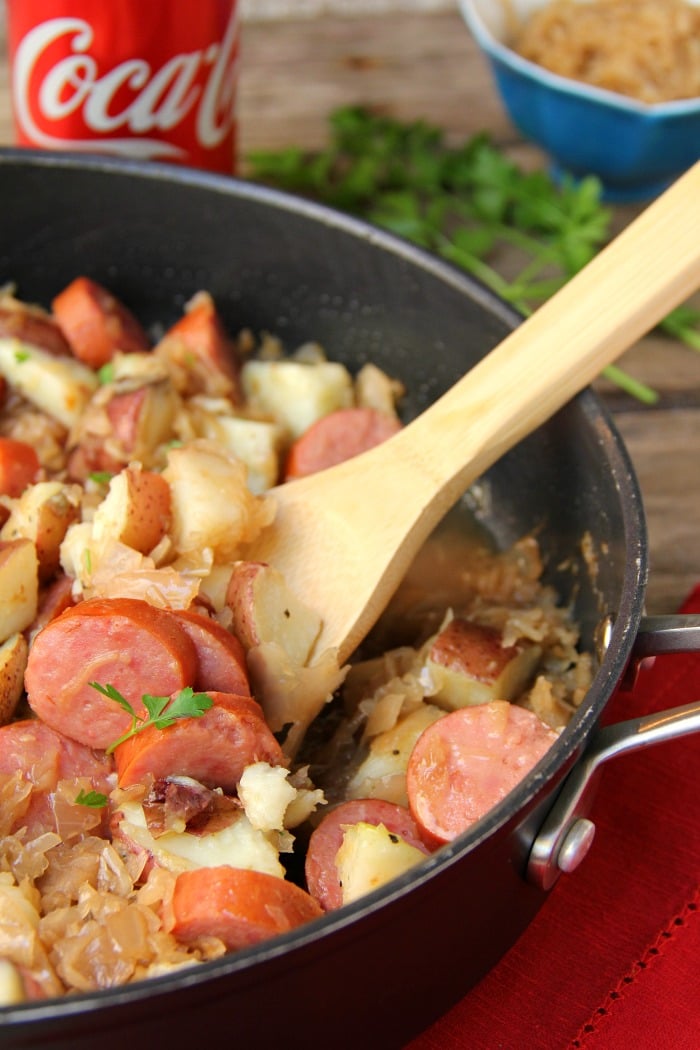 It's such a comforting flavor combination.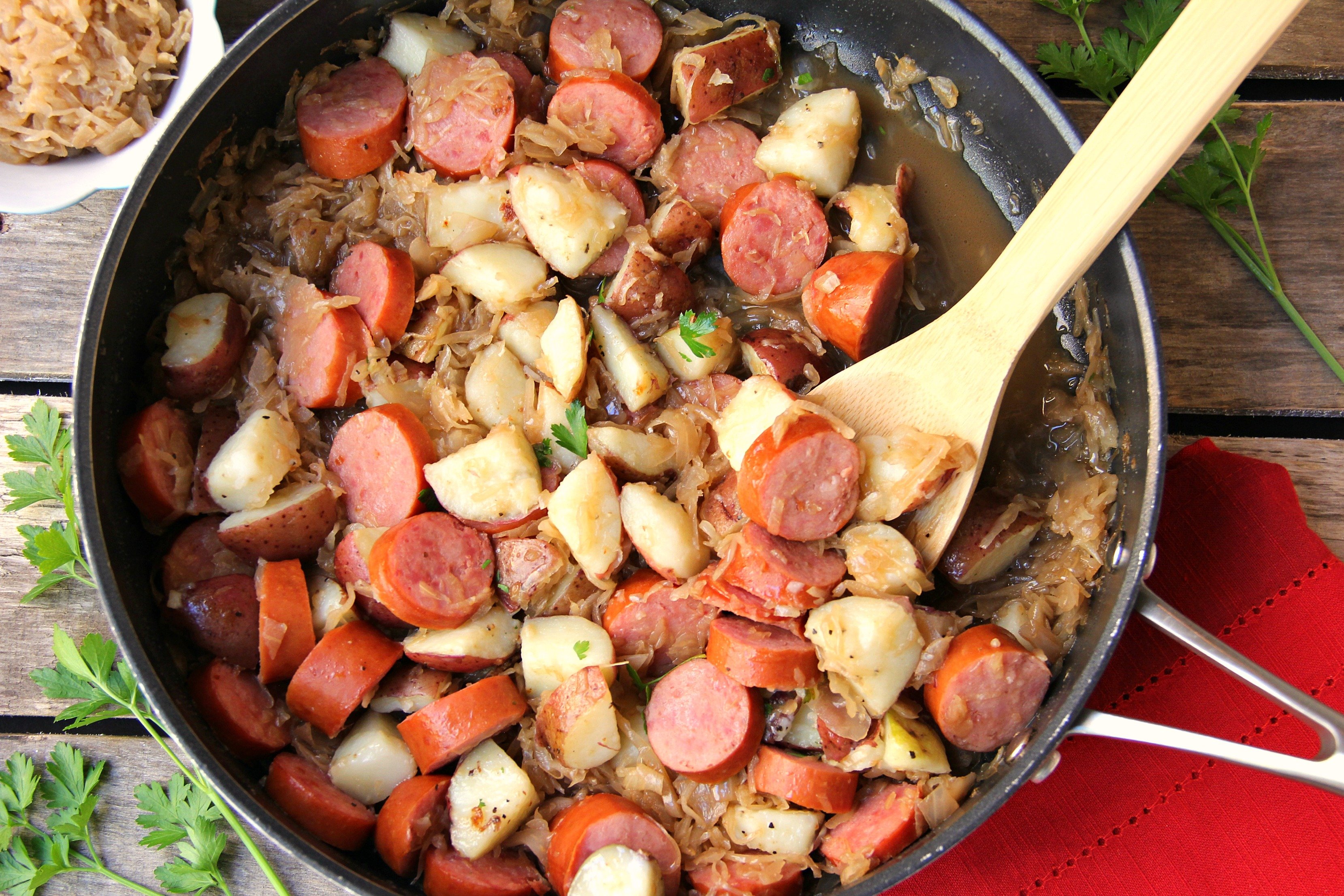 I'll be honest. I haven't always been a sauerkraut fan. I just actually started to really like it about a year ago. My parents always told me that my tastes would change as I got older, and they have. It's really true. Around this time of year, I find myself craving it.
This dish makes me think about my family. Who I am. How I was raised.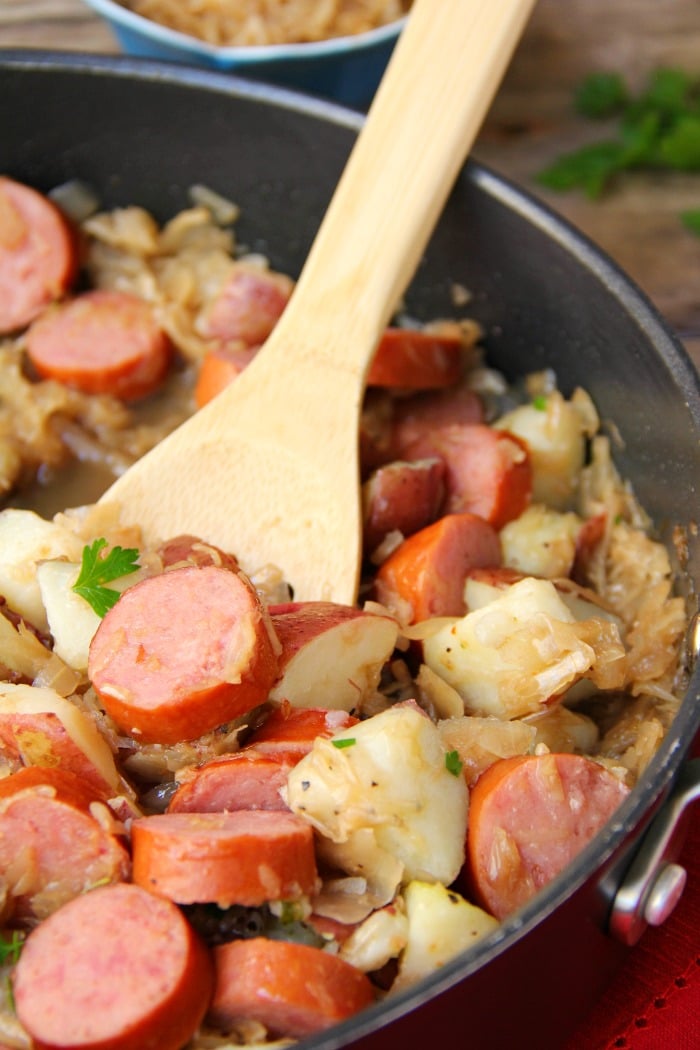 It's the perfect recipe to share with loved ones around the holidays. I also whip this up when I have some baked potatoes left over from dinner the night before. I just cut up the baked potatoes, salt and pepper them when they're in the pan and add the other ingredients. So simple. I hope you enjoy this dish as much as our family does.
Sausage Potato & Sauerkraut Skillet
Kielbasa, potatoes and Coca-ColaⓇ-infused sauerkraut creates a winning combination for a traditional and comforting skillet meal.
Author:
Yield: 4 servings 1x
Ingredients
For the Coca-ColaⓇ Sauerkraut
2 tablespoons butter
1 cup onion, chopped
14 ounce can sauerkraut, drained and rinsed
1 1/2 tablespoons balsamic vinegar
1 tablespoon brown sugar
1 can (12 fluid ounces) Coca-ColaⓇ
For the Skillet
6 baby red potatoes, cleaned and cubed
2 tablespoons butter
1/2 teaspoon salt
1/2 teaspoon pepper
14 ounces Kielbasa sausage, sliced
2 cups prepared Coca-ColaⓇ sauerkraut
Instructions
For the Sauerkraut
Melt the butter in a large skillet and saute onions until translucent.
Stir in the sauerkraut, vinegar, brown sugar and Coca-ColaⓇ.
Cover, reduce heat to low and simmer for 1 hour.
Remove cover, increase to medium heat and allow the liquid to cook down for about 15 minutes.
Set sauerkraut aside or refrigerate until ready to prepare skillet meal.
For the Skillet
In a large skillet, saute the potatoes in butter for 8-10 minutes or until lightly browned.
Salt and pepper potatoes.
Add the sausage and sauerkraut.
Cook uncovered over medium heat for 5-10 minutes or until heated through, stirring now and then.
Notes
Often I prepare the sauerkraut for this dish the night before. It might just be me but I believe it's even more flavorful the next day!

This holiday season, include Coca-Cola® as part of your tradition. Pick up Sprite® 4 pack 2 Liter, Diet Coke® 4 Pack 2 Liter, Coca-Cola® 35 pack cans, or Coca-Cola® 30 pack Mini Cans beverages from Sam's Club, then upload your receipt for a chance to WIN a trip for two to Los Angeles featuring:
An exclusive red-carpet screening of The Greatest Showman, plus pre-show
performance
Round trip air transportation for two (2)
Two (2) 20th Century Fox goodie bags
Three (3) nights' luxury accommodations in a Hollywood hotel · VIP backstage tour of Fox Studios with lunch at the on-site restaurant
Full on-site assistance from a personal winner manager throughout the trip
"Coca-Cola" is a registered trademark of The Coca-Cola Company.
SaveSave
SaveSave
(Visited 46,375 times, 1 visits today)