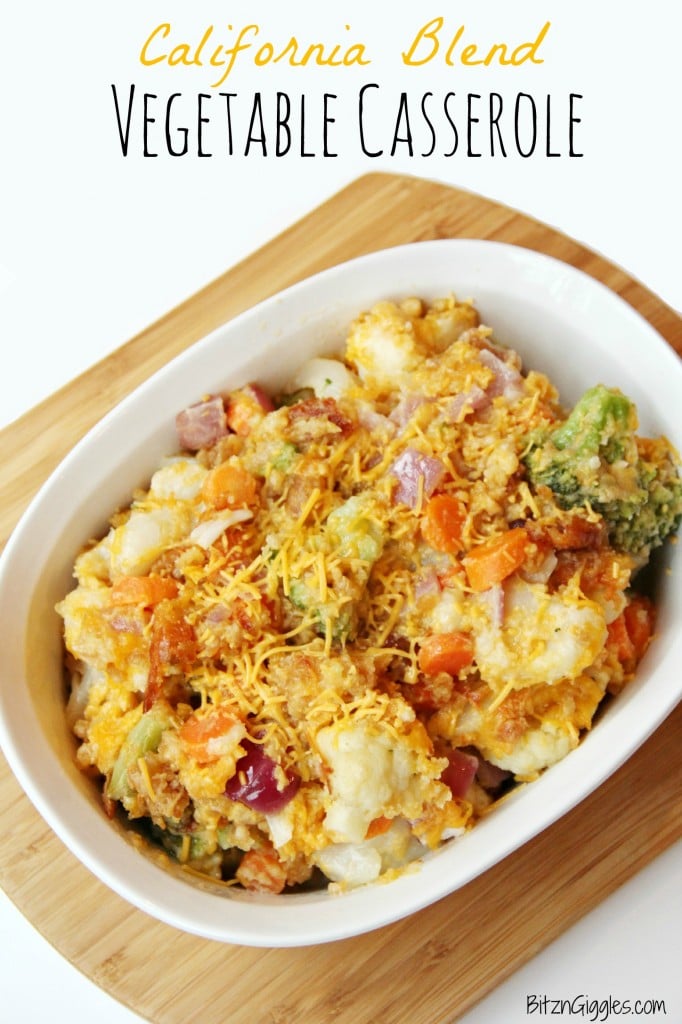 Happy Cinco de Mayo! I know, I know! Where's my Mexican dish? Well, I focused on Mexican in a few of my posts the last couple weeks so you could prepare and plan your menu ahead of time! If you missed the recipes, you can still check them out at the end of the post.
So although my dish today is quite American, it does include "mayo" as one of the ingredients. Does that count for Cindo de MAYO? Horrible joke, I know. This California Blend Vegetable Casserole is so yummy when you just don't know what to make for a side, and for me, that's pretty often. I always have a couple bags of California Blend veggies in the freezer, so this is a cinch to whip together.
It's a true medley of veggies and cheesy goodness topped off with a cracker crumb topping. It's SO good, in fact, you may ignore your main course altogether and go back for seconds on the vegetables. So, this evening, go ahead and party it up Mexican style. When you're ready to get back to the American comfort food, try this casserole as a side dish. It may soon become a family favorite!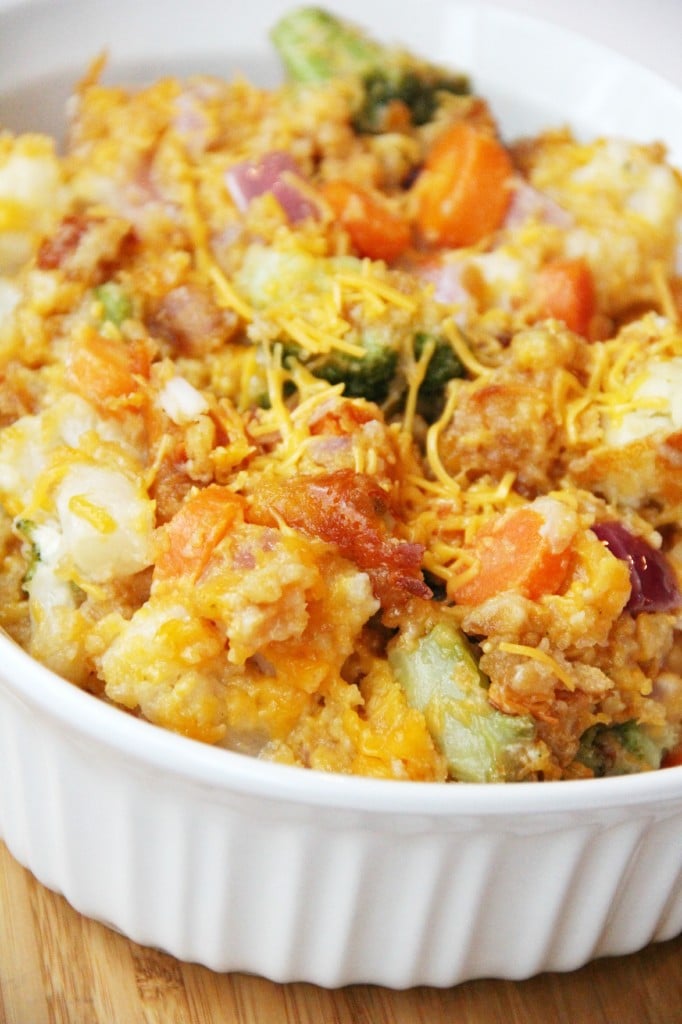 California Blend Vegetable Casserole
A cheesy vegetable casserole that's packed with flavor and ready to serve in 30 minutes.
Ingredients
2 (1 lb) bags california-blend frozen vegetables, thawed
1/2 cup chopped onions
1/4 cup butter, melted
1/2 cup mayonnaise
1/4 cup sour cream
1 cup Ritz crackers, crushed
1 1/2 – 2 cups shredded cheddar cheese
1/2 teaspoon salt
1/2 teaspoon garlic pepper
Instructions
Preheat oven to 400 degrees.
Grease a 13×9″ baking pan with nonstick spray.
In a large bowl mix the onions, butter, mayo, sour cream, salt and garlic pepper.
Add the vegetables and mix until well coated.
Fold in the Ritz crackers and cheese and transfer the mixture to the baking pan.
Bake for 30-40 minutes or until vegetables are tender and cheese is melted.
Nutrition
Serving Size: 6
Calories: 449
Sugar: 1
Sodium: 603
Fat: 35
Saturated Fat: 15
Unsaturated Fat: 18
Trans Fat: 0
Carbohydrates: 23
Protein: 14
Cholesterol: 68
If you're looking for some fun recipes to celebrate Cinco de Mayo, check these out!

Strawberry Watermelon Agua Fresca Popsicles
(Visited 192,370 times, 1 visits today)