Poor Man's Lobster – What a great meal to put together for a dinner party or just a quiet night at home. The way this seafood is prepared brings out the freshness in the cod with no "fishy" taste. This recipe really does make cod taste like lobster!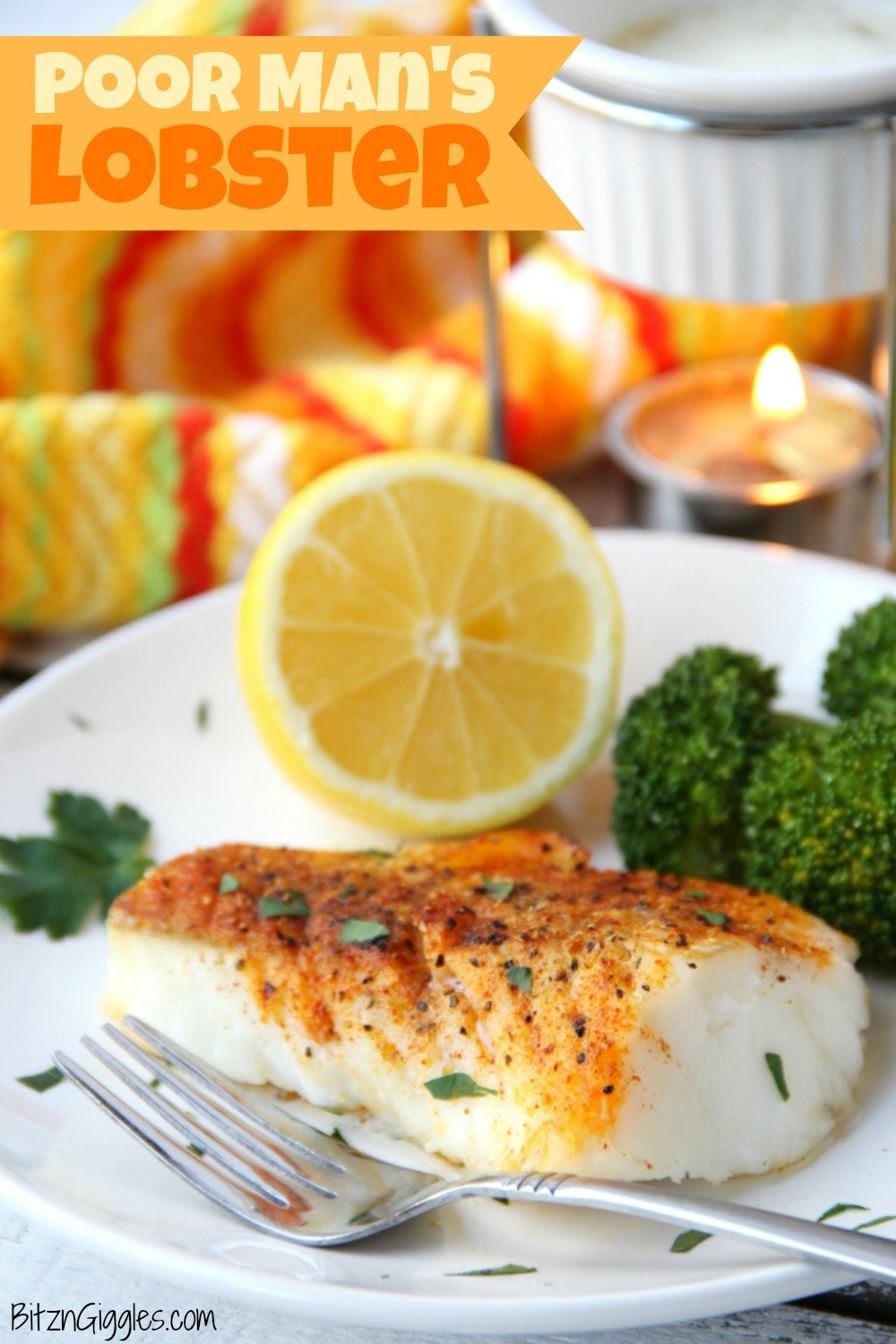 Updated: A few new photos have been created for this readers' favorite!
I absolutely love lobster. Every time my husband and I are out for a special dinner my mouth starts watering at the thought of this scrumptious delicacy (I live in the Midwest remember) being on the restaurant's specials board. But even when it is, I seem to always pass it up due to the high price tag and the guilt I'd feel following the meal. Sad, right?
Well, to turn my frown upside down I've learned how to make a mean broiled lobster tail for special occasions at home (buying and preparing it yourself costs roughly half of what you'd pay at a restaurant around here) and for a family dinner during the week, I opt for my tried and true broiled cod recipe we call Poor Man's Lobster here in Wisconsin.
The cod, when prepared as instructed below, has the texture and consistency of lobster and tastes almost like the real thing.
I promise it will not taste "fishy" and your house will not reek of seafood for the next several days. People who don't even like fish, like this recipe, and it's been known to please even the pickiest eaters – AKA my children.
I still haven't shared the best part of this recipe. You know those days when dinner sneaks up on you or you've been at work all day and realize you never took any meat or fish out of the freezer to feed your family that evening?
Yep, you know what I'm talking about. Well, this recipe is the ticket because you don't need to thaw the cod beforehand. In fact, I prefer NOT to thaw the cod when I make this. Keep reading and I'll tell you why.
Poor Man's Lobster is easy, delicious and healthy (for the most part). If you want to substitute the sugar with Splenda, fine. If you want to use less butter, fine. But don't substitute margarine for the butter – it has too watery of a consistency.
Roll up your sleeves, get your ingredients together and let's make some Poor Man's Lobster! It's pretty safe to say this could easily become a staple meal in your home after you try it!
For this recipe, you'll need 6 (6 oz.) frozen cod fillets, 1 cup sugar, 6 cups water, 2 tablespoons salt, lemon pepper seasoning, paprika, 1/2 lemon and melted butter.
Begin by covering a broiling pan with aluminum foil. Shape the foil to the grooves of your pan to catch the excess liquid and spray with foil with nonstick spray.
Next you'll need 6 cups of water in a bowl, salt and sugar.
Add a cup of sugar to the bowl of water.
Now add two tablespoons of salt and stir.
Put the frozen cod fillets into a large saucepan. I used 7 fillets since mine were a little smaller than 6 oz. each. Pour the water mixture over the fillets.
Bring the water to a boil for 3 minutes. Here's where the frozen fillets come into play. When you boil the fillets while frozen they're less likely to break apart during the boiling step.
Remove the cod from the water with tongs taking care not to break the fillets in half. Place the cod fillets on the foil-lined broiler pan. If you use something other than a broiler pan (like a cookie sheet) make sure to blot the excess water off of the fish. Using a broiler pan prevents the fish from sitting in the excess liquid when in the oven.
Brush some melted butter on both sides of the fillets.
Sprinkle on some lemon pepper seasoning and paprika.
Squeeze some lemon juice over all of the fillets and put under the broiler for about 7 minutes or until fish flakes with a fork. I always broil mine on low.
Here is my observer. She colors while she waits for her dinner. Notice her favorite puppy next to her. He never leaves her side. Puppy gets baths weekly.
Alright, where were we? Keep checking to see how the fillets are coming. When the fish turns an opaque white, you'll want to pull the fillets out of the oven.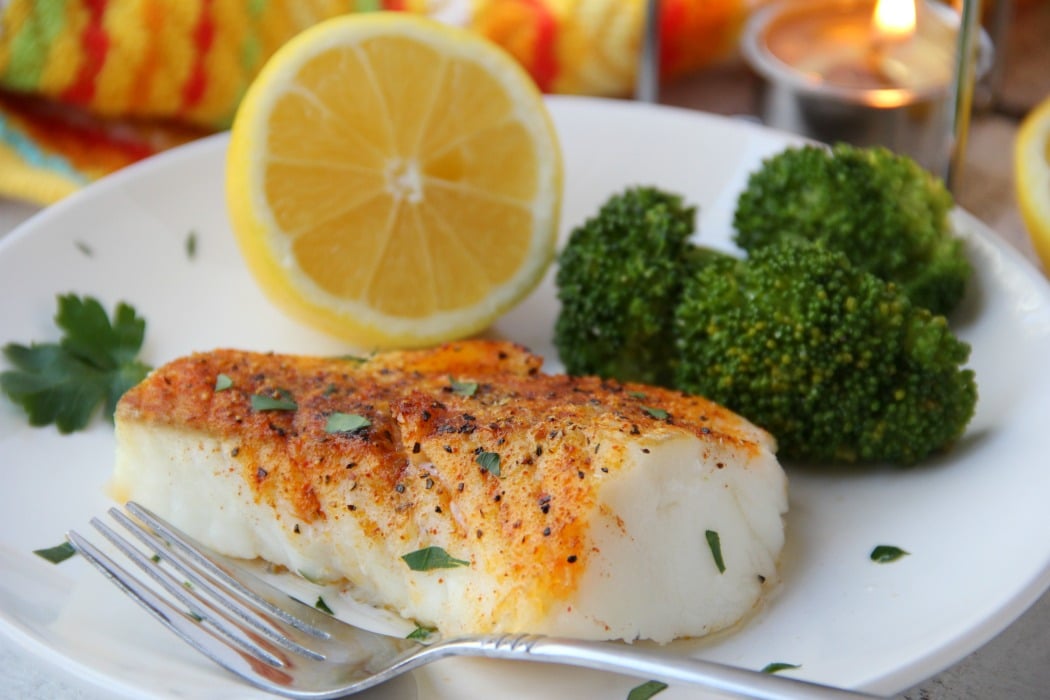 Ummm, yum. This is looking really good. I love dressing up fish with lemon.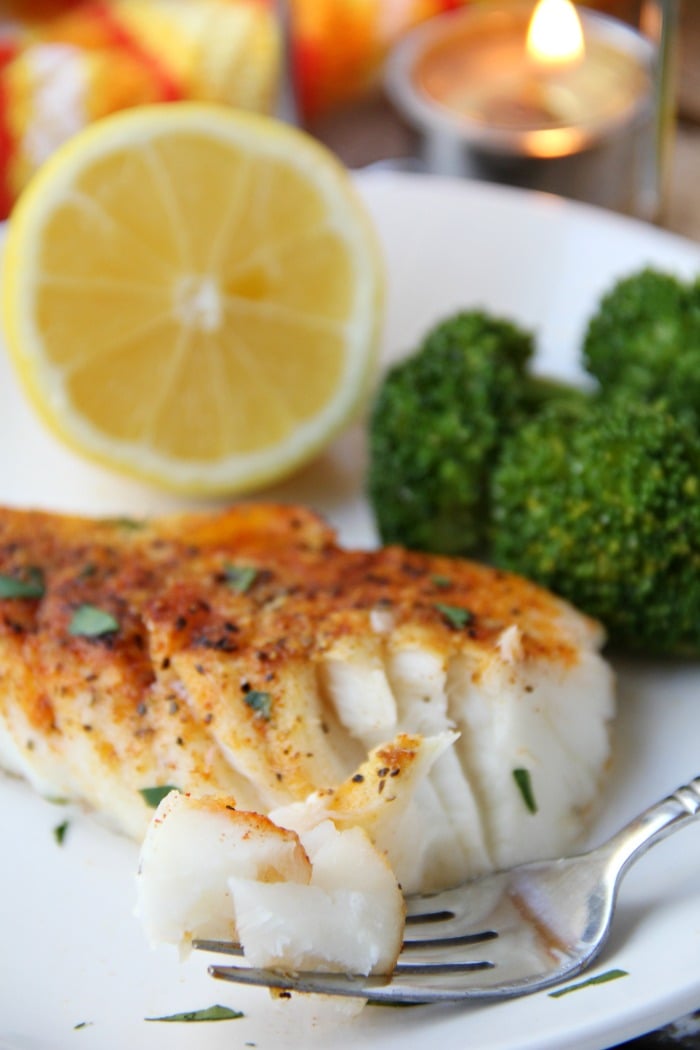 Serve the fish with some melted butter and get ready for the deliciousness!
In Wisconsin, Poor Man's Lobster is on most of our supper club's Friday menus. Now, you can enjoy it right from the comfort of your own home!
Hope your family loves this recipe as much as ours does!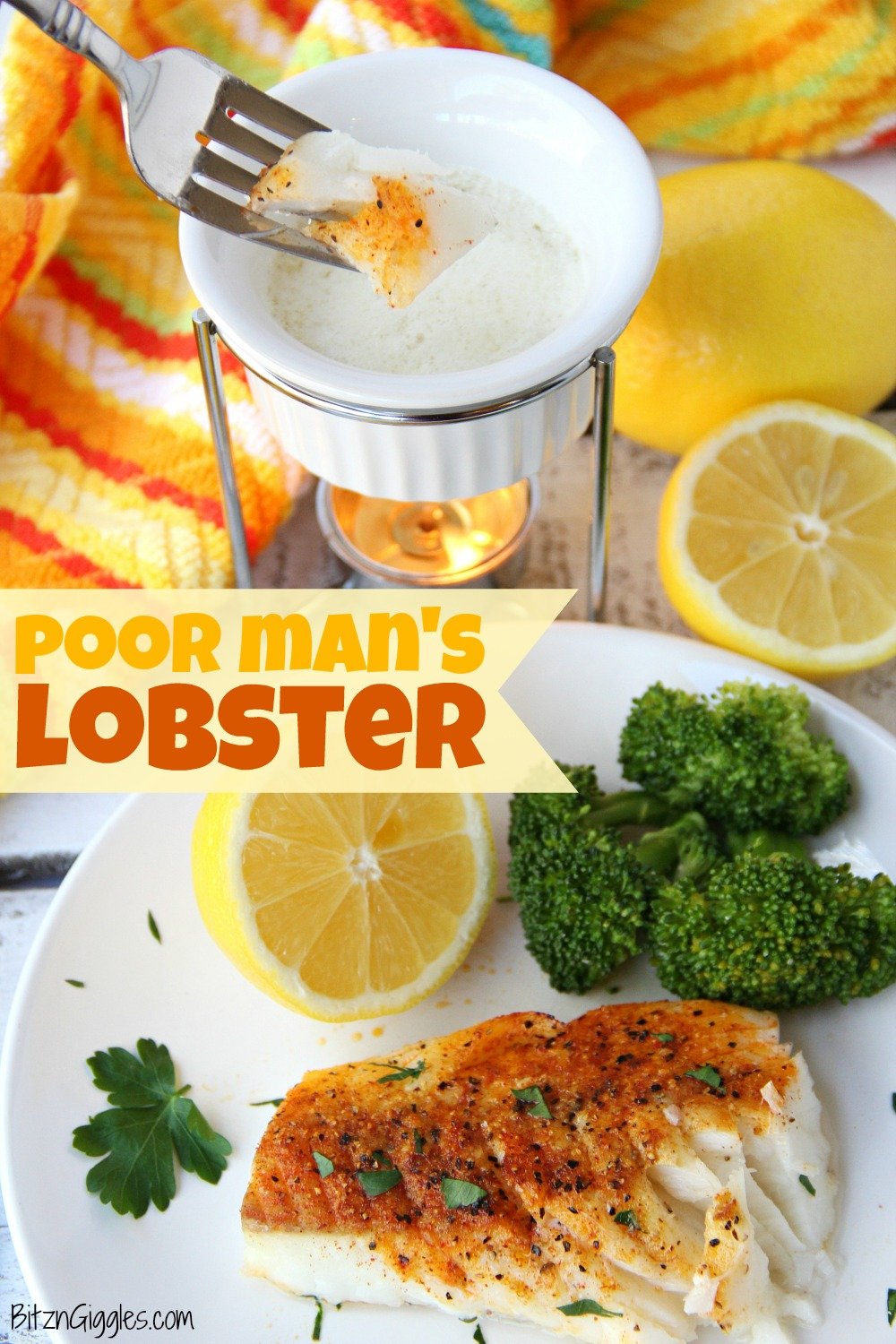 Craving more delicious fish recipes?
Poor Man's Lobster
What a great meal to put together for a dinner party or just a quiet night at home. The way this cod is prepared brings out the freshness in the seafood with no "fishy" taste. It really does taste like lobster!
Ingredients
6 (6 oz. cod fillets)
6 cups water
1 cup white sugar
2 tablespoons salt
Melted butter (to brush fillets and for dipping)
1/2 lemon
Paprika and lemon-pepper seasoning to taste
Instructions
Preheat your broiler.
Wrap a broiler pan with aluminum foil (easier clean up) and spray with nonstick spray. Make sure you shape the aluminum foil to the grooves on your broiler pan so the excess liquid has somewhere to go and your fish doesn't have to sit in it.
Place the fish in a large saucepan. Mix together the water, sugar, and salt. Pour the water-mixture over the fish. The water-mixture should fully cover the fish, if it doesn't add more water. Bring the water to a boil over a medium-high heat. Boil for 3 to 5 minutes depending on the thickness of the cod fillet.
Remove fillets from water, brush with melted butter, and season with lemon-pepper and paprika. Squeeze some lemon juice over the top.
Broil for about 7 minutes on low or until the fillets are opaque and flake with a fork. Serve with melted butter.
(Visited 503,179 times, 1 visits today)