Angel Lush Cake – This 5-ingredient cake is so simple to make and it's perfect for dinner parties, baby showers or afternoon get-togethers with friends.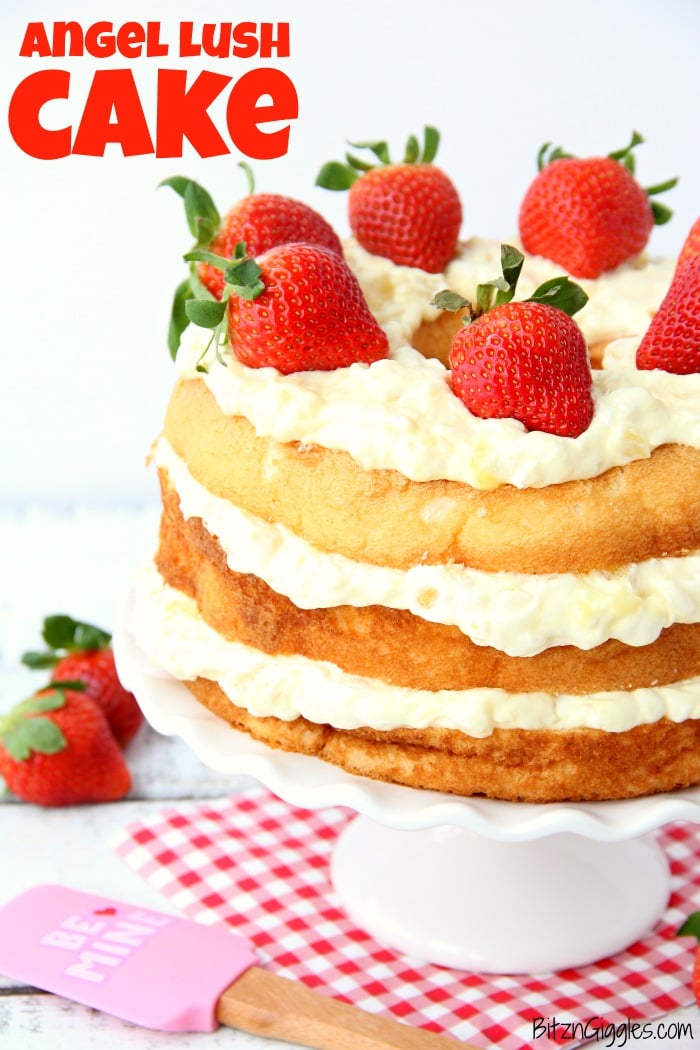 It's holidays like Valentine's Day that get me through winter. I really believe that's what holidays are all about. . .something to look forward to. Wouldn't you agree? In my opinion, Valentine's Day isn't just about expressing love for your spouse or significant other. It's a day to celebrate all  of the people you love – all of your friends and family that mean so much to you.
Today, we're making a 5-ingredient Angel Lush Cake that is not only SUPER easy but it's gorgeous and tastes great, too. It's one of those recipes you can throw together in no time at all and it's the perfect dessert for sharing with the ones you love.
Next time you're in the bakery section of your local grocery store, pick up a prepared angel food cake. To prep the cake, you begin by cutting it horizontally into three layers.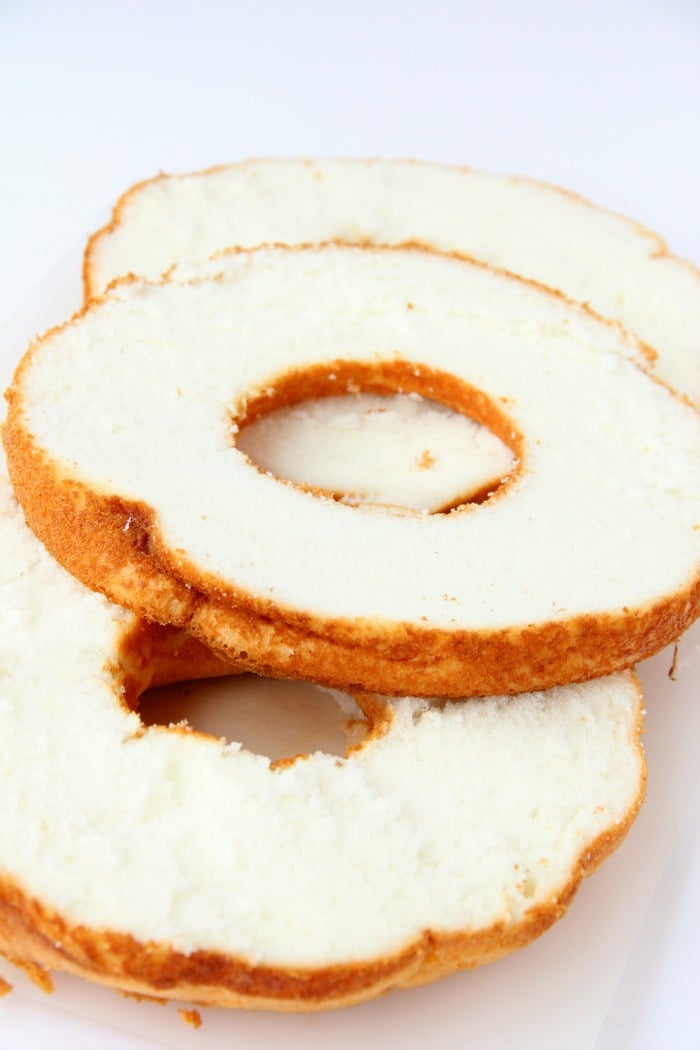 The creamy filling for the cake is crushed pineapple and whipped topping. Pretty easy, right? You don't even need to get your hand blender out for this one.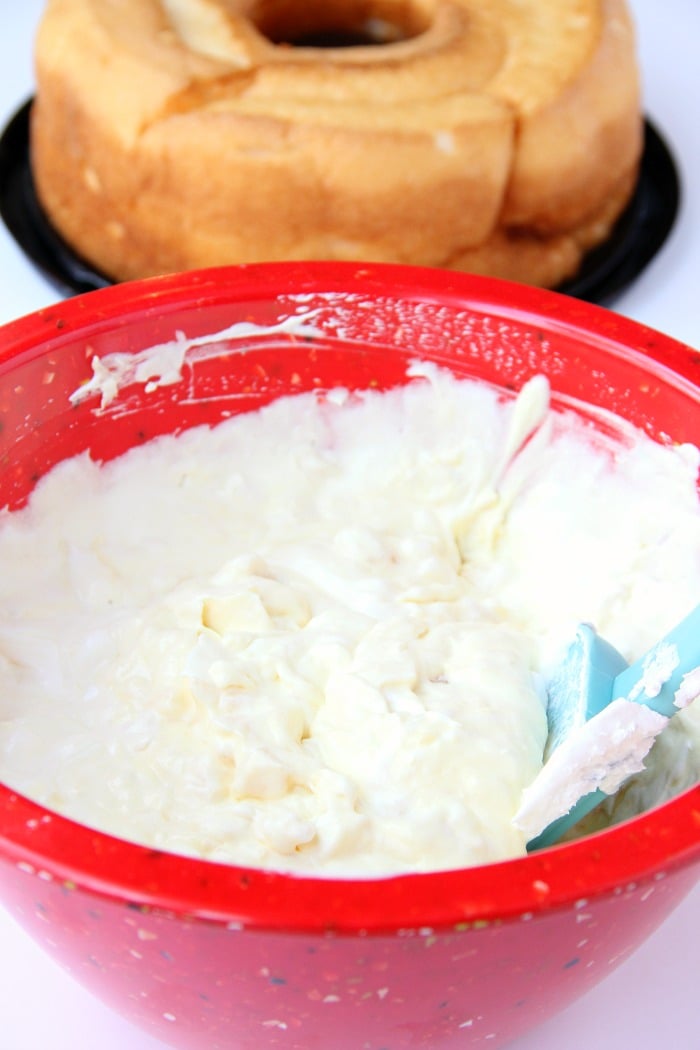 If you have a pretty cake stand, now's the time to grab it! Place the bottom layer of the cake on the stand and spoon on 1/3 of the creamy filling.
You do the same for the next couple layers, refrigerate the cake for 1-2 hours and then add strawberries right before serving. When you place this luscious dessert in front of guests, they're going to be wowed.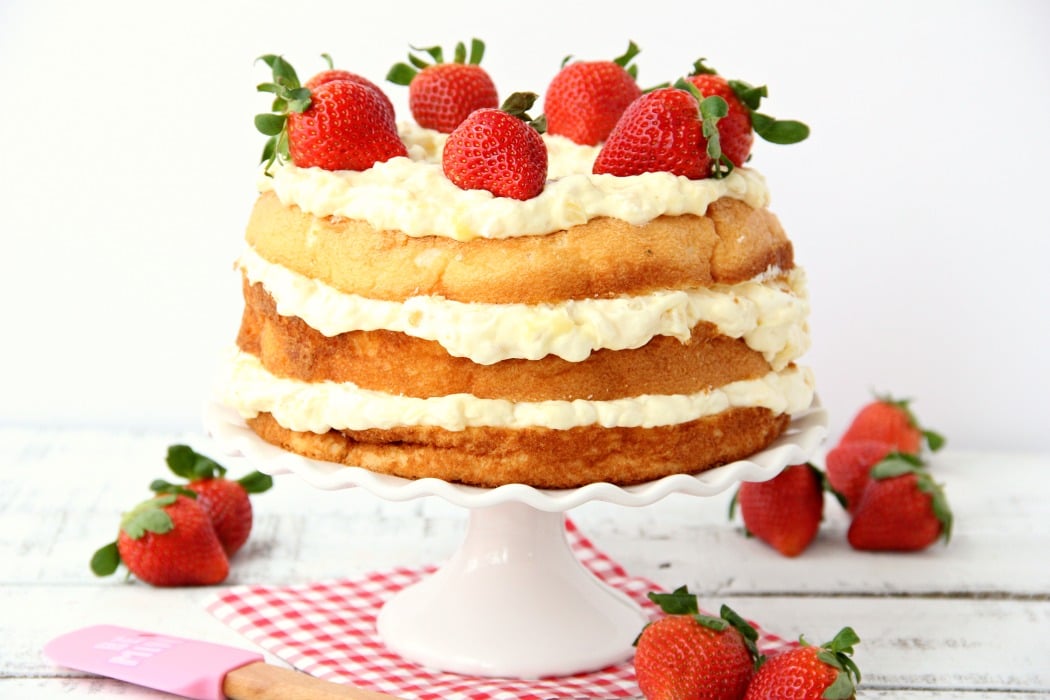 When assembling the cake, I actually push down on the layers a bit so more of the filling spills out. I think it's pretty to see the filling around the cake.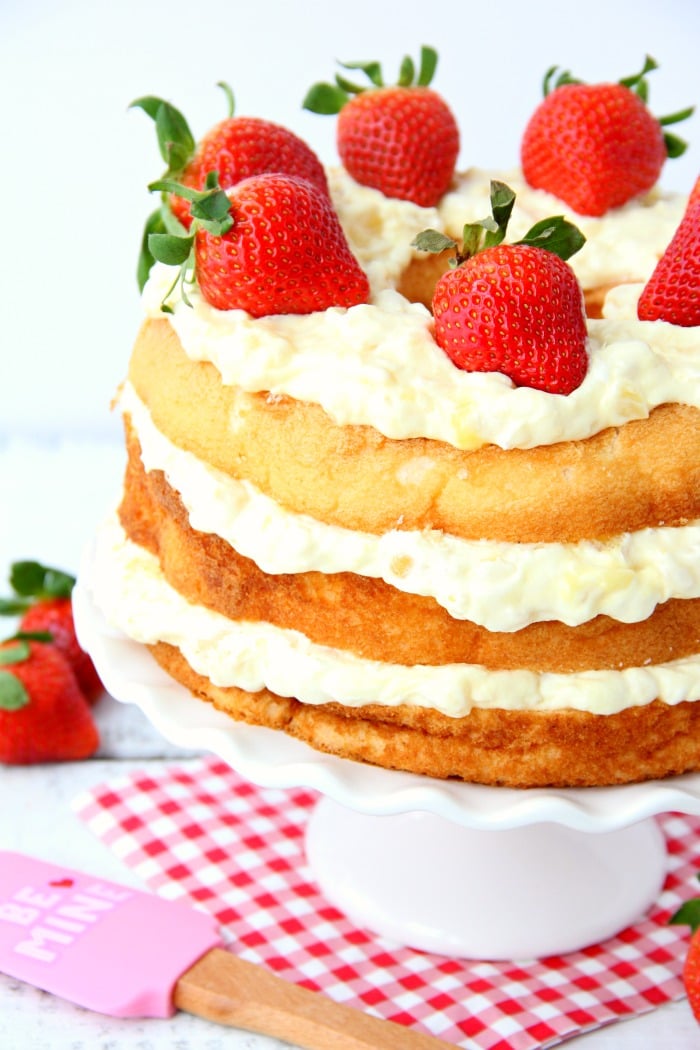 The strawberries provide the perfect pop of color.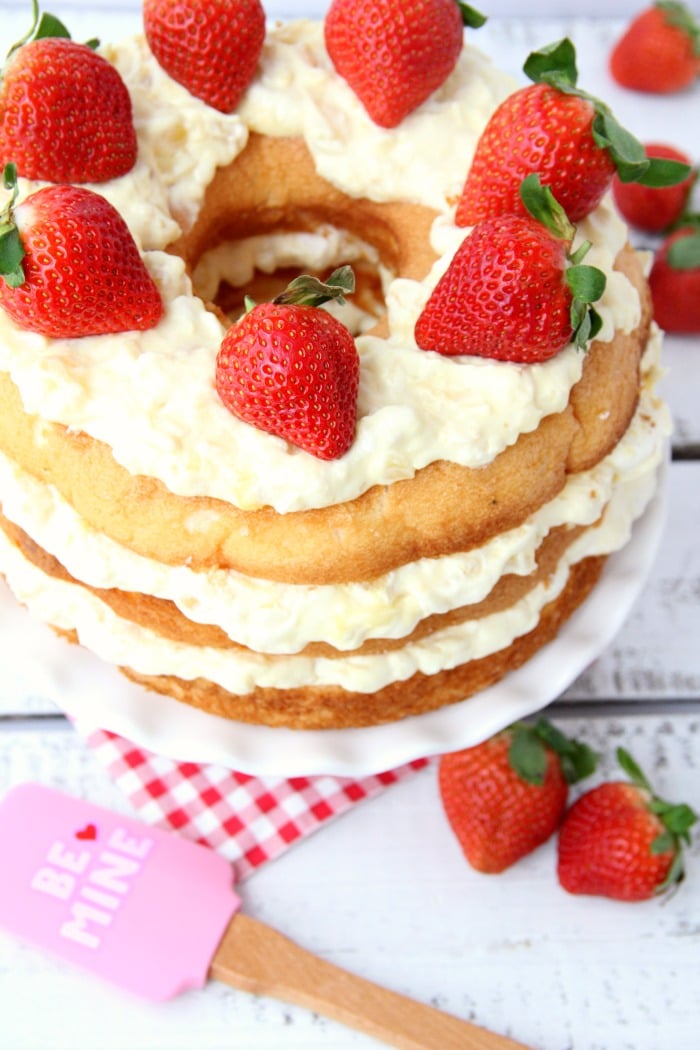 If you have smaller strawberries you could probably fit more on the cake. The strawberries I had were larger, so I could only fit seven.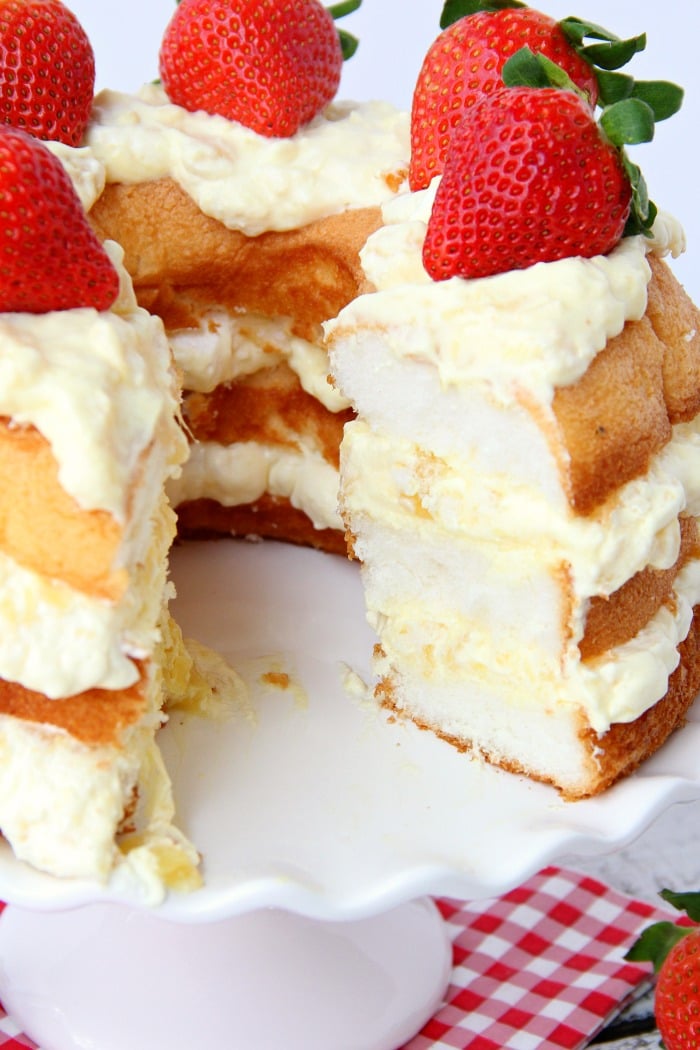 The cake can potentially serve around 10 people, so if you end up with larger strawberries like I did, just have a few extra, and serve them on the side along with the cake.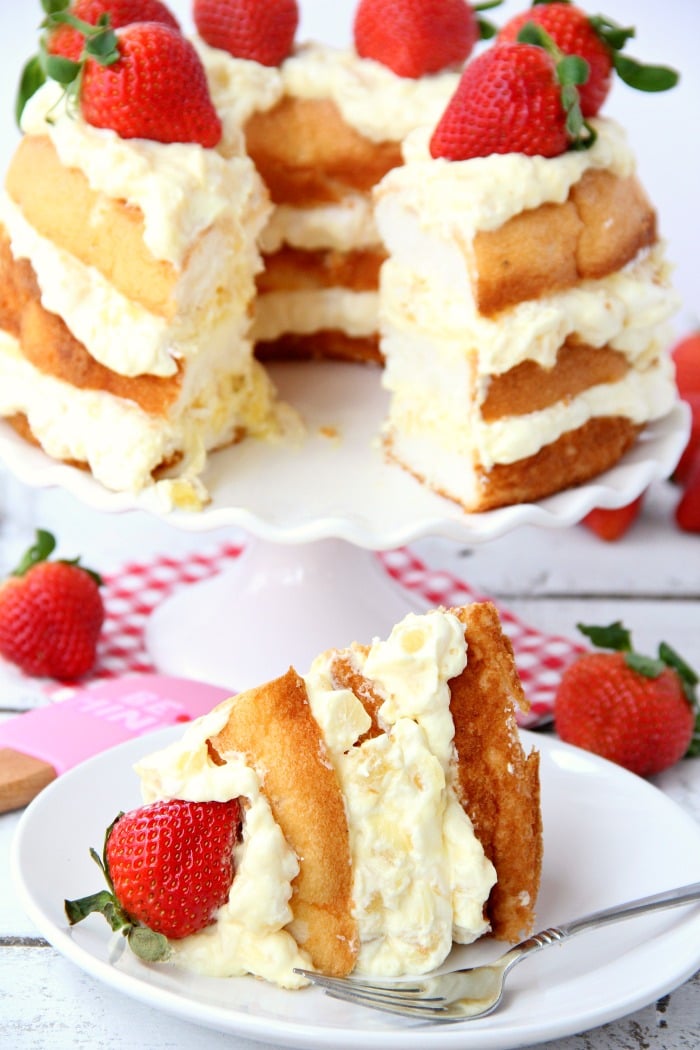 How's that for easy? I thought you'd like it. I couldn't wait to dig into this beauty.
So, I did. I'm pretty sure I devoured it all in about 3 minutes. 🙂 I hope you share this Angel Lush Cake with someone you love.
Angel Lush Cake
This 5-ingredient cake is so simple to make and it's perfect for dinner parties, baby showers or afternoon get-togethers with friends.
Ingredients
1 prepared angel food cake
20 ounce can crushed pineapple in juice, undrained
3.4 ounce box vanilla instant pudding
1 1/2 cups whipped topping
7–10 fresh strawberries for garnish
Instructions
Cut cake horizontally in three layers.
In a medium bowl, mix pineapple with dry pudding mix.
Stir in whipped topping.
Place bottom layer of cake on a cake stand or serving plate.
Top with a third of the pudding mixture. Repeat for the next two layers.
Refrigerate for 1-2 hours.
Top with strawberries immediately before serving.
SaveSave
SaveSave
(Visited 44,836 times, 1 visits today)