Berry Wine Spritzer – A delicious, refreshing and light sparkling spritzer infused with fresh berries and citrus! Such a wonderful summer drink recipe!
For the past two weeks I've had an abundance of berries in my fridge. I've been snacking on them, making salads with them and using them in drinks.  Last week I shared this delicious recipe for homemade Pink Lemonade, and today we're making a light and refreshing wine spritzer.
In the summer, I daydream of sitting in my lounge chair up at the lake just sipping on something cool and refreshing, soaking up the warm sunshine. Notice I said "daydream?" Moments such as these would be a rarity. A more true picture of me up at the lake would be dressing and undressing children in swimsuits, sweeping the deck, picking up water toys and washing mud and gunk off the dog. Is it worth it? Absolutely. I love our lake cabin. At the end of the day, however, I could use something a little stronger than water to chill and unwind after putting the kids to bed.
This wine spritzer is the perfect summer drink to share with family and friends. I often make a pitcher on Friday evening and sip on it throughout the weekend (even if it's just me 😉 )
So, more often than not I have a furry pal that loves to help me with my recipes and projects. She was really interested in the way that I hulled the strawberries for the wine spritzer, so I thought you might be interested in my little tip, too. She was pretty impressed. . .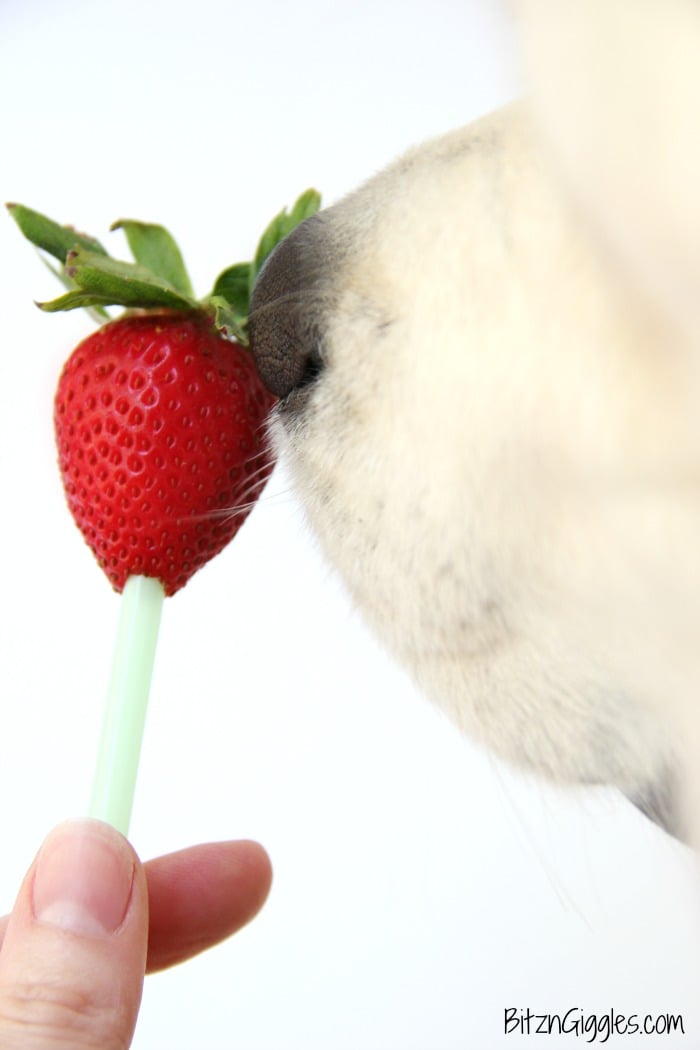 All you do is insert a straw into the bottom of the strawberry and push it through the top. It hulls the strawberry and also removes the stem.
Pretty smart, right? No fancy tools necessary. The sturdier the straw, the better. I was just using a plastic straw here, I love using the sturdier straws from my kids' drink cups, too. Mind blowing, right?
Okay, back to this wine spritzer.
When you choose your sparkling rose wine, a brut is best. That way things don't get too sweet when you add the sugar.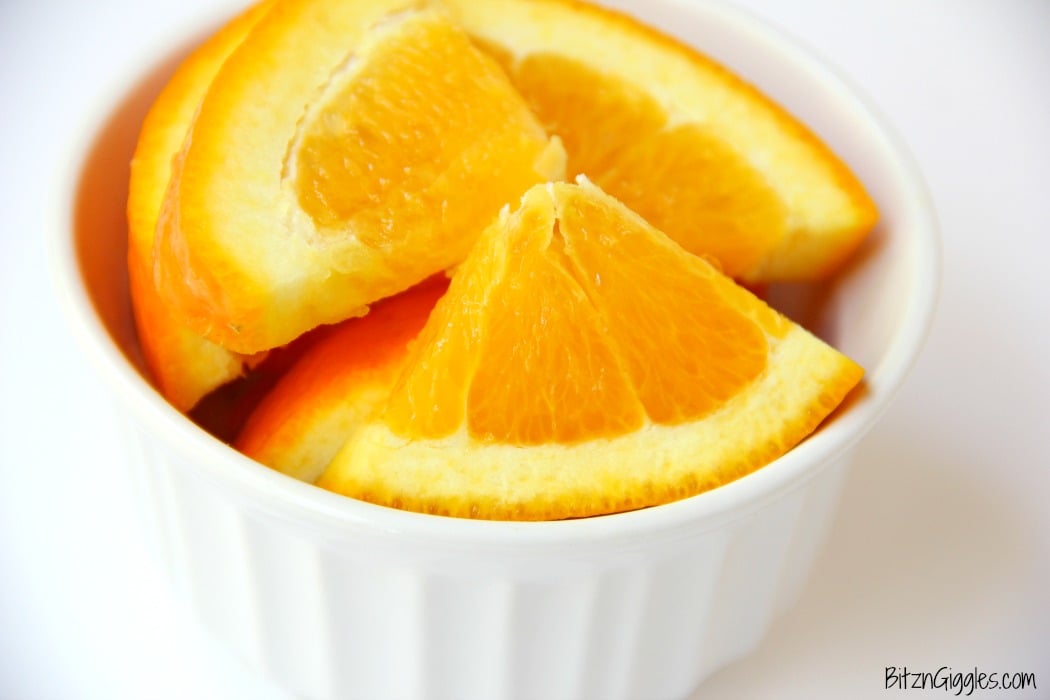 I think my favorite part is adding all of the goodies. Not only does this recipe incorporate wine and berries, but it also has a bit of a citrus spin. I threw an orange and a lime in the pitcher along with the berries.
After you chill the wine and berries and pour a bit in a glass, you just top with lemon-lime soda and you have a "berry" tasty beverage. See how I did that? BERRY tasty? 😉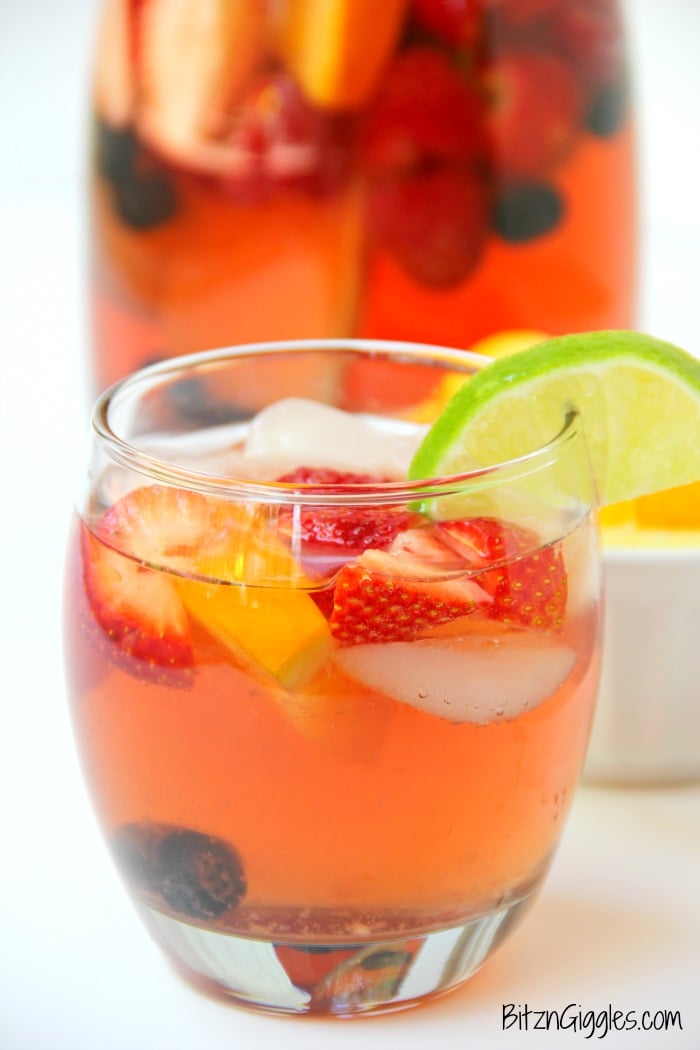 This berry wine spritzer is just so pretty. I love all of that fresh fruit floating around in there!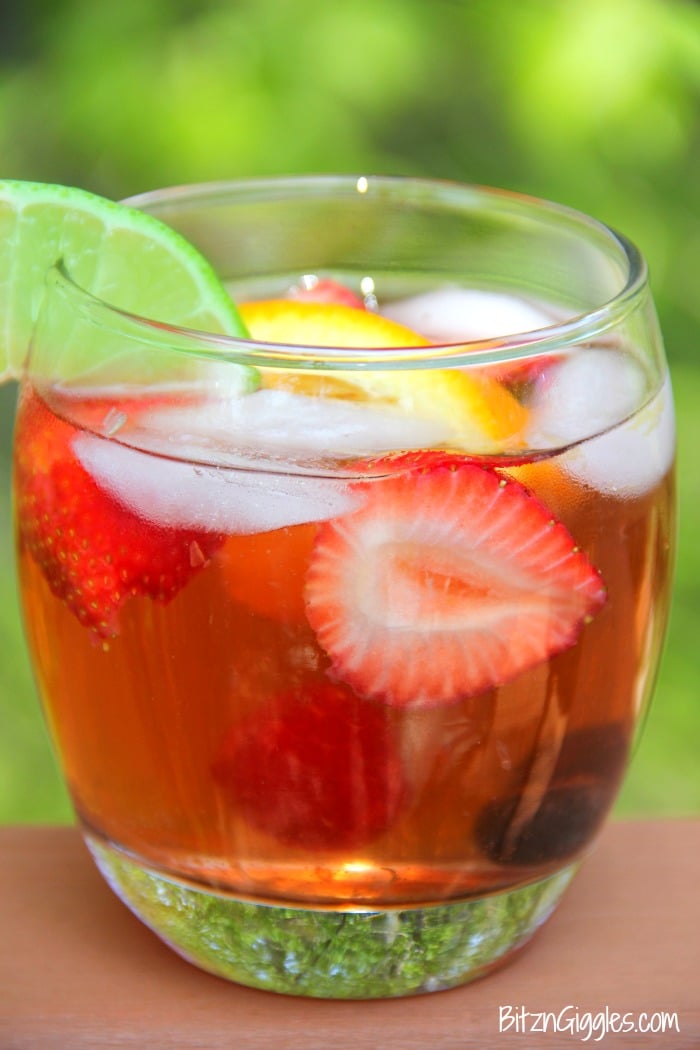 All you need to make a summer day even more perfect is a little bit of sunshine and one of these wine spritzers in your hand. Mix up a pitcher, invite some friends over and enjoy. It truly is summer. . . in a glass!
Berry Wine Spritzer
A delicious, refreshing and light sparkling spritzer infused with fresh berries and citrus!
Ingredients
750 ml bottle sparkling rose wine (I used a Brut)
1 cup strawberries, hulled and sliced
1 orange, sliced
1/2 cup blueberries
1/2 cup raspberries
1 lime, sliced
1/2 cup sugar
Lemon-lime soda
Instructions
Combine first 7 ingredients in a pitcher and chill 4-6 hours.
Pour into glasses and top with lemon-lime soda.
(Visited 8,257 times, 1 visits today)