We have a little over a week before Halloween. The kids have their costumes, the candy is purchased, the decorations are out and now we just pray the snow holds off for Trick or Treating. Because let's face it, costumes just don't look as good when you try to stretch them over a snowsuit or bulky jacket. Booo!!!
Let's just talk about Halloween in general. Whether you have kids or not, most of us have been known at one time or another to cave in and fill our carts with bags of Halloween candy in the month of October. It's for the Trick-or-Treaters, right? Right. And we've all had that bag of candy we somehow forgot to put into the treat bowl on Halloween night. Right? Right. I'll be the first to admit, I like to hold back some of those delicious chocolate bars.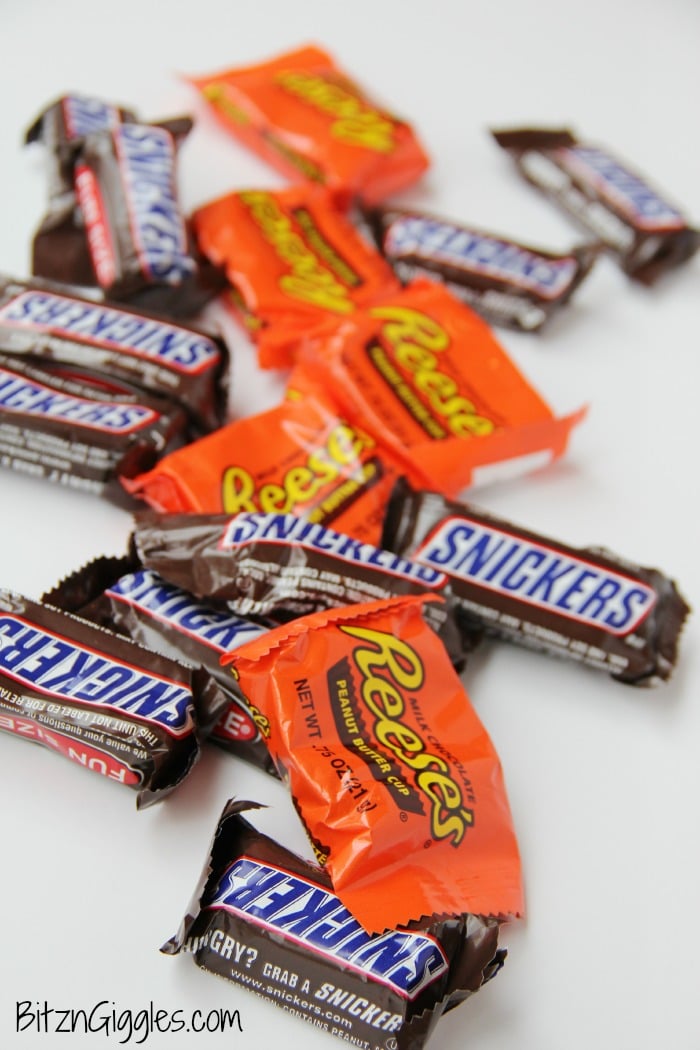 Now, with kids, we are sometimes on chocolate OVERLOAD come November 1st. What to do, what to do. Let's make some cookies, shall we? These Candy Bar Cookies are SO simple to make! The cookies are made from cake mix so they're soft and chewy. Best of all, they're filled with chocolate candy bar pieces and rolled in powdered sugar. Yes, seriously.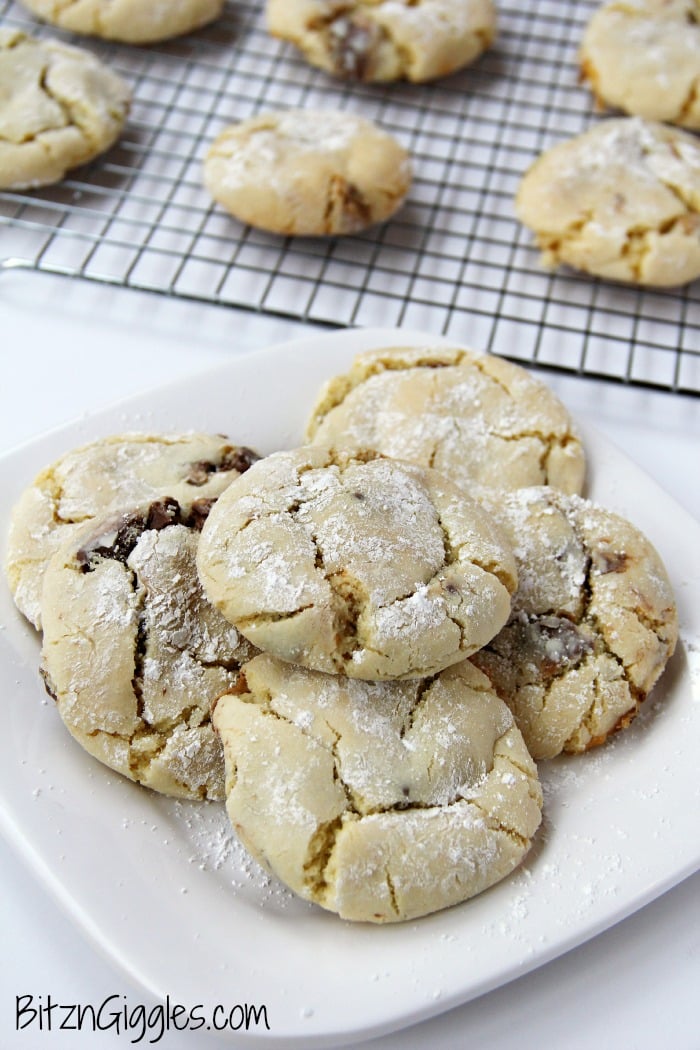 I used Reese's Peanut Butter Cups and Snickers Bars for my cookies, but you could really use any candy bar you like. I chopped up the candy bars and kept them in separate piles while I was assembling the cookies. While I probably could have thrown everything together, I just chose to keep the different bars separate.
I do the same with the food on my dinner plate (even as an adult). Well, okay, that's not entirely true. I do like to mix things in my mashed potatoes – like corn and cucumber salad. Is that weird?
Alright, moving on. In our house the cookies with Reese's peanut butter in them were the winners. My kids don't like nuts in their cookies. The first question out of my husband's mouth when he tried one was, "Did you make these?"
I just stood there wondering if I should answer. Did he like them? If so, of course I made them! How could he doubt my baking skills? If not, then I was in trouble and would have to come up with another recipe to share with you all. Thankfully, he DID like them – both the Snickers and the Reese's versions.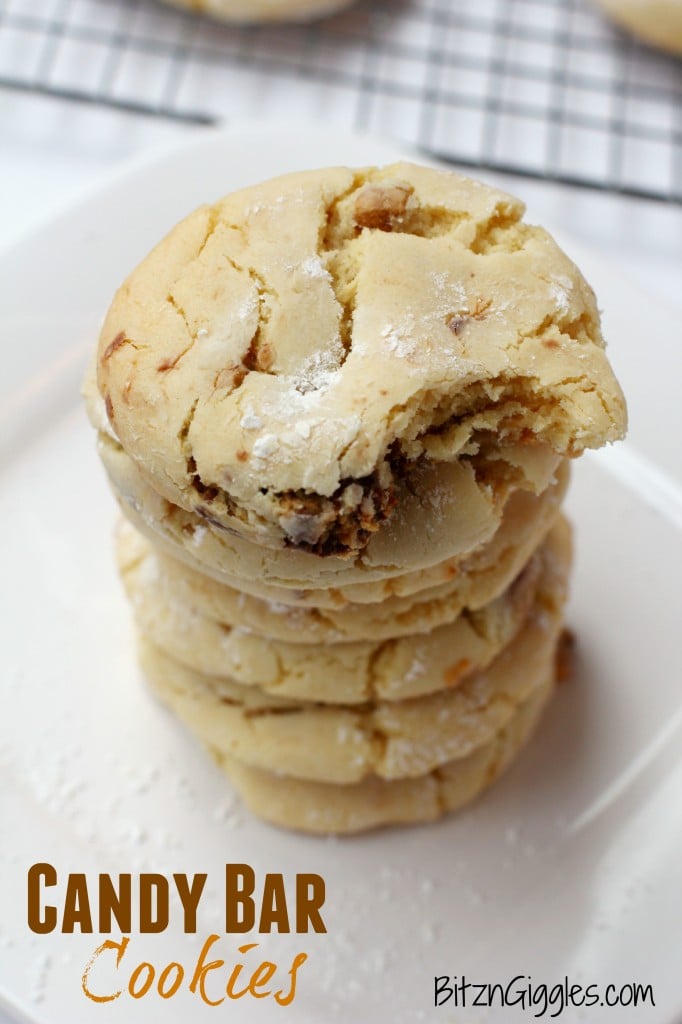 I have to admit, I sided with the kids on this one and the Reese's cookies won me over. I loved the soft, chewy, peanut butter taste. Yum! With that said, I will be making more of these. They're so simple and obviously a favorite now in our family. Guess I'm going to have to go and buy more chocolate. Darn. 😉
Candy Bar Cookies
Soft and simple cake mix cookies filled with chocolate candy bar pieces and rolled in powdered sugar.
Ingredients
1 box vanilla cake mix
Assorted chocolate candy bars (I used about 10 of the mini size), chopped into small pieces
2 large eggs
1/2 cup vegetable oil
1 teaspoon pure vanilla extract
3 tablespoons flour
1/2 cup powdered sugar
Instructions
Preheat oven to 350 degrees.
Combine cake mix, eggs, oil and vanilla in a mixing bowl and beat with a mixer until well-combined.
Add the flour to the dough and continue to mix.
Take the powdered sugar and spread it out on a small plate.
Take a teaspoon of dough and combine it with some of the candy bar pieces.
Cover the candy pieces with another teaspoon of dough and form into a ball.
Roll the balls in the powdered sugar.
Place on a parchment-lined cookie sheet and bake for 11-13 minutes.
Allow to cool for 3-5 minutes before removing from cookie sheet.
Nutrition
Calories: 3976
Sugar: 374
Sodium: 3760
Fat: 192
Saturated Fat: 24
Unsaturated Fat: 157
Trans Fat: 1
Carbohydrates: 523
Protein: 43
Cholesterol: 379
(Visited 4,405 times, 1 visits today)