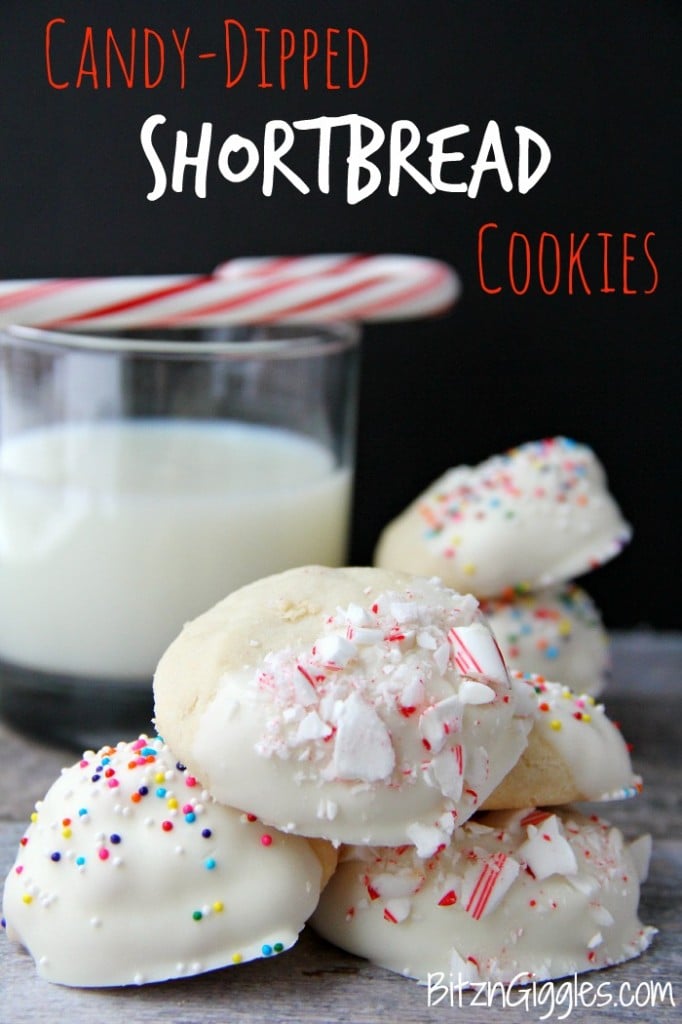 I've been cookie crazy this month. In fact, in a way, I feel like I haven't baked ANYTHING but cookies. Cookies, cookies, cookies. I bet I'm not alone. Many of you have probably been doing some heavy baking yourselves, getting ready for next week.
How has Christmas come upon us so fast? I feel like it was just yesterday that we were walking around the neighborhood trick-or-treating. Sigh. And just between you and me, you'll never believe what I saw when I was out picking up some things from the store this week. Bathing suits. Gah. Seriously? Bathing suits during the holidays? I bet they won't sell a one until after New Year's. I sure as heck won't be buying one. Are you with me?
Today we're going to talk about cookies. Melt-in-your-mouth Candy-Dipped Shortbread Cookies.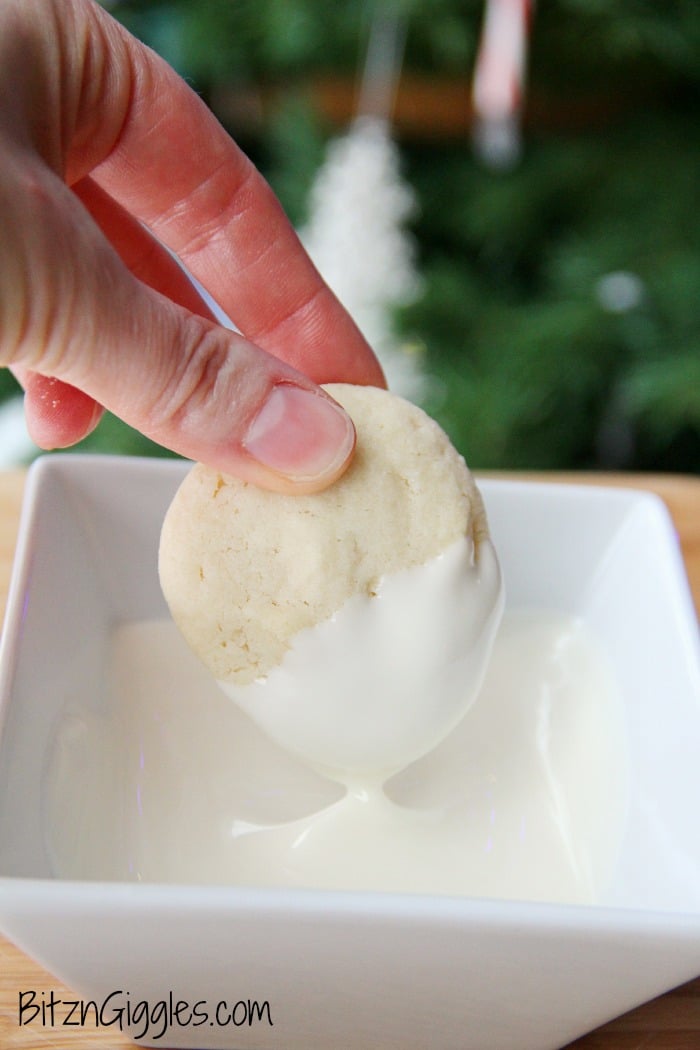 Yep, you heard me. The bathing suits can wait. Not only are these cookies dipped in candy coating, but I've sprinkled candy pieces and sprinkles on them. . .just because.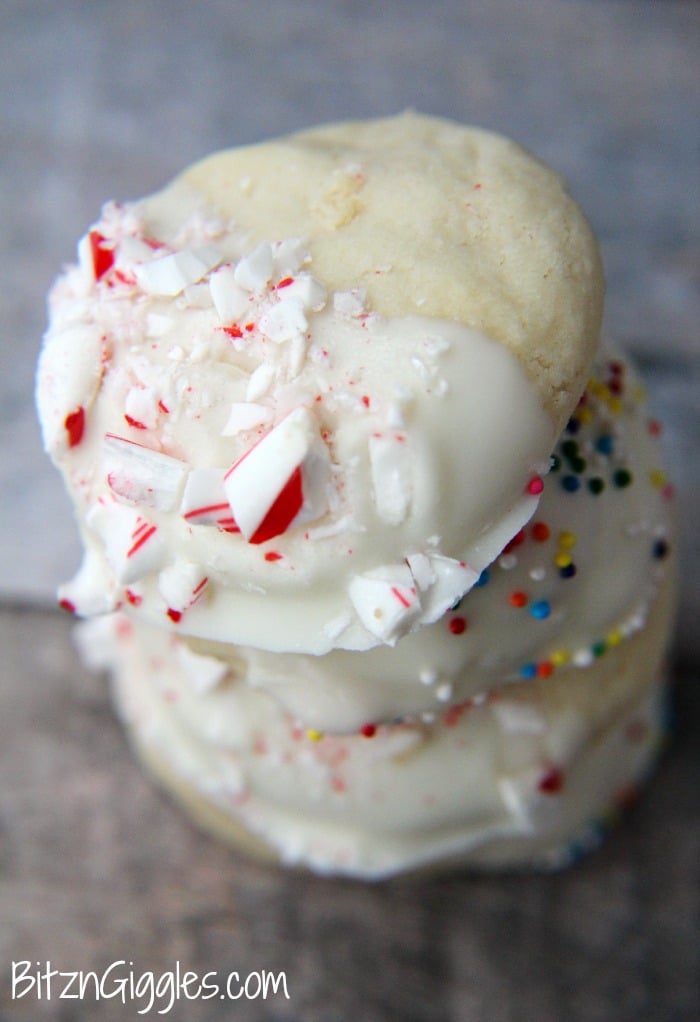 Because that's the way it should be around the holidays. Don't you worry, we'll be talking about resolutions and weight loss and home organization soon enough in the new year. For now, let's just take a minute and enjoy.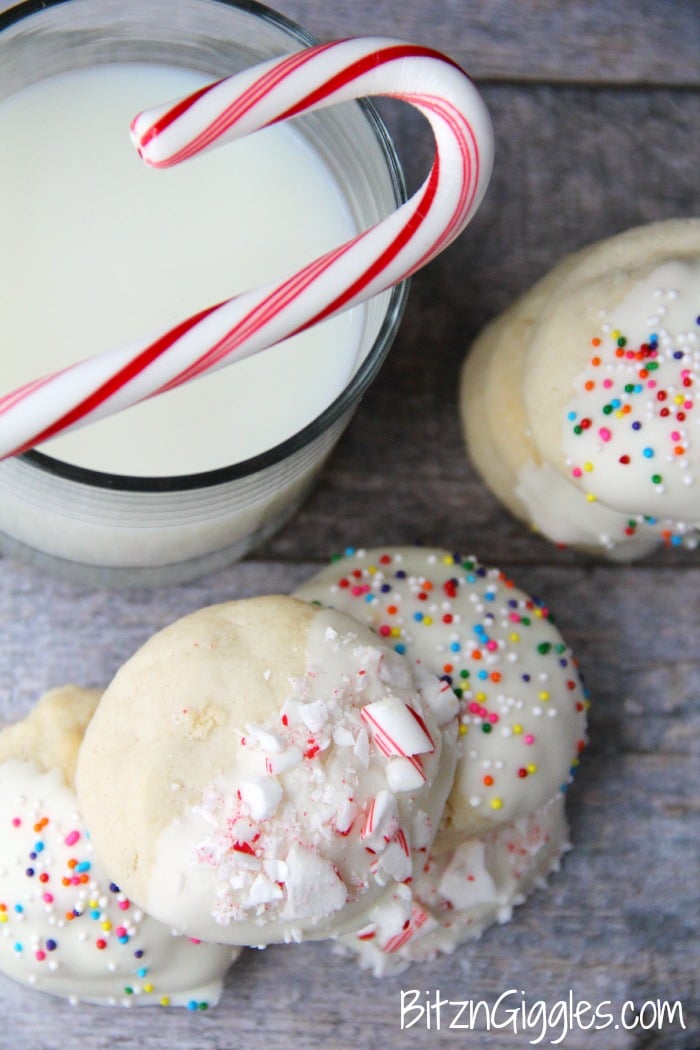 The secret to these cookies is whipped butter. I mean WHIPPED butter. Like standing with a mixer and whipping it for 5-8 minutes or longer. So many people talk about crumbly shortbread. This shortbread is not crumbly, folks. It's perfect, soft and delicious. Just remember to whip that butter. WHIP IT GOOD.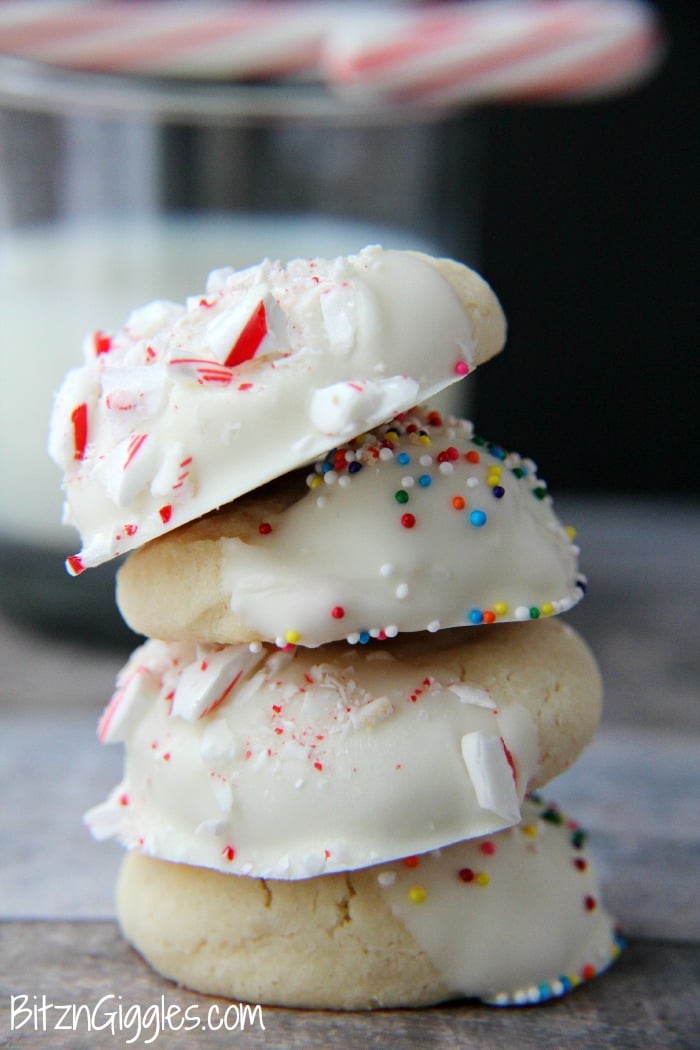 These cookies are a bit sweeter than your "normal" shortbread cookies. They aren't by any means "normal" anything. I did go ahead and add a bit more sugar. Would you expect any less from me? In fact, I added some brown sugar. Just a tad. It kind of helps hold everything together. It prevents that crumbling that you commonly see with shortbread.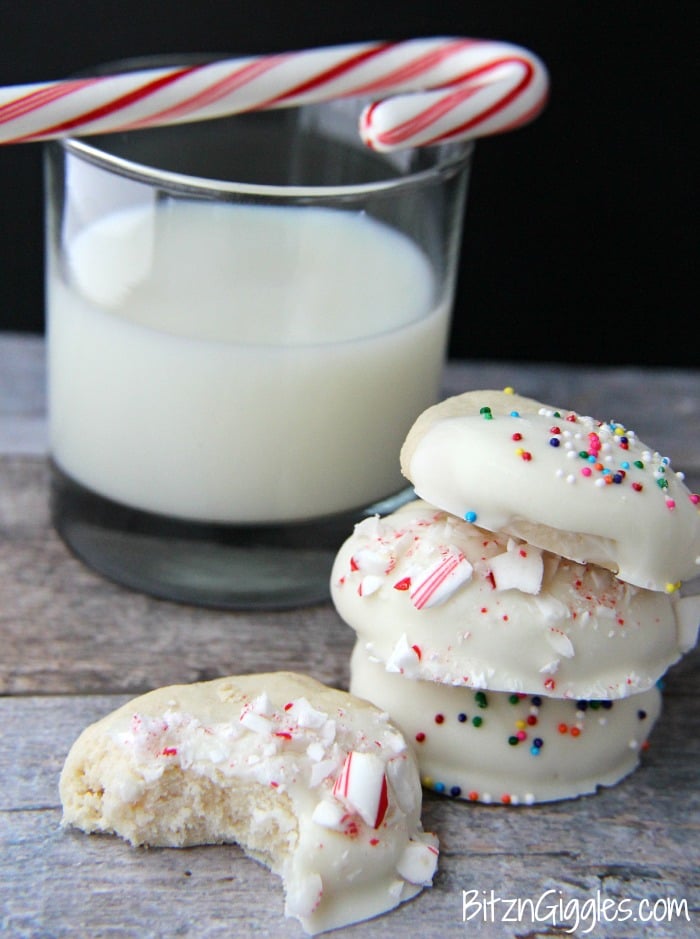 The candy coating takes the level of sweetness up one more notch. And then since we're close to heaven, why not just add some candy and sprinkles and call it an all-around good day?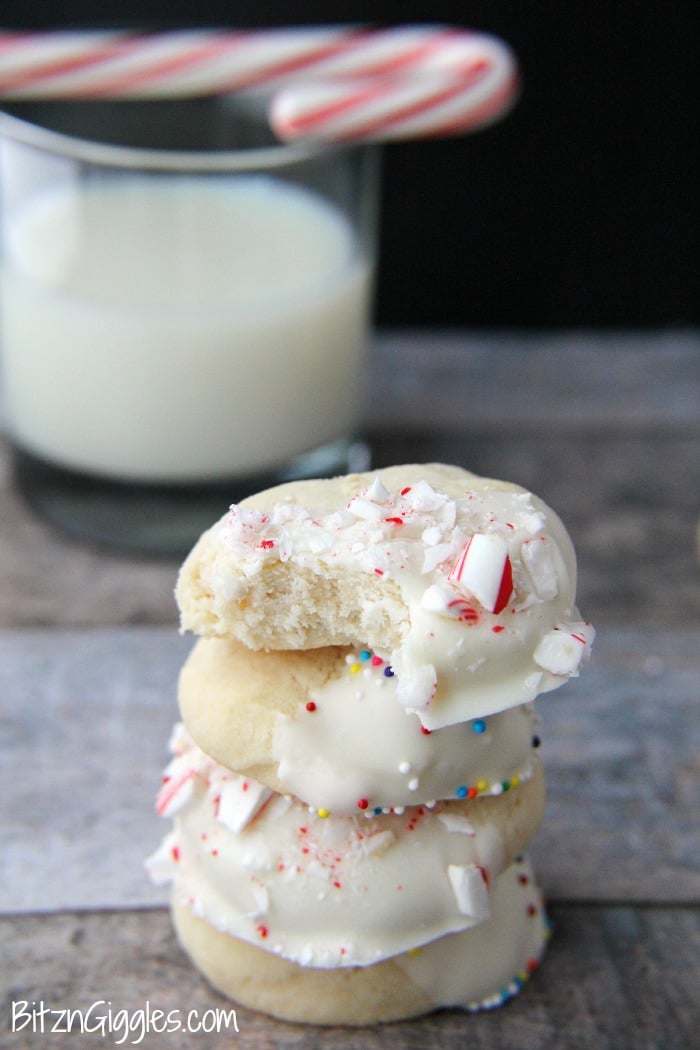 Because let's be honest. We're not buying any bathing suits until 2015. That's DAYS away yet. Today we're celebrating. We're looking forward to time spent with family and friends. We're splurging a little. We're being. . .well. . .a little naughty. But not THAT naughty. It's just sweetened up shortbread, folks. But not your ORDINARY shortbread. We don't do ordinary here. There's always a little flare, there's always a little color.
Never settle for ordinary. Live it up, I say. There will be plenty of time for "being good" in the year ahead. Right now, it's time to enjoy. Get the rest of your baking and Christmas shopping done because the time is upon us. Oh, and don't forget to make these cookies! You can thank me later!
Candy-Dipped Shortbread Cookies
Melt-in-your-mouth shortbread cookies hand-dipped in melted vanilla almond bark and sprinkled with crushed candy and sprinkles!
Ingredients
1 cup butter, softened
1⁄2 cup + 2 tablespoons powdered sugar
1 tablespoon brown sugar
1⁄4 cup cornstarch
1 teaspoon vanilla extract
1 1⁄2 cup all-purpose flour
Vanilla almond bark, melted
Crushed assorted candy and sprinkles for garnish
Instructions
Preheat the oven to 375 degrees Fahrenheit.
Whip butter with an electric mixer for at least 5-8 minutes. Stir in the powdered sugar, brown sugar, vanilla extract, cornstarch, and flour. Beat on low for one minute, then on high for 3 to 4 minutes.
Roll cookies into 1 inch balls and place about 2 inches apart on an ungreased cookie sheet.
Bake for 12 to 15 minutes in the preheated oven. Remove when you see a little brown starting around the edges.
Allow to cool on baking sheet for 10 minutes and then move to wire racks to cool completely.
When cooled, dip one-half of each cookie into the melted candy coating and sprinkle with or dip into crushed candy or sprinkles.
Notes
If dough seems too sticky, refrigerate for 20 minutes or so.
Nutrition
Calories: 3332
Sugar: 172
Sodium: 47
Fat: 189
Saturated Fat: 120
Unsaturated Fat: 55
Trans Fat: 7
Carbohydrates: 396
Protein: 15
Cholesterol: 488
(Visited 4,404 times, 1 visits today)