Cast Iron 101 – How to season and care for your cast iron skillet!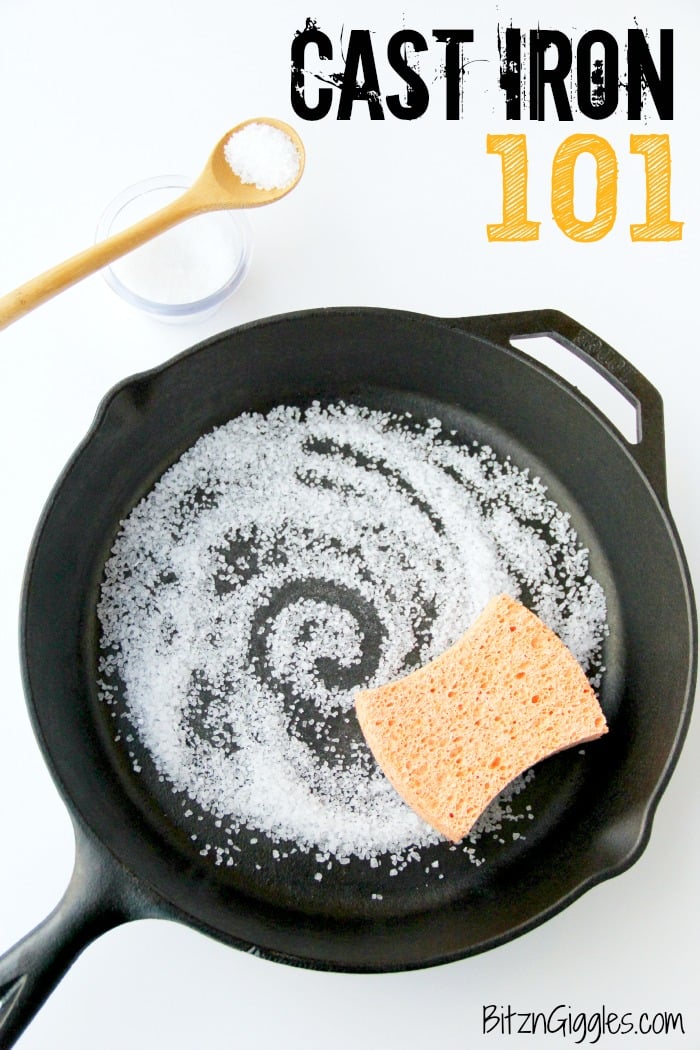 I received a cast iron pan as a Christmas gift from my mother-in-law. A couple days later I was talking to my husband's grandmother (Grandma Z.), telling her about the pan. It was actually the second one I had owned. The first one we received as a wedding gift. It just sat in a bin downstairs in our basement for at least three years.
I finally sold it at a garage sale I had one summer because I just didn't have a need for it. Or so I thought. What I THOUGHT was that the pan was really heavy. I didn't like the noise it made if I scraped it against any of my other pans and I knew FOR SURE it was not going to be easy to clean. No thanks.
Silly girl.
Okay, so fast forward again to the conversation with Grandma Z. The first question out of her mouth was, "Did you season it already?" I looked back at her (kind of a deer in the headlights look) and said, "Did I do what now?" For the next 30 minutes I received my first Cast Iron 101. What did I learn? A lot. She even mentioned that Grandpa Z. wouldn't let her use any other skillet when she cooked on the stove (especially his eggs). The flavor just wasn't there. It took awhile, but now I totally understand Grandma Z.'s appreciation for cast iron.
Today I'm here to pass along some cast iron tips – how to season your cast iron pan and care for it as time goes on. Some of my favorite foods to use my cast iron pan for are steaks and over-easy eggs. I just used it last week to sear some scallops and they were DIVINE.
Okay, let's get started. We're going to talk about seasoning your pan first.
What does seasoning actually mean?
When you "season" a cast iron pan, you're actually just baking oil into the pores of the pan to prevent food from sticking to its surface. Normally you'll season a pan when you bring it home from the store brand spankin' new.
Now, some pans are sold already seasoned, some are not. If you notice that food is sticking to your pan, it's most likely not seasoned. And if you've had your pan for awhile and notice that food has started sticking to it again, you can reseason it at any time.
You begin the seasoning process by washing the skillet with soapy water and a plastic-bristle brush. This is the only time you get to use soap and water on your cast iron pan! Alright, let's keep, keeping on.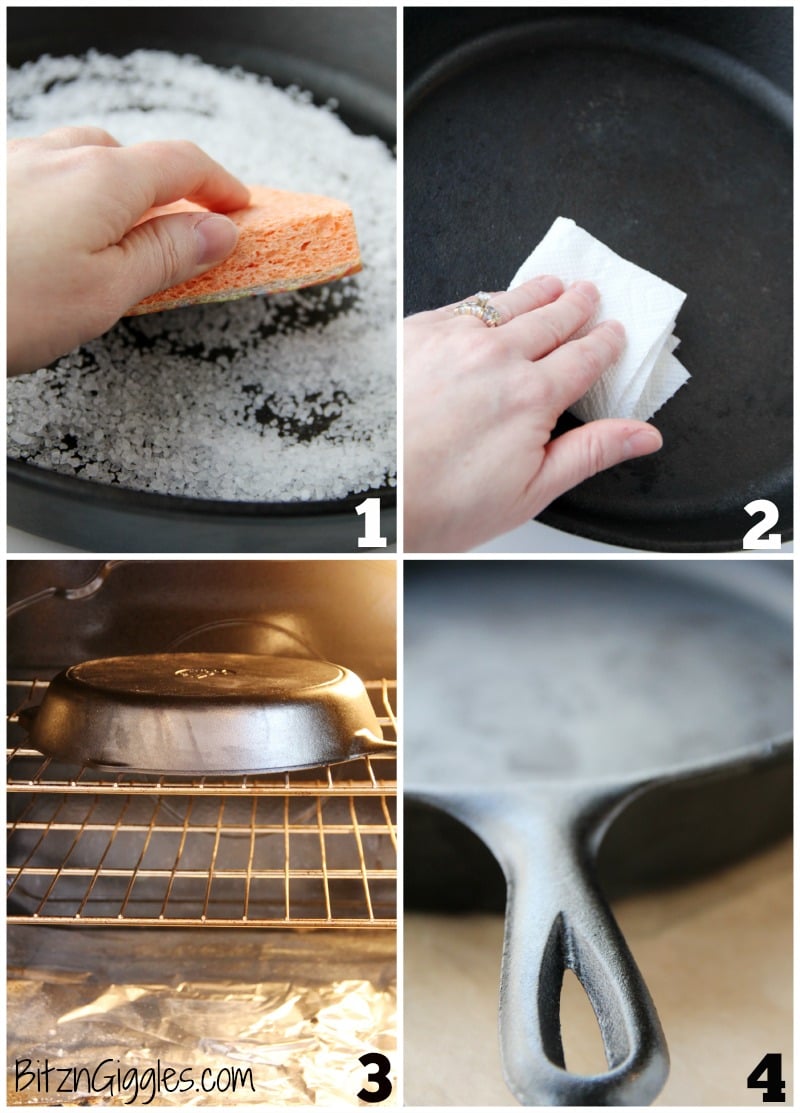 If you notice there are some food bits stuck on the pan, use coarse salt to scour the pan, then rinse it and dry it well.
Take a paper towel and rub a thin layer of vegetable oil on the inside and outside of the pan.
Now, preheat your oven to 350 degrees. Line the bottom of the oven with some foil and place the pan upside down on the top rack of the oven. Allow the skillet to "bake" for one hour, then turn the oven off and leave the skillet in there to cool.
Store your skillet in a dry place without any cover. If your skillet has any rust on it, it's probably because it was put away wet or has been stored in too humid of conditions.
What do I do after I cook something in it?

Rinse the skillet with water while it's still warm. Remember NOT to use soap.
If there are any food bits, repeat step #1 above, using coarse salt to scour the bits away. This also helps to remove any flavors or odors that may be left from your delicious dinner you just cooked in the pan.
Dry the skillet using paper toweling. Cast irons pans WILL stain towels. I learned this the hard way and ruined a flour sack towel my grandmother had given me years ago. Boo.
Rub a few drops of vegetable oil on the inside of the skillet with a paper towel to restore its sheen.
Store in a dry spot.
So, if you're anything like me, you still have at least one more lingering question. . .like:
Are you sure I don't have to use soap to clean the pan?
YES! The pan heats up so fast and so hot that it will kill anything left on its surface. Don't EVER put the pan into the dishwasher. The detergent and humid conditions will ruin the seasoning and encourage rust.
Tip: If your pan does rust, scour off the rust with salt and a plastic-bristle brush, dry and reseason.
Okay, so that's basically it. ENJOY your cast iron skillet and take good care of it. Cast iron can last you MANY years and can be passed down from generation to generation. If only I knew back then what a special gift we had received for our wedding. Well, live and learn I guess, right?
If you're a newlywed reading this post who also just received a cast iron pan, PLEASE keep it. Don't make the same mistake I did. You're going to love it. Believe it or not, flavors from the pan get better and better as time goes on. If you have owned your cast iron skillet for awhile, I'd love for you to share any additional tips or tricks you may have, as well as favorite foods you love to cook in it.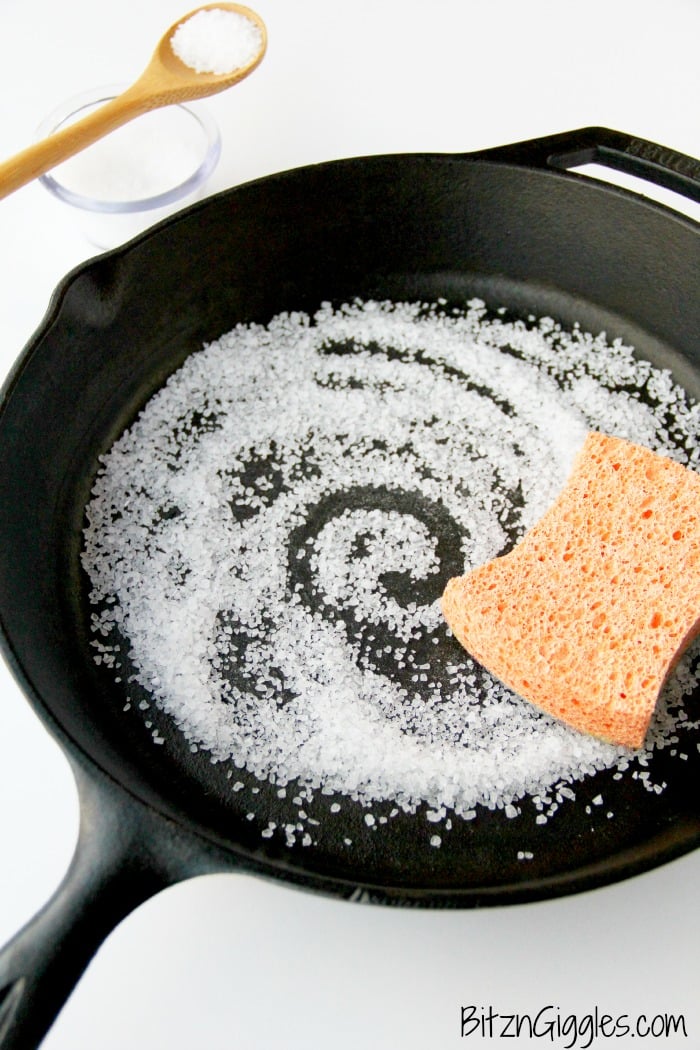 (Visited 290,699 times, 1 visits today)