So. . .our family has recently grown by one and I'm so excited to formally introduce you to her today! When Josh and I first got married we purchased a golden retriever and we named her Allie Roo. Allie was our baby and we took her everywhere. She was such a pampered pooch and so important to our family. When she passed almost two years ago we were so saddened. It took us this long to make the decision to bring another pup into our lives. But now. . .she's here.
Meet Belle. . .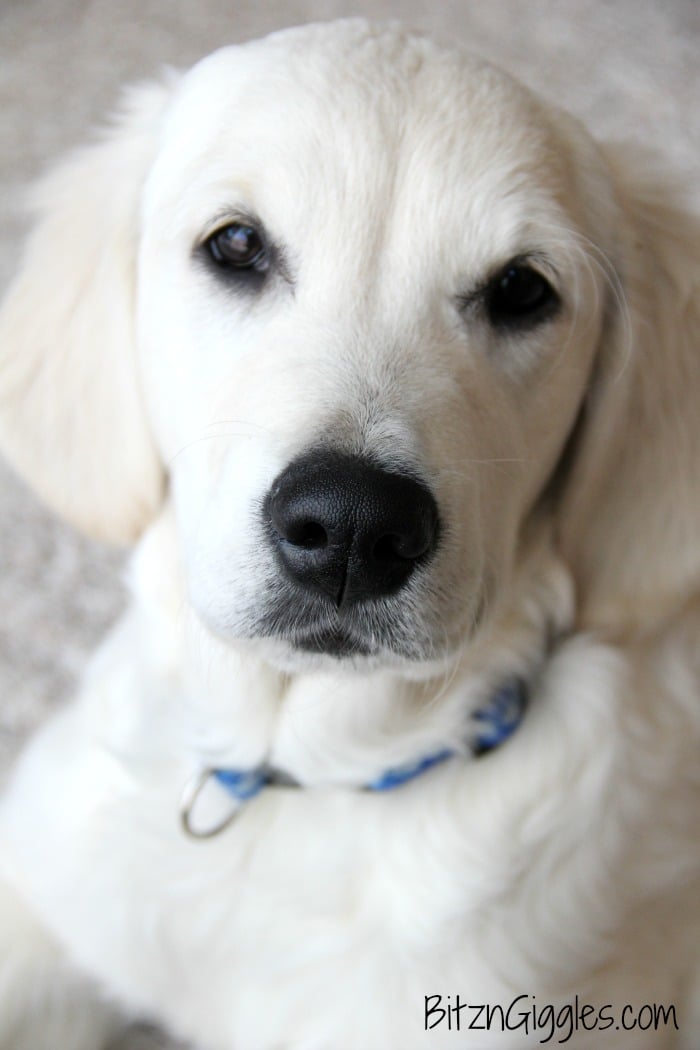 Isn't she the cutest? She's a 4-month old English Cream Golden Retriever and was born in North Carolina. Her mother is from England and was pregnant with her when she was brought to the states. We've all been through a lot in the past couple weeks. Josh and I drove her home – 17 hours straight in the car with several potty and gas station stops along the way. She got super car sick through the Smoky Mountains but it was clear sailing after that. We just wanted to get her home. I have no idea how my husband pushed through and got us all home safe and sound. We all were SO tired. I'm so thankful to have her here with us and part of the family. The kids are in love. . .we all are.
You'll be seeing lots of Belle around here, in fact, she's going to be getting her own section on the blog. I'm going to be sharing some training tips as well as recipes of some of Belle's favorite homemade treats. Don't forget to follow Bitz & Giggles on Facebook, Twitter and Instagram for more sneak peeks at this little doll. Today, I'm sharing a recipe for Chewy Cheddar Puppy Puffs. These treats have such a fun texture for pups and your dog will gobble them right up!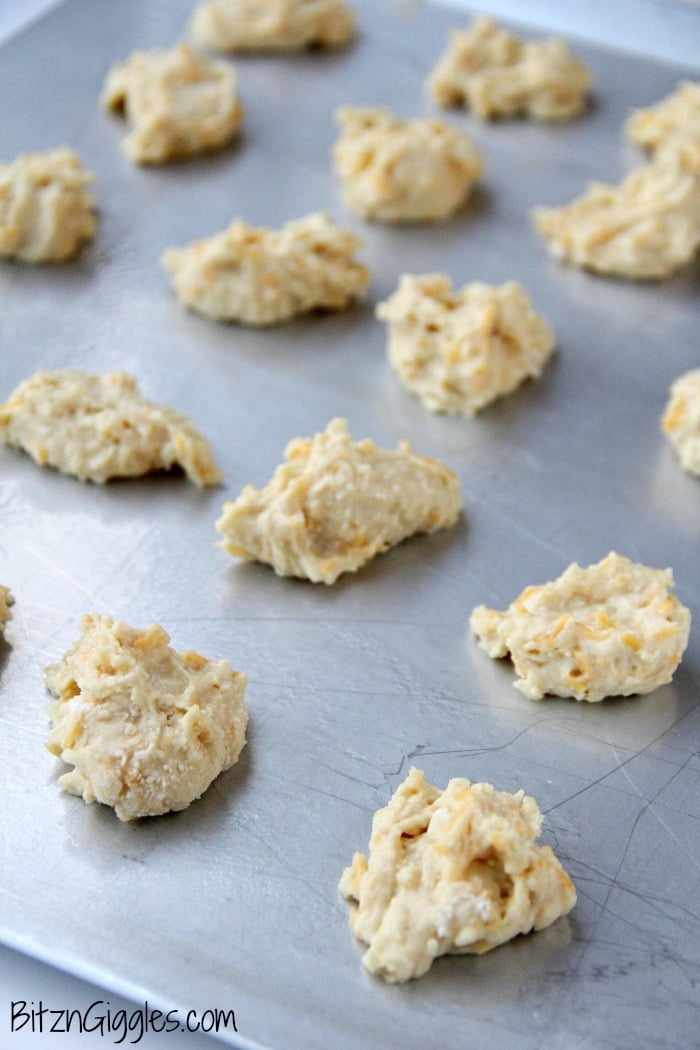 These treats are super simple to make and trust me, your dog will thank you for the effort! Isn't it nice to know what you're feeding your pets? I steer clear of so many packaged treats out there because the list of ingredients is super long and I have no idea what half of them even are! Not cool.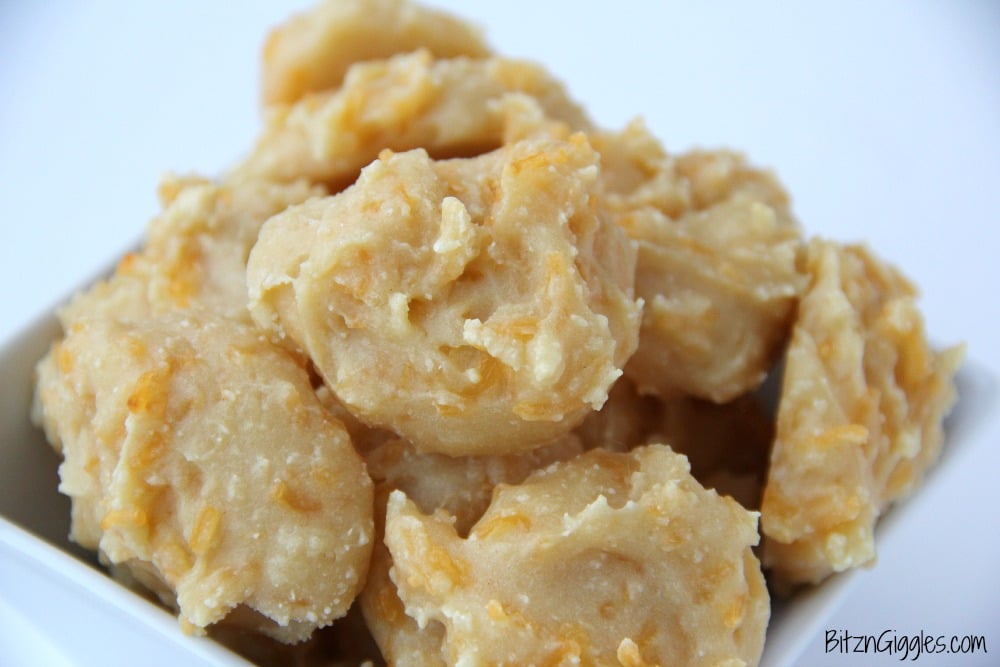 After about 10-12 minutes in the oven, these puffs turn a pretty golden color and can be stored in an airtight container. I got about 24 treats out of the recipe. You can always make them smaller or larger depending on the size of your dog. Splitting them in half is also an option and that's what I've been doing for Belle.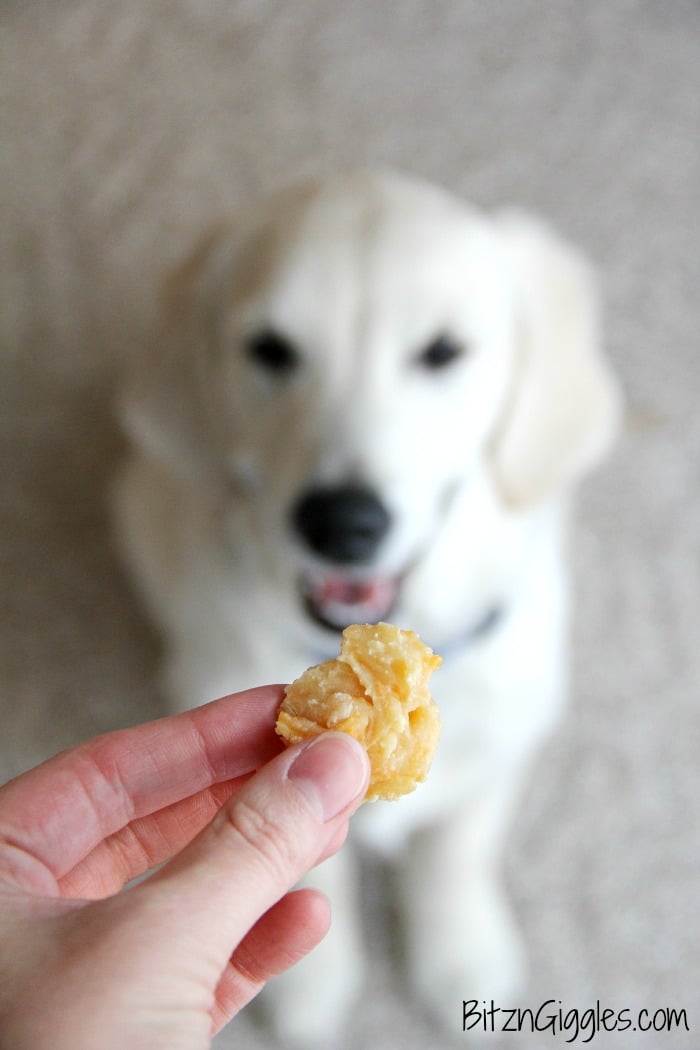 As you can see, she's very serious about her treats. Very focused. . .even for a puppy. We don't give her a ton of treats so when she does get them it's pretty special. She'll drop everything when she hears me open the container. Isn't it crazy on how pups pick up on some things so fast and others. . .not so quickly? I'm not going to lie. It's almost like having a baby in the house. Right now we watch her like a hawk and follow her around constantly teaching her the house rules and giving her the lay of the land. She's attempted jumping up on the furniture already and has "made her mark" on one of our rugs in the basement.
Oh, a day in the life of a puppy. It's funny how all of those memories of Allie Roo have come rushing back. I'm looking forward to great years ahead with Belle. Welcome to the family little fur ball. We're so very glad you're here!
Chewy Cheddar Puppy Puffs
A chewy and cheesy homemade treat your pup is sure to love!
Ingredients
1 cup all-purpose flour
1/4 cup shredded cheddar cheese
1/4 cup grated Parmesan cheese
1/2 cup evaporated lowfat milk
1 large egg
Instructions
Preheat oven to 350 degrees Fahrenheit.
Mix all of the ingredients together until well combined.
Drop the dough by teaspoons full onto a greased cookie sheet.
Bake for 9-12 minutes or until golden.
Remove from the oven, cool and store in an airtight container.
(Visited 108,124 times, 1 visits today)