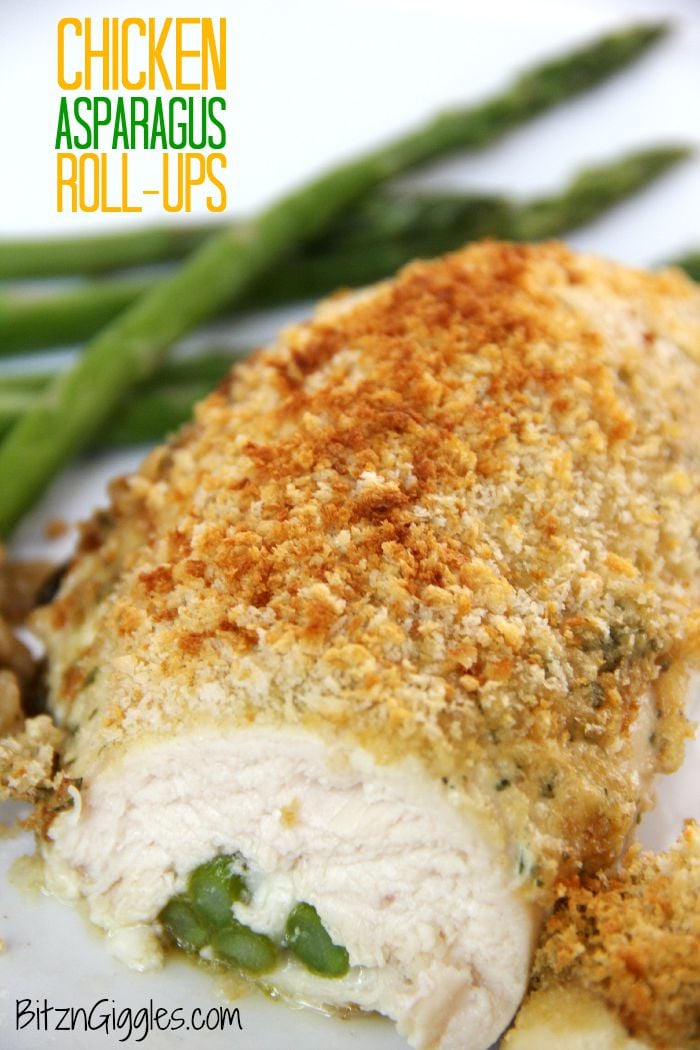 Let me tell you what. . .it's been a stressful last few weeks. I've had a lot going on personally, so my blog has suffered. I apologize, but when it rains, it pours. Last Sunday my husband's great-grandmother passed. Yes, you heard me right. GREAT-Grandmother. It's been such a blessing to have her in our lives. There aren't many that can say they had the pleasure of meeting, let alone growing up with their great-grandmother. Our children will be able to tell stories of their great-great-grandmother to their own children one day. That just blows my mind.
Grandma Deml lived a long, wonderful life. She left this world at the age of 93. And yesterday we said our last goodbyes. She will be deeply missed, but I'm so grateful for the oodles of memories that will always make us smile and laugh.
While things have been a bit hectic around here, I've still been doing my best to get new recipes and projects out to you, so today, I'm sharing a wonderful recipe for Chicken Asparagus Roll-Ups. Oh, my goodness, this chicken is moist and cheesy – and filled with a hollandaise like sauce that's completely yummy. Want to see how I made it?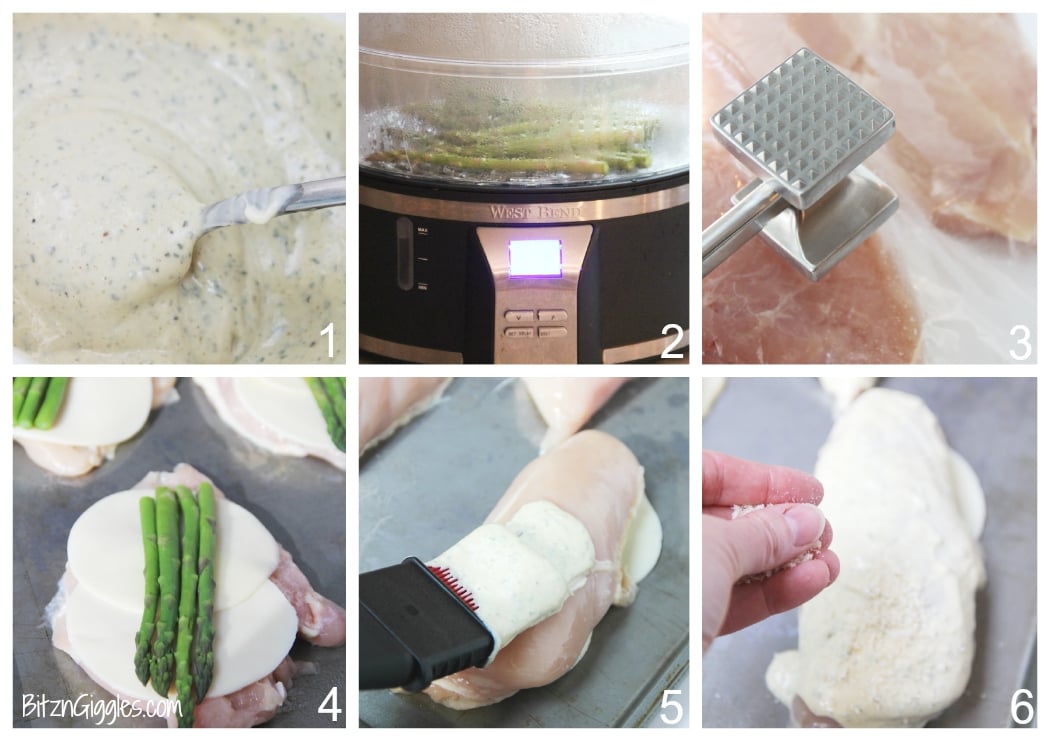 I mixed up my hollandaise-like sauce in a small bowl. It's a mixture of mayonnaise, lemon juice, Dijon mustard, dried tarragon, salt and pepper. A wonderful combination!
I steamed the asparagus for about 8 minutes or so just until a bit tender and bright green.
With the smooth end of a meat mallet, I pounded out the chicken breasts until they were thin enough to fold over.
I placed two pieces of provolone cheese and four asparagus spears on top of each chicken breast and then folded the chicken ends together.
I placed the chicken open side down and brushed each piece with the sauce.
Then sprinkled each chicken breast generously with panko bread crumbs.
I baked the chicken for about 25 minutes at 425 degrees and pulled it out when the bread crumbs were a golden brown and the juices from the chicken ran clear.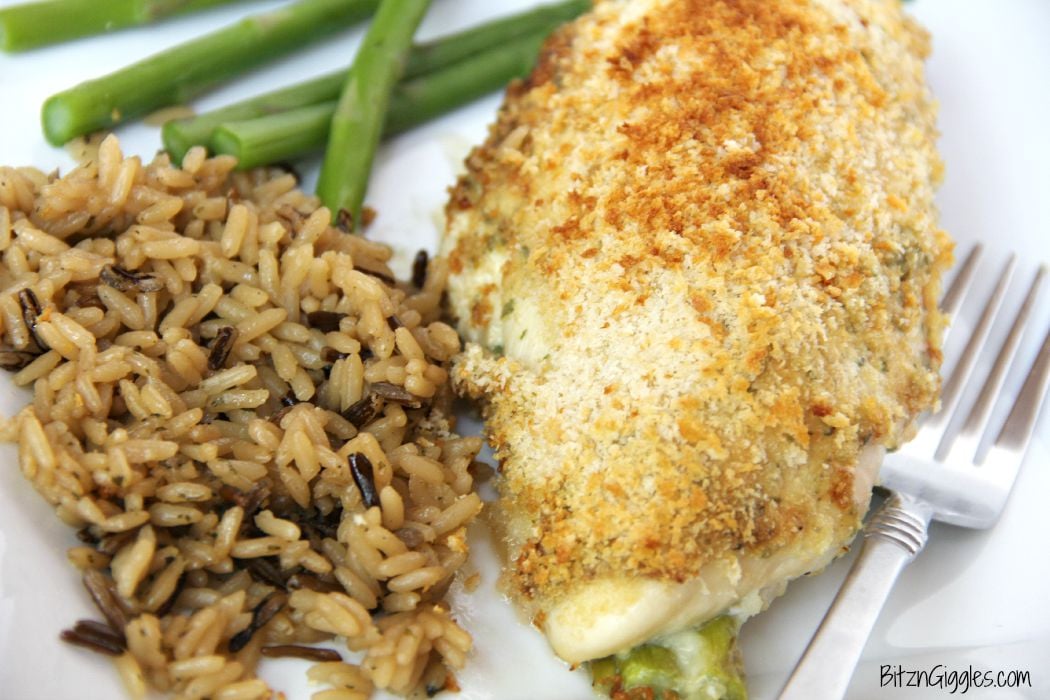 The crunchy topping, the cheese, the sauce, the asparagus. Oh. my. goodness. I served the chicken with a wild rice blend and a few extra asparagus spears. My husband absolutely loved this meal and it has become a part of our weekly meal plans.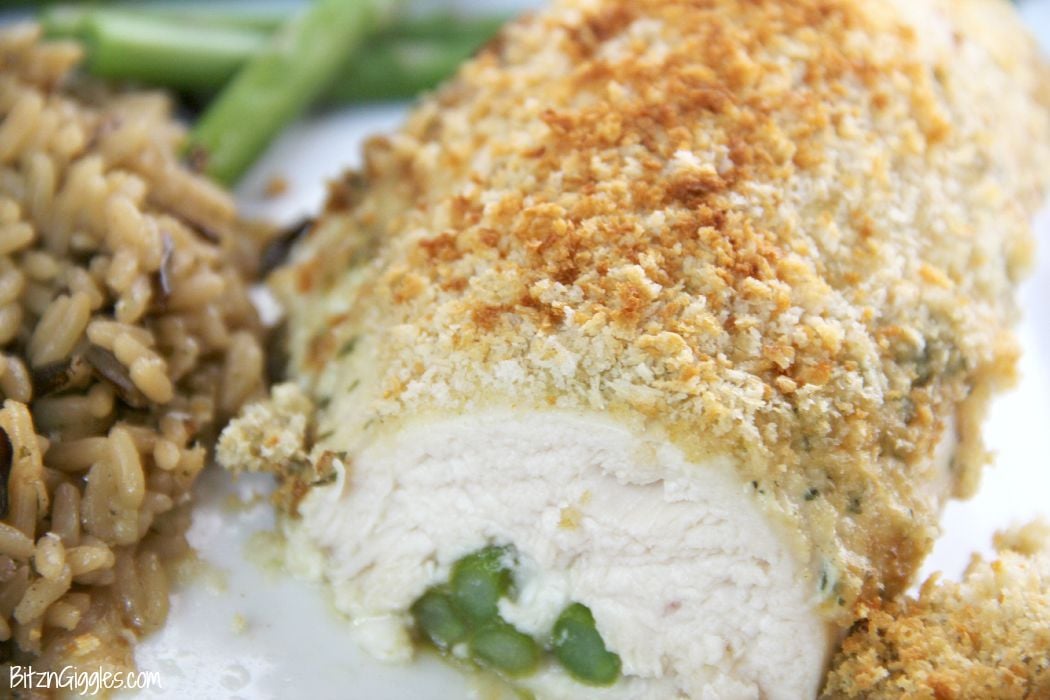 You're really going to love this dish!!! I can't wait to hear from those of you who try it!
Chicken Asparagus Roll-Ups
Deliciously moist and cheesy chicken breasts rolled around asparagus spears and covered with a hollandaise-like sauce. Crunchy panko crumbs top off this elegant dish.
Ingredients
4 skinless, boneless chicken breasts
1/2 cup mayonnaise
1 tablespoon lemon juice
3 tablespoons Dijon mustard
2 teaspoons dried tarragon
1/2 teaspoon salt
1 teaspoon black pepper
1 cup panko bread crumbs
8 slices provolone cheese
16 spears fresh asparagus, trimmed and steamed or cooked until just tender
Instructions
Preheat oven to 425 degrees Fahrenheit.
In a small bowl, combine mayonnaise, lemon juice, Dijon mustard, dried tarragon, salt and pepper until well mixed.
Place the chicken breasts (2 at a time) in a ziplock bag and firmly pound the chicken with the smooth end of a meat mallet until about 1/4-inch thick.
Place two slices of cheese and 4 cooked asparagus spears on each chicken breast.
Roll chicken breasts around the asparagus and cheese and place open side down onto a greased baking pan.
Coat each breast generously with the mayo mixture.
Generously cover each breast with panko and lightly press into the chicken.
Bake 25-28 minutes or until crumbs are browned and juices run clear.
Nutrition
Calories: 2642
Sugar: 17
Sodium: 5427
Fat: 163
Saturated Fat: 56
Unsaturated Fat: 98
Trans Fat: 0
Carbohydrates: 102
Protein: 190
Cholesterol: 493
(Visited 8,743 times, 1 visits today)