Chicken and Potato Chip Casserole – chicken, rice and broccoli covered in melted cheese and crisp potato chips!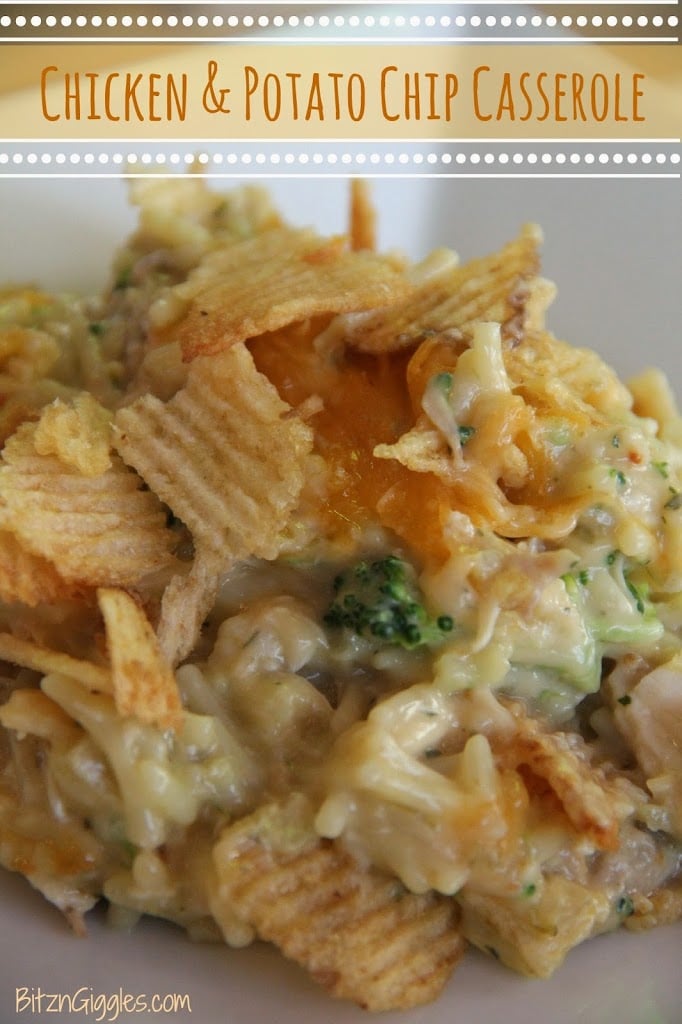 I know what you're thinking? Another recipe for comfort food? It's spring for goodness sakes. You're right, somewhere it is spring. But here in Wisconsin, it's not. We just had another winter storm last Friday! I will admit, the snow is slowly melting and it seems as if we may warm up a bit more this week, but I won't believe it until I see it AND feel it.
We're gearing up for another busy week ahead. I don't know about you, but when it comes to dinner during the week, I need something quick. After I get off of work, I pick the kids up from daycare and head home. Here's what our typical week night looks like:
5:15 pm: Arrive home and start dinner (no time to change into comfy clothes, just start dinner)
5:45 pm: Eat dinner
6:15 pm: Bath time
6:45 pm: Kids free time play (Me- clean up from baths, get clothes, bags, etc. ready for the next day)
7:00 pm: Small snack and drink
7:15 pm: Brush teeth
7:20 pm: Read books
7:40 pm: Prayers
7:45 pm: Lights out
I seriously have about 30 minutes to prepare a meal in the evening. Are your evenings like this, too? I often wonder how other families do it? I am moving nonstop from the time I get home from work until about 8:00 pm or so. The next day I wake up at 5:00 am – the kids at 6:00 am and we do it all over again. There are some mornings I actually prep for dinner, getting out my seasonings, etc. in the morning and set things out on the counter so everything is ready to go when I get home.
When do I have time to blog everyone asks me. You know, I'm not quite sure. Many of my food photos actually need to be taken in the evening. Winter is a huge challenge because it's dark by the time we get home. No natural light to be found. Most of the time when I do take my pictures the food is sitting right in front of me on the table ready to be eaten. I think I've mentioned before – I actually DO eat the food I post on the blog. If I prepared it, I'm eating it. If it's really good, I post it. So when I say these recipes are tried and true, they really are.
This Chicken & Potato Chip Casserole isn't the healthiest dish in the world, but that may be why it tastes so darn good. It's quick because it uses Rotisserie chicken.
I think the best part about this casserole is mixing all of the ingredients together in a bowl. You got some chicken, throw it in. You got some broccoli, throw it in. Once it's mixed all together, transfer it to a lightly greased baking dish.
Then cover the mixture with shredded cheese and crushed potato chips! I ate the ones that fell off of the top, I'll admit it. Did you notice this recipe doesn't call for salt? You don't need it. With the chips, rice, cheese and soups, there's plenty. Trust me.
Put the casserole into a 400 degree oven for about 30 minutes or until the chips start to brown and the casserole is heated through. It's looking good, isn't it?
This is chicken & potato chip casserole is the ultimate comfort food. Definitely not a dish I prepare weekly or even monthly because of the calories, but when we do eat it, we thoroughly enjoy it. Of course we do. It's comfort food! Now excuse me while I get to cleaning up, and baths, and teeth brushing, and books. . .
Chicken & Potato Chip Casserole
Chicken, rice and broccoli covered in melted cheese and crisp potato chips!
Ingredients
2 cups chopped, cooked chicken meat (I use Rotisserie)
1 (5.5 ounce) bag Knorr Rice Sides – Chicken Broccoli, prepared
1 (10.75 ounce) can condensed Cream of Chicken & Mushroom soup
1 (10.75 ounce) can condensed Cream of Celery soup
2 cups finely chopped broccoli florets
2 tablespoons minced onions
1 tablespoon lemon juice
1 cup shredded Cheddar cheese
2 cups crushed potato chips
1/4 cup water
Garlic pepper to taste
Instructions
Preheat oven to 400 degrees Fahrenheit.
In a large bowl combine the chicken, prepared rice, soup, minced onion, broccoli, lemon juice, water and pepper.
Spread the mixture into a lightly greased 9×13 inch baking pan.
Cover the mixture with cheese and then the crushed potato chips
Bake for 25-30 minutes or until the potato chips are browned and the casserole is heated through.
SaveSave
SaveSave
SaveSave
SaveSave
(Visited 171,580 times, 1 visits today)