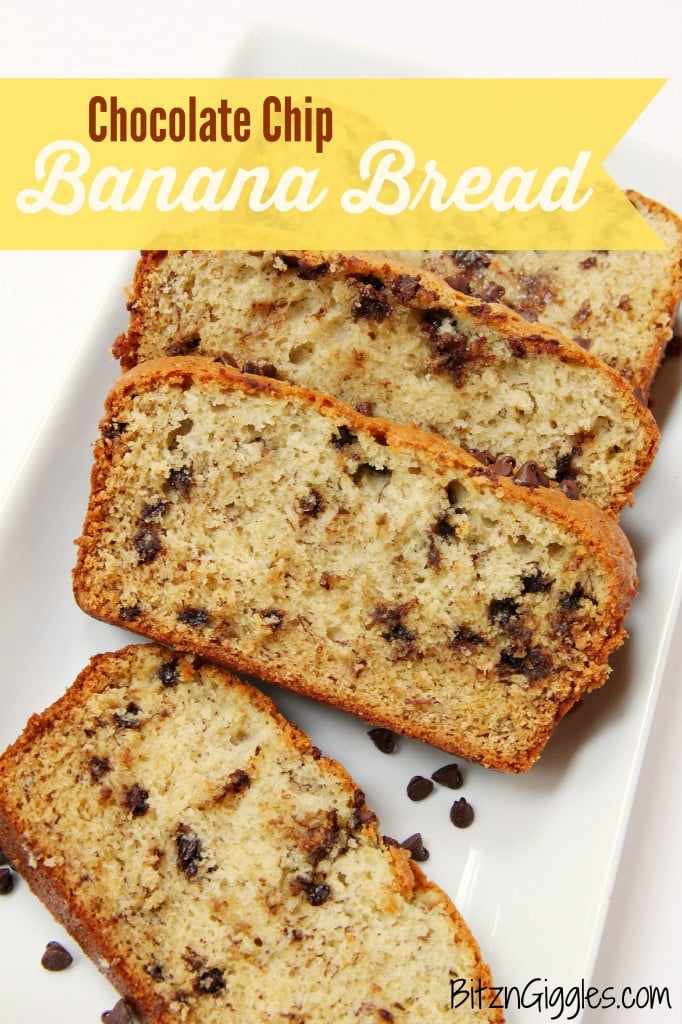 Happy Monday! We had such a nice weekend! How was yours? I took the kids to the park, switched their summer clothes out for pants and sweatshirts, filled a bin for our garage sale next summer, cleaned the patio doors (that I could hardly see out of) and made some of this delicious Chocolate Chip Banana Bread. For those of you who are regular readers of my blog, I'm not a huge fan of fruit. I basically eat it because I have to. 🙂 I trick myself into eating it by "hiding" it in recipes like this one.
So, although I'm a die hard veggie girl, this bread was sure something else. Sweet, moist, full of little bursts of chocolate. . .who knew I had thrown some bananas in there! Okay, okay, you could still taste the banana, but it was subtle. I used two bananas in my bread. I suppose if you really like banana, you could use three. Whatever makes your skirt fly up as I heard one of my blogging friends say. Just go and make this. You won't be sorry.
I apologize for only one photo. It sure isn't like me, I know. The truth of the matter is I had two little children whining for the bread as soon as I pulled it out of the oven. They just weren't about to sit and wait for a photo shoot to take place. So, in other words, life happened. I cut the bread, took a couple pictures and it was gone. Devoured. If you make it, you'll know why. Here's the recipe!
Chocolate Chip Banana Bread
Sweet, moist, and full of bursts of chocolate, you will want to make this chocolate chip banana bread over and over again.
Ingredients
1/2 cup unsalted butter, softened
1 1/4 cups white granulated sugar
2 large eggs
2 medium ripe bananas, mashed
1 teaspoon vanilla extract
1/4 cup sour cream
2 cups all-purpose flour
3/4 teaspoon baking soda
1 teaspoon baking powder
1/2 teaspoon salt
1/3 cup mini chocolate chips
Instructions
Preheat oven to 350 degrees.
Grease a 9×5 inch loaf pan with nonstick cooking spray.
In a bowl, use a hand mixer to beat the sugar and butter until crumbly.
Add the eggs, the bananas, vanilla and sour cream.
In another bowl, mix the flour, baking soda ,baking powder and salt.
Stir the dry mixture into the creamed mixture.
Fold in the chocolate chips and transfer to the loaf pan.
Bake 55-60 minutes or until baked through.
Cool 10-15 minutes before removing to a wire rack to cool.
Nutrition
Calories: 3460
Sugar: 310
Sodium: 2382
Fat: 133
Saturated Fat: 79
Unsaturated Fat: 43
Trans Fat: 4
Carbohydrates: 533
Protein: 47
Cholesterol: 659
(Visited 2,935 times, 1 visits today)