Cookies & Cream Cereal Treats – White chocolate clusters of Oreo pieces, marshmallows and cookies and cream cereal! All you need is a microwave and a couple minutes to whip up these delicious and simple treats!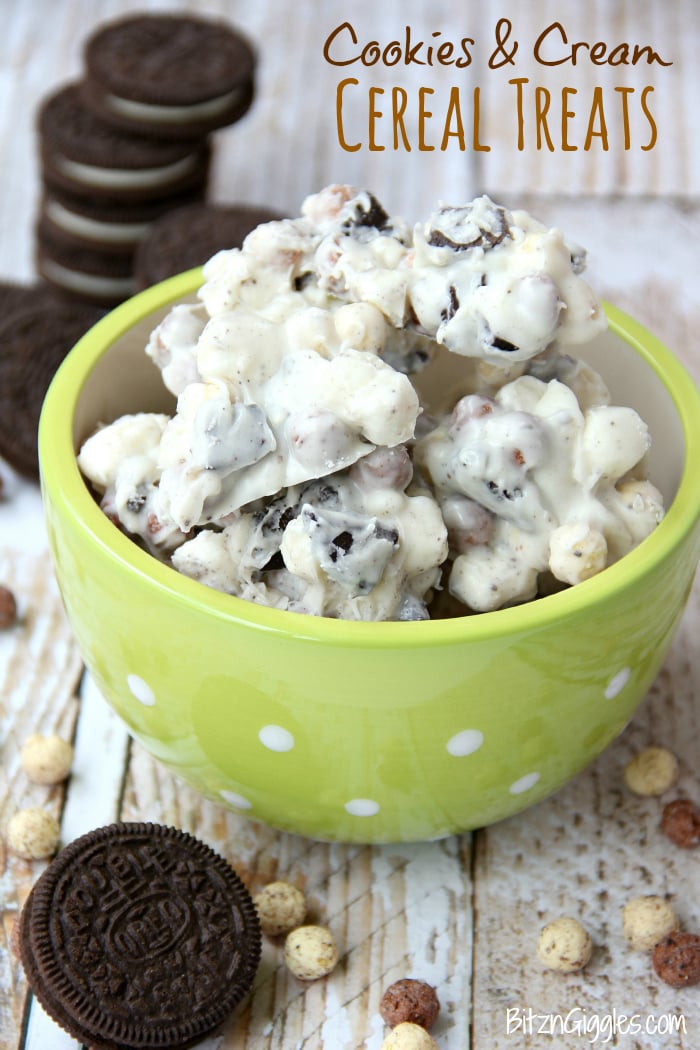 This post includes affiliate links. Please see my disclosure.
Uggh. There's a lot of disappoint in Wisconsin this morning. The Monday after a Green Bay Packers loss is never good. Heck, how often are Mondays really that great anyway? We have to get out of this slump soon, right?
Beyond football, I spent the weekend with family. We had a nice evening out with some of our cousins from North Carolina on Saturday and on Sunday we celebrated Josh's cousin's birthday with a big soup and salad buffet. I'm sharing the recipe for the cheesy broccoli soup I made later this week!
But today, TODAY we're talking sweets. Are you already planning your list of cookies and candies you want to make for Christmas this year? I sure am and these Cookies & Cream Cereal Treats will be happening in my kitchen again before the holidays for sure! What are they? Clusters of white chocolate goodness is what I like to call them! 😉 I'll introduce you to the other contributors to the goodness in just a bit.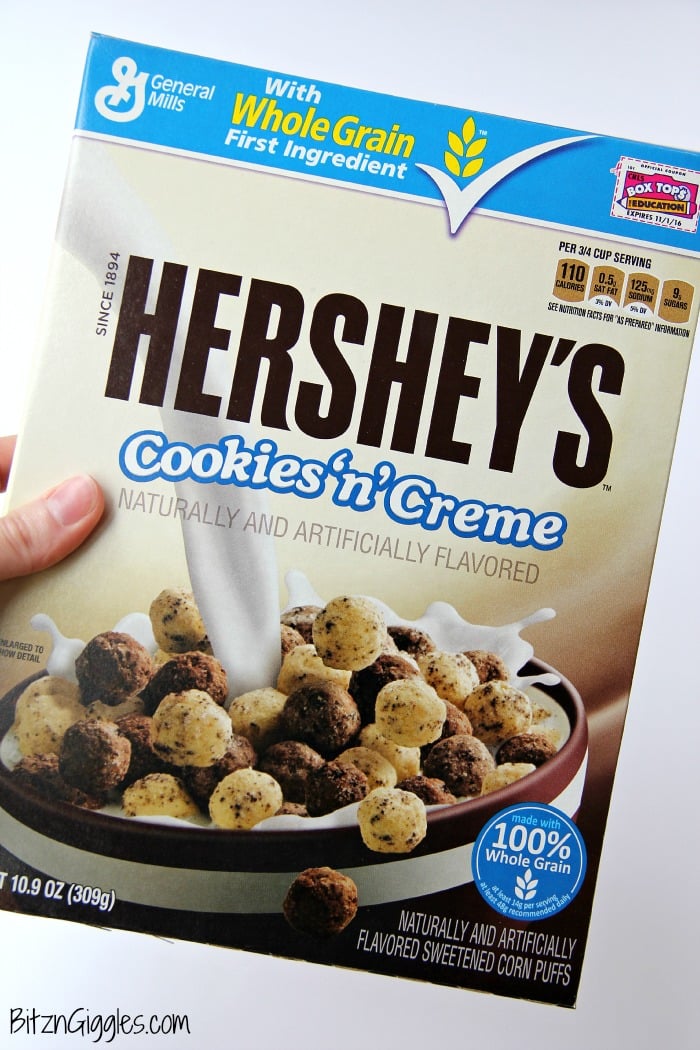 Have you ever tried this Hershey's Cookies'n'Creme cereal? If not, you should. I'm not promoting bad breakfast choices, I'm just suggesting you try it. I have a bowl of sugary cereal maybe once a week between all of those bananas I gag down eat.
Let's just talk about what this gorgeous white chocolate is holding together: Cookies'n'Creme cereal puffs, Oreo cookie pieces and mini marshmallows!! Holy yum.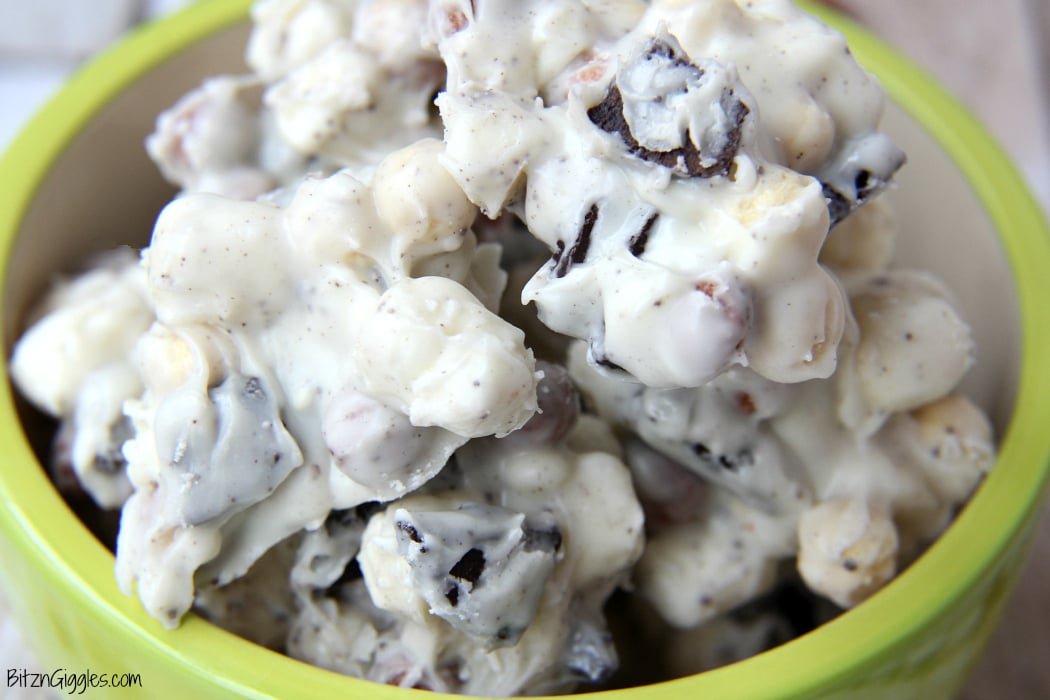 I don't even use my stove for this candy. I melt the white chocolate chips in the microwave and mix all of the ingredients together in a BIG bowl – and I mean big, because the recipe makes A LOT. I drop the candy mixture by the tablespoon onto waxed paper, let it set and then store the it in an airtight container.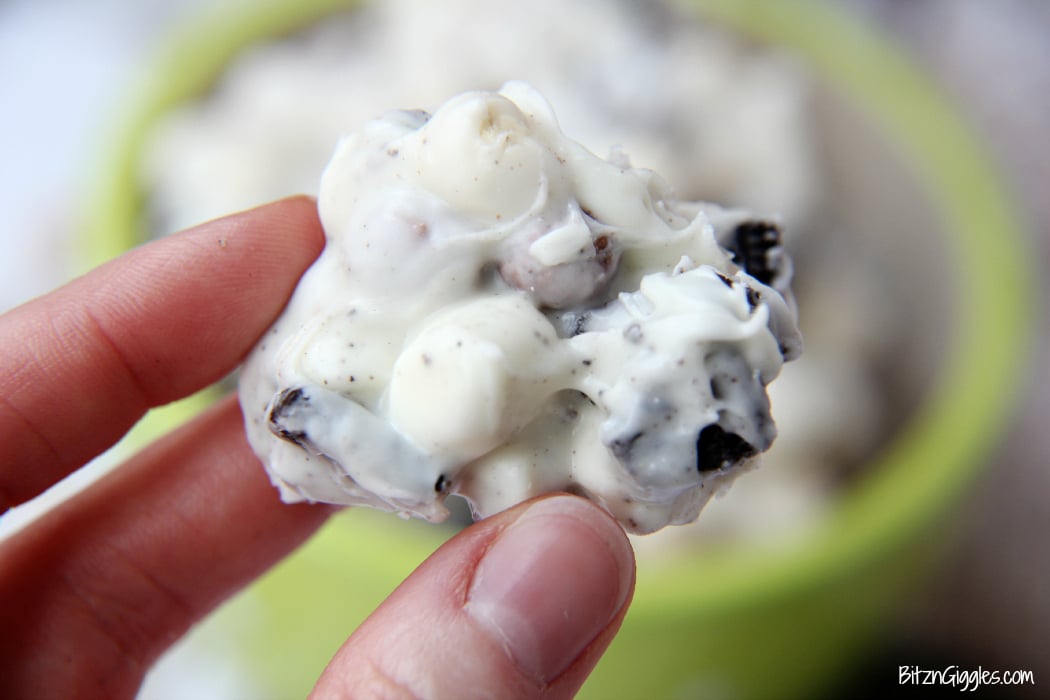 You end up with baking sheets filled with these little clusters. Well, okay, some of the clusters are not so little. Some are big, some are smaller. At least, that's how I like to make them. Because some days you need a little sweet, and others. . .well, you need a lot.
I feel like I've been needing A LOT of sweet lately. My body must sense the approaching winter and its need to prepare for hibernation. Because I do hibernate. This is real, people. My neighbors don't even pay attention to Groundhog Day anymore. They just watch for me to "reappear" in the front yard.
This is the time of year I stock up on good smelling candles and wax melts, gather all my baking supplies, kick my magazine subscriptions into high gear and just try to get through the cold weather months without the need for light therapy. If I DO ever need a little therapy, I found this Light Box
 over on Amazon.com. Yes, really. By the sounds of the reviews, it actually works. Bonus.
Alright, so light box or no light box, these cereal treats are keeping me distracted and happy for now. Please check back with me in about a month or so when we're buried in snow – I may be whistling a different tune. Hopefully not. It just goes to show how much I love my family. They're the only reason I stick around here in the winter. If you're my neighbor and you're reading this, if it's been a few weeks and you haven't seen me AT ALL, please stop by the house and say hello. . .and bring some of these treats. 😉
Cookies & Cream Cereal Treats
White chocolate clusters of Oreo pieces, marshmallows and cookies and cream cereal! All you need is a microwave and a couple minutes to whip up these delicious and simple treats!
Ingredients
1 1/2 cups Hershey's Cookies and Cream cereal
2 cups miniature marshmallows
8 Oreo sandwich cookies, crushed
24 ounces white chocolate chips
Instructions
In a large bowl, combine the cereal, marshmallows and Oreos.
Melt white chocolate chips in a saucepan over the stove or in a microwave-safe bowl in the microwave.
Pour the white chocolate into the large bowl and stir all ingredients together.
Use a tablespoon to scoop out the candy and use another spoon to push the candy off of the spoon onto a wax paper-lined baking sheet.
Allow candy to set for about an hour and store in an airtight container.
(Visited 5,901 times, 1 visits today)