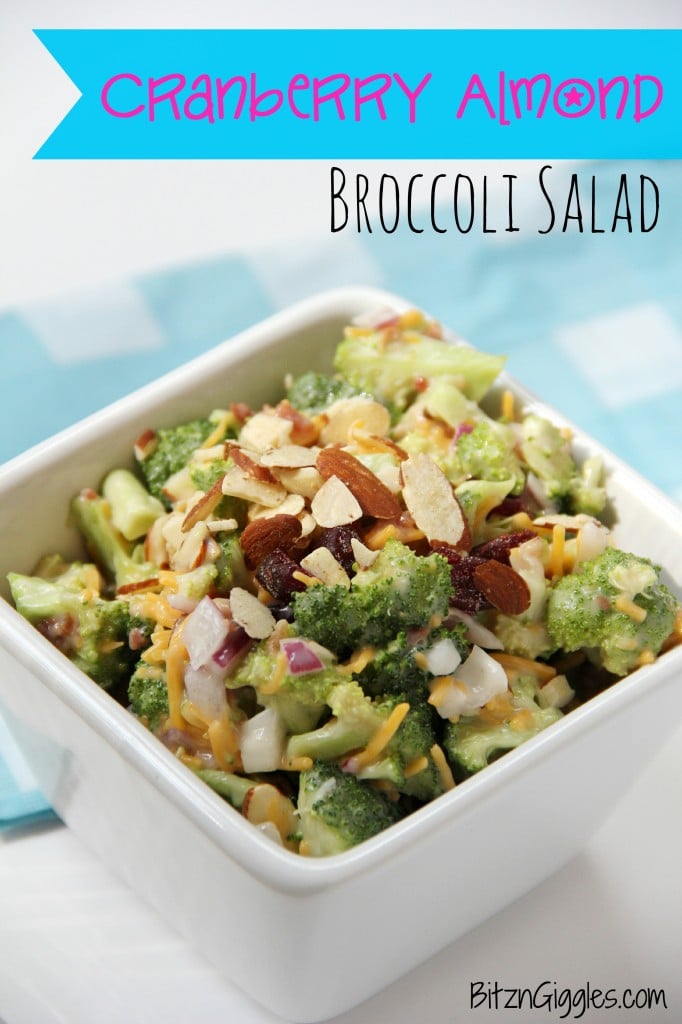 This past week and weekend have been quite emotional. My husband, Josh, lost his Grandpa Ronnie unexpectedly early last week. We've spent the last several days with family and friends, attending services, remembering the good times and just leaning on one another for support and strength. I've been "unplugged" from the computer and my blog, and it's been a bit strange trying to get back into my normal routine again.
When something like this happens in the family, the world kind of just stops and you just focus on your loved ones. I feel like it's going to take me a little while to get back into the swing of things, but at the same time, you all are important to me as well and I can't leave you hanging without a new post any longer!
This Cranberry Almond Broccoli Salad was actually a dish I put together for a dinner at one of our friend's houses this weekend. They invited us over and it was a nice distraction from all that has happened the last several days. This creamy and fresh broccoli salad with cranberry and almond accents is perfect for potlucks and family gatherings!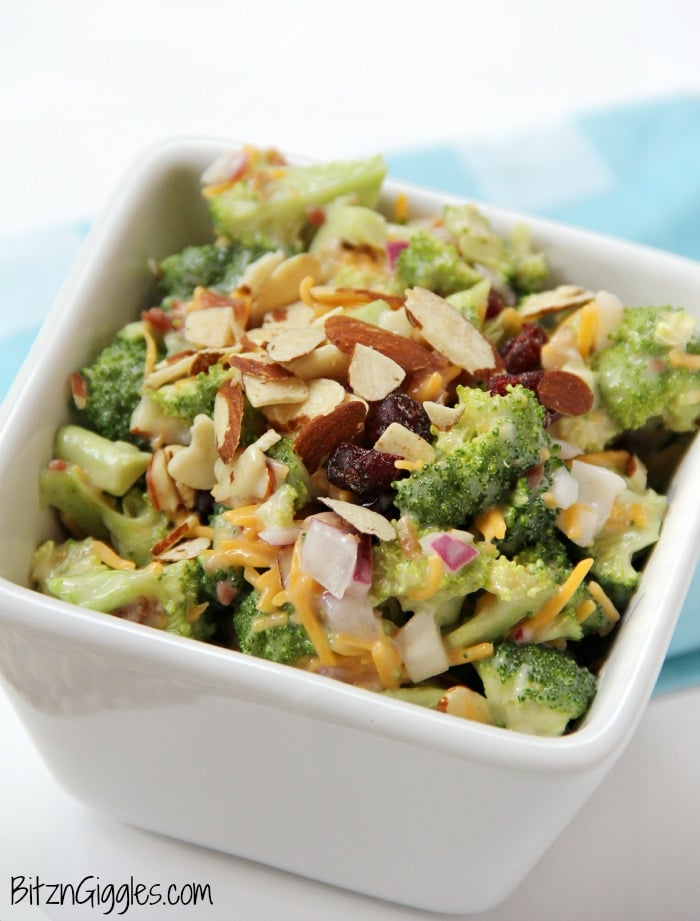 Cranberry Almond Broccoli Salad
A creamy broccoli salad with cranberry and almond accents – perfect for potlucks and family gatherings!
Ingredients
1/4 cup slivered almonds
1/2 cup dried cranberries
1/2 cup crumbled bacon pieces
1 1/4 cups shredded cheddar cheese
3 cups fresh chopped broccoli
1/2 large red onion, chopped
1/4 cup white sugar
1 teaspoon pepper
1/2 teaspoon salt
1 teaspoon lemon juice
1/4 cup red wine vinegar
2/3 cup mayonnaise
Instructions
In a bowl, combine the cranberries, almonds, broccoli, cheese, onion and bacon.
In a separate bowl, whisk together the mayonnaise, lemon juice, vinegar, sugar, salt and pepper.
Pour the dressing over the salad, combine until fully coated.
Refrigerate at least one hour before serving.
Nutrition
Serving Size: 12
Calories: 193
Sugar: 9
Sodium: 266
Fat: 15
Saturated Fat: 4
Unsaturated Fat: 10
Trans Fat: 0
Carbohydrates: 11
Protein: 5
Cholesterol: 18
(Visited 3,811 times, 1 visits today)