Crock Pot Chocolate Lava Cake – Warm, gooey chocolate cake made right in your crock pot with a thick fudge sauce to spoon over the top!
This is a sponsored post written by me on behalf of The Chinet® brand . All opinions are 100% mine.
You guys, it's not often I use my crock pot to make desserts, but today, well today is different. This Crock Pot Chocolate Lave Cake is the one dessert I don't use anything BUT my crock pot for. It's a perfect recipe choice for the holidays because you literally just let this cake bake for two hours while you're running through the house getting the final details taken care of before your guests arrive. And when it's done . . .you have 30 minutes more just to let it sit and cool a bit before digging in. Perfect.
My Type-A personality prefers everything is ready to go before the door bell starts to ring, so recipes such as this one I hold very near and dear to my heart. Let me quickly run through how to start this cake.
After you make the batter and place it into the crock pot, you sprinkle on some chocolate chips and then carefully pour a delicious brown sugar and cocoa mixture over the top of the chocolate chips. It's THAT easy.
Let's just talk a little bit about how I like to serve this dessert up, while we wait on that crock pot. 😉 When I'm entertaining there are two things I'm not interested in. . .serving food that people can't eat while mingling (unless I'm serving a sit-down dinner) and being stuck with a boatload of dirty dishes after the party.
Using Chinet® Cut Crystal® tumblers solves both of these problems.
Chinet® just makes entertaining easy and allows me to spend time with family and friends during the holidays rather than washing a bunch of sticky, fudge-filled dishes. I just scoop the cake right into the cups, drizzle over some of the fudge and top with a scoop of ice cream. Wallah! Guests have their own little dessert they can carry with them and just throw the cup away when they're done.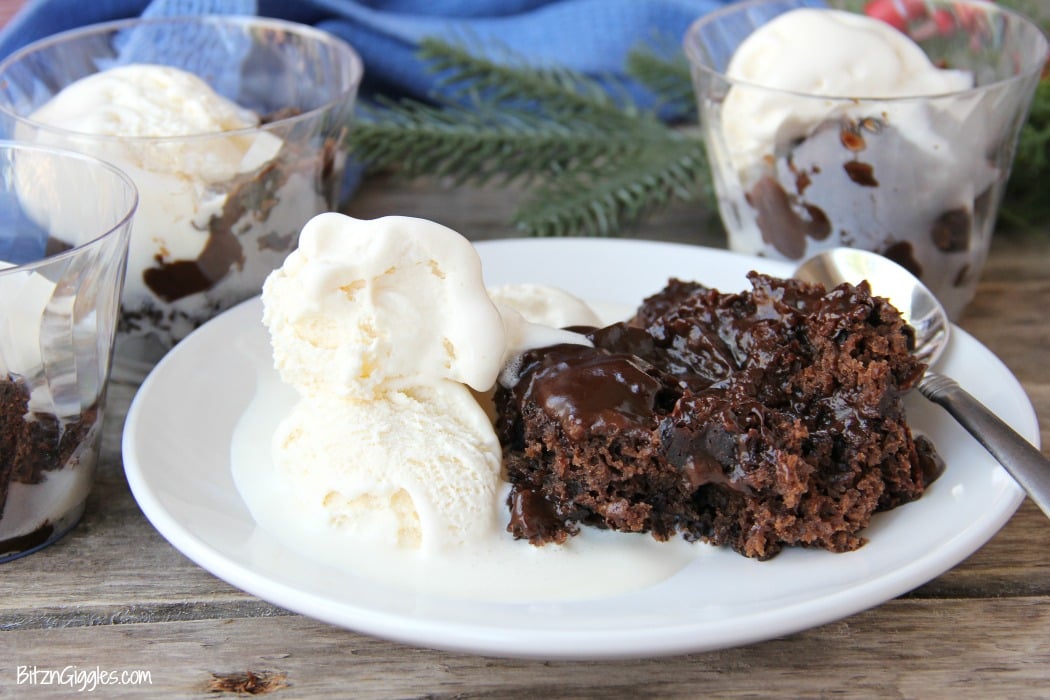 I'm thinking I can talk my mom into using Chinet® Cut Crystal® products for Thanksgiving. They're clear and elegant. . .perfect for the holidays. In addition to their plates, cups and cutlery, now they have stemless wine glasses! Yes, they do. And I'm going to the store to get me some. For those of you wondering, they're BPA free AND made in the USA. Sold and sold.
Okay, so back to this decadent dessert. You know what else I love about putting this dessert into a cup? While it looks beautiful on the plate with the melted ice cream around it, it's really not that practical for a party.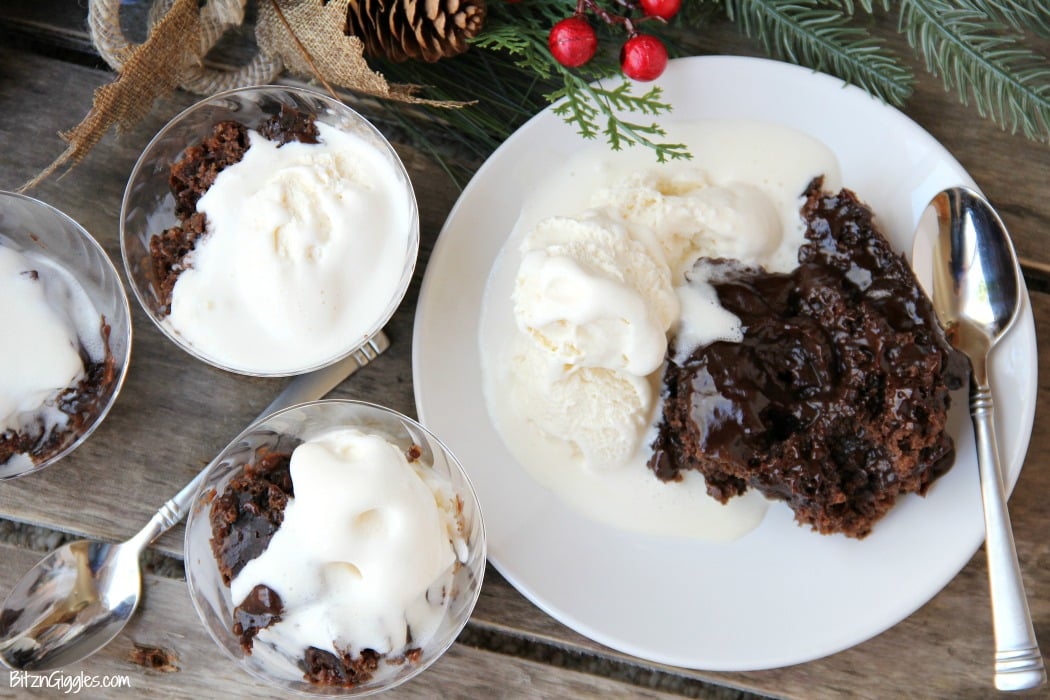 When you put it in a Chinet® Cut Crystal® tumbler you can watch all of that delicious ice cream melt and pour over the sides of the fudgy cake. That's even more beautiful, if you ask me.
And all of that melted ice cream that made its way to the bottom of your cup? You can drink that. Yes you can. . .and you're welcome.
Crock Pot Chocolate Lava Cake
Crock Pot Chocolate Lava Cake – Warm, gooey chocolate cake made right in your crock pot with a thick fudge sauce to spoon over top!
Ingredients
1 cup flour
3/4 cup sugar
1/4 cup and 2 tablespoons baking cocoa, divided
2 teaspoons baking powder
1/2 teaspoon salt
1/2 cup milk
2 tablespoons vegetable oil
1 teaspoon vanilla
3/4 cup chocolate chips
3/4 cup brown sugar, packed
1 1/2 cups warm water
Vanilla ice cream, for topping
Instructions
Spray the inside of your crock pot with nonstick cooking spray.
Mix flour, sugar, 2 tablespoons baking cocoa, baking powder and salt in a mixing bowl.
Add the milk, oil and vanilla until well-combined.
Spread the batter in the crock pot.
Sprinkle the chocolate chips on top of the batter.
In another bowl, mix the brown sugar and remaining 1/4 cup cocoa.
Stir in the warm water until smooth and pour slowly and gently over the chocolate chips.
Cook on high for 2 hours.
Turn off, unplug and remove the lid from the crock pot.
Allow the cake to stand uncovered for 30 minutes.
Spoon warm cake into cups, spoon sauce from the bottom of the crock pot over the cake and top with a scoop of vanilla ice cream.
SaveSave
(Visited 3,797 times, 1 visits today)