DIY Galaxy Jar – A gorgeous craft for kids, teens or even adults who love color and glitter! Simply layer cotton balls, acrylic paint, water and glitter shapes to create your own galaxy in a jar!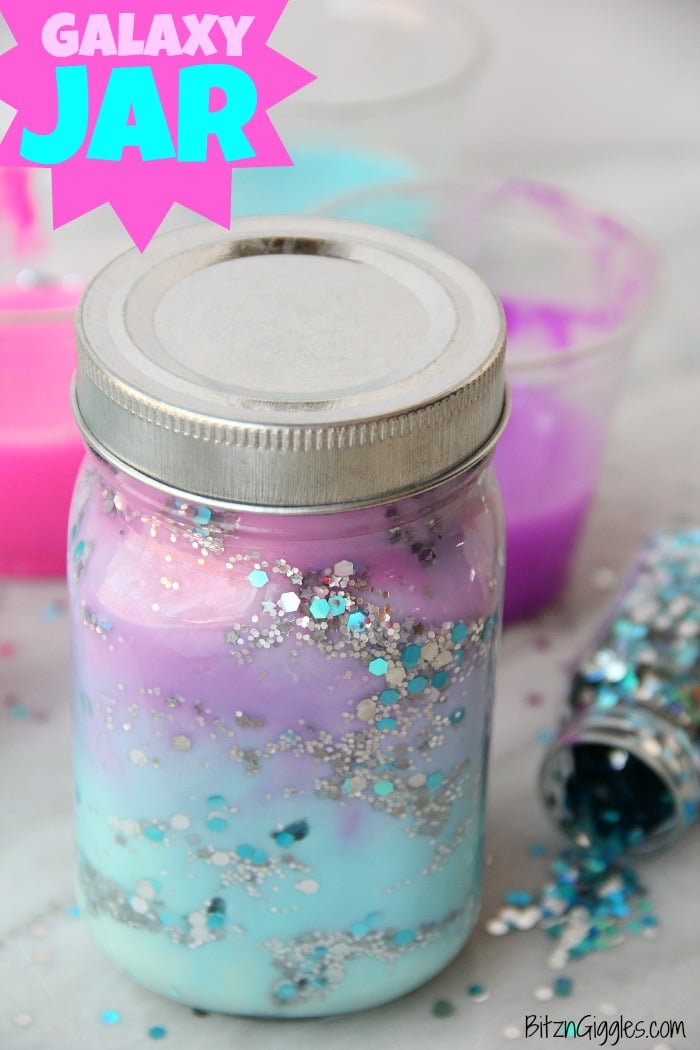 This post may include affiliate links. Please see my disclosure.
I've always wanted to make a galaxy jar. Or is it a nebula jar? How about a fairy jar? Unicorn jar, perhaps? Whatever you may call one of these gorgeous jars is completely up to you. Today, we'll just go with galaxy jar.
Here's what you're going to need to make a DIY galaxy jar:
List of Materials
4 disposable plastic cups
Acrylic paint (I used pink, purple and two shades of blue)
Mason jar
Cotton balls
Wooden skewer (not shown)
Instructions
Fill cups halfway with water.
Add 4-5 drops of paint to each cup; using a different cup for each color of paint.
Fill mason jar 1/4 of the way full with cotton balls, using your fingers to pull the cotton apart a bit before placing them in the jar.
Choose the cup with the lightest color of paint and pour in just enough of the paint mixture to soak the layer of cotton balls.
Add some glitter and stars.
Repeat steps 3-5 for the next three colors (continuing to work your way from lightest to darkest colors).
Use the wooden skewer to push some of the darker paint into the lighter paint and spread the glitter and stars around a little.
Screw on the lid and enjoy!
To create more intense color, feel free to add a few more drops of paint to the cups, but try and keep the color light enough that you can see the cotton through the jar.
Now let's make this together!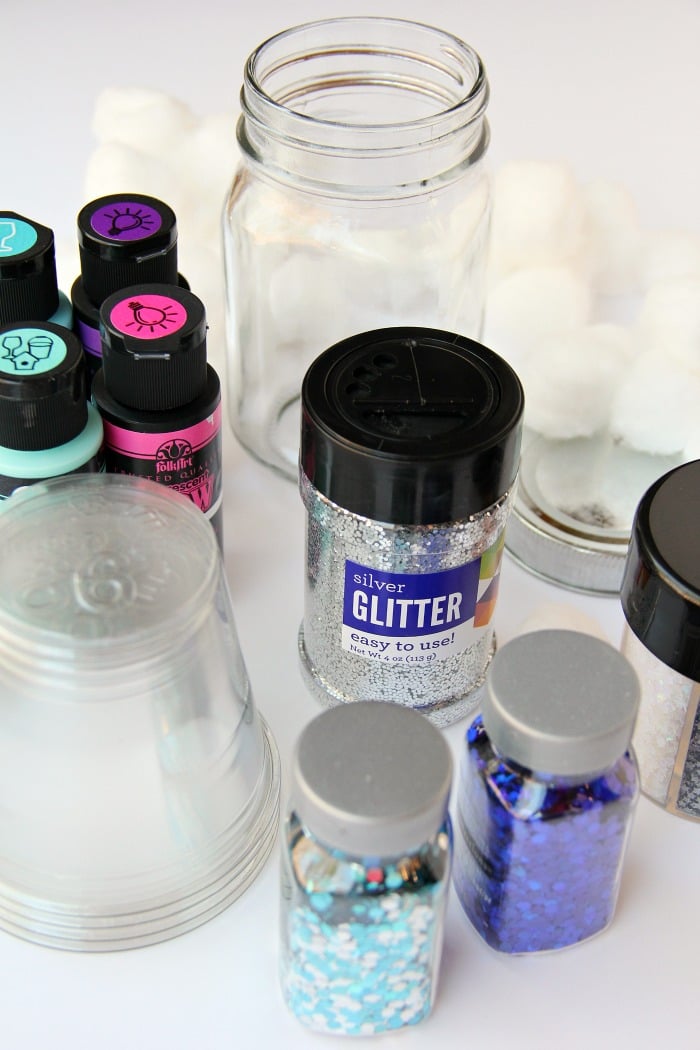 Mixing the Paint
The first thing you want to do is take your plastic cups and fill each of them about 1/4 full with water. Then, add a few generous drops of paint to each of the cups.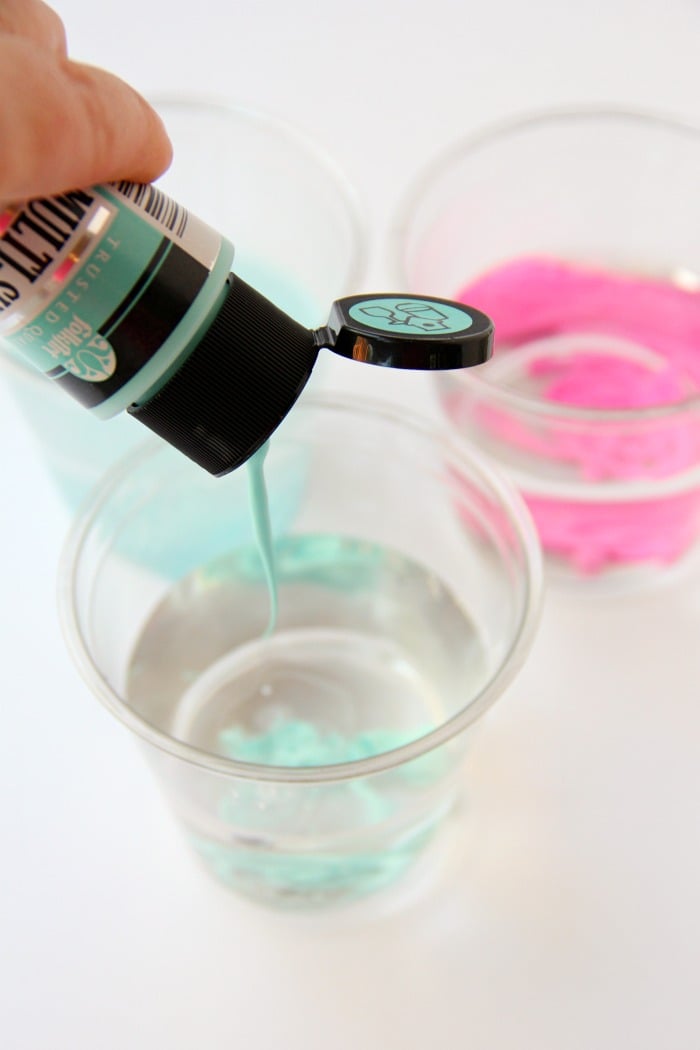 I'm pretty much in love with bright colors if you couldn't already tell. 😉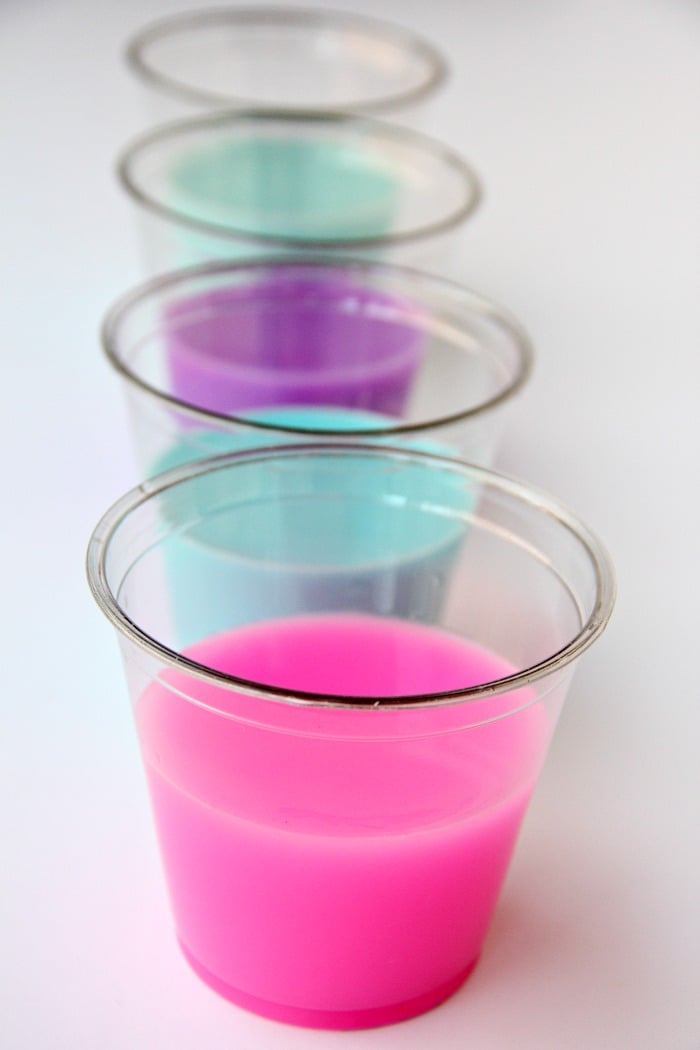 Assembling the Jar
Now take the mason jar and start placing cotton balls into it. Use your fingers to pull the cotton balls apart a bit before putting them into the jar so they become flatter vs. round. I used a plastic fork to help flatten the cotton a bit so it only took up about 1/4 of the jar.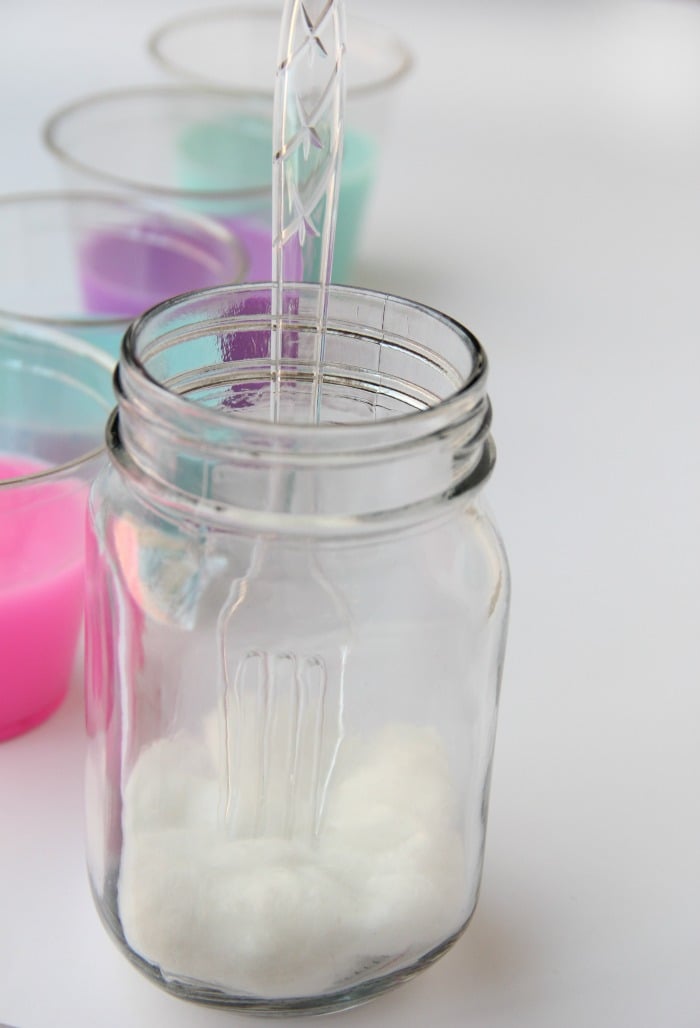 Now it's time to pour in some paint. Find the lightest paint color you have and pour in just enough to soak the cotton balls. You don't want the cotton "swimming" in the paint. Just enough that they are saturated with color.
Then add some glitter and stars.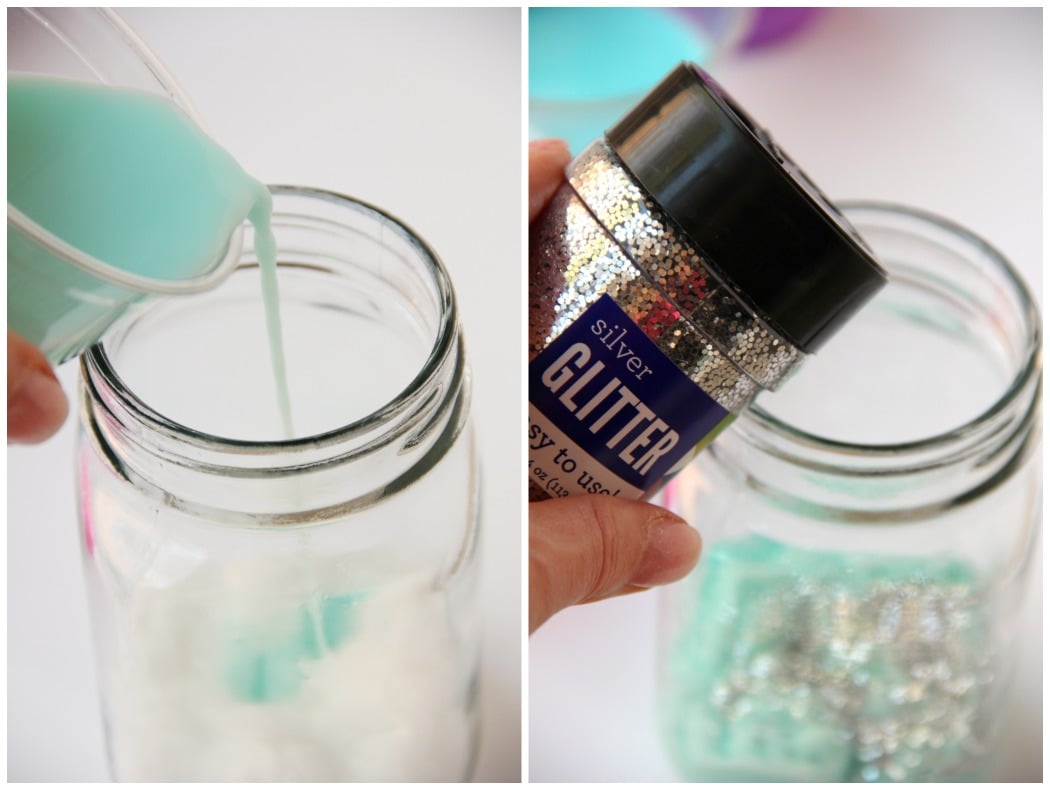 Just so this next photo doesn't trip you up, for the next layer, instead of going with cotton, paint and glitter, I went with cotton, glitter and then paint.
I found that it didn't really matter which sequence you added the paint and glitter – just always make sure to have the cotton base before you add either.
Below was my final layer before adding the pink paint.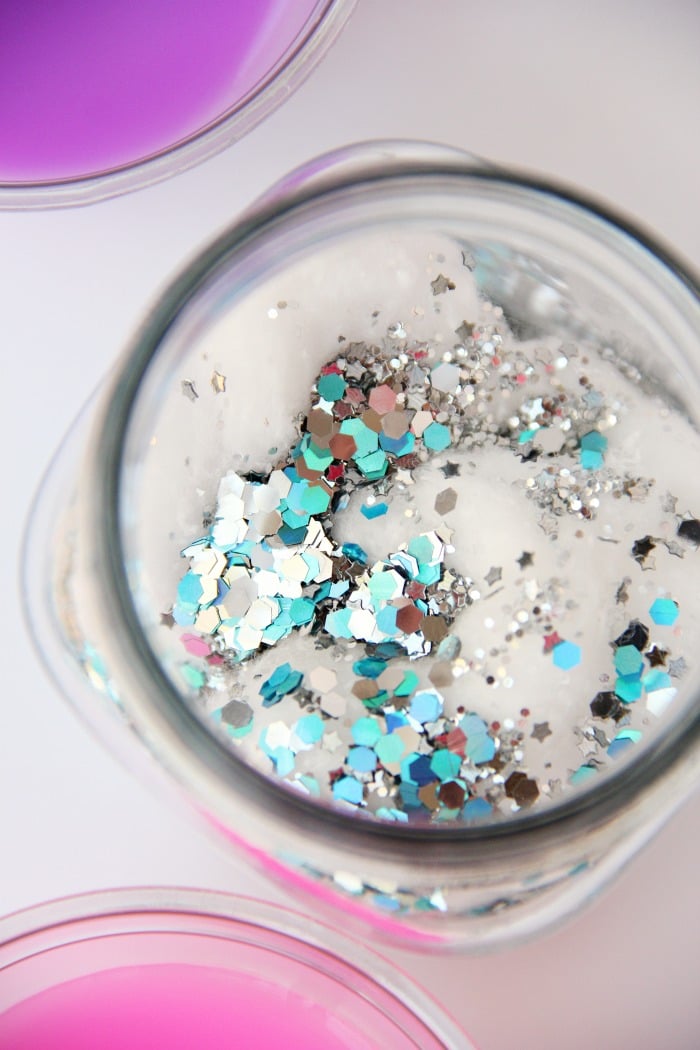 Once you have all of the colors in, use a wooden skewer to push some of the darker colors into the lighter colors and spread the glitter and stars around a little. This step is optional, but I feel like it gives the jar a more realistic effect than if you would see 4 distinct layers.
And there you have it. Your very own DIY galaxy jar.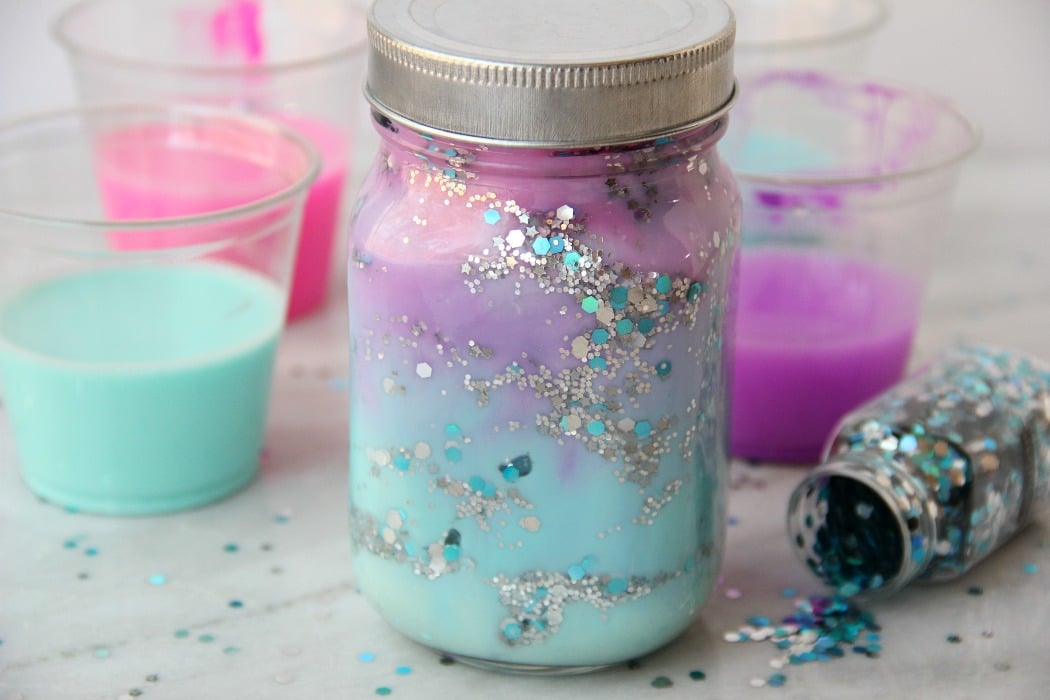 Tightly screw the lid onto the jar and enjoy!
It was so fun to rotate the jar and look at it from every angle. I even took a live video of the jar so you could see it in person.
My daughter, Cora, quickly claimed it as her own and displayed it proudly in her room right next to her fish tank.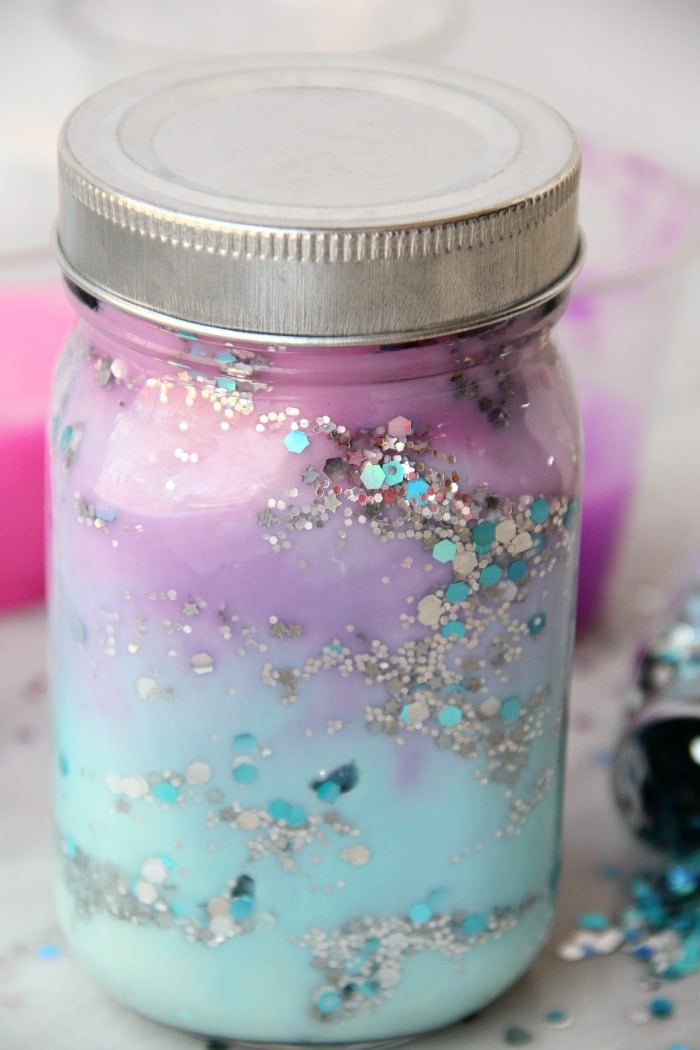 She already told me she wants to make more. Awesome. Because I do, too. 😉
Looking for more colorful crafts?
(Visited 58,859 times, 1 visits today)