Dorito Taco Salad – This crunchy and zesty salad is made with seasoned ground beef, veggies, cheese and Doritos, then tossed with Catalina dressing. So delicious and serves a crowd!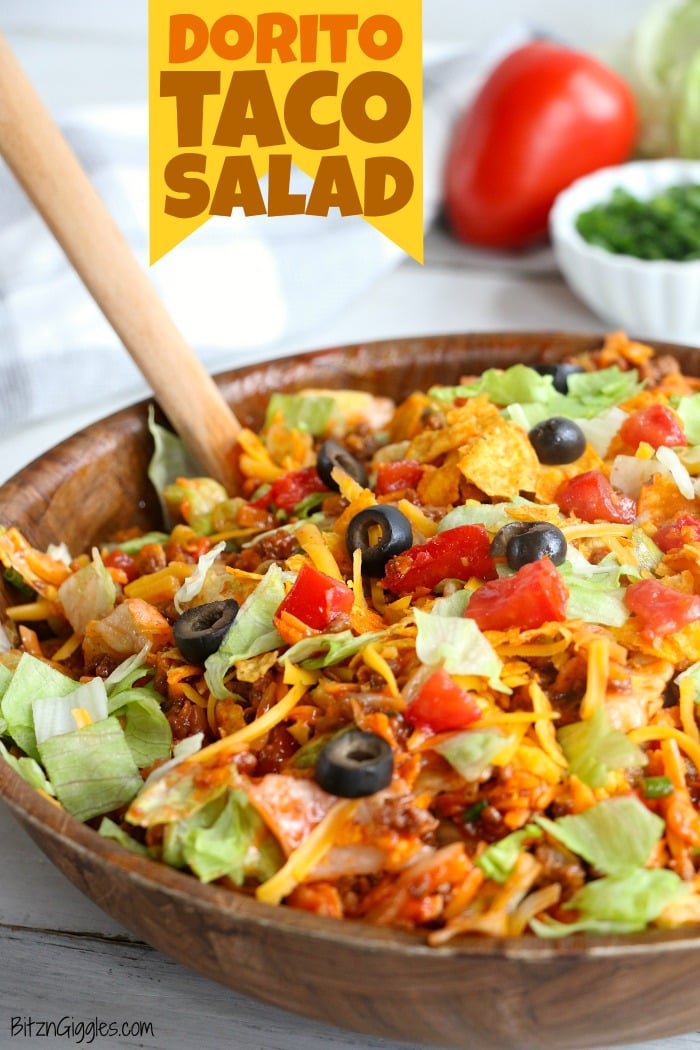 This post may include affiliate links. Please see my disclosure.
I hope you had an awesome 4th of July. I took a little time off from the blog to spend time with family and friends. We'll be up at the lake through the weekend so I'm keeping my fingers crossed for sunny skies with no rain!
Over the holidays when I'm entertaining, I try to keep things classic and simple. This Dorito Taco Salad is all of that AND delicious.
HOW TO MAKE DORITO TACO SALAD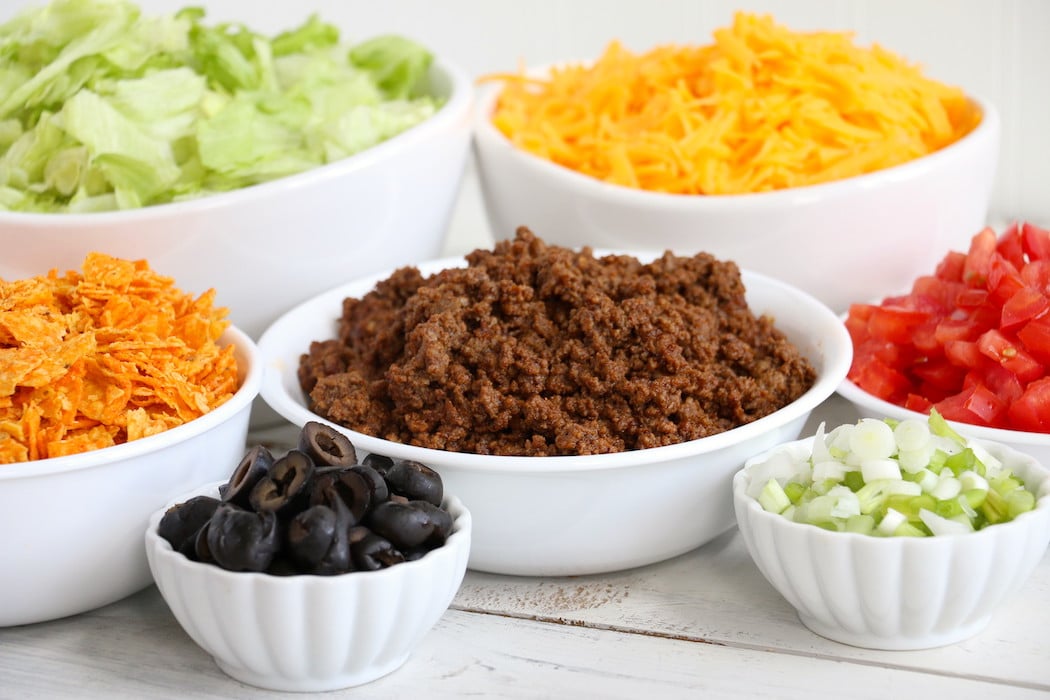 To make the salad, you'll need the following ingredients:
Ground beef
Taco seasoning packet
Water
Iceberg lettuce
Roma tomatoes
Green onions
Black olives
Cheddar cheese
Nacho Cheese Doritos
The first step to making this delicious taco salad is to brown the ground beef and mix in the taco seasoning packet. You can also use your own homemade taco seasoning.
My favorite taco seasoning is made by Ortega and I love that they sell theirs in both packets and bottles.
While you allow your ground beef to cool, you can go ahead and start combining the other ingredients: lettuce, tomatoes, onions, olives and cheese.
Then, go ahead and add in the cooled ground beef.
The Catalina dressing and the Doritos come next.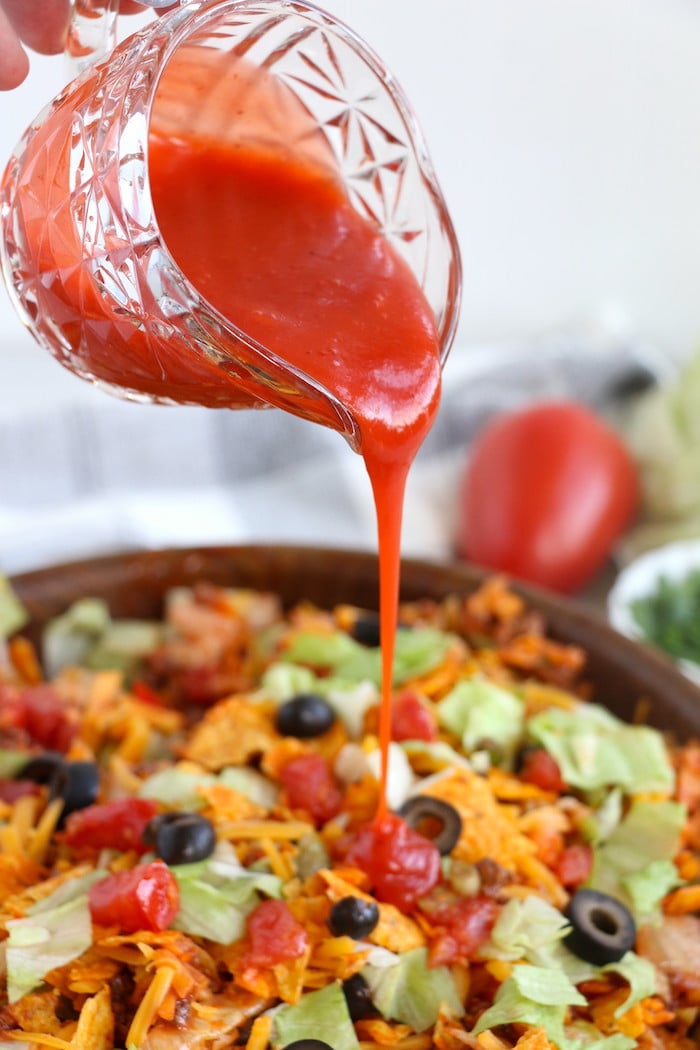 Drizzle the dressing over the entire salad and mix in the crushed chips.
Full disclosure: I have ditched the tongs and just used my hands to mix everything in the past. It's a bit messy, yes, but it gets the job done quickly.?
WHAT OTHER INGREDIENTS CAN I ADD TO THE SALAD?
I've seen many variations of this salad over the years. Heck, I've seen people use ranch dressing and Cool Ranch Doritos.? If you're not a ground beef fan, you can also substitute chicken or turkey. Go ahead and shake things up a bit with some of these additions:
Black beans
Pinto beans
Kidney beans
Yellow, red or green peppers
Corn kernels
Jalapeños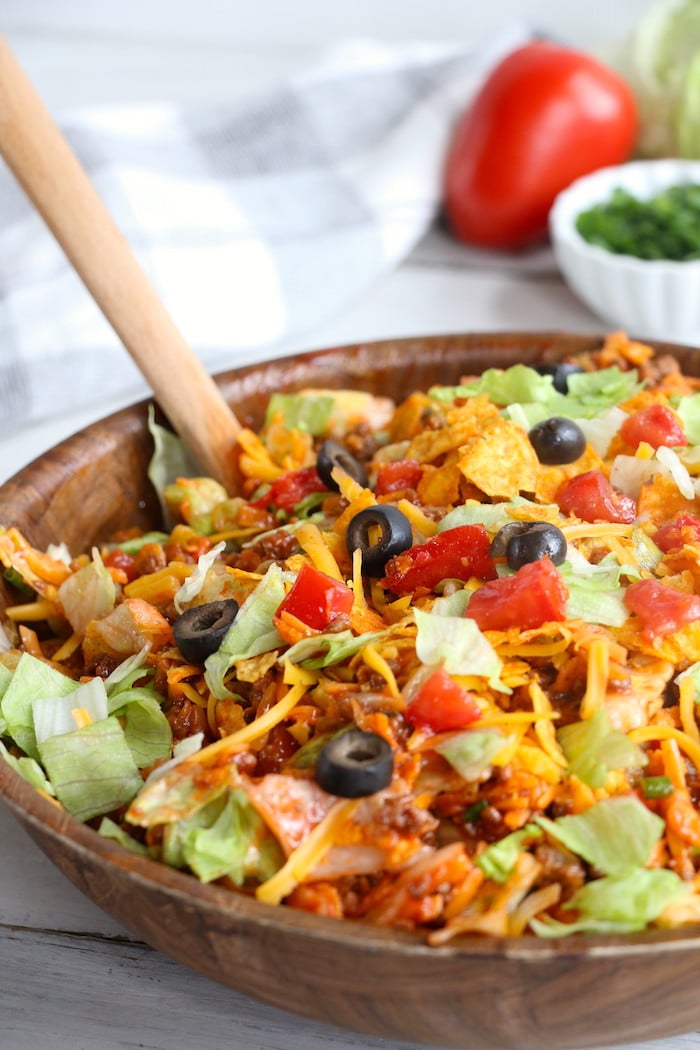 CAN I MAKE TACO SALAD AHEAD OF TIME?
The short answer is, "yes," but there's a bit of a trick to making this salad ahead of time. You need to assemble it in layers.
You'll start with the seasoned ground beef as the bottom layer.
Next come the black olives.
Then, add the tomatoes.
Add the lettuce and onions.
Finish with the cheese.
The dressing and the Doritos you'll want to mix in just before serving or everything will get way too soggy.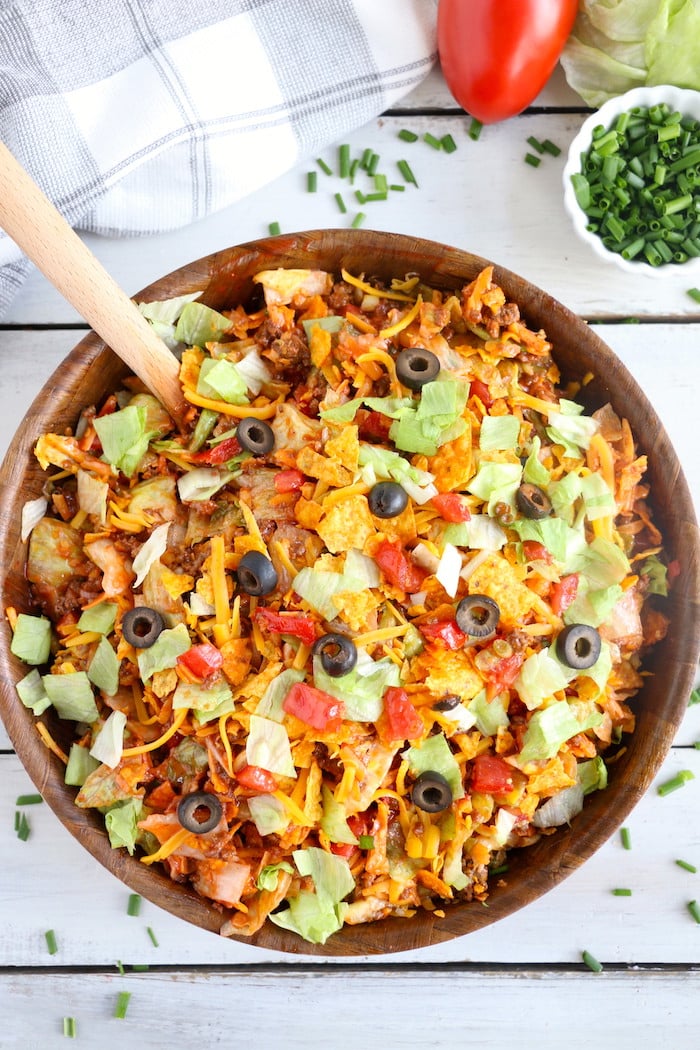 CAN LEFTOVER TACO SALAD BE STORED?
The short answer is, "unfortunately no, not really." Once you mix everything together, you should eat the salad immediately. I often only mix half of the salad at a time. If the first half gets eaten, I make a decision on whether or not to mix up the second half.
When our family gets together we often eat both lunch and supper together. I mix half of the salad up for lunch and then mix the other half up for supper. It works out well for us.
If you don't mind soggy lettuce and Doritos, by all means, save your leftovers in the fridge. We just prefer the lettuce to be crispy and the chips to be crunchy.
Do NOT hesitate to make this Dorito Taco Salad for your next family gathering. I promise you it's a true classic and will get gobbled up quickly.
I can't wait to hear how your taco salad turns out!
LOOKING FOR MORE POTLUCK SALAD IDEAS?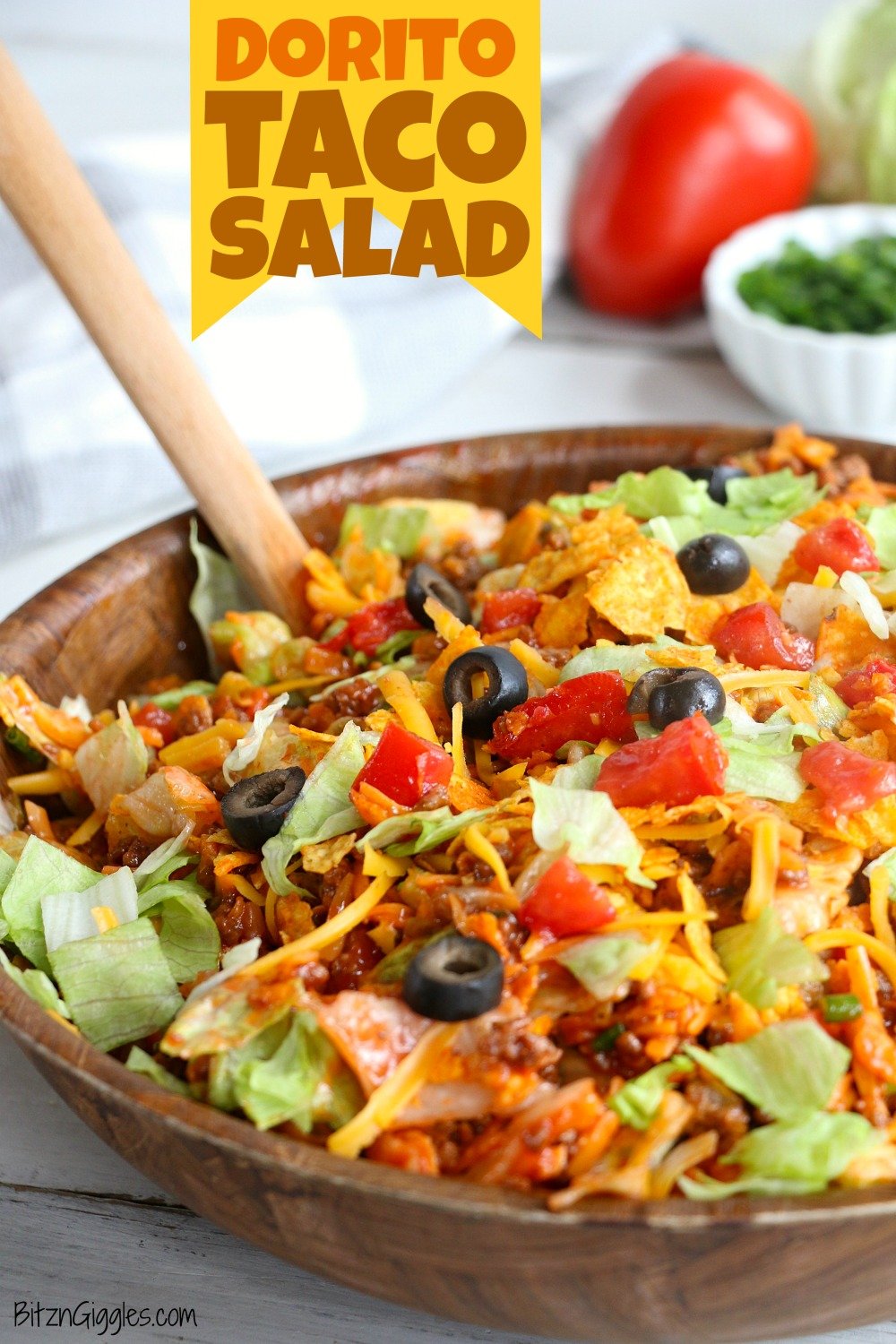 Dorito Taco Salad
This crunchy and zesty salad is made with seasoned ground beef, veggies, cheese and Doritos, then tossed with Catalina dressing. So delicious and serves a crowd!
Ingredients
1 pound ground beef
Packet taco seasoning
3 tablespoons water
1/2 head iceberg lettuce, shredded
3 roma tomatoes, diced
6 green onions, chopped
2.25 oz can black olives, sliced
3 cups cheddar cheese, shredded
16 oz bottle Catalina dressing
10.5 oz bag Nacho Cheese Doritos, crushed
Instructions
Brown ground beef until no longer pink.
Add taco seasoning and water. Simmer until thickened.
Drain and let meat cool slightly.
Combine lettuce, tomatoes, onions, olives, and cheese in a large bowl.
Stir in taco meat.
Just prior to serving, mix in dressing and crushed Doritos.
(Visited 185,283 times, 1 visits today)