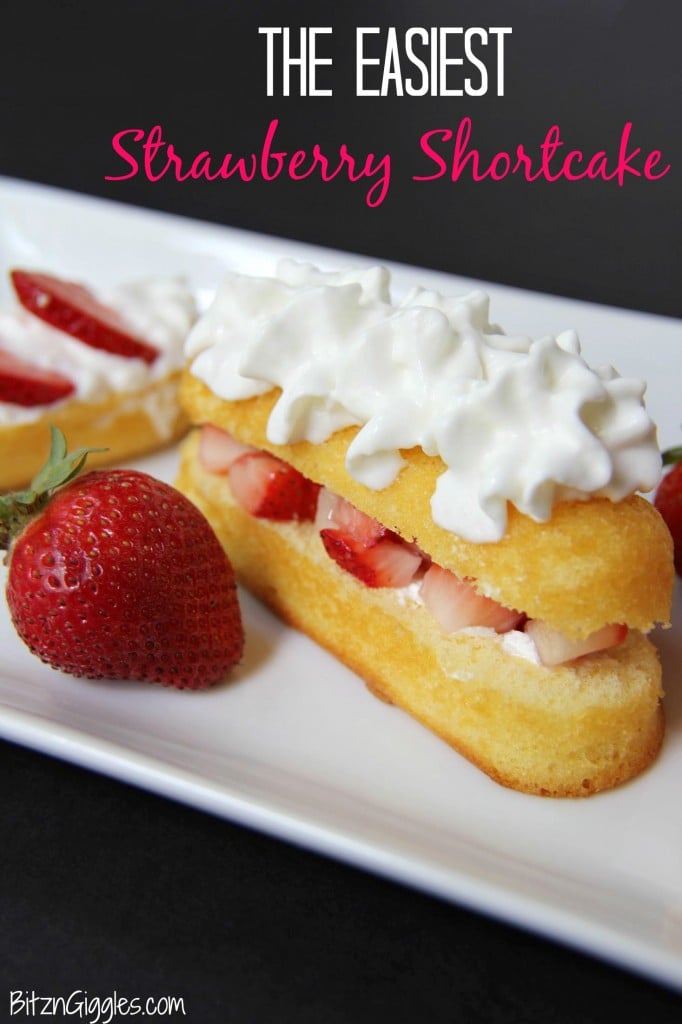 The weather here lately has been beautiful and we've been spending lots of time at our lake cabin. However, at dusk when the breeze starts calming down and the sun starts setting, the mosquitoes have been out in full force. No bug spray we've tried has been able to fend them off. They are CRAZY! It's us against them, and they've been winning. Little buggers. What does this have to do with strawberry shortcake?
Normally, in the evening we're all about s'mores around the campfire, but because it's been so buggy, we've had to come up with some alternative ideas. I feel a little silly sharing this recipe – honestly, I'm not sure it's really even a recipe. It's more of a simple and quick idea for putting together a "short-cut" strawberry shortcake dessert. This is camper-approved, by the way, and an awesome treat to put together in minutes.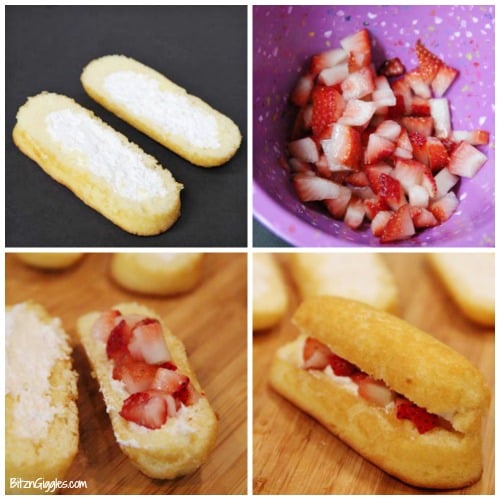 If you haven't already guessed, I used Twinkies for the "cake." I literally sliced a Twinkie in half, diced up some fresh strawberries, sweetened them with a little sugar, sandwiched it all together and topped it all with whipped cream. Twinkies look pretty good all dressed up, don't they?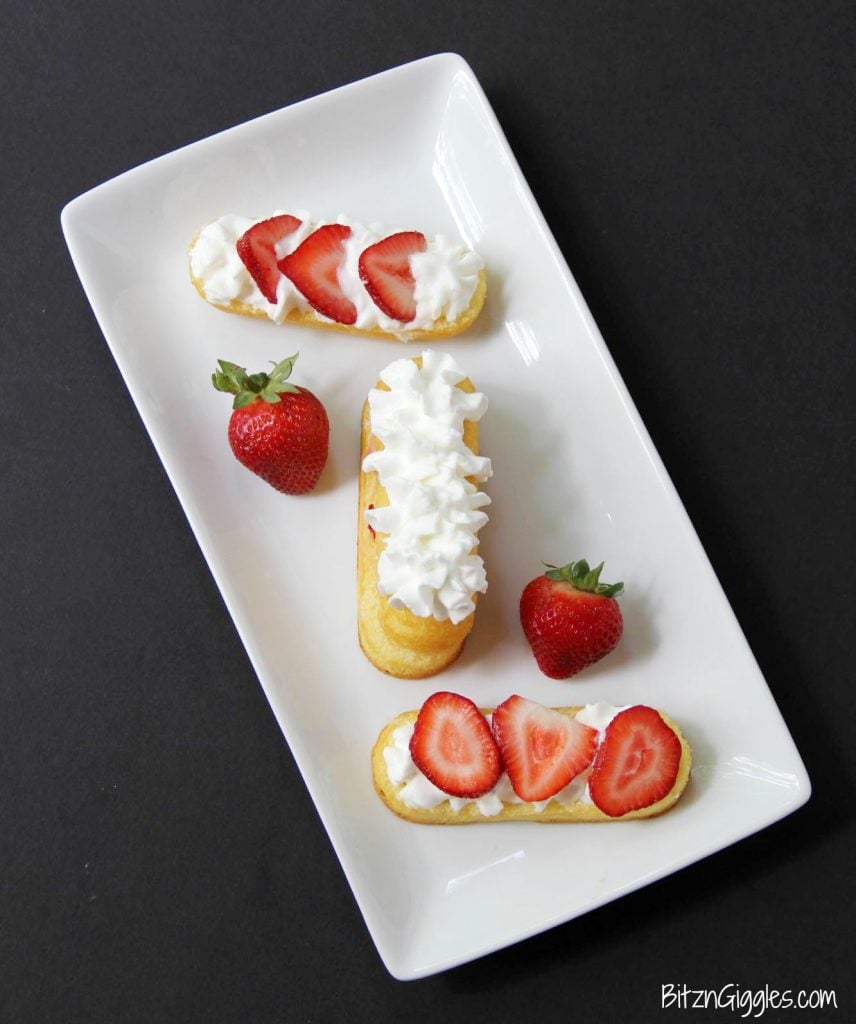 When I made these the first time I thought they'd be pretty awesome if you were going "glamping." What's glamping? I'm not an expert, but the way I understand it, it's luxury camping in a glamorous destination. In my opinion, if you're going to a glamorous destination, you should probably just "do it up" and stay in a hotel. If you know more about this so-called glamping or have ever done it, set me straight. I'm quite intrigued. Alright, back to the shortcake.
You can have a lot of fun with these little treats. If you don't want the two layers, you could just split the Twinkie in half and decorate each half with some strawberries and whipped cream.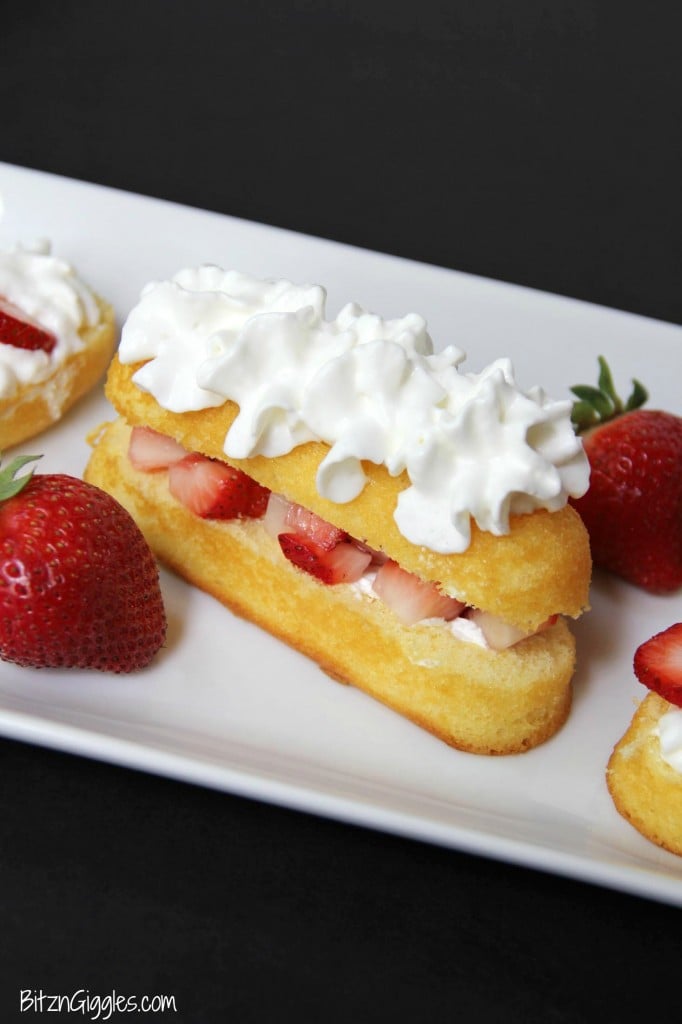 We all need delicious, quick ideas, right? This isn't rocket science, but it is a fun way to put together some strawberry shortcake in minutes flat. Wouldn't it be fun to have a "make your own" strawberry shortcake bar outside at the picnic table? Twinkies, strawberries, whipped topping and a little extra sugar is all you need.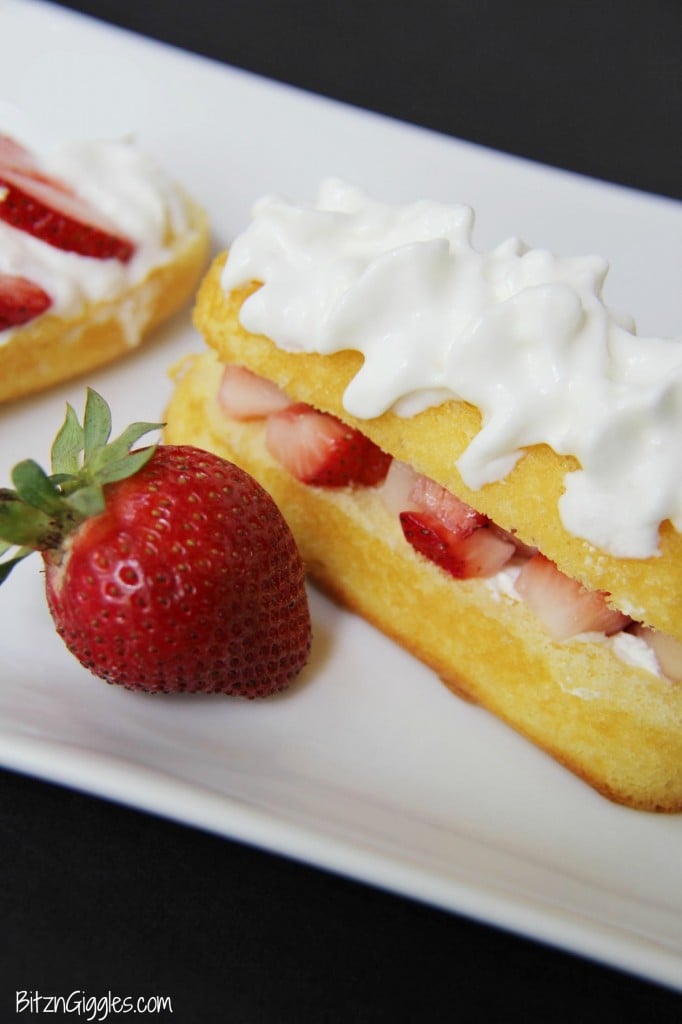 And then. . . it's time to eat! The photo above was truly the last one I took of this dessert. The whipped cream was starting to melt and it began screaming, "Eat me! Eat me." So, that's what I (well, we) did. I put the camera down, ran to get a fork, and there my hubby and I sat devouring the dessert. So, there you have it. The easiest strawberry shortcake. Quick. Easy. Perfect for lazy days up at the lake, camping. . .or really any time at all.
Oh, and once you realize how quick this shortcake is to throw together, you'll be even more amazed at how quickly it disappears!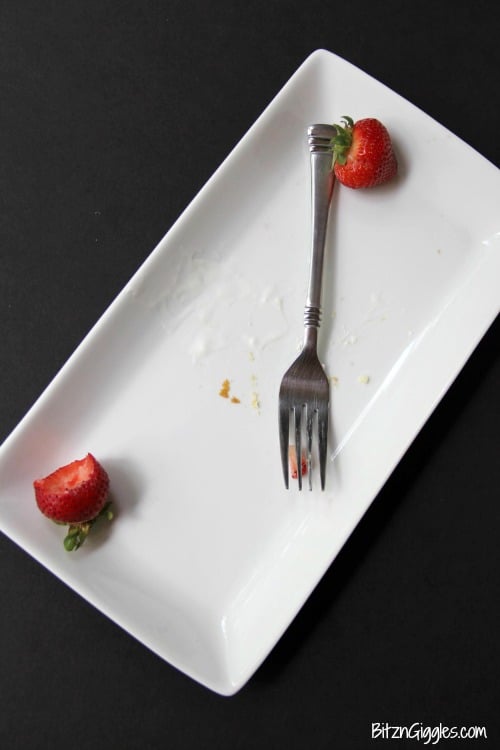 The Easiest Strawberry Shortcake
Quick and simple strawberry shortcake made with a Twinkie, fresh strawberries, whipped topping and a touch of sugar.
Ingredients
Twinkie
4 fresh strawberries
Whipped topping (Cool Whip or Redi-Whip)
1/4 teaspoon sugar
Instructions
Slice the Twinkie in half length-wise.
Dice or slice your strawberries and mix with 1/4 teaspoon sugar.
Put the strawberries onto one of the Twinkie halves and top with the other half of the Twinkie.
Top with whipped topping and serve immediately.
Nutrition
Serving Size: 1
Calories: 35
Sugar: 4
Sodium: 1
Fat: 1
Saturated Fat: 1
Unsaturated Fat: 1
Trans Fat: 0
Carbohydrates: 5
Protein: 1
Cholesterol: 5
(Visited 5,315 times, 1 visits today)