Easy Berry Sorbetto- A delicious frozen dessert made with mixed berries and vodka. Perfect for enjoying on a hot summer day!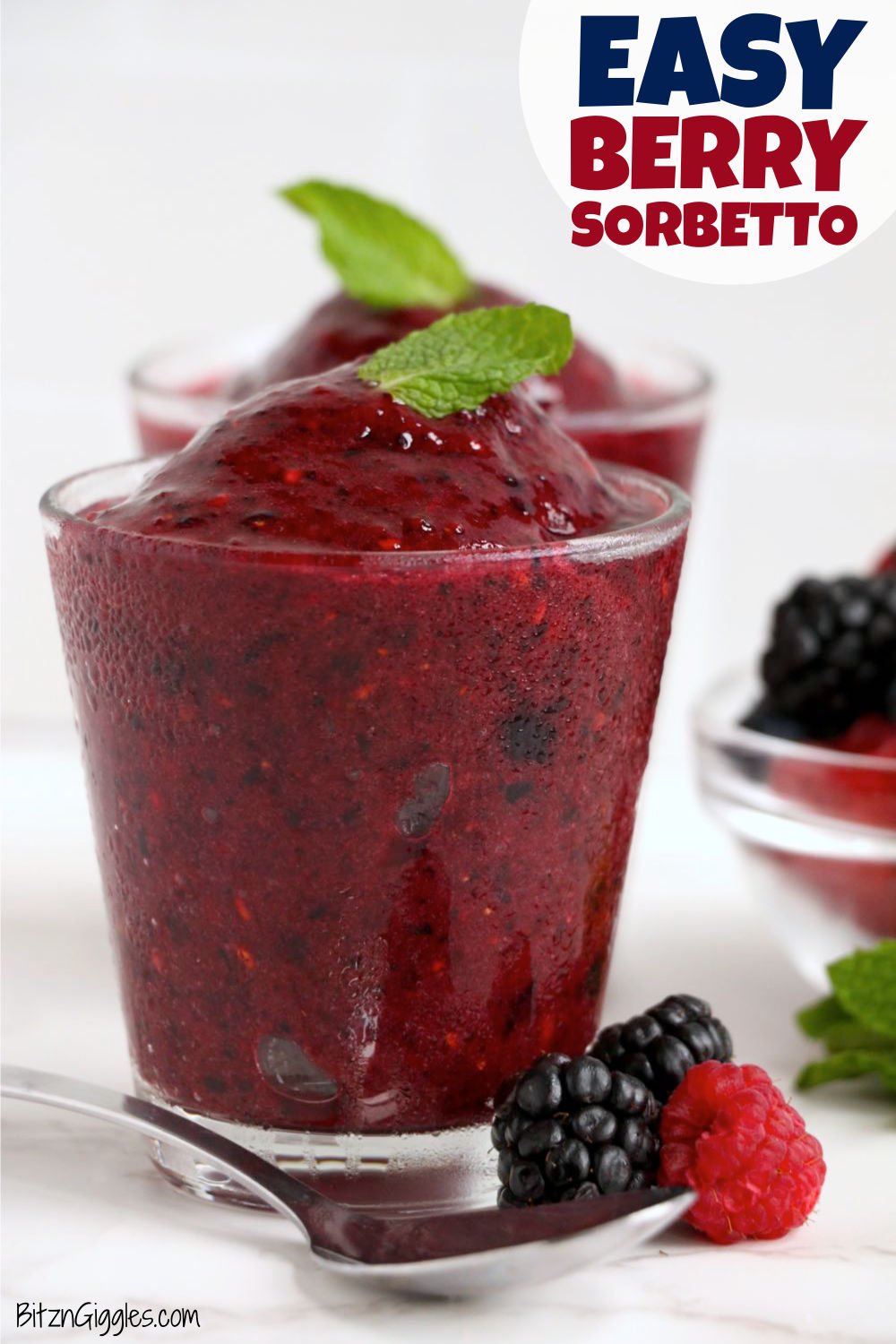 This post may include affiliate links. Please see my disclosure.
Who doesn't enjoy relaxing with a cool dessert on a hot summer day?
I know when I've finally made it through the week, I look forward to enjoying something special on the weekend. This easy Berry Sorbetto is definitely it!
Made with frozen mixed berries, vodka and a little maple syrup to naturally sweeten things up, this sorbetto is perfect for enjoying with friends and family.
If you have little ones who'd also like a taste, just don't add the vodka!
WHAT IS SORBETTO?
Sorbetto is also called sorbet. It is a frozen dessert that is made from sweetened juice and fruit. It can also be called Italian ice. Unlike gelato, it contains no dairy.
For this recipe, we are using frozen berries to give it the sorbetto texture along with natural sweetener and vodka to make it into a delicious adult slushy.
HOW TO MAKE BERRY SORBETTO
To make this sorbetto, you'll need:
Frozen mixed berries
Salt
Vodka (optional)
Maple syrup
Mint leaf for garnish (optional)
Once you have all your ingredients gathered, place the berries, salt and vodka into the blender.
Remember, if you'd like to make a non-alcoholic version just omit the vodka.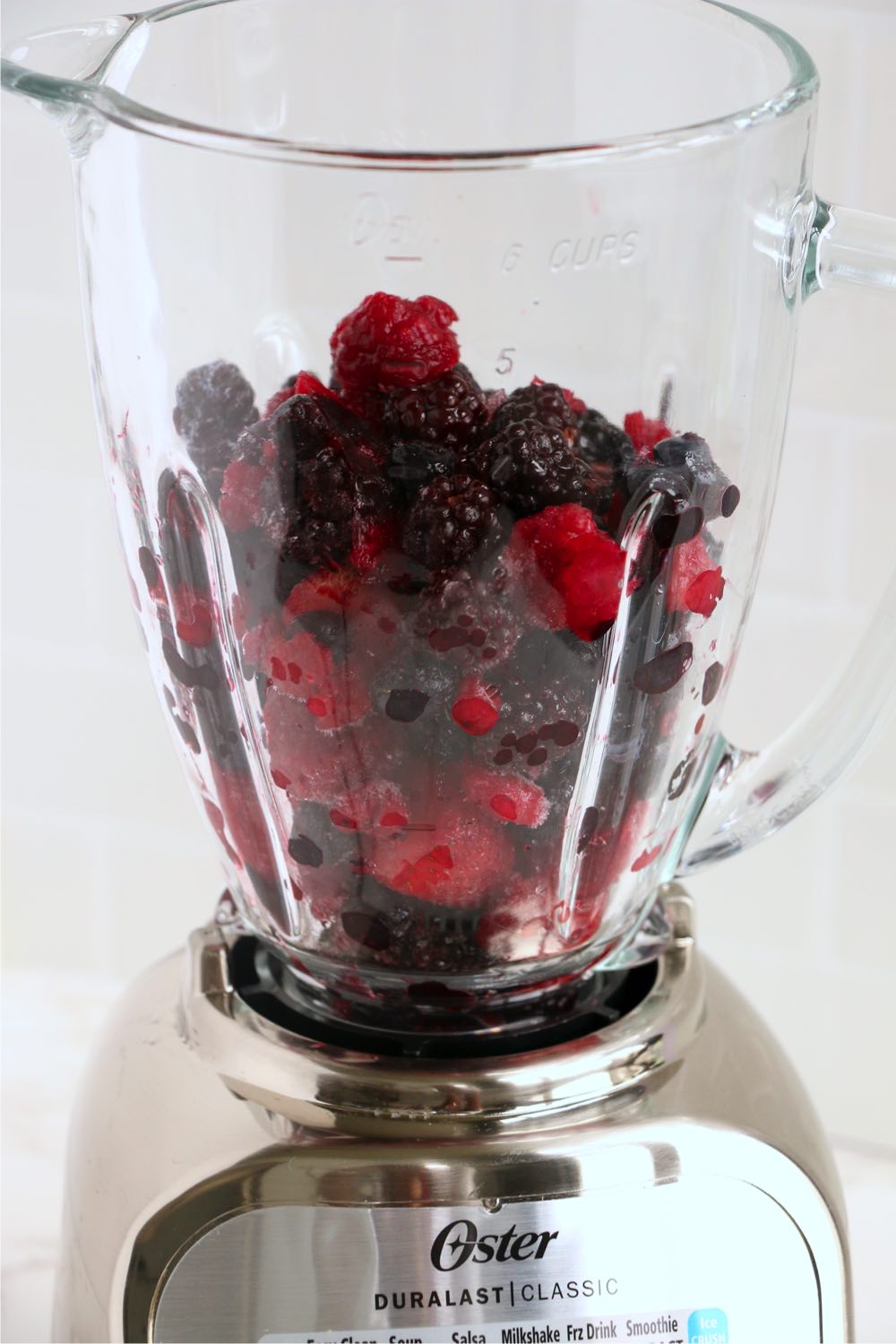 Add the maple syrup.
Then, blend all of the ingredients until completely smooth.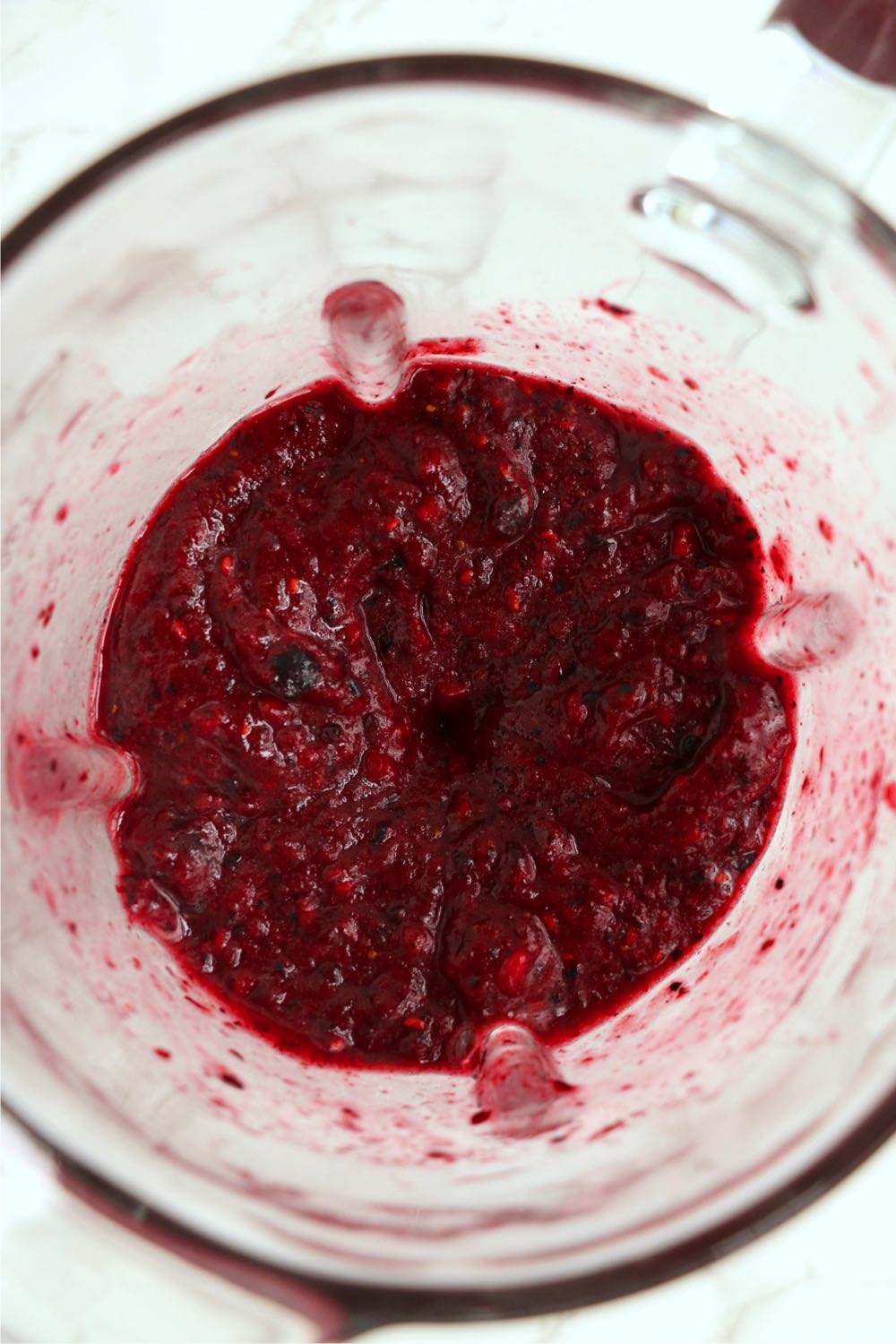 Because this is a slushy-like drink, you will want to serve it immediately. Garnish with a mint leaf if you'd like!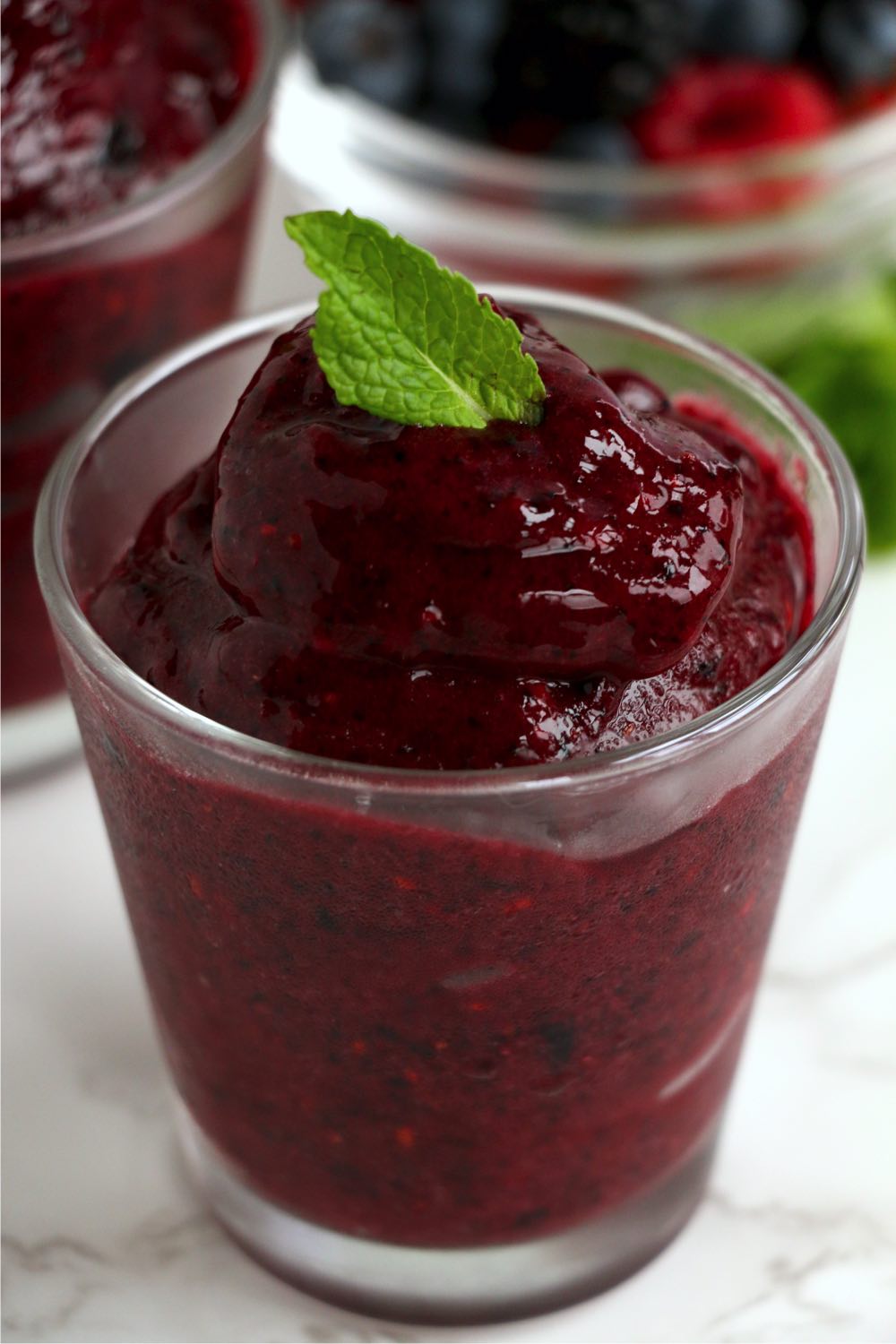 DO YOU NEED TO USE FROZEN BERRIES TO MAKE SORBETTO?
To make sorbetto, yes, you will need to use frozen berries. This is what gives it the slushie-like texture.
I typically get the mixed berries with frozen strawberries, blueberries, and blackberries. But, you could get each type of berry you like separately and blend them together.
Or, if you just prefer one berry, you can do that, too.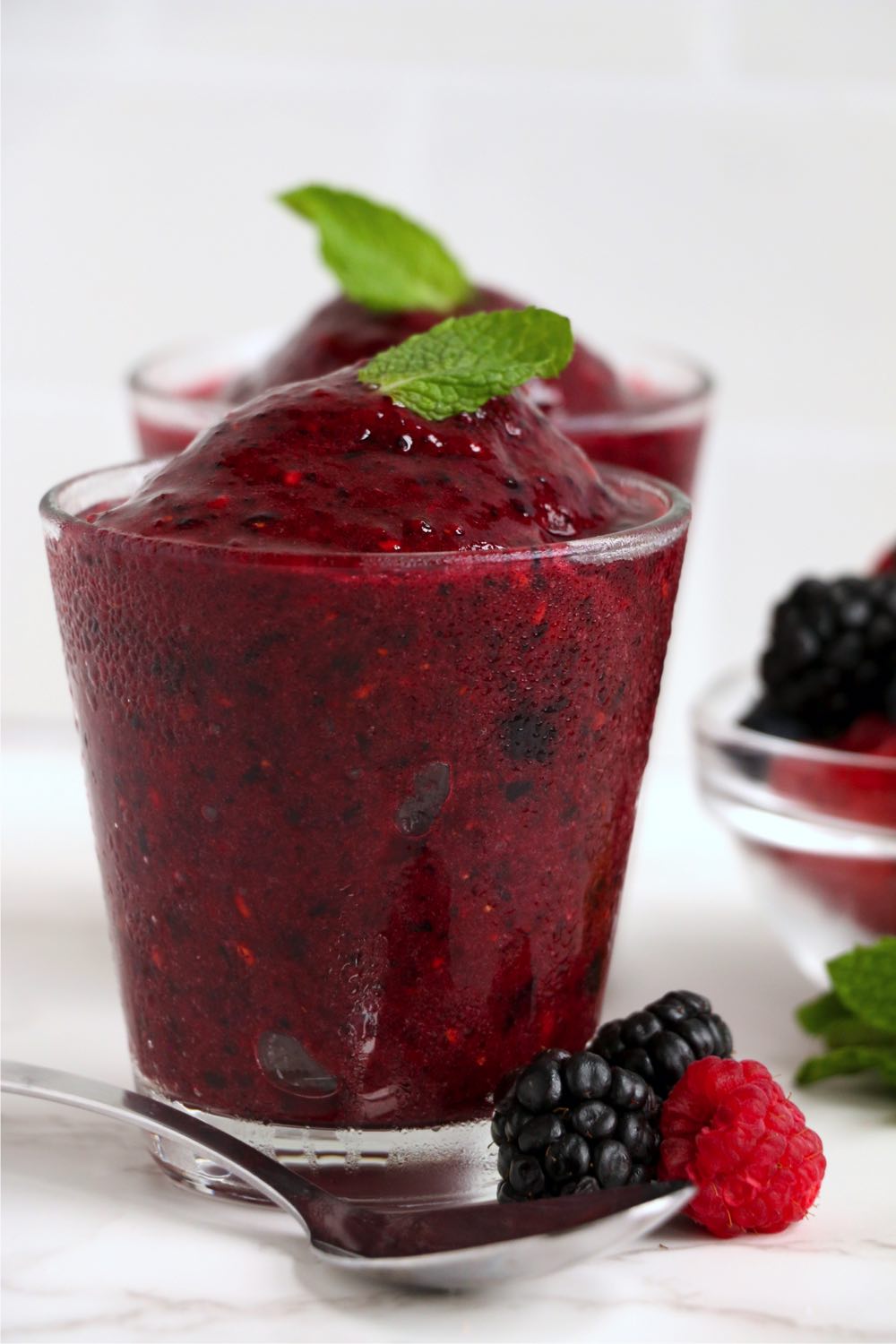 WHAT OTHER SWEETENER COULD I USE BESIDES MAPLE SYRUP?
If you don't have maple syrup, you can use honey, corn syrup or even just plain sugar. Keep in mind that using anything other than maple syrup will change the flavor of the dessert.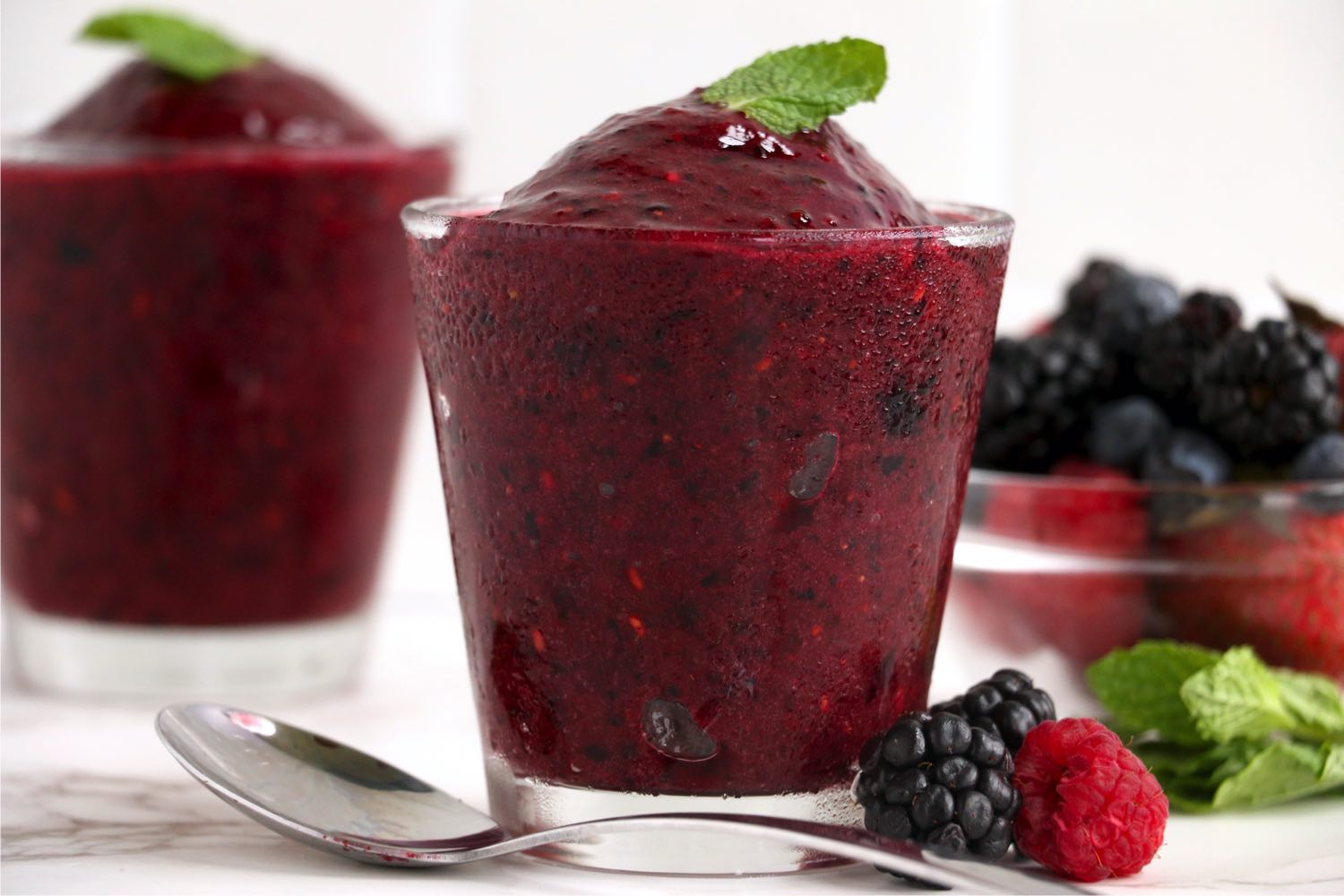 HOW CAN I MAKE SORBETTO NON-ALCOHOLIC?
For this recipe, the vodka is optional like I had previously mentioned.
So, if you have kiddos that want a cool drink too, you can blend it up without the alcohol. If you find it is too thick, you could thin it down with a little water or fruit juice.
CAN I MAKE SORBETTO AHEAD OF TIME?
This is meant to be a slushie-like dessert. If you try to put it in the fridge to save for later, it may be "melted" when you get back to it.
If you don't mind the "melted" part, you can always plop it in a pitcher and drink it! Your dessert just became a berry beverage!😂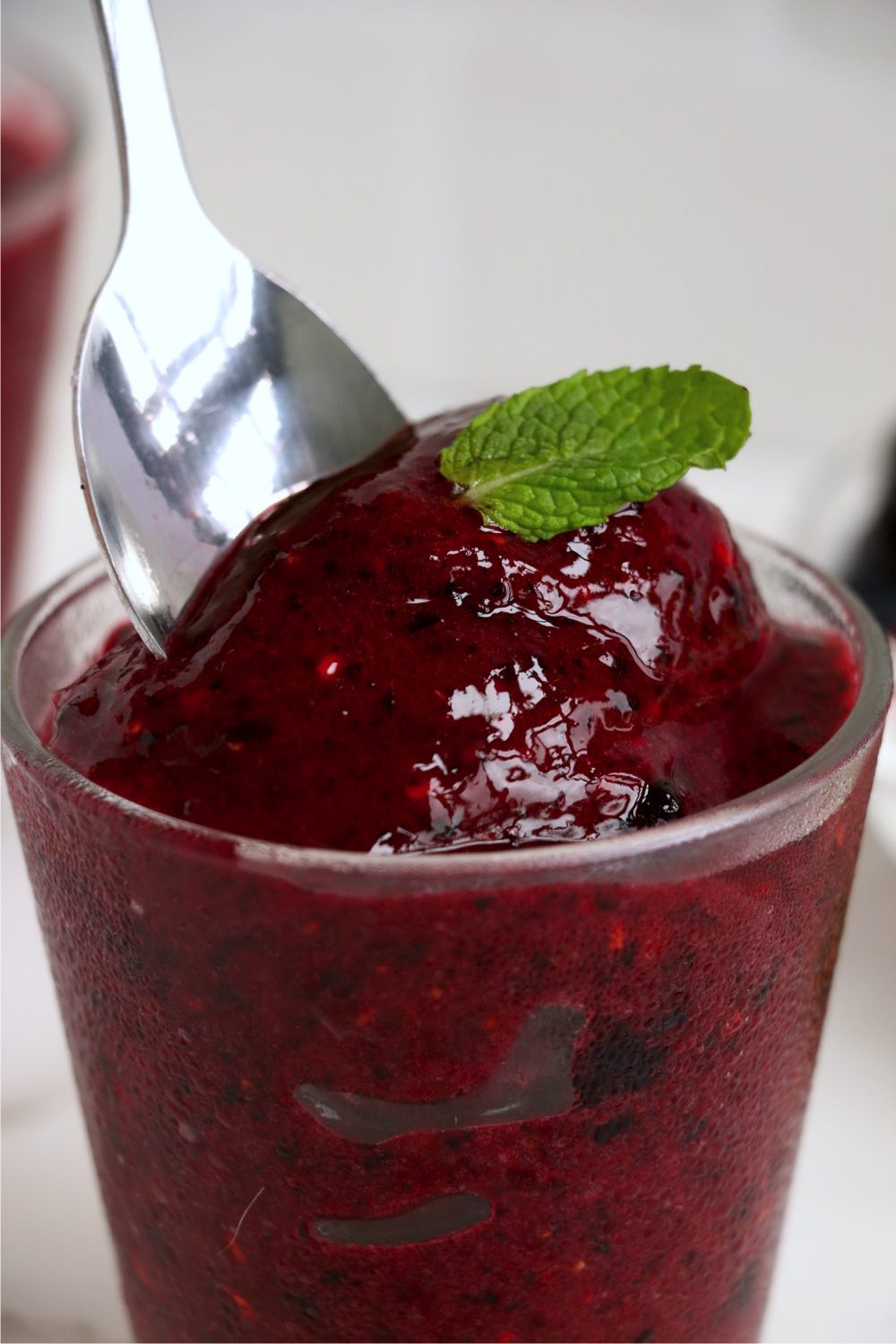 LOOKING FOR MORE FROZEN DESSERTS & DRINKS?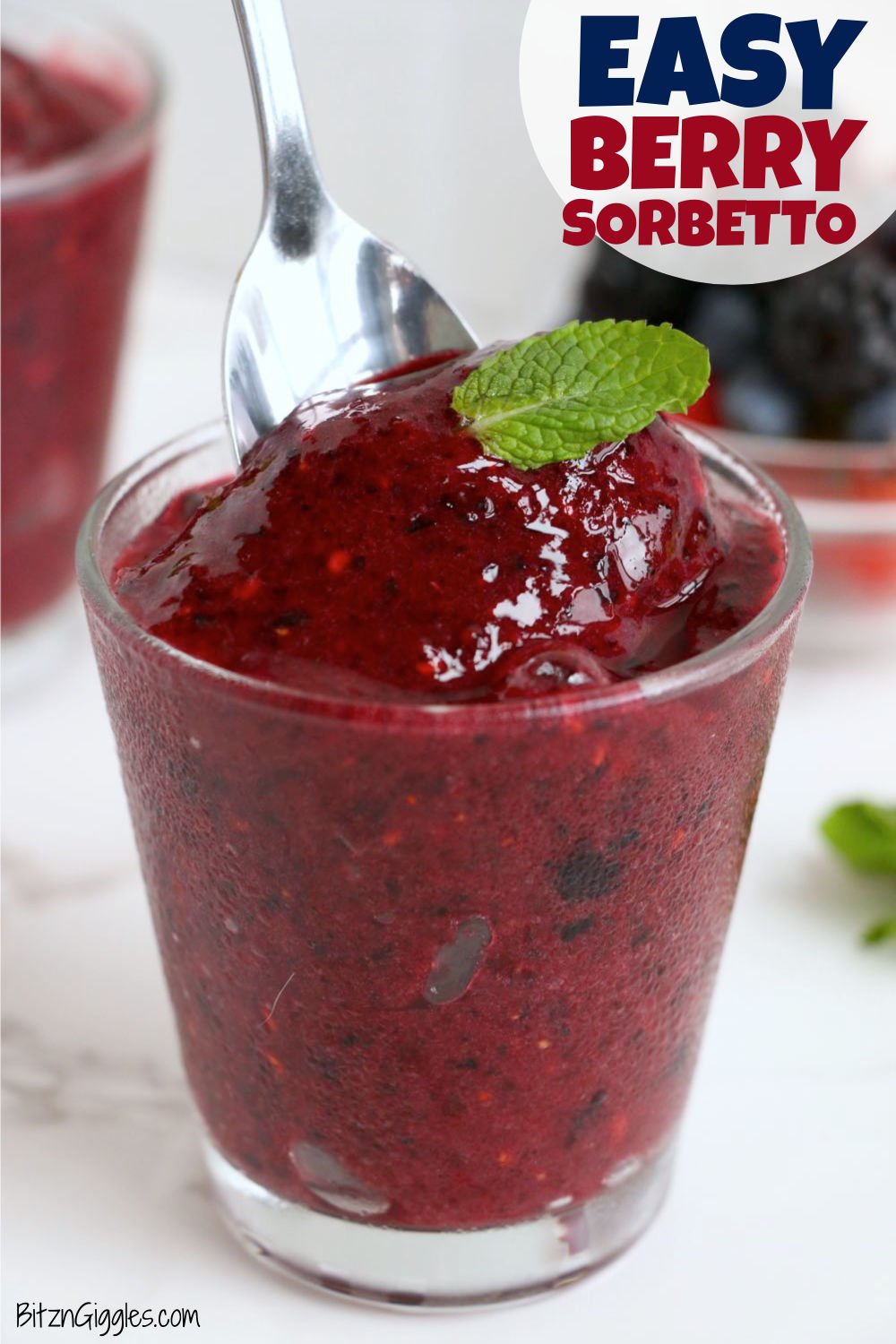 Easy Berry Sorbetto
A delicious frozen dessert made with mixed berries and vodka. Perfect for enjoying on a hot summer day!
Ingredients
10 ounce bag frozen mixed berries
1/4 cup maple syrup
1/8 teaspoon kosher salt
1 tablespoon vodka, optional
Mint leaf, for garnish (optional)
Instructions
Place all ingredients in a blender.
Blend until smooth.
Serve immediately in a glass with a spoon.
Garnish with a mint leaf (optional).
(Visited 812 times, 1 visits today)