This easy salisbury steak recipe incorporates mushrooms and onions right into the beef patties before they're smothered with a flavorful mushroom gravy!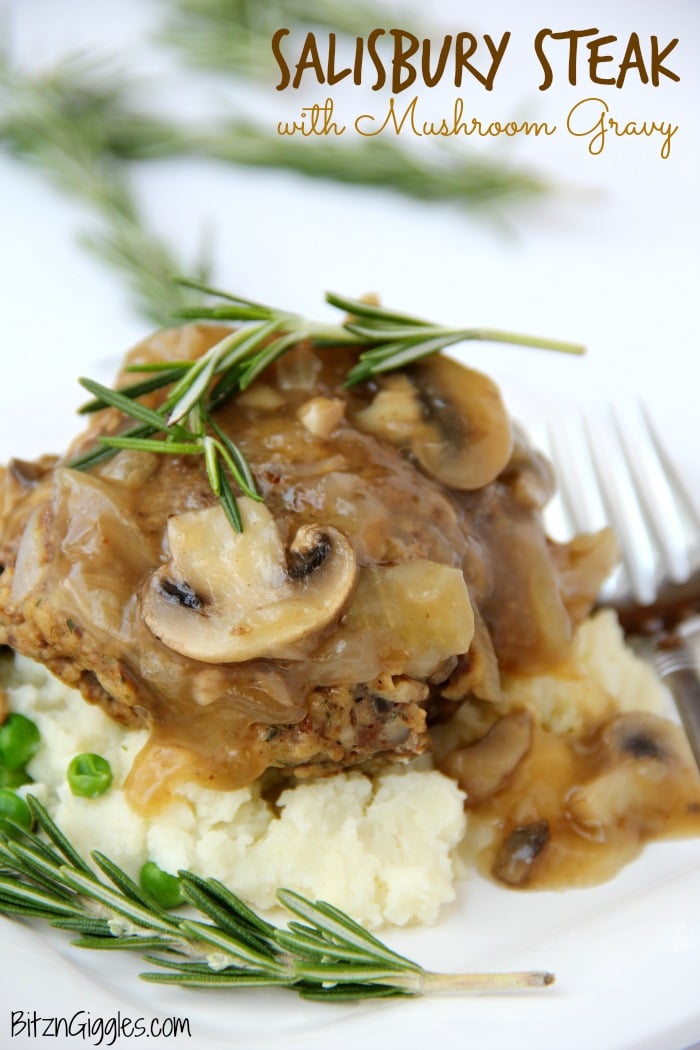 Today is all about comfort food and I'm sharing a little secret. Ready for this? I enjoy comfort food ALL YEAR LONG. I kid sometimes about packing up the crock pot and granting the oven a vaca, but have I ever done it? Heck no. And you shouldn't either. I'm so excited to be sharing a recipe that's been in my recipe box for years now. Easy, HOMEMADE Salisbury Steak With Mushroom Gravy!
I love dressing up classics to serve for friends. Even though Grandma may have not garnished her salisbury steak with fresh herbs or blended the meat with mushrooms, doesn't mean you can't. Heck, Grandma would have wanted you to take her recipe and make it even better!
So back to this whole mushroom blending thing. Let's get serious now. Have you ever blended finely chopped mushrooms with meat to create a more delicious, nutritious and sustainable meal? If you answered yes. . . well then you, my friend, are a Blenditarian. A what now you ask?
A Blenditarian. Let me break out the dictionary for you (do people still use dictionaries?). . .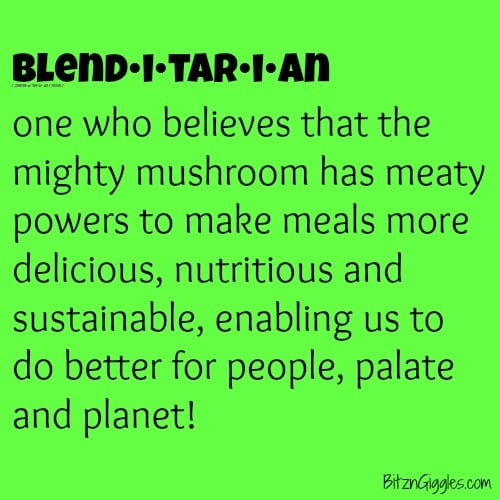 Oh yes, I am a believer in the mighty mushroom. I can't tell you how many times I've added bits of mushrooms to recipes. It's what we call The Blend. I love to mix bits of mushrooms into ground beef for burgers, meatloaf and even this easy, salisbury steak with mushroom gravy I'm sharing today. Like I mentioned before, it's a classic recipe that I've had in my recipe box for quite some time, but I've made little tweaks to it over the years, including blending bits of mushrooms in with the meat.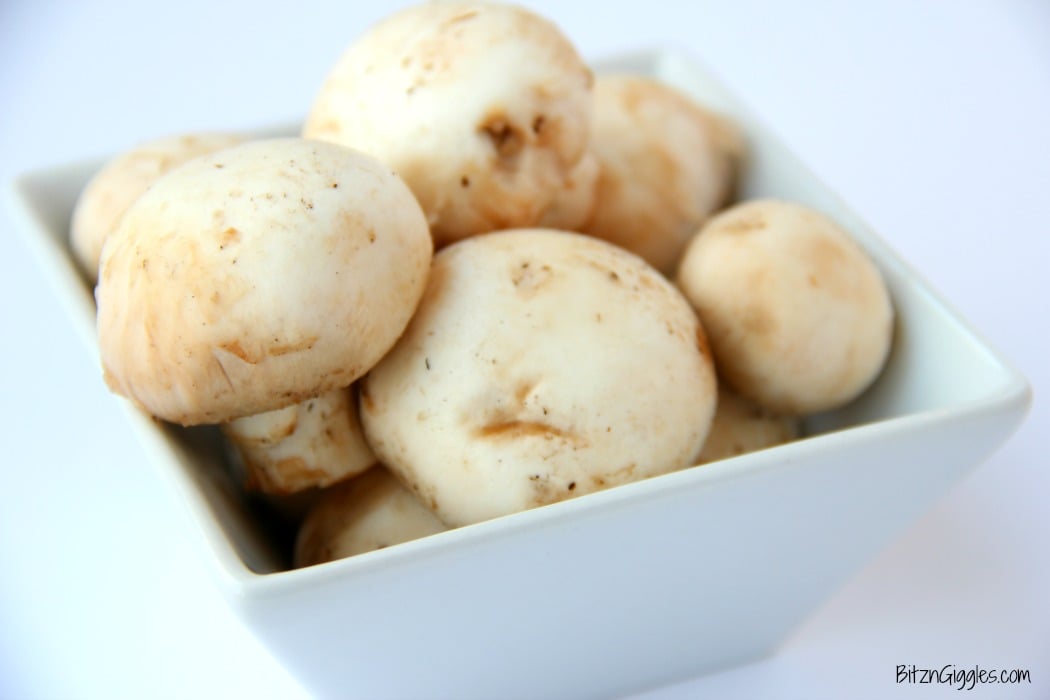 I'm here to tell you that mushrooms aren't just for toppings and for gravies. They're really good for your health, too! Mushrooms are fat free, cholesterol free, low in calories and provide important nutrients like vitamin D, B vitamins, antioxidants and potassium (9%). So, why wouldn't you incorporate them into your dishes?!
If you're going for more of the nutritional value, you should chop up your mushrooms to match the consistency of ground meat and then blend them right in. I finely chopped some of my mushrooms and I left some of them as smaller pieces. I love the texture it adds to the meat.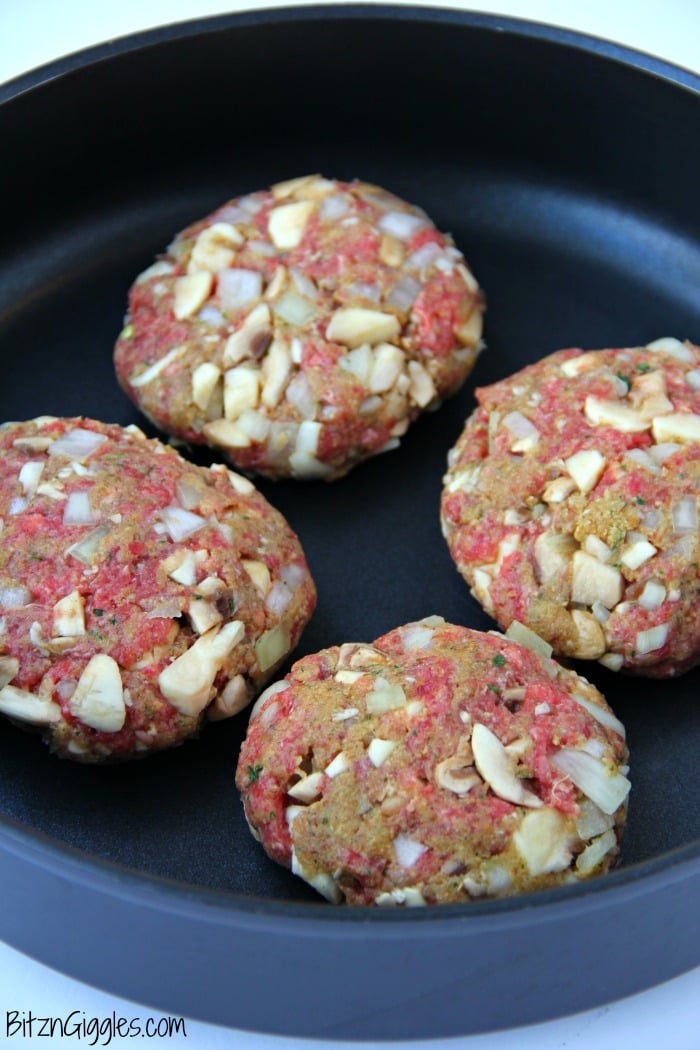 In addition to texture, the bits of mushroom add bulk and volume to the meat, stretching the servings a bit farther. Our 7-year-old is already beginning to eat everything in sight. One of these steaks (patties) is enough to satisfy him (well for an hour or two) ;).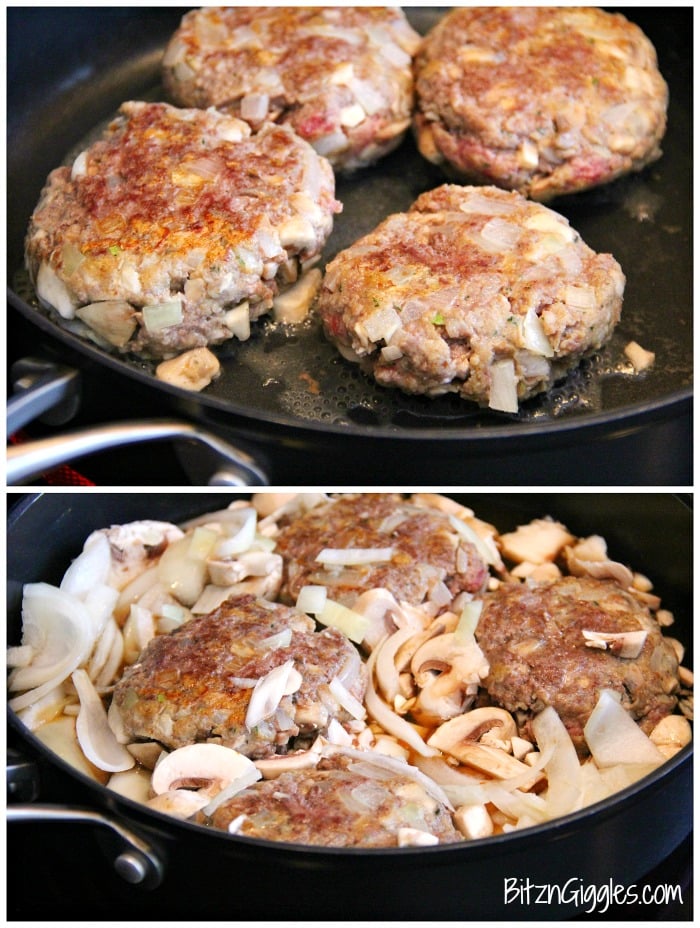 We haven't even talked about the gravy yet. Can you guess what's in the gravy? Yep, more mushrooms and onions. We're adding them because we can. . .and because it's delicious. Once the patties are browned and the gravy has thickened, this dish really starts coming together.
I like to sit these patties on top of a pile of homemade mashed potatoes, surround it all with some steamed green peas and then smother it with gravy. It ends up looking pretty fancy, don't you think?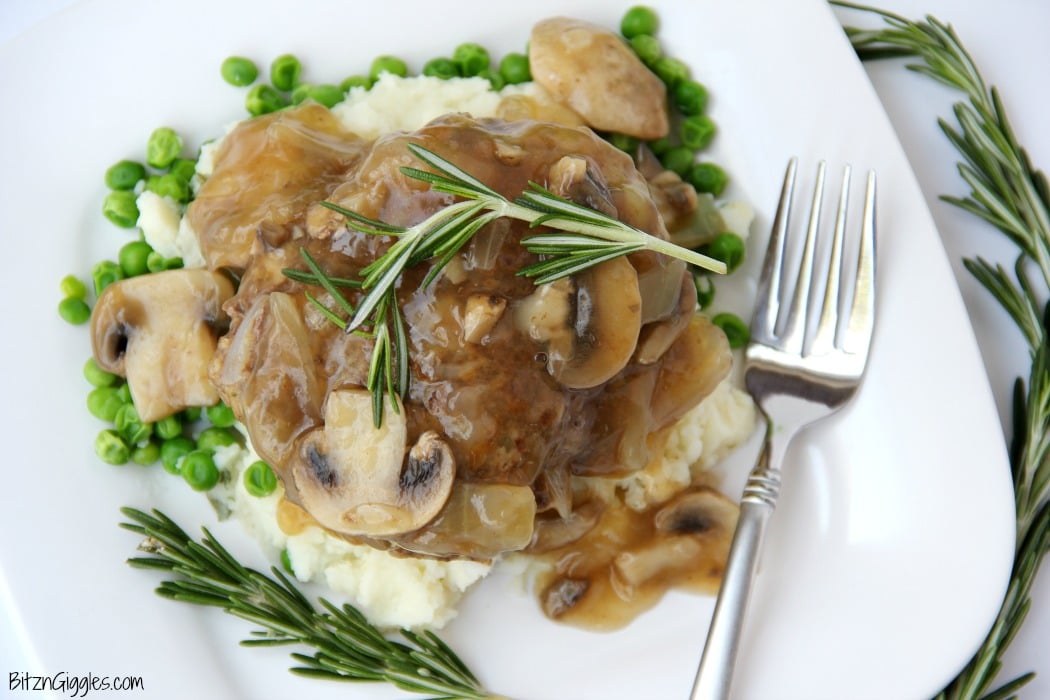 For more recipe ideas and to learn more about The Blend, click here.
Easy Salisbury Steak with Mushroom Gravy
This easy salisbury steak recipe incorporates mushrooms and onions right into the beef patties before they're smothered with a flavorful mushroom gravy!
Ingredients
1 pound ground beef
1/3 cup bread crumbs
1/2 cup button mushrooms, chopped into small pieces
1/4 cup chopped onions
1 large egg, beaten
1/2 teaspoon salt
1/2 teaspoon black pepper
2 10 3/4 ounce cans beef broth
1 onion, sliced
1 cup button mushrooms, sliced
3 tablespoons cornstarch
4 tablespoons water
Rosemary sprigs for garnish, optional
Instructions
Mix together ground beef, bread crumbs, mushrooms, chopped onions, egg, salt and pepper in a bowl until combined.
Shape the mixture into 4 equal-sized patties.
Fry the patties in a skillet, 5 minutes per side.
Add the broth and sliced onion and mushrooms to the skillet.
Bring the mixture to a bowl then reduce heat to low and cover.
Simmer for about 10-12 minutes or until no longer pink in the center.
Transfer patties to a plate and cover them with foil to keep them warm.
In a separate bowl, combine the cornstarch and the water. Set aside.
Bring the gravy mixture in the skillet to a boil.
Stir the cornstarch mixture into the gravy mixture and cook for about 1-2 minutes or until thickened.
Pour over patties and serve.
Garnish with sprig of rosemary if desired.
Notes
I like to serve these patties over mashed potatoes with steamed green peas on the side.
I was selected for this opportunity as a member of Clever Girls and the content and opinions expressed here are all my own.
(Visited 3,691 times, 1 visits today)