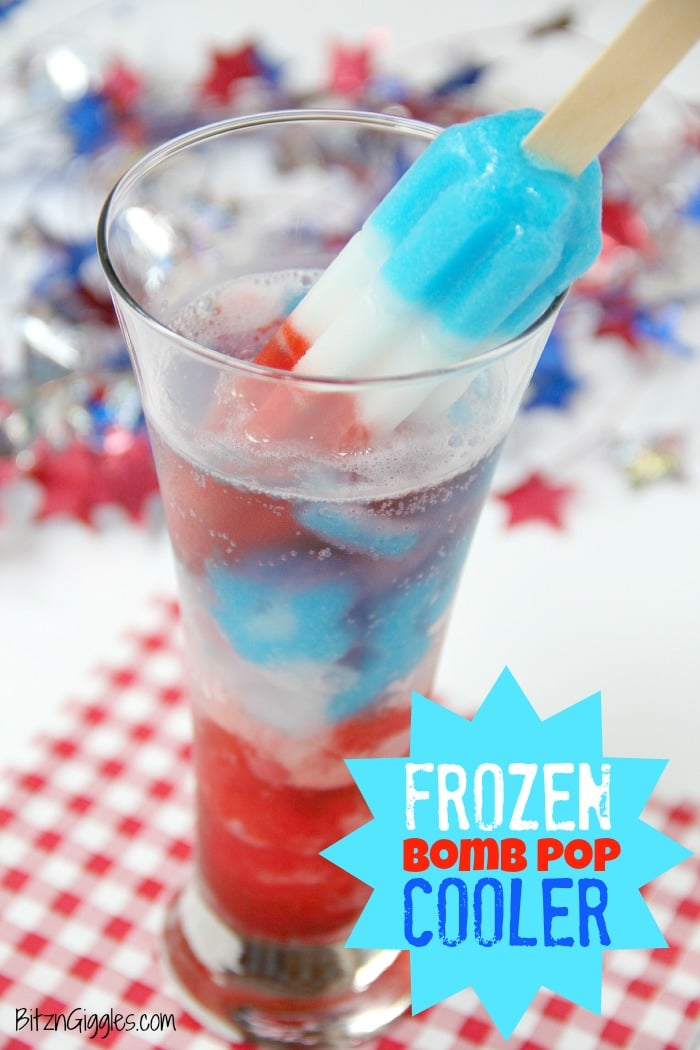 Who's looking forward to starting this weekend off with a BANG?! Ha! A bang! Get it? I hope you all are as excited about celebrating Independence Day this weekend as I am. The only thing I'm sad about is how fast the summer seems to be flying! We're not going to think about that, though. We're just going to live in the moment and enjoy this holiday weekend to its fullest! Got it? Good!
I'm loving all of the red, white and blue recipes I've seen all over Pinterest lately, and it just wouldn't be right if I didn't share one of my own! I've decided to make a refreshing drink for you today that you can prepare for your friends and family in just minutes. These Frozen Bomb Pop Coolers are THE BOMB and they're so much fun to serve in the summertime!
I'm sure you've seen the red, white and blue layered drinks on Pinterest that rely on varying levels of sugar content to create those layers in the drink? I think they look so neat! However, when you're deciding on the perfect drink to make over the 4th, you may want to think twice about making one of those. Why?
The layered drinks look pretty but they taste awful. Most often they're a combination of electrolyte drinks or flavors that, let's be honest, just don't go together. Everyone looks at the label rather than the flavor, trying to find the correct amounts of sugar content so the drink "will work."
The drink looks beautiful when it's made, but for gosh sakes, don't move it. The slightest bit of motion and all of your layers are going to combine and magically disappear. Boo.
So, I'm not saying my Frozen Bomb Pop Cooler is a genius discovery, but it's a lot easier, it actually does taste like an authentic Bomb Pop and because the layers are "slush" they tend to stick around a bit longer than just liquid. And even when they do mix, it's like a fun tie dye effect.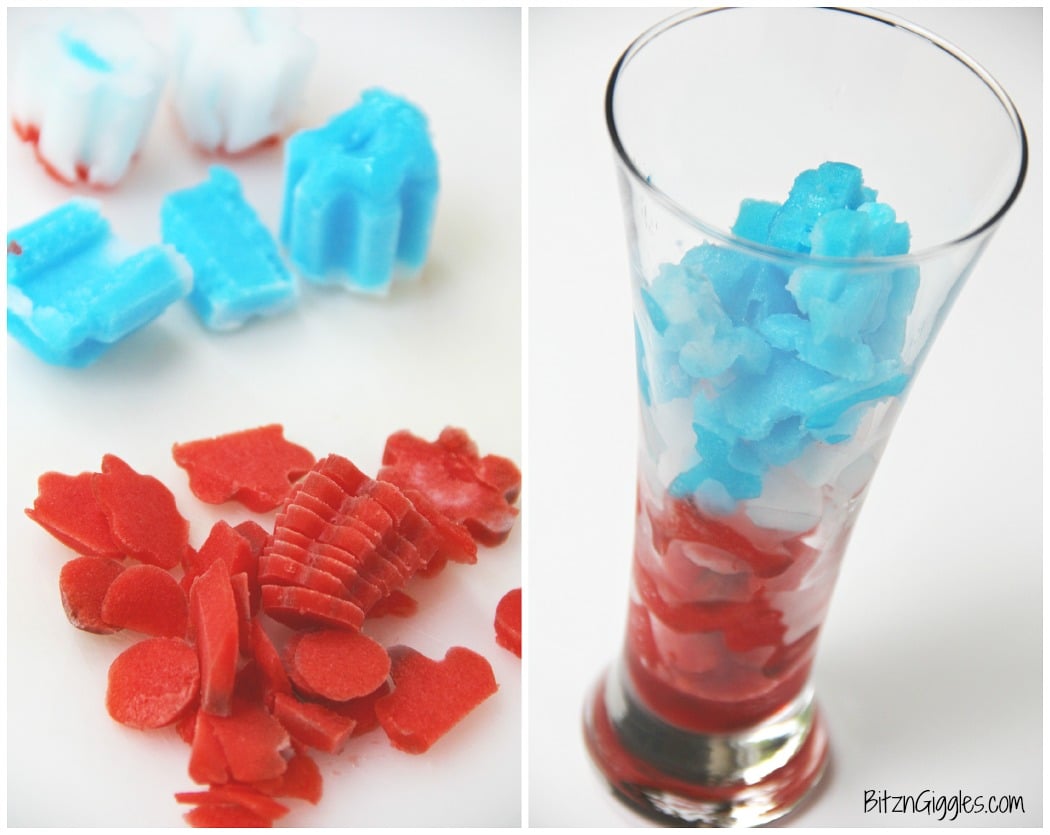 So, you just start out by separating the color layers on two Bomb Pops. Slice each color into pieces and then start layering them in your glass. I started with the red, then added the white, and topped it all off with the blue. Add some lemon-lime soda slowly and TA DAH. . .it's ready to go.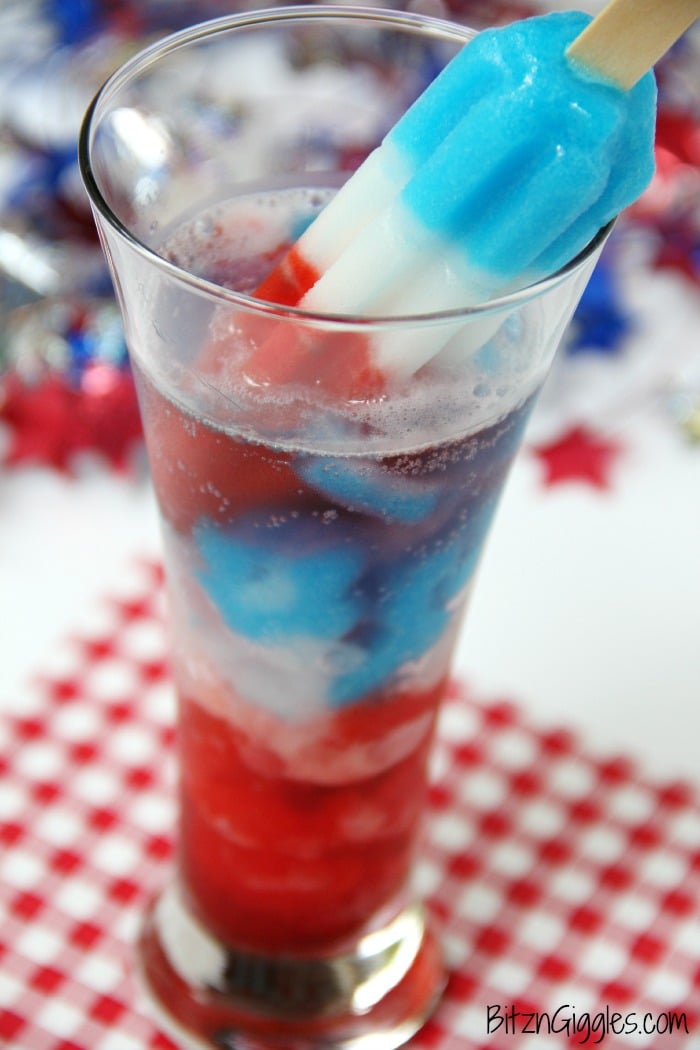 While I can't really claim this to be a "recipe," it's the perfect drink for such a wonderful holiday. Heck, serve these for Memorial Day, Labor Day. . .
You could use this technique for any popsicle, really. Get creative. I garnished mine with a third popsicle, but if that's a bit much for you, just stick in a fun straw or spoon for your guests. Kids will go crazy for this drink (and for all of you parents and grandparents out there, your kiddos will most likely stay cleaner enjoying this drink than holding a popsicle)!
Enjoy your weekend and make lots of memories with family and friends, sipping on this refreshing cooler. Happy Independence Day, friends!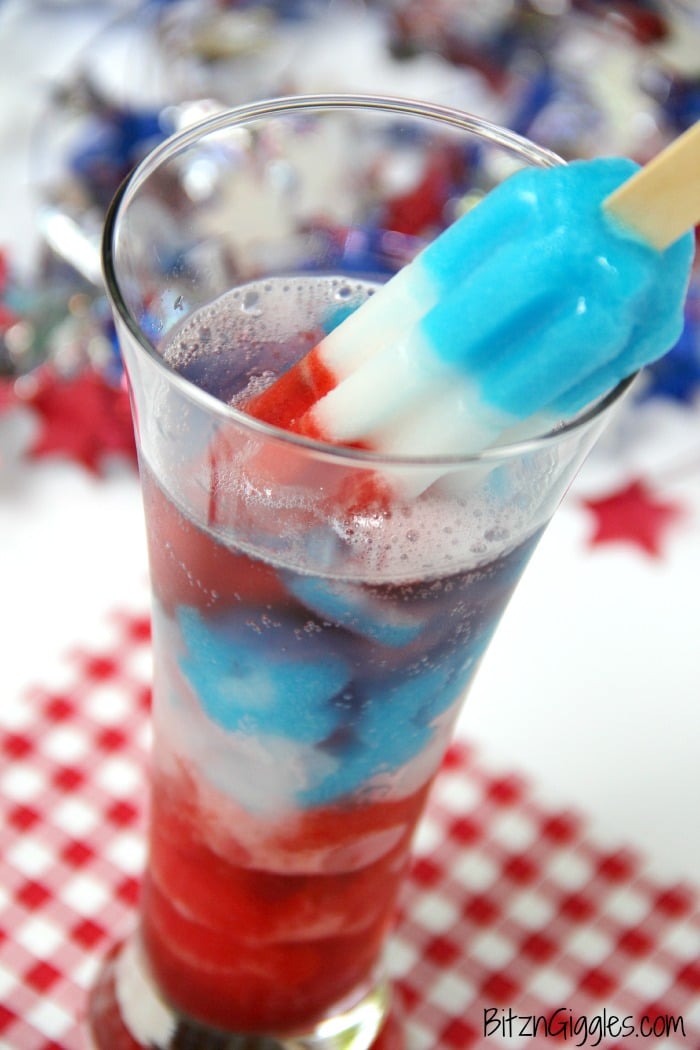 Frozen Bomb Pop Cooler
A two-ingredient, delicious and refreshing drink that pays tribute to the nostalgic Bomb Pop popsicle we've all grown to love!
Ingredients
2 Bomb Pop popsicles
Lemon-lime soda
Extra popsicle for garnish
Instructions
Cut each Bomb Pop in thirds (by color) and then chop up each color into pieces, keeping the colors separate.
Place the red popsicle pieces at the bottom of the glass, followed by the white and then the blue.
Slowly pour in lemon-lime soda to fill the glass.
Garnish with an extra popsicle if desired.
Nutrition
Serving Size: 1
Calories: 23
Sugar: 2
Sodium: 11
Fat: 0
Saturated Fat: 0
Unsaturated Fat: 0
Trans Fat: 0
Carbohydrates: 6
Protein: 0
Cholesterol: 0
(Visited 23,106 times, 1 visits today)