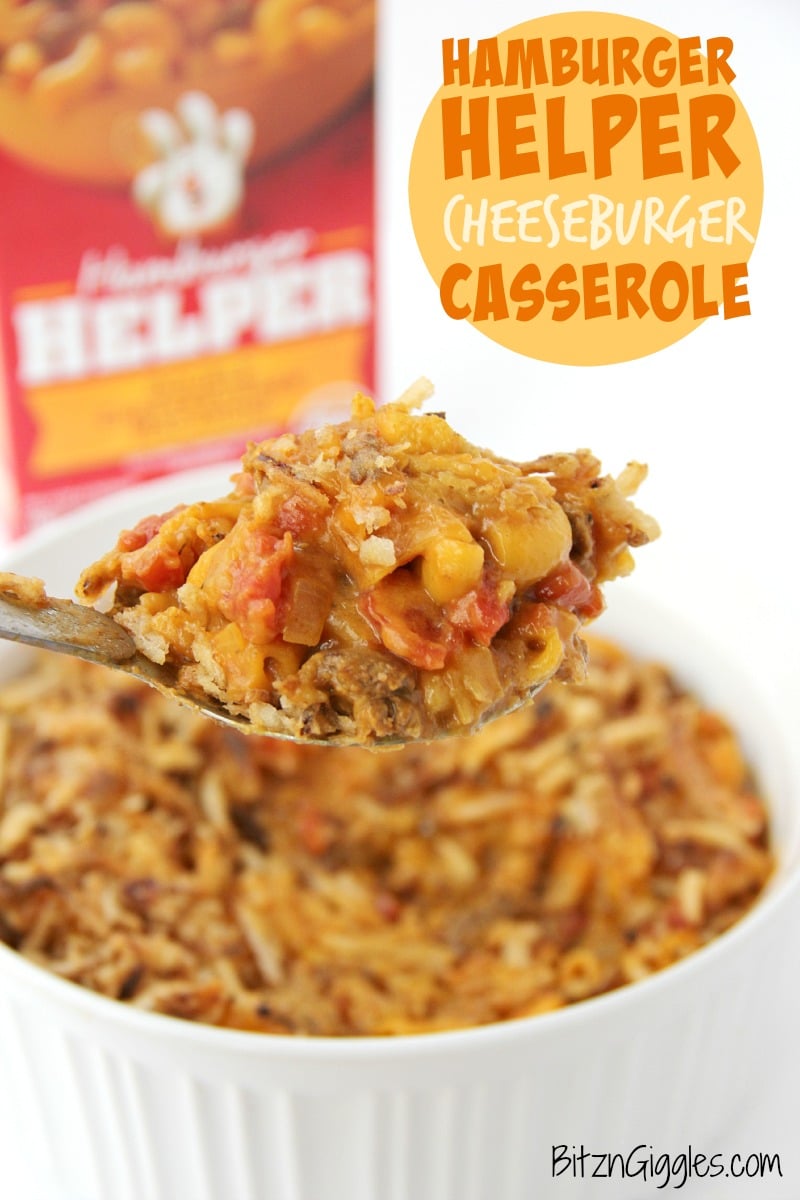 Thank you to Helper for sponsoring today's post and inspiring me to try their Free Ground Beef Rebate! #Helper #freebeef #ad
Weeknights at our house are BUSY! In fact, most nights after finishing up at work and picking up our youngest from daycare, I arrive home and literally run around the kitchen trying to get some food on the table. How is it that only minutes after I walk in the door the kids are asking if dinner is ready? While I wish I had a magic wand to make a meal just appear on the table, I don't. . .BUT I do have some tricks up my sleeve to stay sane and get the family fed on those crazy, busy nights.
Today I'm sharing this delicious and easy Hamburger Helper Cheeseburger Casserole, a hearty and satisfying recipe that's simple to prepare and guaranteed to please the entire family. I always have a box of Hamburger Helper in the pantry ready to go for hectic weeknights (that seem to happen more often than I would like). 🙂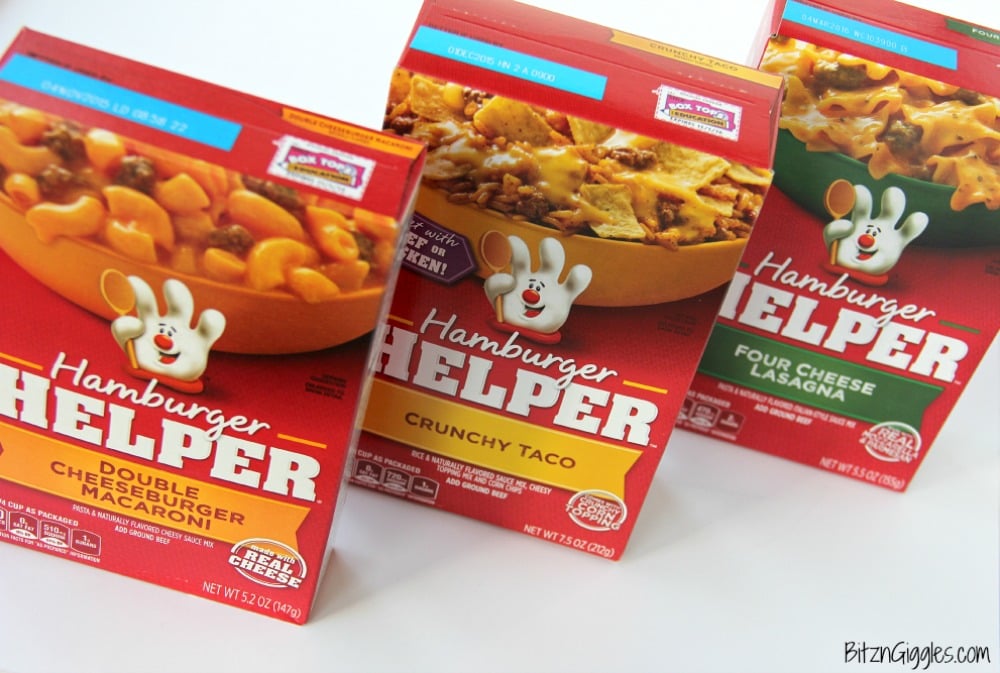 Alright, that's not entirely true. The truth is, I have several boxes of Helper at the ready in my pantry. Why? Well, right now if you buy three boxes of Helper you can get your ground beef for FREE!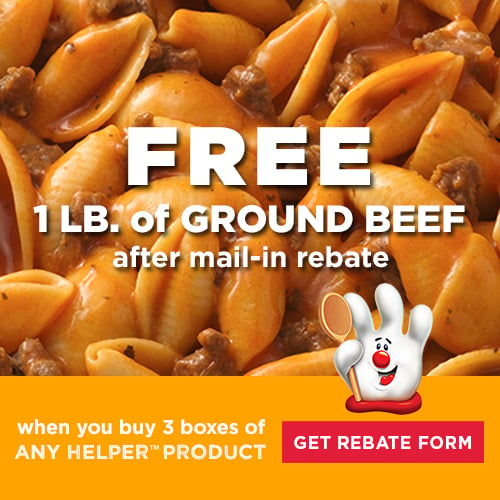 Yep, you heard me right. Pretty sweet deal, right? Who wouldn't stock up? Especially when it helps me get dinner on the table in under 30 minutes! So, here's what I did:
I went to my local grocer and purchased three Hamburger Helper products and one pound of ground beef. If you would like to try Chicken Helper or Tuna Helper varieties, you can mix and match. Just make sure you have three boxes of Helper and the pound of ground beef in your cart when all is said and done.
Head on over to grab the rebate, click on the image and print.
Mail in the rebate form.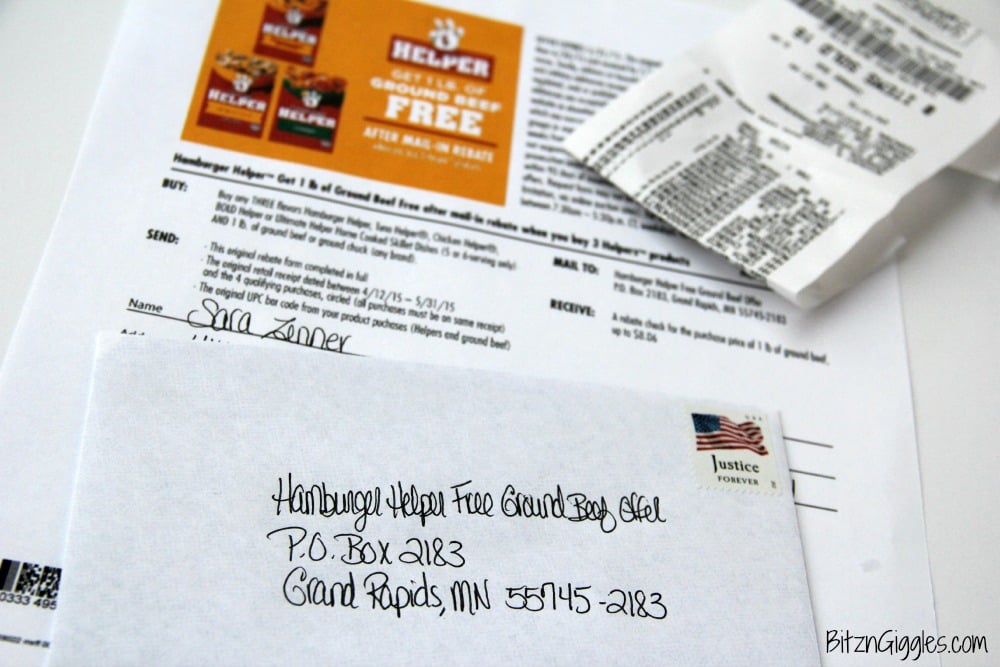 Alright, back to the recipe! Preparing Helper is super easy and turning it into a delicious casserole really only takes a few more minutes and a couple extra ingredients.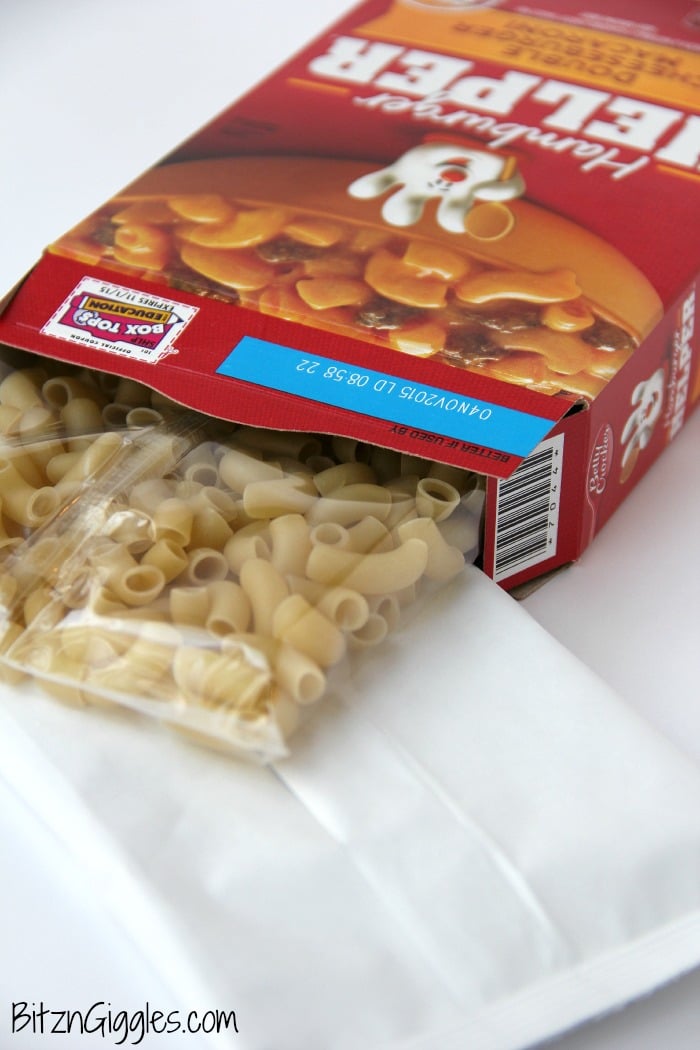 I prepared the Helper as directed on the box and threw in some personal touches along the way:
I browned the beef with some chopped onion, and drained it.
Stirred in the hot water, milk, sauce mix and pasta and some seasonings.
Added some diced tomatoes and brown sugar.
Transferred it all to a baking dish.
Sprinkled on a bit more cheese (we LOVE cheese in Wisconsin) and French fried onions.
Broiled it uncovered on low for a few minutes until the cheese was melted and the onions were golden and crispy!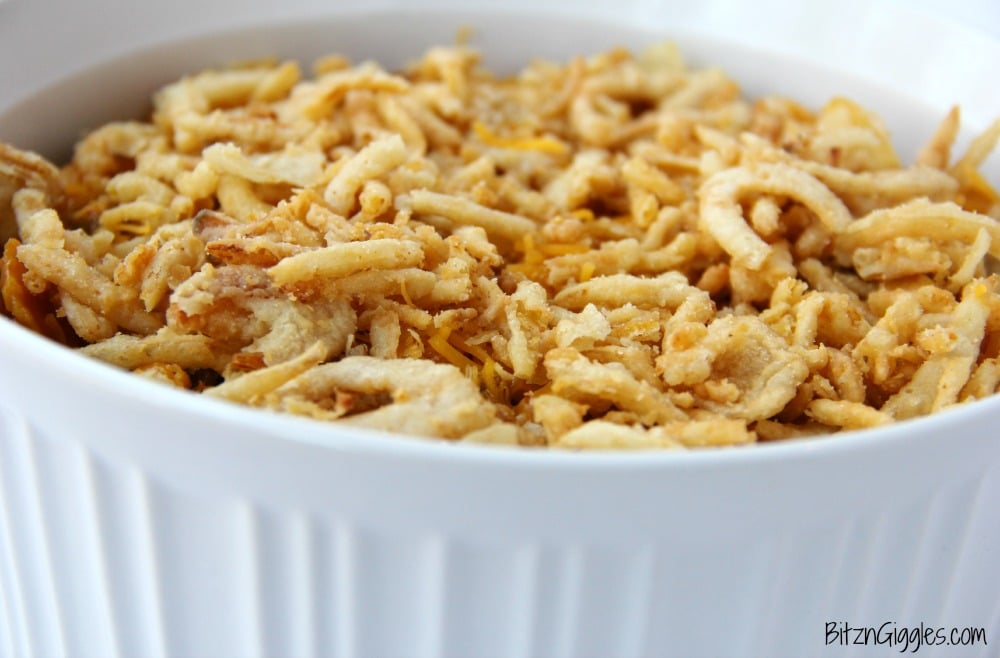 I had dinner on the table in under 30 minutes and the casserole looked like I had spent much more time preparing it than that. In fact, once dinner was served, I wish we would have invited the neighbors over.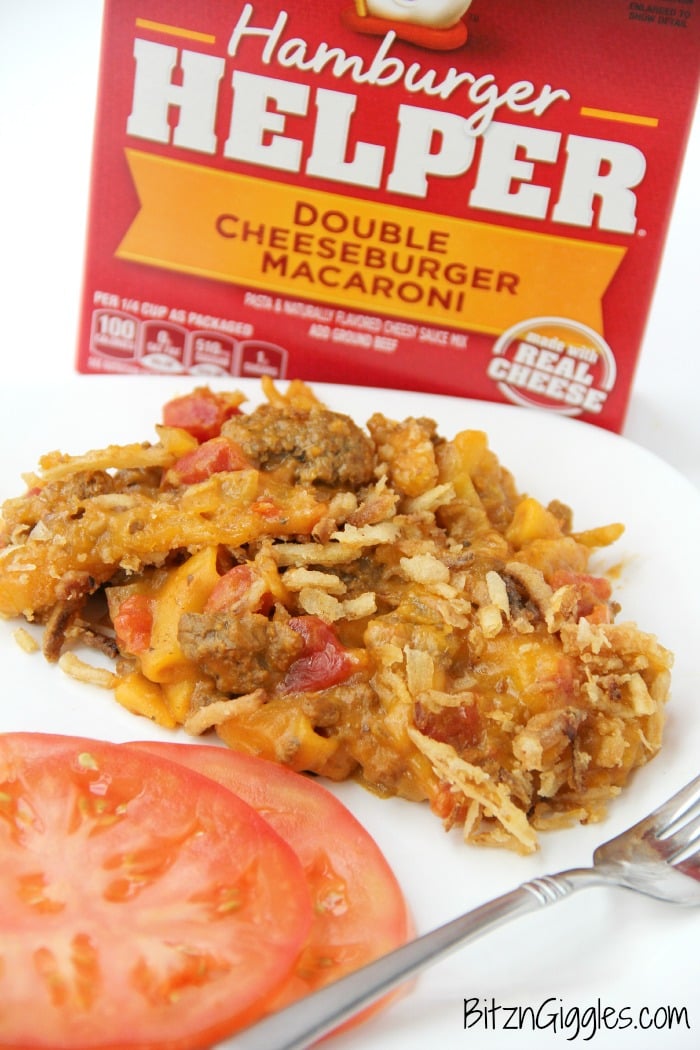 There was more than enough and it was a satisfying, hearty meal that, like any casserole, will taste just as great if not better the next day. That's important if you rely on leftovers for your lunch on weekdays like I do! And when you get your ground beef for free?? Come on, it's kind of a no-brainer! You need to try this recipe!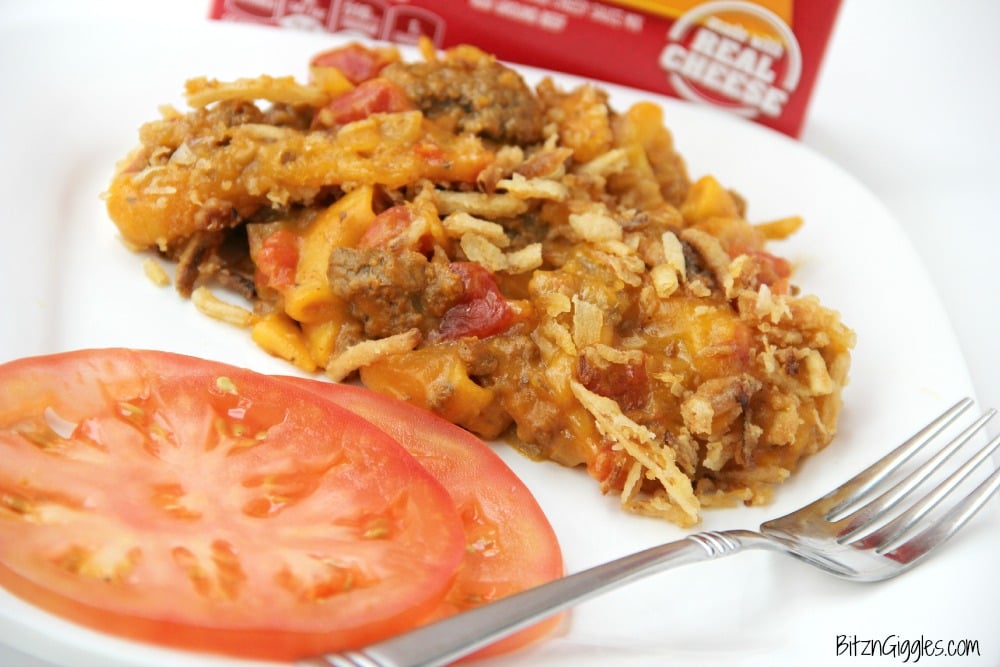 Get to the store, pick out your three Helper meals and one pound of ground beef, print out the rebate and mail it in! It's that simple! What Helper flavors will you choose?
Hamburger Helper Cheeseburger Casserole
A delicious, hearty casserole that goes together in minutes with the help of Hamburger Helper!
Ingredients
1 box Hamburger Helper Double Cheeseburger Macaroni
1 pound lean ground beef
1 cup hot water
2 cups milk
1/2 cup chopped onion
1 tablespoon garlic powder
14.5 ounce can petite diced tomatoes, drained
1 tablespoon Italian seasoning
Salt and pepper to taste
1 tablespoon brown sugar
6 ounce container French Fried onions
1 cup shredded cheddar cheese
Instructions
Brown beef and chopped onion in a skillet; then drain
Sprinkle the beef with the garlic powder, pepper and Italian seasoning and mix in well
Stir in the hot water, milk, sauce mix and pasta; heat to boiling
Reduce heat and add the diced tomatoes and brown sugar; cover and simmer for about 10 minutes, stirring occasionally until pasta is tender.
Add half of the French fried onions to the mixture and 1/2 cup of the cheese
Transfer to a 9×11 inch baking dish
Sprinkle on the remaining cheese and top with the remaining French fried onions
Broil on low for 2-4 minutes or until cheese is melted and French fried onions are crispy and golden
Notes
You can also substitute Hamburger Helper Cheeseburger Macaroni in the recipe.
Nutrition
Serving Size: 5
Calories: 396
Sugar: 11
Sodium: 343
Fat: 21
Saturated Fat: 10
Unsaturated Fat: 8
Trans Fat: 1
Carbohydrates: 25
Protein: 28
Cholesterol: 88