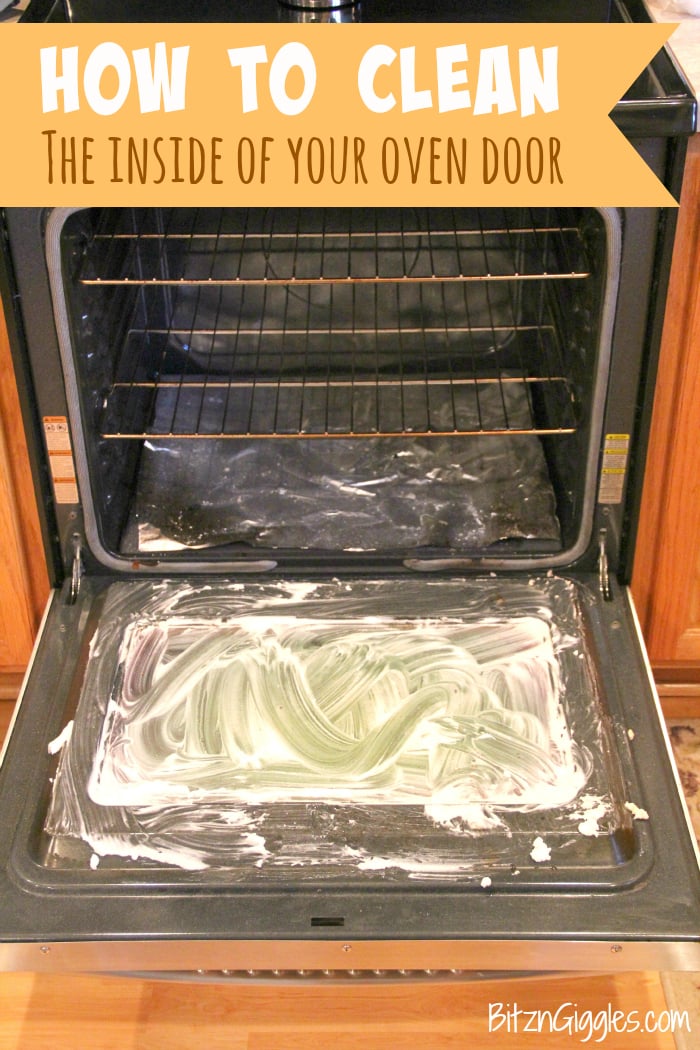 I've been doing a lot of baking lately, so that means I've been using my oven more. The other day while I was baking cookies, I turned on the interior light to peek through the glass door to see how they were coming along. . .and. . . I could see nothing. That's why I'm sharing a tutorial today on how to clean the inside of your oven door. Because, just wait until you see what mine looked like!
Now, let's just get something straight. I'm not talking about cleaning "between" the glass – I'm just talking about cleaning the crusted-on grime that sits on the inside of the glass door. Sometimes for years. Cough. Cough. I will admit that I tried some store-bought cleaning products at first because I thought they would be more effective and take care of my problem quickly. No luck. It still looked like this (see the horrid photo below).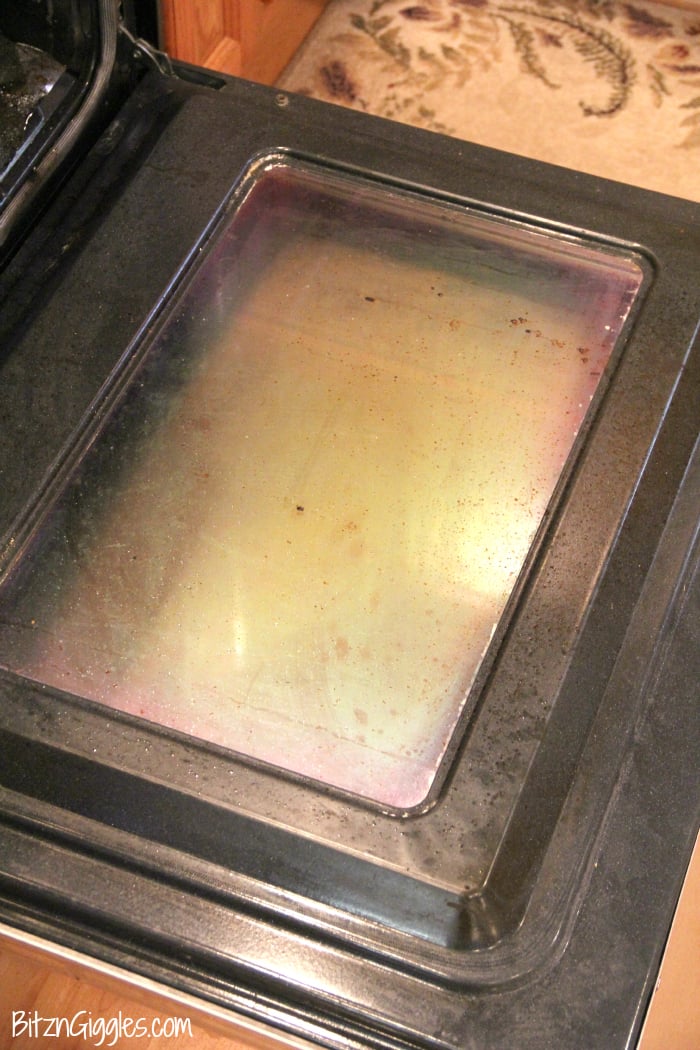 Now thankfully, I didn't have any grease or grime between the panes of glass on my door. If you're not as lucky, most ovens have slots at the bottom of the oven door where you can stick cleaning wands up inside the door to clean the glass. Or. . .you can start taking the door apart.
I would actually suggest the first method I mentioned before you run out to the garage, get your toolkit and start taking apart your oven door. Don't get me wrong, I'm sure many of you out there are very handy, but the "stick something up the slots method" sounds a bit easier to me and something I would attempt before disassembling a major appliance in my home. But that's just me.
Alright, back to my mess. Are you ready for this magic recipe? Baking soda and water. Yep. Surprise!!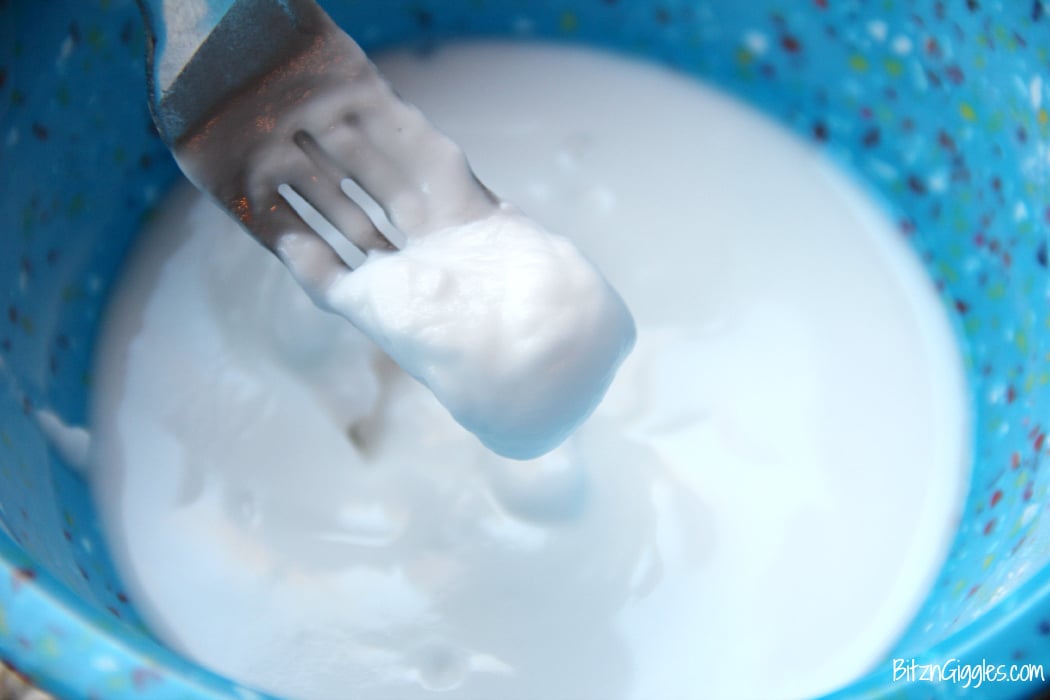 You'll need about 1/2 cup baking soda and then just add enough water to form a thick paste like in the photo above. This my friends, is magic "clean oven" paste. Oh, and you'll want to grab an S.O.S. Steel Wool Pad
, too. My mom always had these in the house years ago and I've found tons of uses for them in my house today!
Alright, so take the paste and schmear (is that a word?) – smear (I like to pronounce it with the "ch" in it) it all over the interior glass of the oven door. Now we wait. Like 30 minutes. If you have something else to do, I totally get it – please don't mind me. If you're looking for some downtime, let me share a quick tip while we wait.
I bet you spotted that aluminum foil I have there in the oven. I always keep two pieces of foil overlapping each other on the bottom of my oven to catch spills, food particles, etc. I know they sell actual oven liners
 for that, but my method works just fine. When the foil gets yucky and grimy I just toss it and replace it with two new sheets. Tah dah!! Looks like that's the next thing I'll need to take care of, huh?
Okay, is our time up? Back to cleaning the oven door. So, now you take your S.O.S. pad and start scrubbing. I used a circular motion and lots of elbow grease. The white paste started turning brown and I knew it was starting to clear up the dirt and grime.
Keep scrubbing until you feel just the smooth surface of the glass. No more grit. Get some damp paper toweling and start cleaning up dirty suds until you're left with this! Now, how beautiful is that?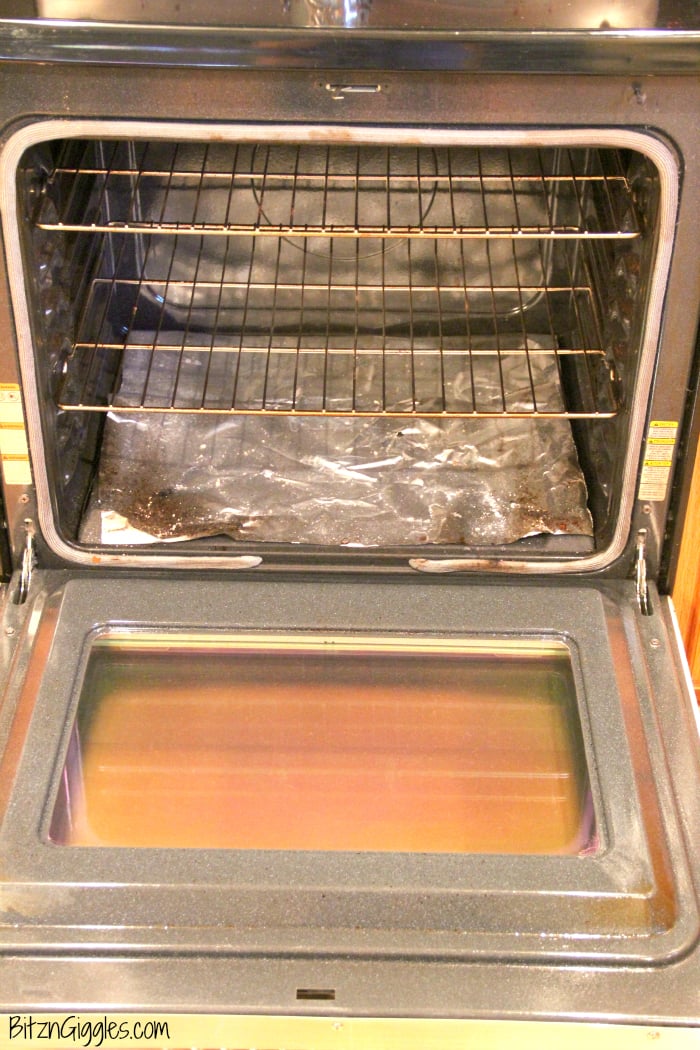 Just look at this clean glass! I even scrubbed the frame around the glass and got MOST of the grime off from there. Scroll back up to the top and take a look again at that before photo. Yikes, right. But what a difference that baking soda makes!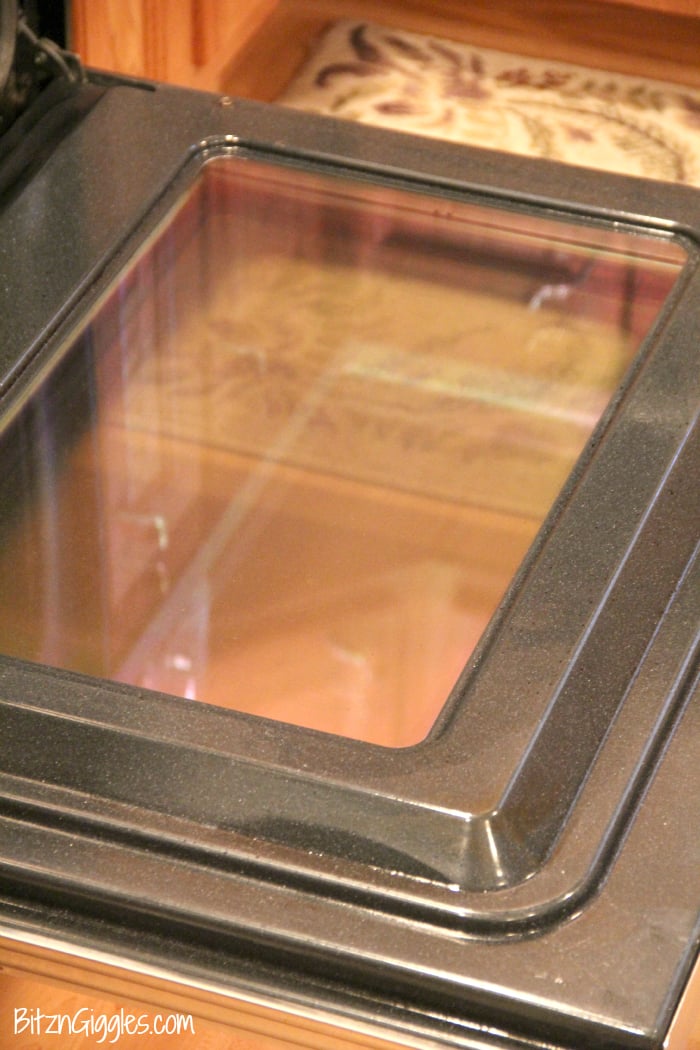 Some may say I'm a cleaning machine! I actually love to clean because it's so rewarding. You start with something pretty ugly (that can, even at times, stress you out) and after a little cleaning, you're able to turn that ugliness into something bright and shiny again! It just makes me feel good!
Don't forget to check out my other cleaning tips and two of my most popular cleaning posts on the site that can be found below. Happy cleaning!!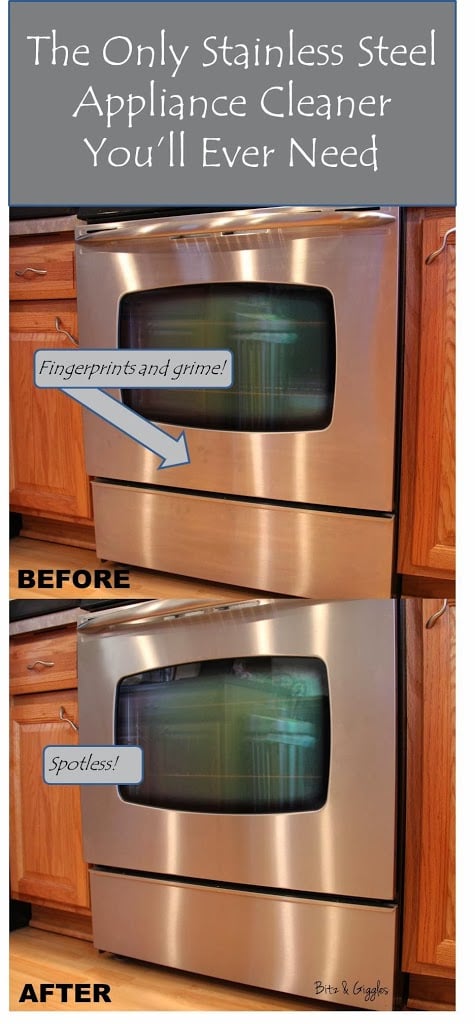 (Visited 205,881 times, 1 visits today)