As a child I loved snow globes. It's like a little magical place inside of a jar. To this day, I have an admiration for anything glass with something cute or beautiful inside it. And it's not only the glass and the scene inside. . . if it's lit, it's even more magical.
Today I'm going to show you how you can make your very own illuminated snow scene right inside of a mason jar. I have to say that when I thought of this, I thought it was pretty brilliant and I bought some ice cream that day to celebrate. I've never seen a tealight used this way in a DIY project. Maybe you have. If you have, don't let me know about it. It will completely burst my bubble.
Here's what you need to make your own magical scene inside of a jar:
Wide mouth mason jar with lid and cover (Kerr brand is the best because one of the sides of the jar is clear)
Battery-operated tealight
Button magnet
Glue
Faux snow
Ribbon
Whatever you'd like to place in your jar (I found the snowman and tree in the Christmas section at Walmart and both were under $1)
The first thing you want to do is grab your mason jar and put the faux snow inside. Put in just enough to be able to cover the bottoms of your figures. I did this part outside because I didn't want snow all over the house. This stuff can get a bit messy.
Now place your figurines or items in your jar. If you really want to secure them well, you could glue them to the bottom of the jar before you add the snow, but I like to reuse my jars so I left my penguin and tree free-standing.
I mentioned earlier in my post that I scored both of these items for under $1. That is the total to gosh truth and I was ecstatic about it.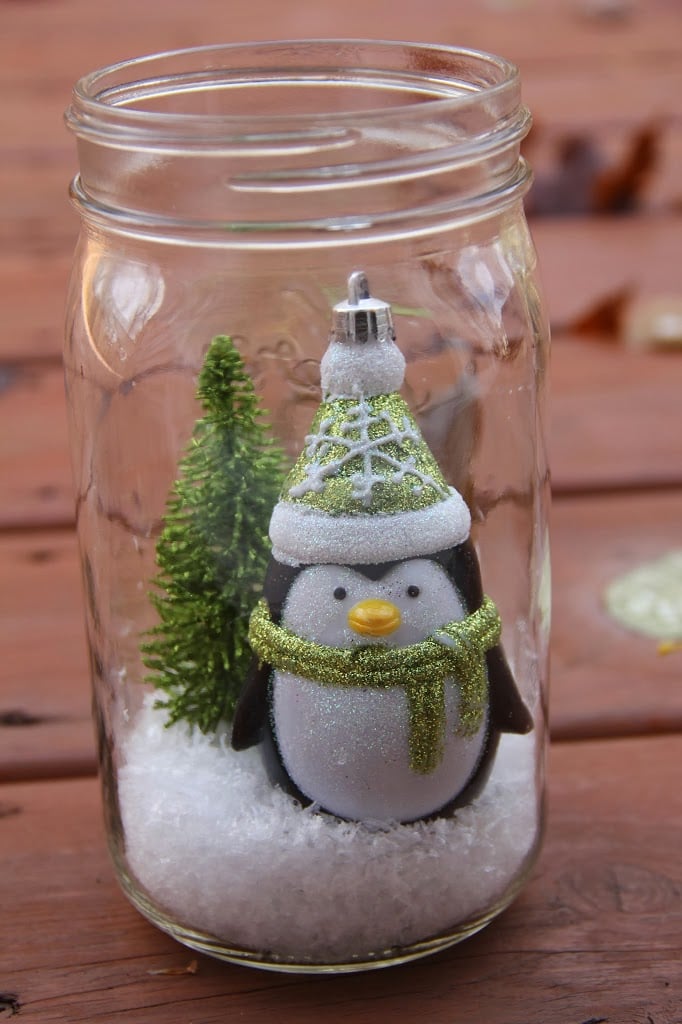 Now you can come back inside. Brrr. I should have worn a jacket.
Pick up your tealight and adhere the magnet to the back with glue. Position it so you can still open the back to remove the battery if needed. The button magnet fits perfectly to allow access to the battery.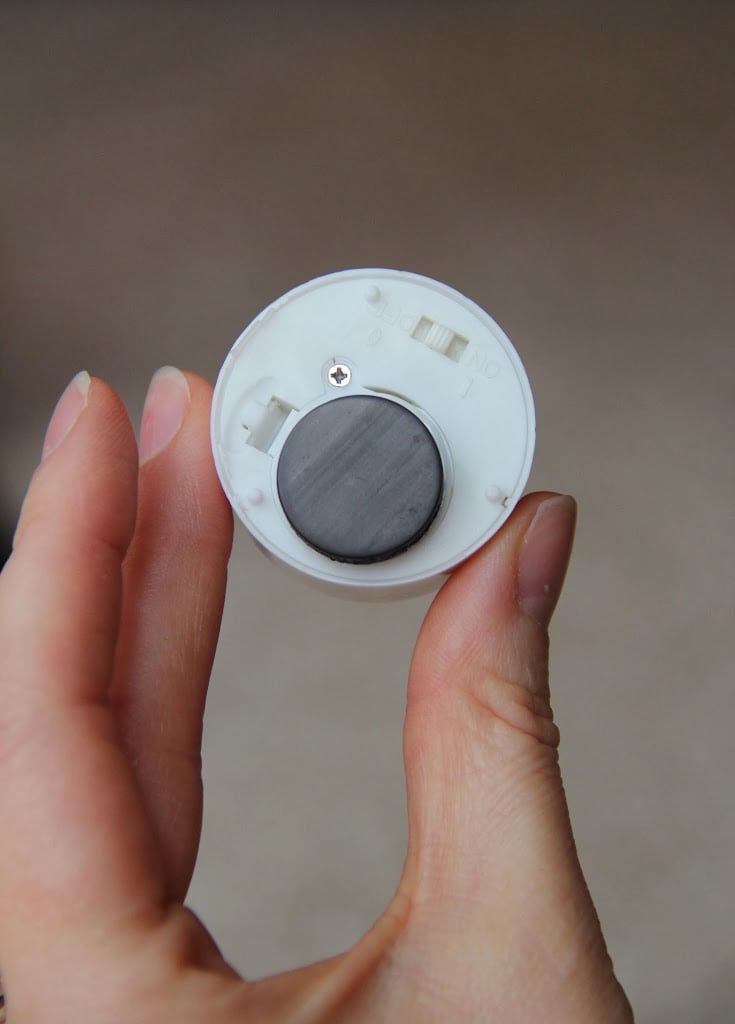 Now, place your tealight on the inside portion of the mason jar lid. I turned my tealight on to make sure it was working properly, as well. Turn the lid upside down and give it a good shake. Does the tealight stay attached to the lid? If so, it means your magnet is strong enough. If not, you may need to try and find a stronger magnet. My button magnet seemed to work just fine.
All you really need to do to turn your tealight on and off is to unscrew the top of the jar and flick the switch on the back of the tealight. Now, if you have a remote-operated tealight, that would be even better, but I promise you, it's not a ton of work to turn this baby on.
For this part, I went outside again. Why? Well, not because this step is messy. Just because I love natural lighting and want the best photos for my readers. You are welcome. This part is easy. Just put the lid with the tealight back on the jar and then screw on the top.
If you really wanted to, you could paint the lid black or dress it up a bit. I'm going to be putting my jar on a shelf so you really won't be able to see the very top of the jar anyway.
Then I tied a bow around the top of the container just to dress it up a little more. The ribbon I used is white iridescent so it kind of picks up whatever color is around it. It actually looks a little purple below.
And this is my favorite part. . .seeing how it lights up in the dark. The little light casts just the right amount of glow to light up the scene inside the jar. You have to make one of these this year. It is so simple and so much fun. What are you going to put in your jar?
LOOKING FOR MORE
CHRISTMAS INSPIRATION?