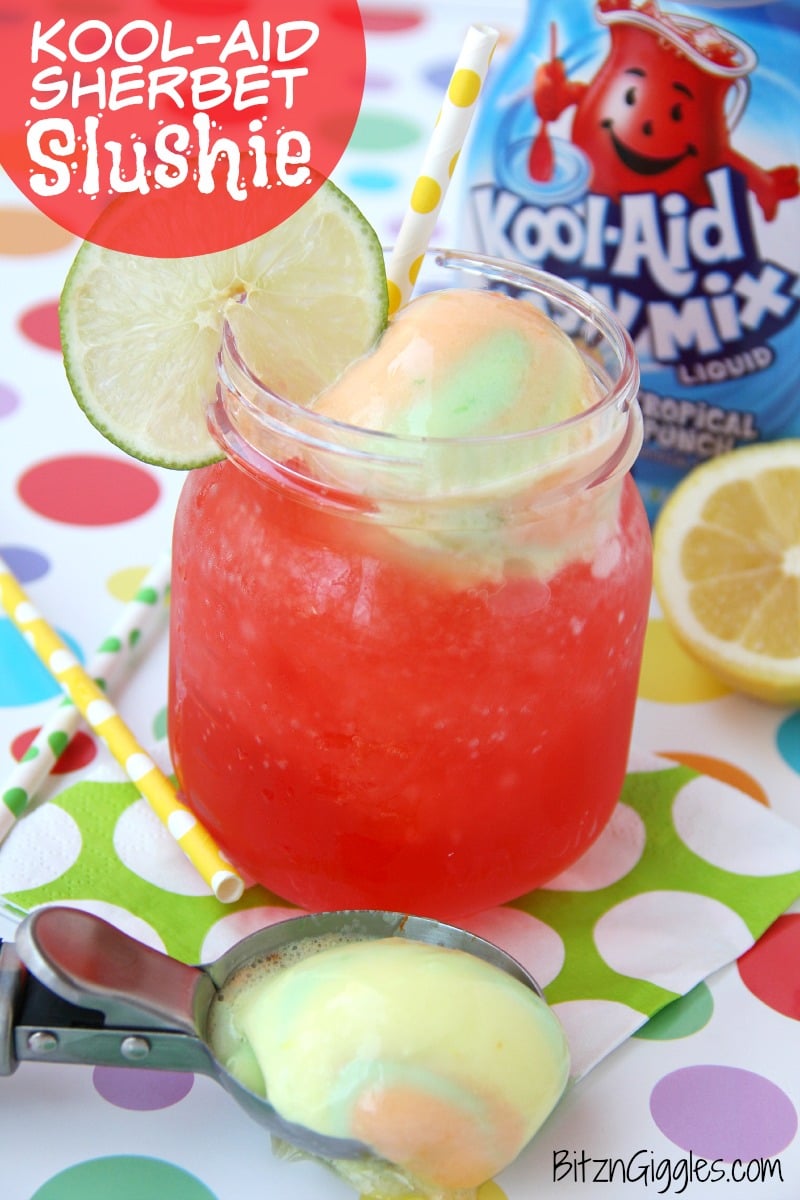 This shop has been compensated by Collective Bias, Inc. and its advertiser. All opinions are mine alone. #PourMoreFun #CollectiveBias
This week the weather has been in the mid 50's. To some of you, that may sound cold for this time of year, but for here in Wisconsin, it's pretty normal. I'll take it, considering we got four inches of snow just last week. That's all behind us now (I hope), and we're all looking forward to the warmer temps.
The kids are super excited to get rid of their boots and snow pants. I have to say, I am, too. It's so much easier to get everyone going in the morning when you don't have layers upon layers to pile on! The neighborhood is abuzz and the kids are back to riding their bikes and putting in weekends full of play.
That means I need to have snacks and cool drinks at the ready when the kids decide they're hungry and thirsty mid-afternoon. And when I say kids, I mean a couple houses worth. . .they tend to travel in packs. 😉 I need something delicious and affordable that will serve a crowd!
I had to run to Walmart for groceries earlier this week and drinks for the kids were on my list. While in the beverage aisle, I ran across this new Kool-Aid Easy Mix.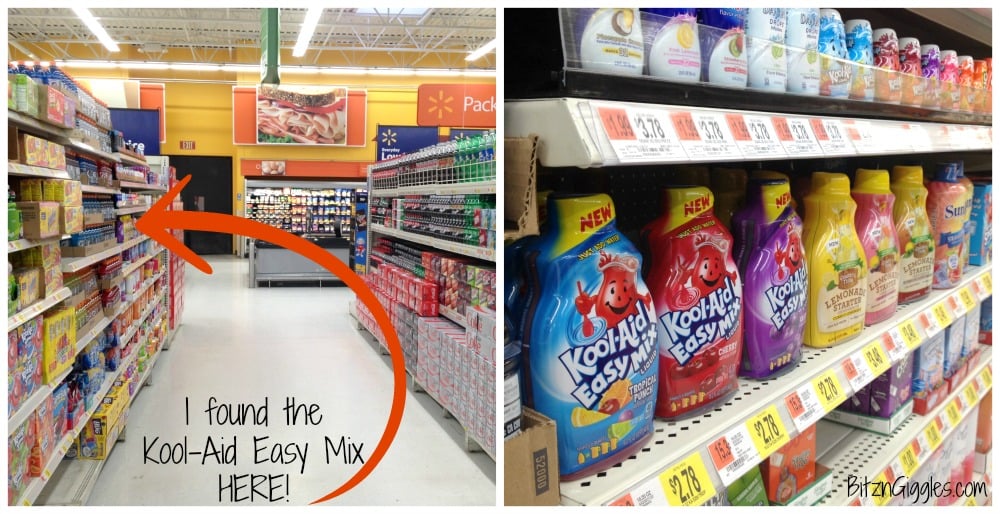 It comes in three different flavors: Cherry, Tropical Punch and Grape. Whether you're making a full pitcher or a single glass full, all you need to do is add some of the mix to water and you're ready to go! So easy and quick! I LOVE that!
Sooo. . . I just grabbed one of each, and headed home.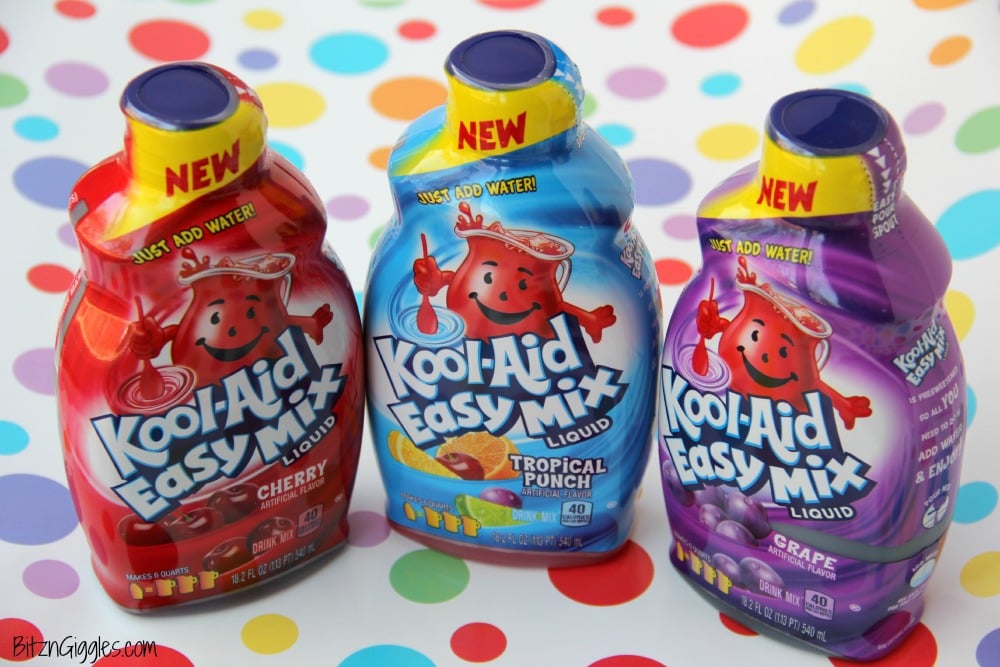 As I put away my other groceries, I opened the freezer and saw a container of rainbow sherbet we needed to finish up. Yep, I was making a Kool-Aid Sherbet Slushie.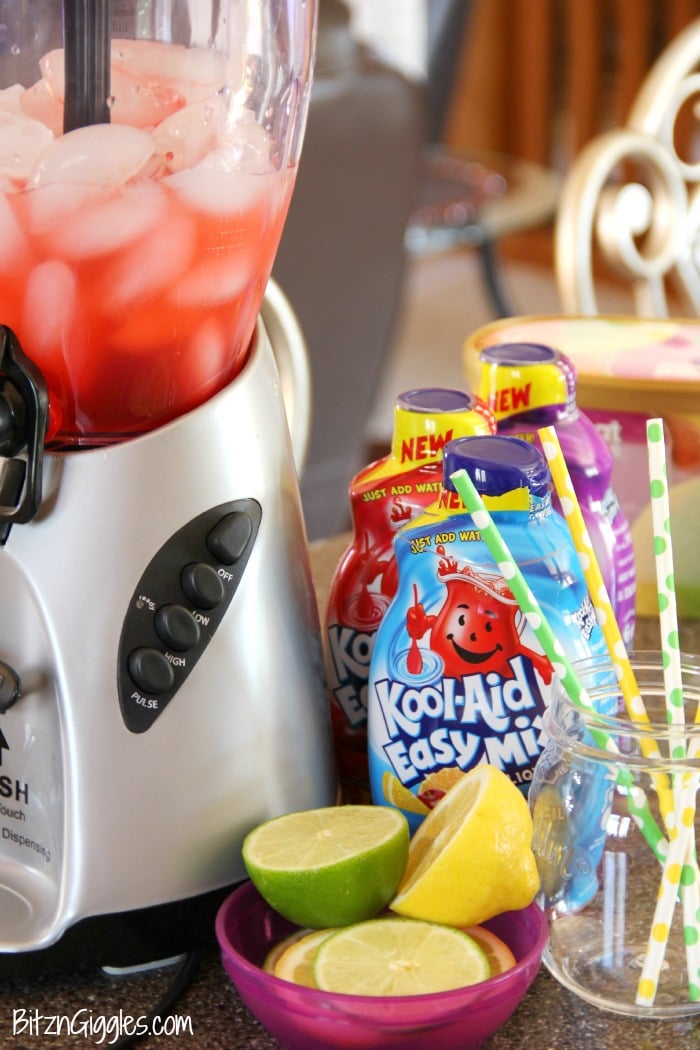 These slushies are so simple and they take no time at all to make. They're the perfect drink for my impatient kiddos, and they combine two of their most favorite things ever: Kool-Aid and sherbet. Often in the summer when my kids are given the choice between a slushie and ice cream, the slushie often wins out, believe it or not.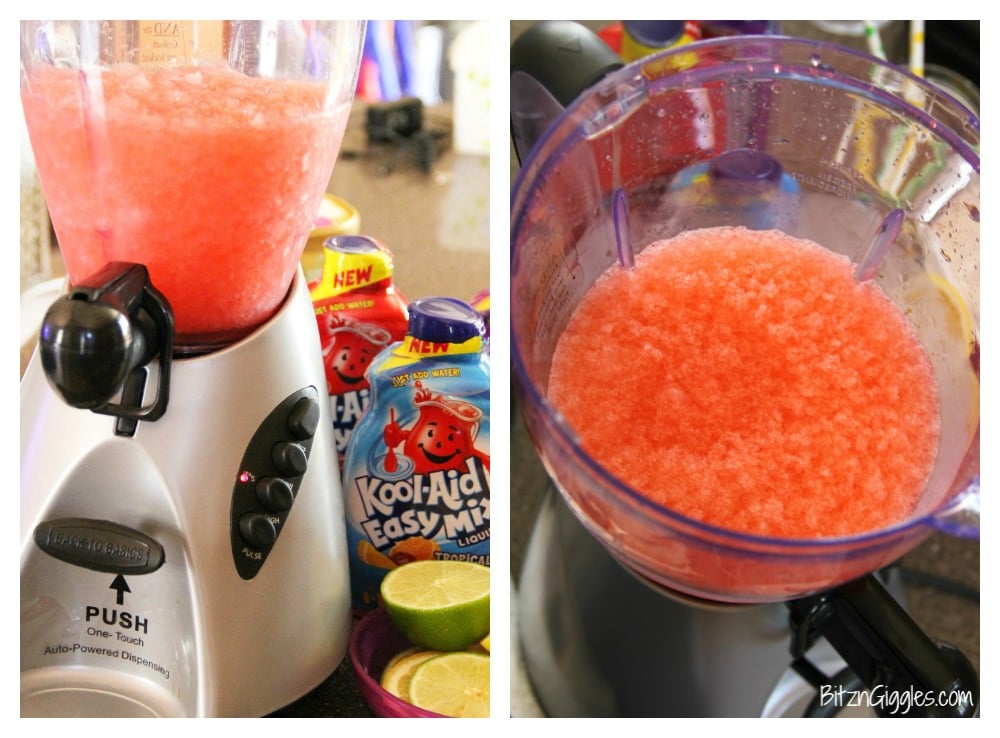 I love that the kids don't have to choose one or the other; with this drink, they get both!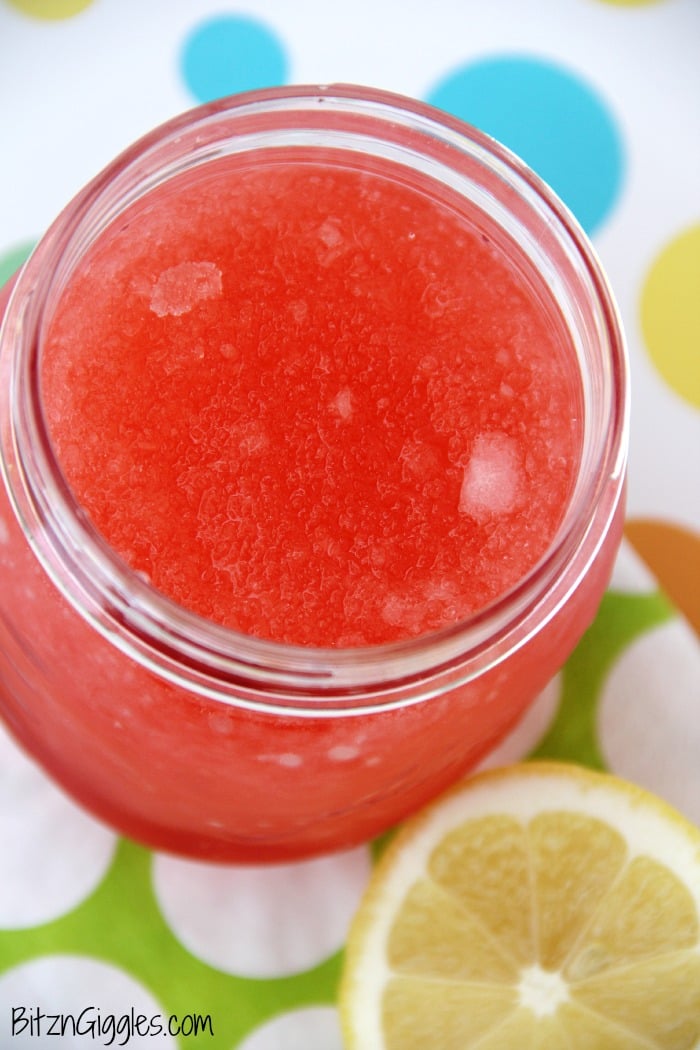 I blended ice, water, Kool-Aid Easy Mix and a little sugar until it was a nice slushy consistency. There's something magical about a blender. Well, it may not be magic, it may just be the noise.
Regardless, whenever I turn it on, the kids and dog come running. They know I normally only use it for special treats like shakes, smoothies and slushies. I'm thinking about just recording the noise on my phone so I have it handy in case I need to round up the family quickly. 😉
Anyway. . .back to the drink.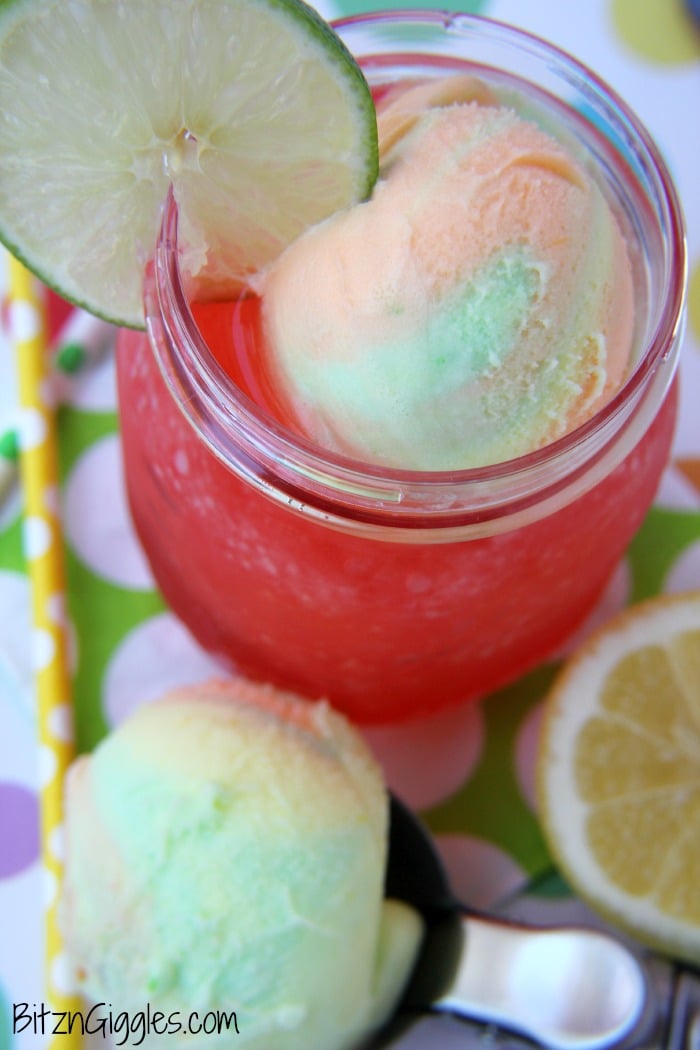 let's get ready for the finishing touch – a scoop of rainbow sherbet. As it melts into the slushie, it gives the drink a bit of creaminess and an additional pop of flavor. I knew the citrus flavors in the rainbow sherbet would complement the tropical punch flavor just perfectly. . .and they did.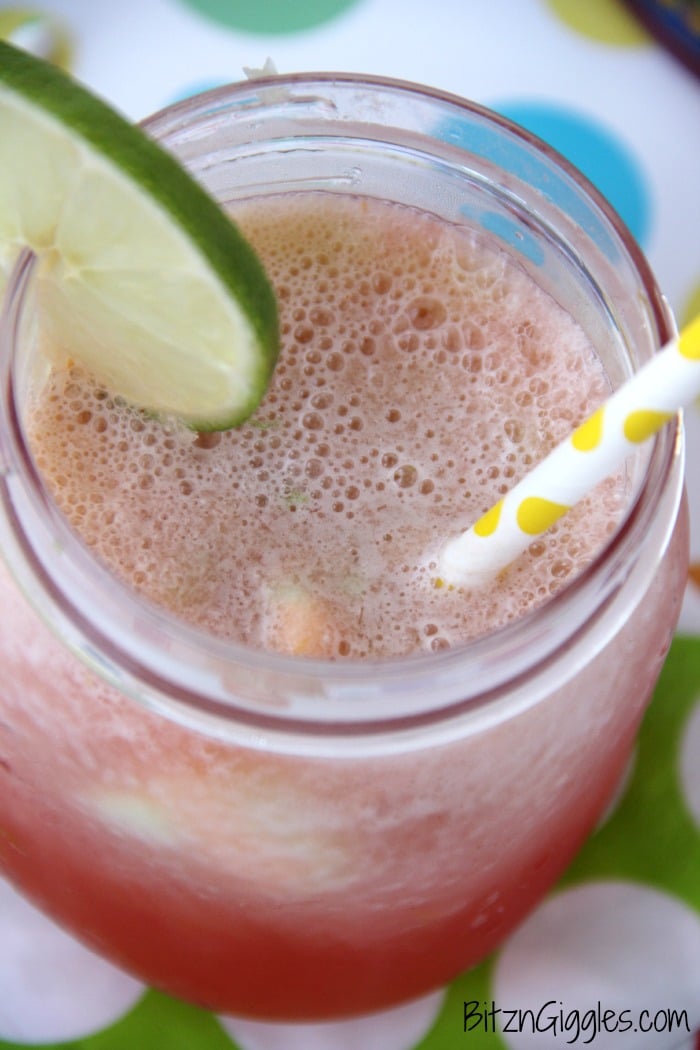 Once mixed in, the sherbet adds a bit of frothiness on top and swirls throughout the drink. The kids loved the sherbet and had fun mixing it in with their straws.
It won't be long until a whole crew of kiddos show up at my doorstep looking for some relief from the hot summer sun. No worries. I'm open for business. Heck, I'm going to have one with them! Bring on the sunshine!
The NEW Kool-Aid Easy Mix is available in Walmart stores now and you can even attend an in-store demonstration to see it in person! Which Kool-Aid Easy Mix flavor will you try first?!
Kool-Aid Sherbet Slushie
A refreshing Kool-Aid slushie topped off with a creamy scoop of rainbow sherbet!
Ingredients
1 1/2 cups water
2 cups ice cubes
7 tablespoons Tropical Punch Kool-Aid Easy Mix
1 tablespoon sugar
1–2 scoops rainbow sherbet
Instructions
Add the water, ice cubes, sugar and Kool-Aid Easy Mix to a blender and blend until ice turns to slush consistency.
Pour into two 8 ounce cups.
Add a scoop of rainbow sherbet to each cup.
Serve immediately.
Nutrition
Serving Size: 2
Calories: 117
Sugar: 18
Sodium: 42
Fat: 1
Saturated Fat: 1
Unsaturated Fat: 0
Trans Fat: 0
Carbohydrates: 27
Protein: 1
Cholesterol: 0

(Visited 4,451 times, 1 visits today)