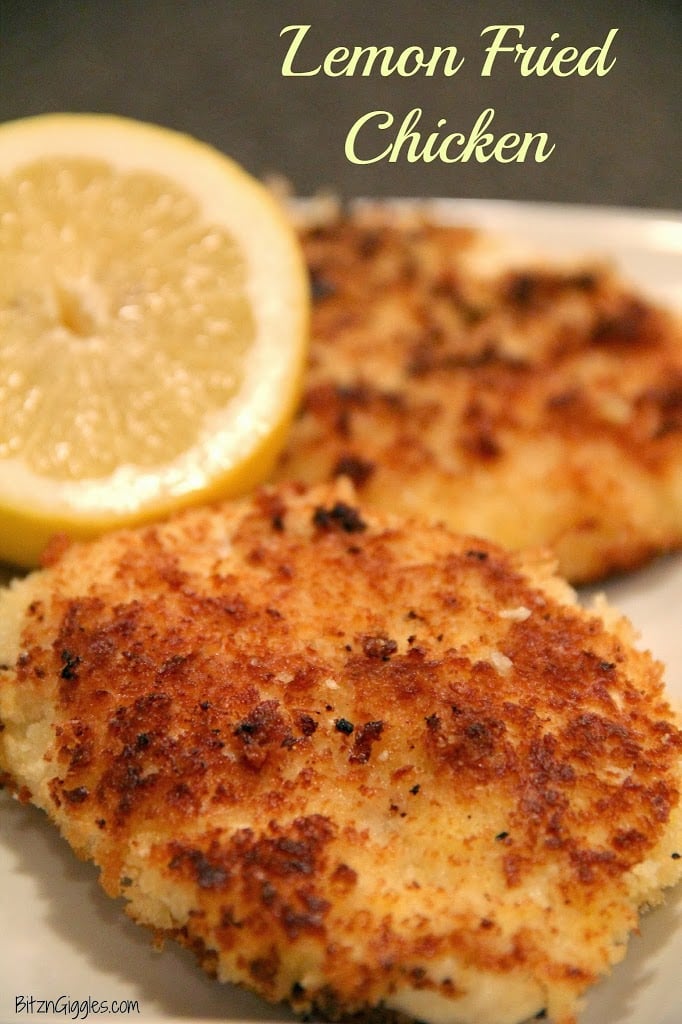 I've adored Eva Longoria since her debut on Desperate Housewives. She's always stunning and so put together. Who would have thought she's also a whiz in the kitchen? She actually released a cookbook back in 2011 titled, Eva's Kitchen. While I haven't purchased the cookbook, I did run across one of the recipes she included in it on the The Recipe Club and decided to try it because it looked and sounded divine.
It's a chicken dish she calls Lemon Fried Chicken. If I were to name it, I would call it Lemon Panko Chicken. The recipe calls for thin, tenderized pieces of chicken dredged in egg and panko, then pan-fried, sprinkled with salt and then soaked with lemon juice. The juice soaks through the crispy coating and adds excellent flavor to the chicken.
The first time I made this, my husband and I took our first bites and just looked at one another in amazement. This was definitely a winning dish. We've made it several times since then and it has definitely become a staple recipe at our house. I do the pan-frying of the chicken and he does the salting and lemon squeezing. We have a nice little assembly line for this dish. It's so simple with only a few ingredients and I promise you, it tastes amazing!
Here's what you'll need to make your own:
Ingredients:
3 lbs. thinly sliced chicken breasts
4 large eggs
4 cups Panko crumbs
Vegetable oil as needed for pan frying
Kosher salt to taste
3 lemons halved
Instructions:
Put the chicken breasts on a cookie sheet between two layers of plastic wrap and gently pound with a meat tenderizer until the breasts are about 1/8 inch thick,
In a small bowl, beat the eggs. Pour the Panko into another large, shallow dish ( I used a pie pan).
Coat the chicken on both sides with egg and then dredge both sides in the Panko. Place the chicken on a large baking sheet and continue with the remaining chicken.
Line a large baking sheet with paper toweling. In a large skillet over medium-high heat, heat the oil and place as many pieces of chicken in the pan that you can without over-crowding. Fry for about 3 minutes on each side until golden brown.
Transfer the pieces of chicken to the large baking sheet with paper toweling and immediately sprinkle with some salt and squeeze over a generous amount of lemon juice from a halved lemon.
Repeat until all of the chicken is cooked, adding more oil to the pan if necessary.
(Visited 5,840 times, 1 visits today)