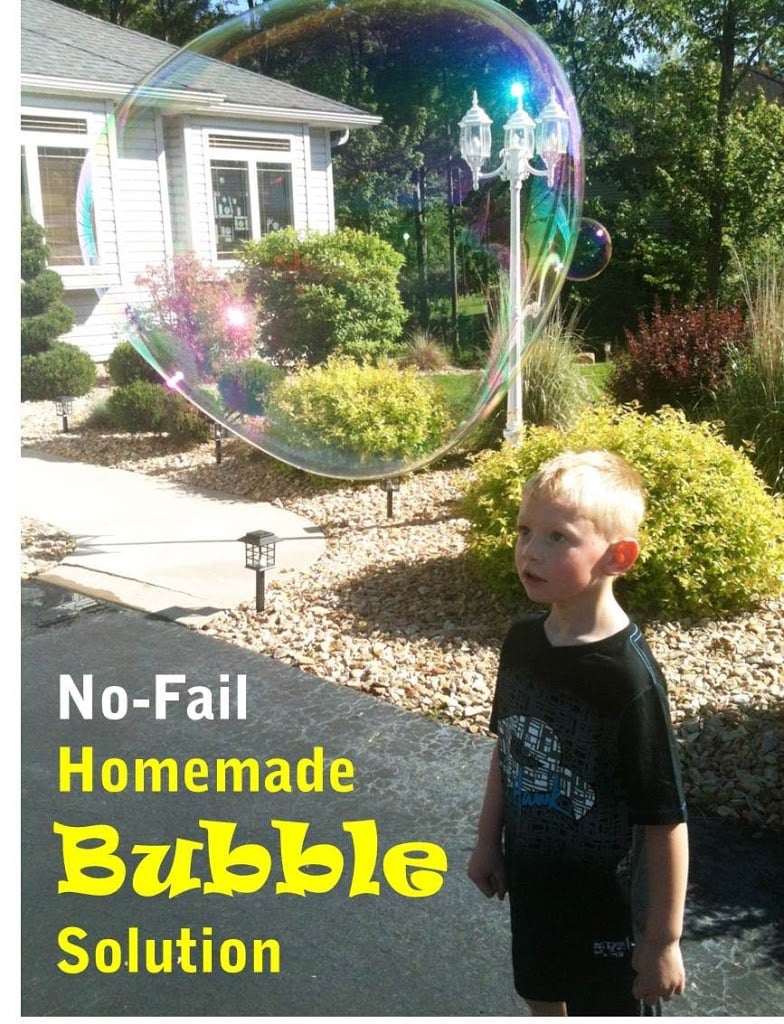 After a long winter, one of the things that gets me excited for the months ahead is when the stores start stocking their shelves with bubble solution, water toys and all sorts of colorful "play things" for spring and summer. My toddler was REALLY into bubbles this year and my 4 1/2 year old is starting to take an interest in science experiments and the like. I didn't want just "any" bubbles this year though. I wanted to impress my kids with some ginormous bubbles that would make their mouths drop open. Bubbles that were bigger than their heads, bubbles they could imagine almost climbing into to float away up into the clouds. I was on a mission.
I don't know if any of you feel this way, but I'm absolutely in love with Amazon.com. I don't necessarily buy
everything
from Amazon but you have to agree they carry almost anything you could ever think of. What I use Amazon for the most is product reviews from real people like you and me. It's how I make most of my purchases, whether I end up buying from them or not. I was on the search for an impressive bubble wand and decided on
this one
.
The wand arrived at our door two days later and we ripped the package open, ready for the big bubble show to begin. It came with a little bottle of solution that promised to make gigantic bubbles. We all were impressed and had lots of fun. . .that is until the bubble solution was gone. . .in the first 15 minutes. How frustrating. I think as parents we've all had those moments where we had invested in store-bought bubble solution only to watch our children dump or spill it all over the place. It happens all the time. Lumps form in my throat just thinking about it because I see my hard-earned money just going down the drain.
So, I was on the hunt again to find a recipe to make my own bubble solution. I needed to find something that was affordable to make, yet created big, beautiful bubbles for the wand we just bought. I found tons of recipes that used glycerin. That's fine, but I didn't have time to run to the craft store to try and find glycerin. I kept looking until I stumbled across a
bubble recipe from Martha Stewart
that used karo syrup which was something I
did
have. In my mind, if it was endorsed by Martha Stewart, I was willing to give it a go.
I actually halved Martha's recipe because I wanted to make sure we liked it. Here's the recipe I used:
No-Fail Homemade Bubble Recipe
5 cups water
2 cups dishwashing liquid (I used Dawn)
1/2 cup karo syrup
The results? See for yourself below. This is now my go-to recipe. It produces the gigantic bubbles I hoped for and the karo syrup makes them stronger, so they last longer. I've even been experimenting by adding a little more karo syrup than what the recipe calls for. I love using the green apple-scented Dawn. These bubbles smell so much better than store-bought. I couldn't care less if the kids get these all over their clothes!
Make these bubbles for your kids ASAP. You won't be disappointed. They're so huge they make their own shadows! My kids are ecstatic about these and they love to help me make them. I hope you enjoy them too! If you have other homemade bubble recipes that you love, please share them. I would love to hear from you!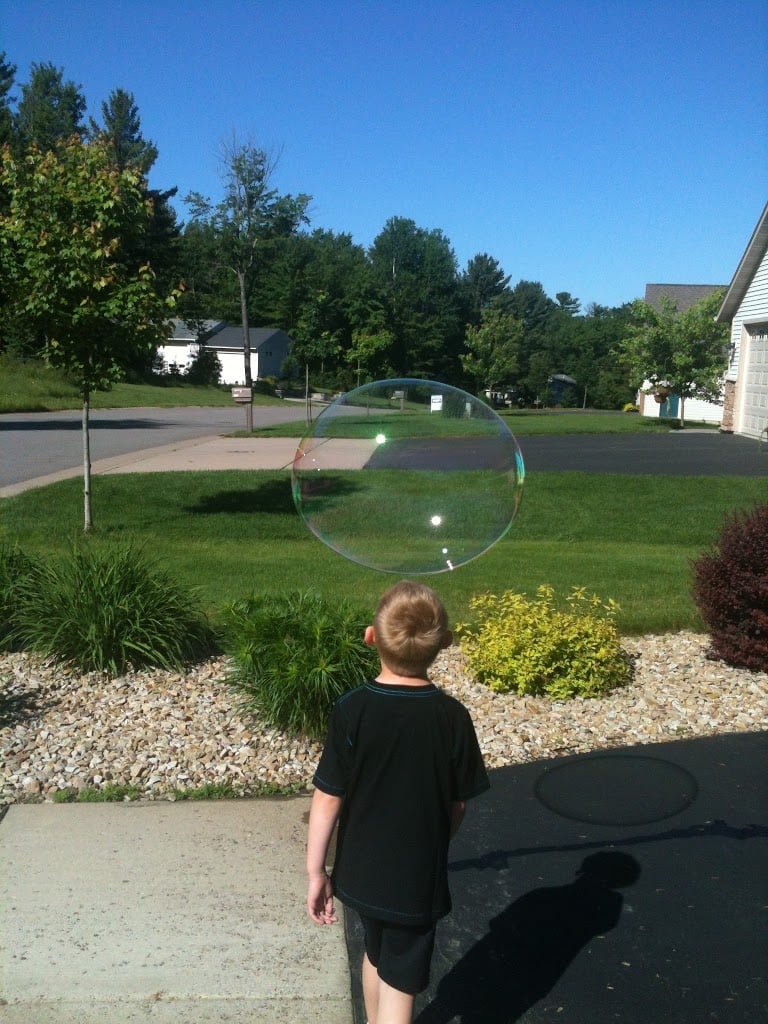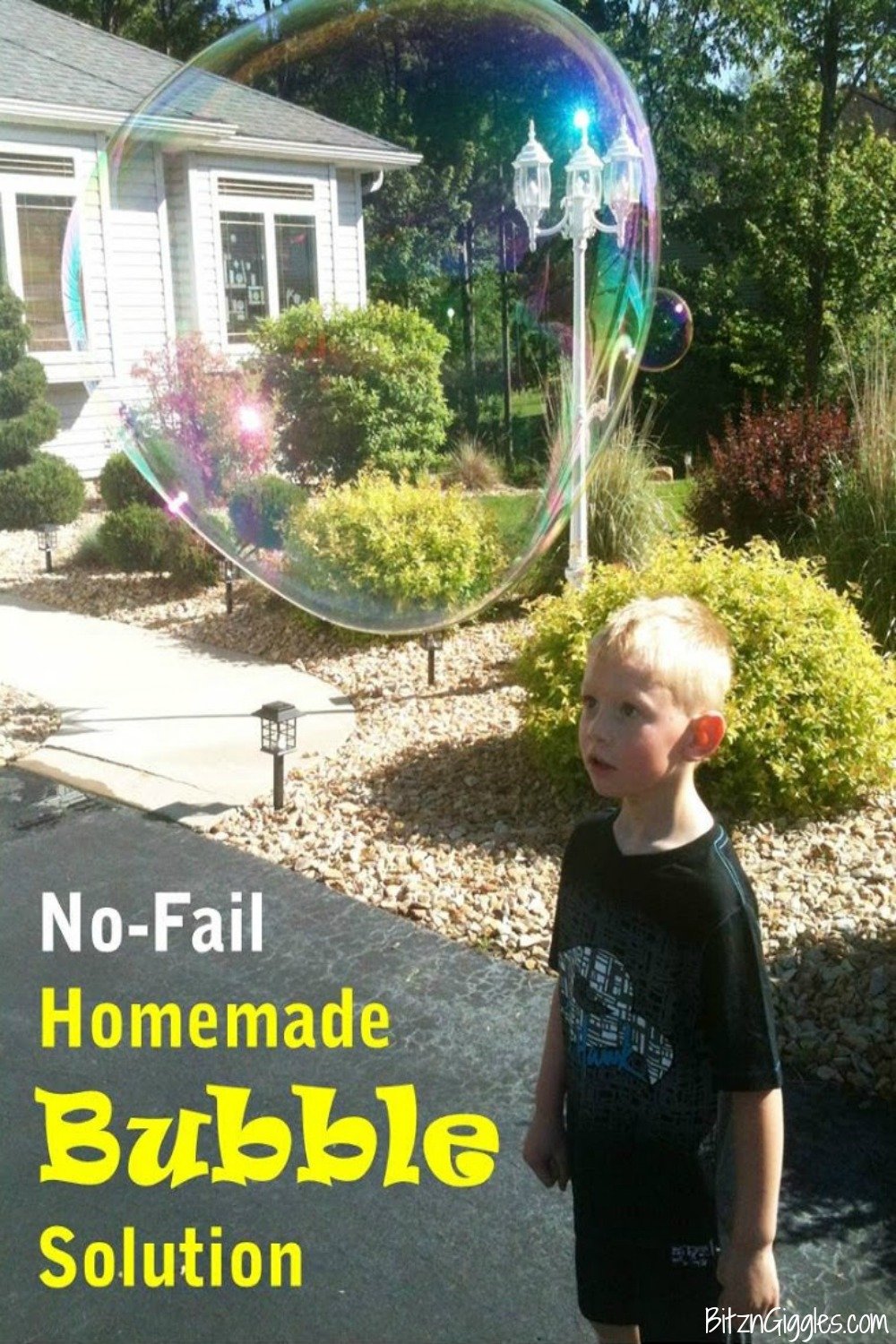 (Visited 29,306 times, 1 visits today)