Onion-Crusted Pork Tenderloin – A mouth-watering pork tenderloin encrusted in French fried onions and drizzled with golden mushroom sauce.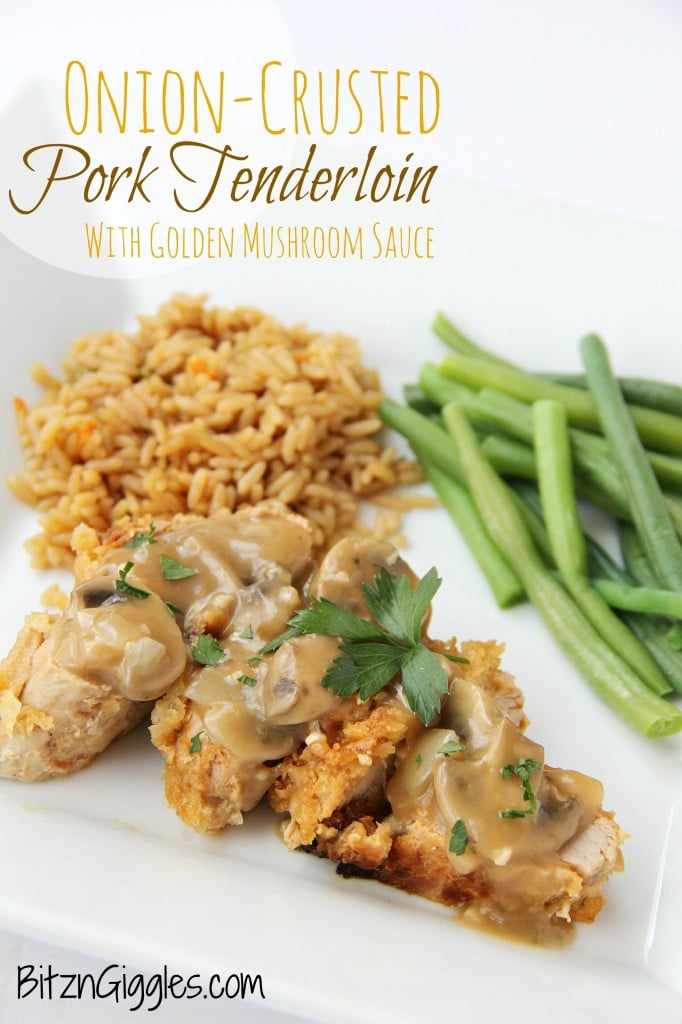 This post is part of a social shopper marketing insight campaign with Pollinate Media Group® and Smithfield®, but all my opinions are my own. #pmedia #PutPorkontheMenu http://my-disclosur.es/OBsstV
It's crazy to think that Thanksgiving is only weeks away! It's time to decide who's hosting the glorious meal this year and get to creating the menu! But, let's stop right there. Have you ever considered serving something other than the traditional turkey to your guests?
My husband's extended family always gets together for Thanksgiving, and his grandmother always prepares TWO choices of meat. I'm pretty lucky to be part of this family, right? We usually have a turkey with a chicken. . .or sometimes a ham. When all is said and done, these meals are a whole lot of WORK. Thanksgiving should be a holiday that can be enjoyed even by those cooking the meal! So often our dear mothers and grandmothers are the last to sit down at the table because they are trying to time the meal out just right and keep all of the bowls on the table filled and piping hot.
Today I'm proposing an option to consider for your Thanksgiving meal that isn't turkey, it's this delicious recipe for Onion-Crusted Pork Tenderloin With Golden Mushroom Sauce. Mouth-watering and encrusted in French fried onions, this tenderloin is seasoned and cooked to perfection, then drizzled with golden mushroom sauce.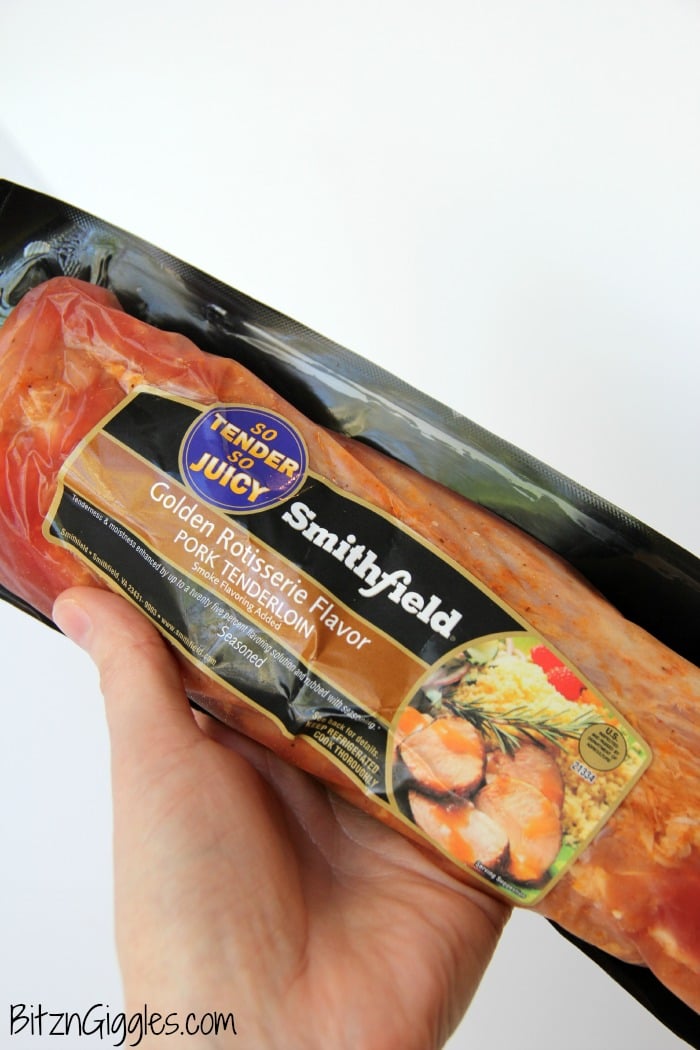 I started out with a Smithfield® Golden Rotisserie Pork Tenderloin I picked up at Walmart. I love their marinated 100% fresh pork because they've done all of the prep work for you. It's already perfectly seasoned and marinated so all I need to do is pull it out of the package the day I need it. No messy marinating bags, no prep, no problem.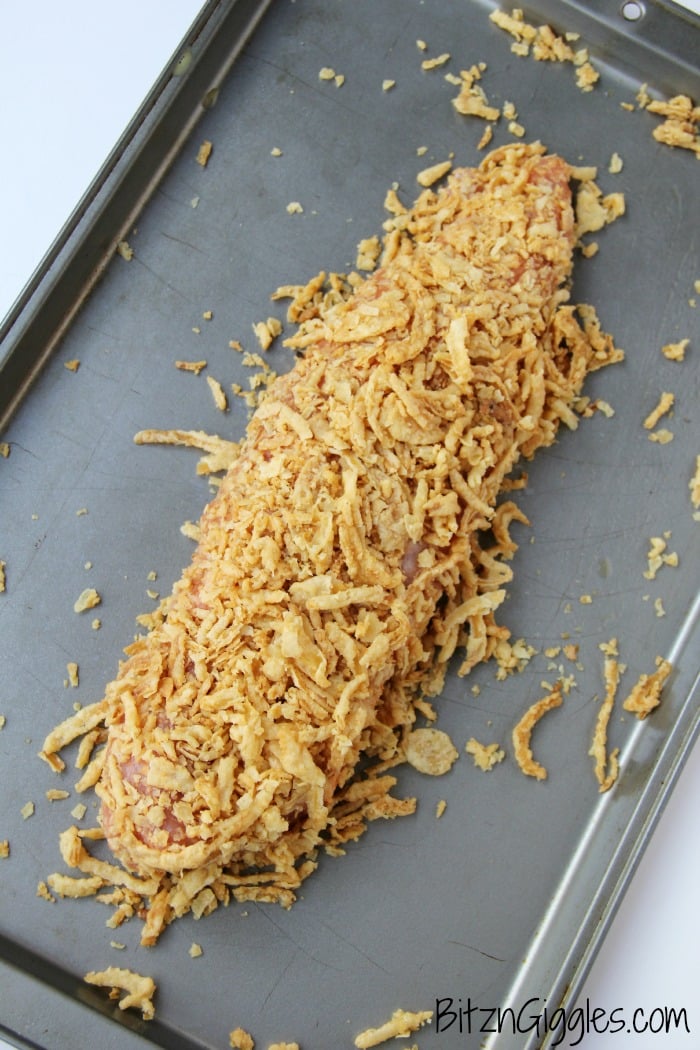 So, I decided to cover the tenderloin in French fried onions which I have a slight addiction to. Around the holidays that's okay, right?

To prevent the onions from burning while the meat cooks, you need to tent the meat with foil. This ensures both the meat and the onions cook to perfection. And that's what we're going for here! Place the tenderloin in a preheated 400 degree oven until the meat reaches an internal temperature of 145 degrees.
While the meat cooks, you prepare the mushroom sauce. The sauce is a combination of fresh mushrooms, onions, Cream of Mushroom with Roasted Garlic soup, some milk and a pinch of  extra seasoning that really just puts this dish over the top.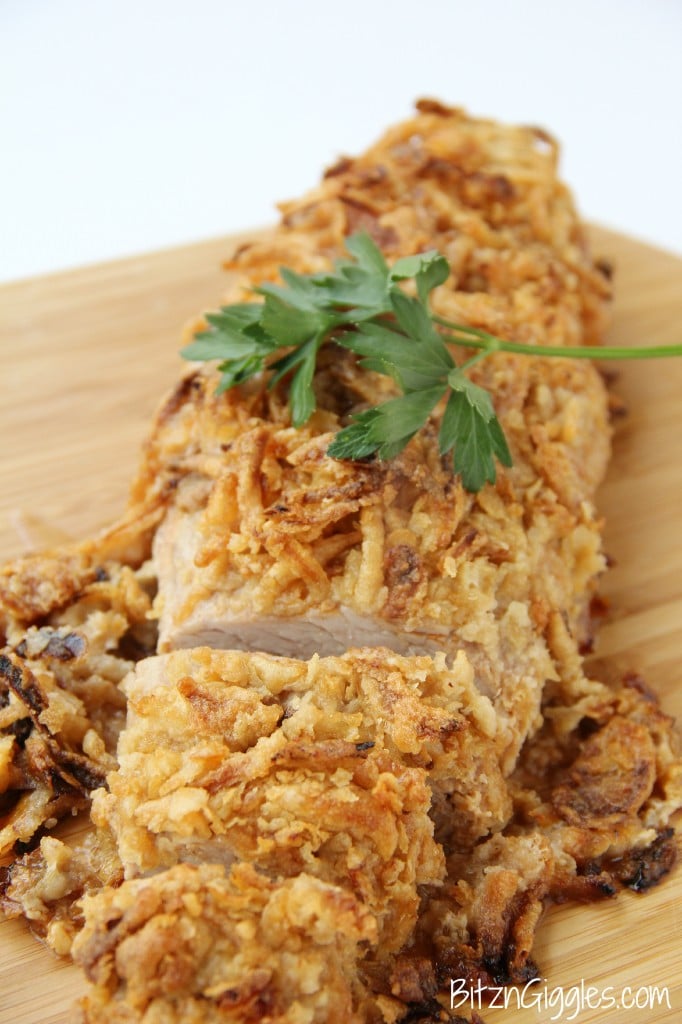 The best part about it is that it doesn't need a ton of whisking and babysitting while it thickens. When the meat is ready, remove the tenderloin from the oven and let it rest for about 5 minutes. So tender, so juicy, so beautiful!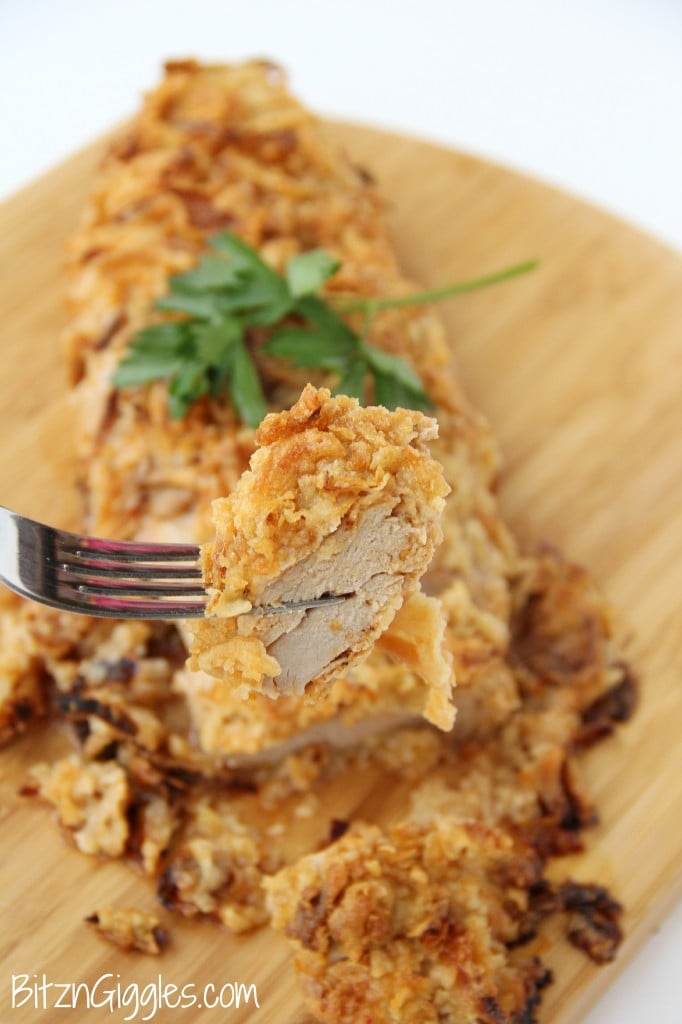 It's really quite heavenly, and is the perfect main course for a stress-free Thanksgiving dinner. Drizzle the golden mushroom sauce over the tenderloin pieces, garnish with a bit of parsley and you're going to have some very impressed dinner guests! And guess what? You'll actually get to enjoy the meal, too! Oh, what a wonderful thing to be thankful for!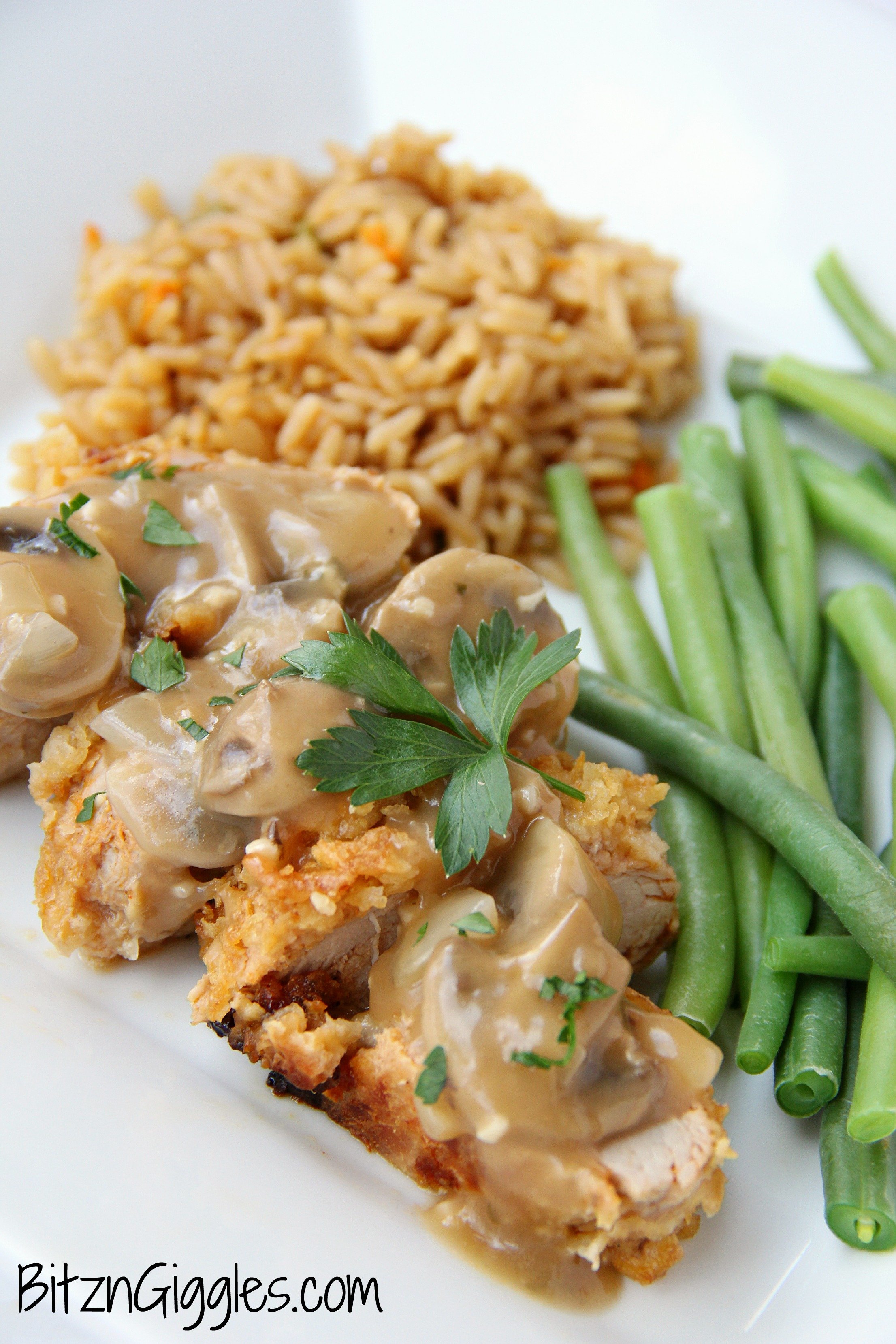 If you'd like something else to be thankful for, I have a Smithfield pork coupon (available for a limited time only) for you to pick up your very own marinated pork tenderloin from Walmart at a discounted price! For additional recipe ideas, visit the Smithfield website and join in on the fun on the Smithfield Facebook page!
Onion-Crusted Pork Tenderloin With Golden Mushroom Sauce
A mouth-watering pork tenderloin encrusted in French fried onions and drizzled with golden mushroom sauce.
Ingredients
1 large egg
6 ounce container French fried onions, crushed
Smithfield Golden Rotisserie Pork Tenderloin
4 cups sliced fresh mushrooms, cleaned
1 can (10 3/4 ounces) Cream of Mushroom with Roasted Garlic Soup
1/4 cup milk
2 tablespoons butter
½ cup chopped onion
1/2 teaspoon salt
1 tablespoon minced garlic
Fresh parsley, chopped (for garnish)
Instructions
Preheat oven to 400 degrees.
Whisk the egg in a small bowl.
Dredge the tenderloin in the egg and roll in the crushed French fried onions until completely covered.
Place the tenderloin onto a greased shallow baking pan.
Tent a piece of tinfoil over the tenderloin to prevent the onions from burning and place in the oven for 20-30 minutes.
While the meat is cooking, in a sauce pan, sauté the onion, garlic and mushrooms with the butter and the salt.
Whisk in the soup and the milk and cook the mushroom mixture for 10 minutes or until the sauce reaches the consistency you like.
When the internal temperature of the pork reaches 145 degrees Fahrenheit, remove the pork from the oven and allow the meat to rest for 5 minutes.
Spoon the sauce over the tenderloin with some chopped fresh parsley for garnish when serving.
(Visited 4,798 times, 1 visits today)