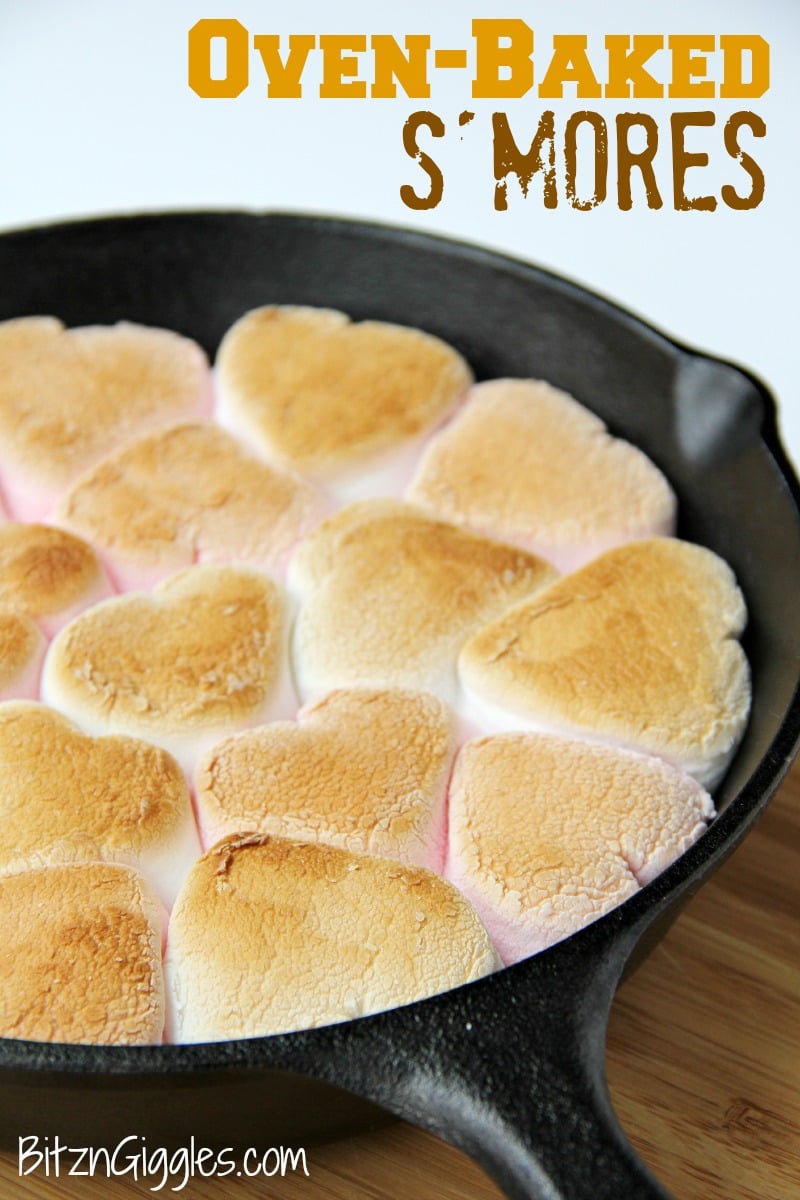 Last weekend we packed the family into the car and headed "up north" to our lake cabin. It's seasonal, which means we "winterize" it around October – turn the water off, shut off the heat and remove all liquids that could freeze. And we close it up. So sad.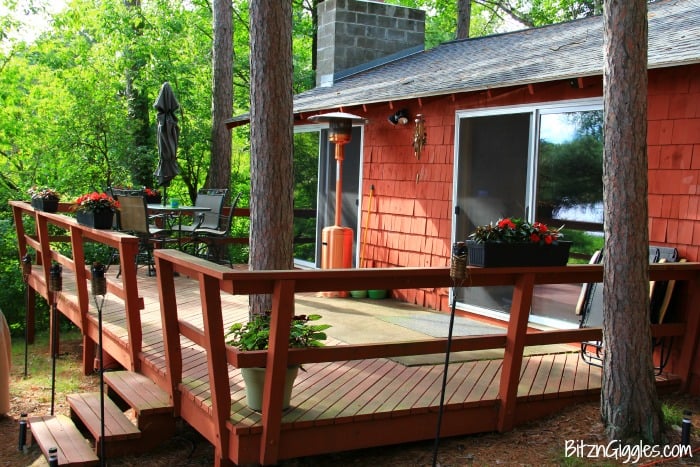 We check on it once or twice during the winter and spend the rest of the time watching the calendar, anxiously awaiting the first signs of spring. Come spring, we start opening it up again, cleaning and preparing for a summer filled with fun, laughter, good friends, family and, of course, s'mores.
Our winters here in Wisconsin seem to last a lifetime and it's definitely way too long to wait to enjoy one of our favorite summer time treats, so we've learned to compromise – and I just make them in the oven. The Oven-Baked S'mores I'm sharing today are ooey, gooey and delicious. A perfect distraction from the cold, wintry days we've been experiencing for the past several weeks.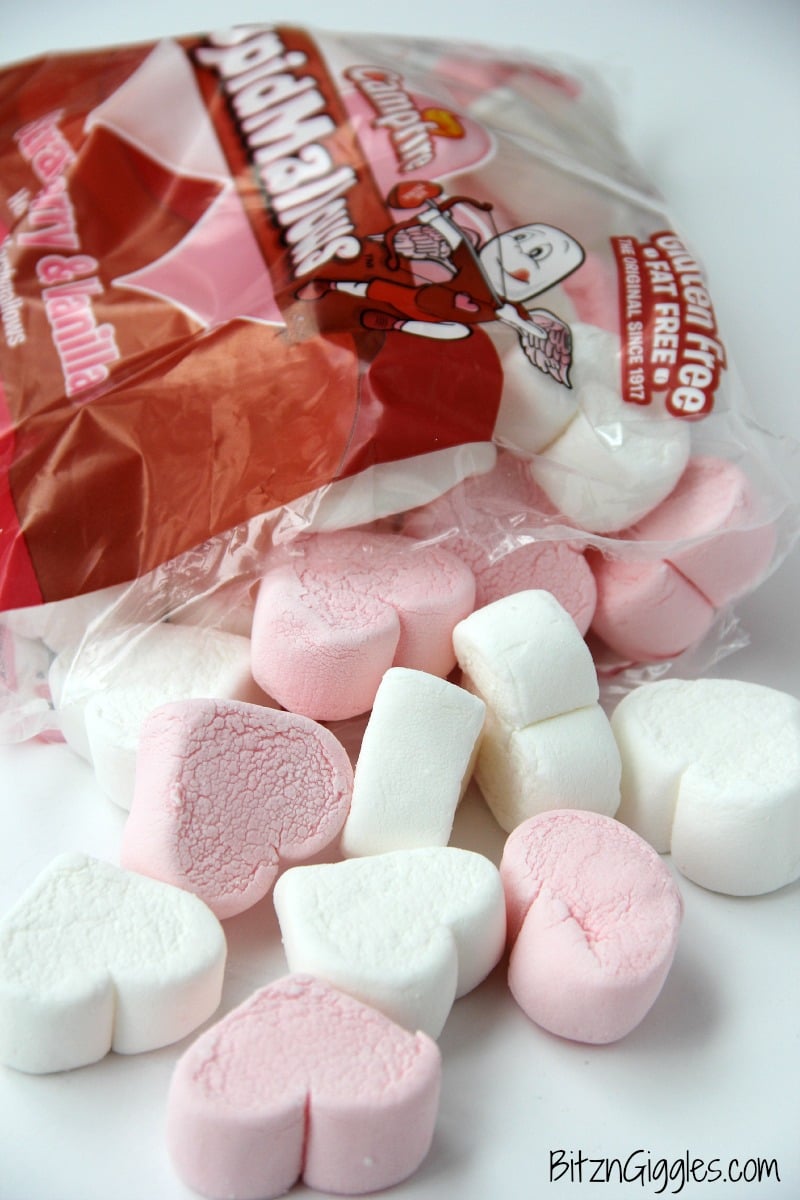 I ran across these heart-shaped marshmallows (Cupidmallows to be exact) in the store the other day. Cutest things ever for Valentine's Day, are they not? Somehow they ended up in my cart (I have no idea how that happened) and when I was checking out, I knew exactly what I was going to make that evening for the family.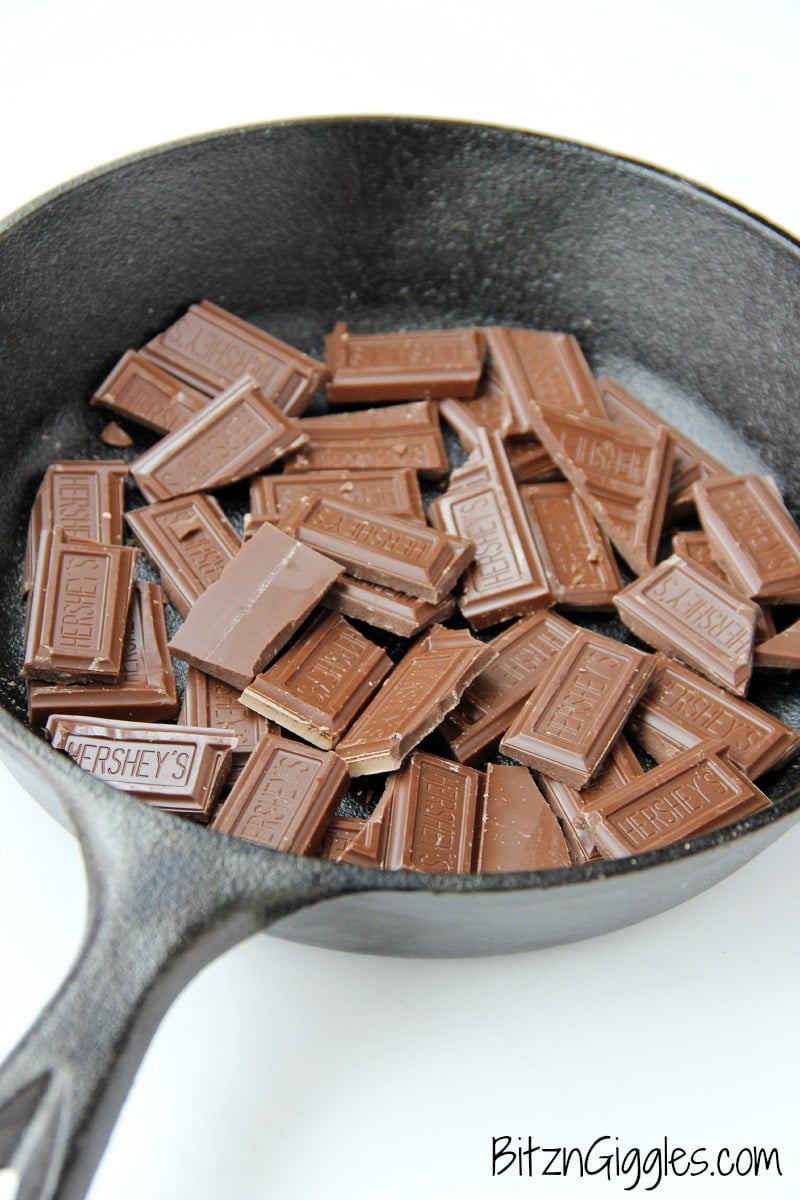 I actually had some chocolate bars left over from this summer up at the cabin, and this was a great way to use them up. I broke apart three Hershey's Chocolate Bars and put them into my mini 8 inch cast iron skillet.
If you don't have Hershey Bars, it's okay. Any chocolate will do. Chocolate chips would work great, too. Whatever chocolate you put in the pan, just make sure to break it apart into smaller pieces or it won't melt correctly.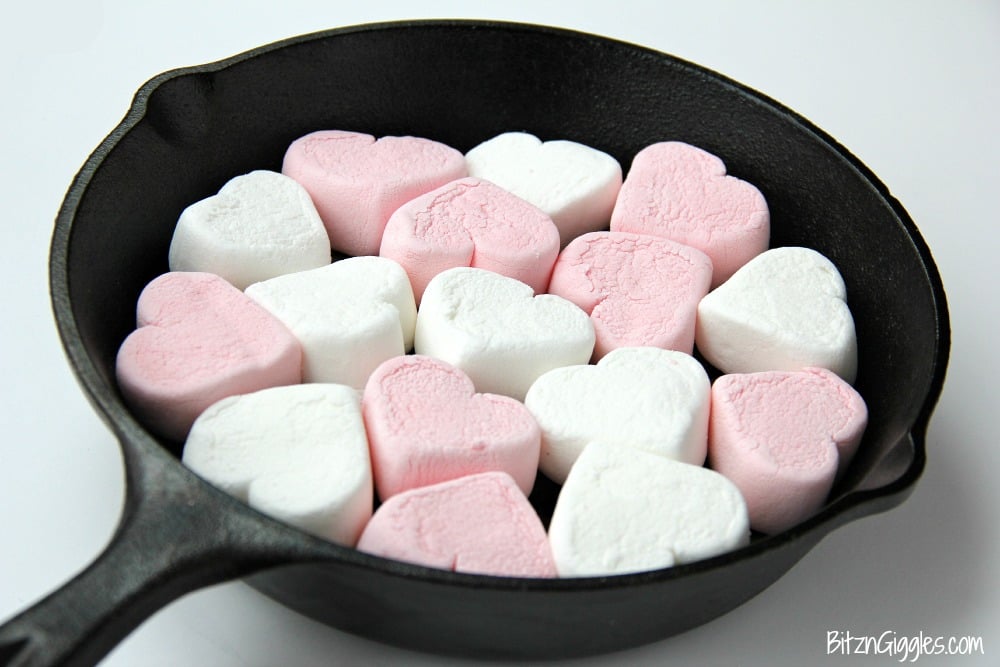 After the chocolate is in, place the marshmallows on top. I used about 16 marshmallows for my pan. Just make sure they fill up the pan. You can use mini-marshmallows if you'd like as well.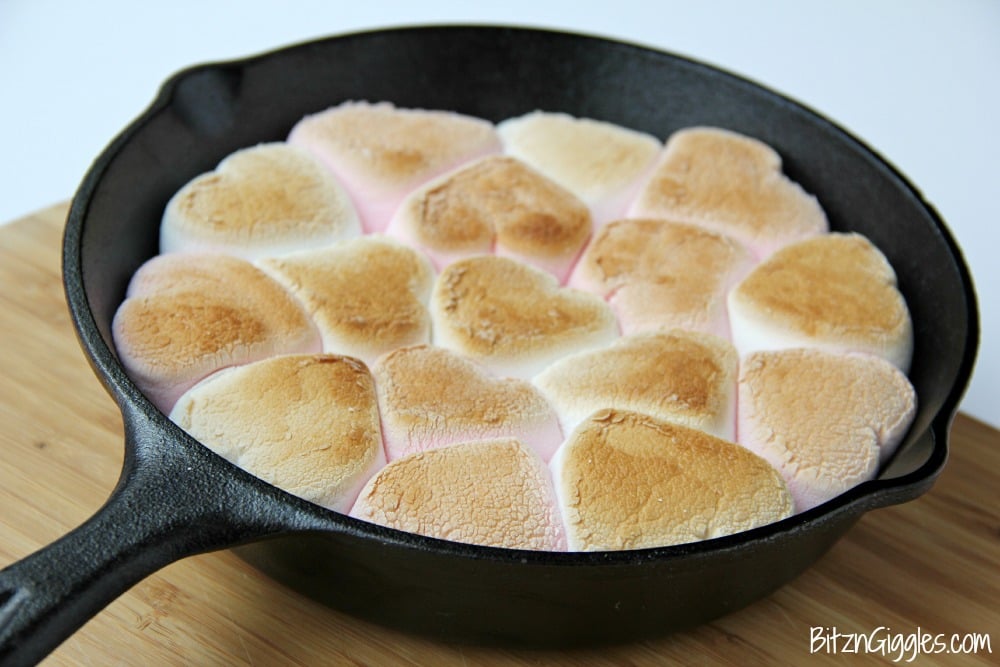 I baked my s'mores for about 10 minutes in the oven, checking on them periodically.
Watch them closely, and when the marshmallows start to brown, take them out. Let me tell you what. This method of making s'mores is much easier than trying to brown marshmallows over a fire. I've burned my fair share of 'mallows over the years. These, however, come out perfect. . .every time.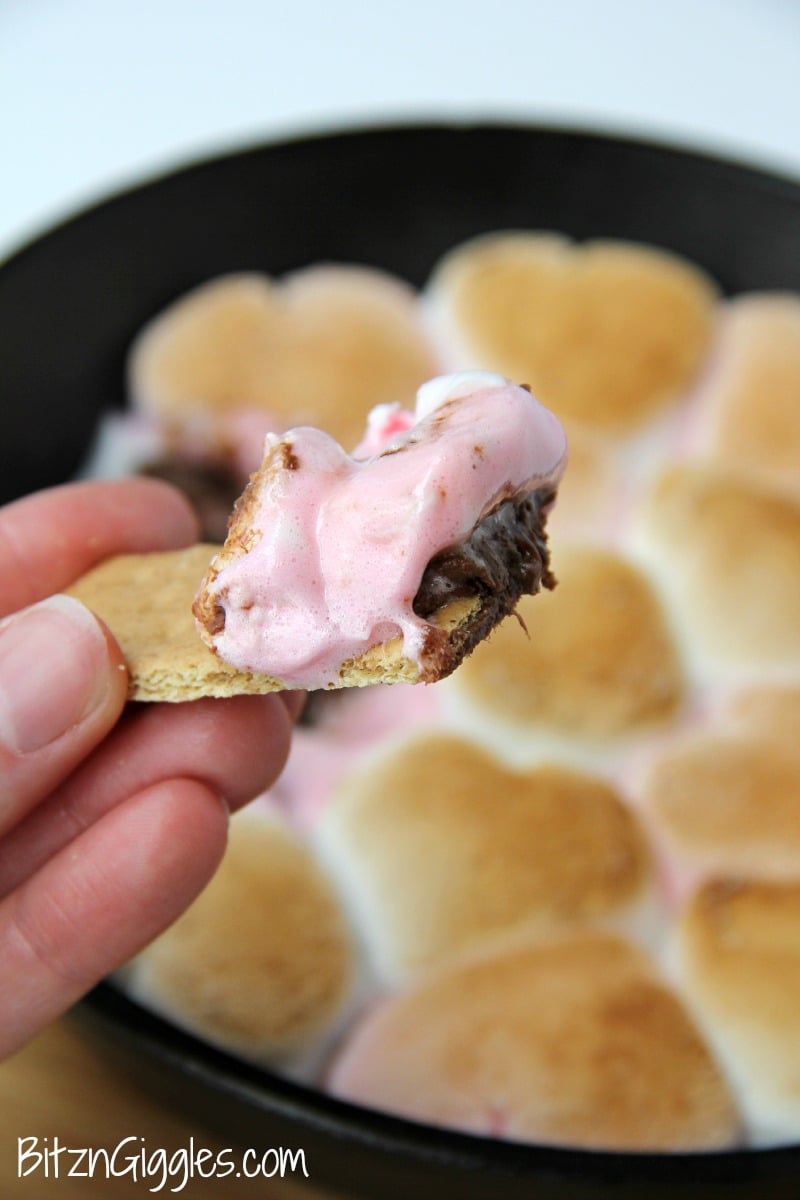 Take a piece of graham cracker and start dipping. Right away. How wonderful is this? A little chocolate, a little marshmallow and a whole lot of taste. You NEED to eat this stuff as soon as it comes out of the oven, trust me. When it begins to cool, it's difficult to scoop out of the pan.
If you want to make it last a bit longer, you could try placing the skillet on top of a sauce pan with boiling water – kind of like a double broiler. You certainly wouldn't want to place it on a warm burner – you'll scorch the chocolate. . .no one likes burnt chocolate, am I right? Just be careful please if you try this. I claim no responsibility for kitchen accidents. To err on the side of caution, just eat this stuff when it's hot, mmmmkay?
Start gathering your ingredients and make these oven-baked s'mores ASAP. I'll bet you have all of the ingredients already, don't you? If you don't have the heart-shaped marshmallows, it's OKAY – just use whatever kind of marshmallows you have. It's a delicious dessert to share with your honey this Valentine's Day – a perfect dessert for two!
Oven-Baked S'mores
An ooey, gooey, delicious s'mores treat you can prepare right in your oven any time of the year!
Ingredients
3 Hershey Chocolate Bars, broken up or 1 cup chocolate chips
Marshmallows, enough to cover the bottom of the pan
Graham crackers, for dipping
Instructions
Preheat oven to 450 degrees Fahrenheit.
Put the chocolate in the bottom of a cast iron skillet.
Cover with marshmallows.
Bake in oven for 8-10 minutes or until the tops of the marshmallows begin to brown.
Use graham crackers for dipping.
Nutrition
Serving Size: 2
Calories: 379
Sugar: 37
Sodium: 72
Fat: 20
Saturated Fat: 12
Unsaturated Fat: 6
Trans Fat: 0
Carbohydrates: 45
Protein: 5
Cholesterol: 15
(Visited 6,662 times, 1 visits today)