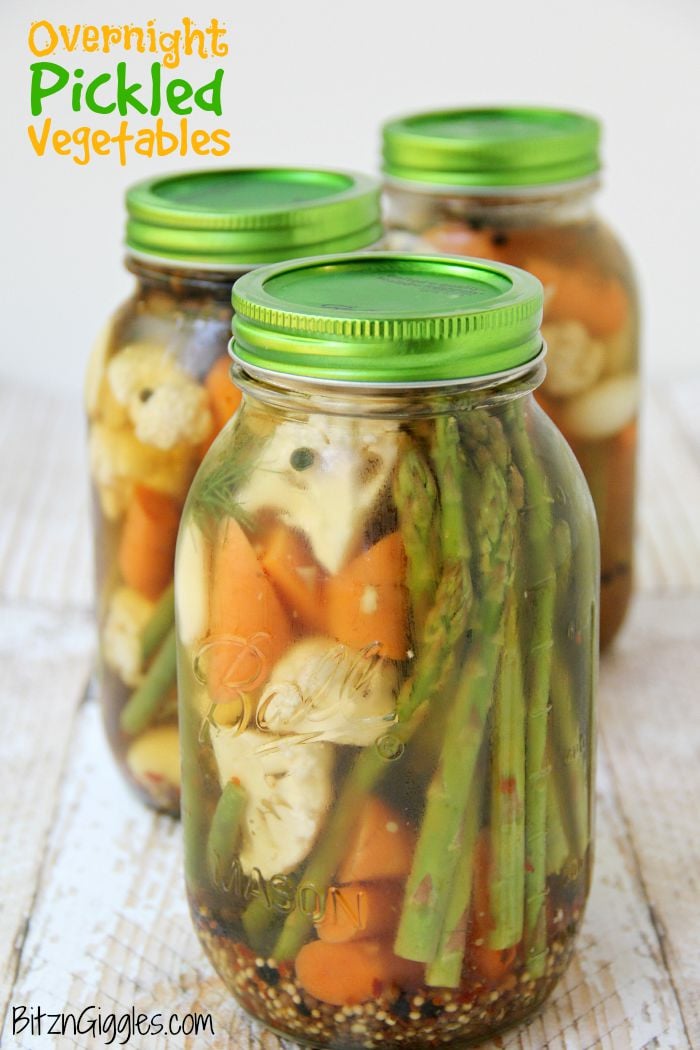 Let me tell you what. It's canning season. . . HOWEVER, this season, I've not canned at all. Why? Life has been too busy. Lame excuse, right? The first time I canned anything was with my friend, Terrie. We started with garlic dill pickles. The next year we did more and added a little jalapeño. The next year we tried out one of my relative's dilly bean recipes (in addition to the pickles). And you can imagine how it went on from there. Well, this year I've done nothing. Zilch. Nada. Null. Blah. Blah. Blah.
So, I'm starting to ration the pickles I do have left to get us through the winter. I only have about 12 jars left. In Wisconsin, between Green Bay Packer football games and parties up at the lake, that's cutting it pretty close. Bloody Mary's just are not the same without a homemade pickle or two. Trust me.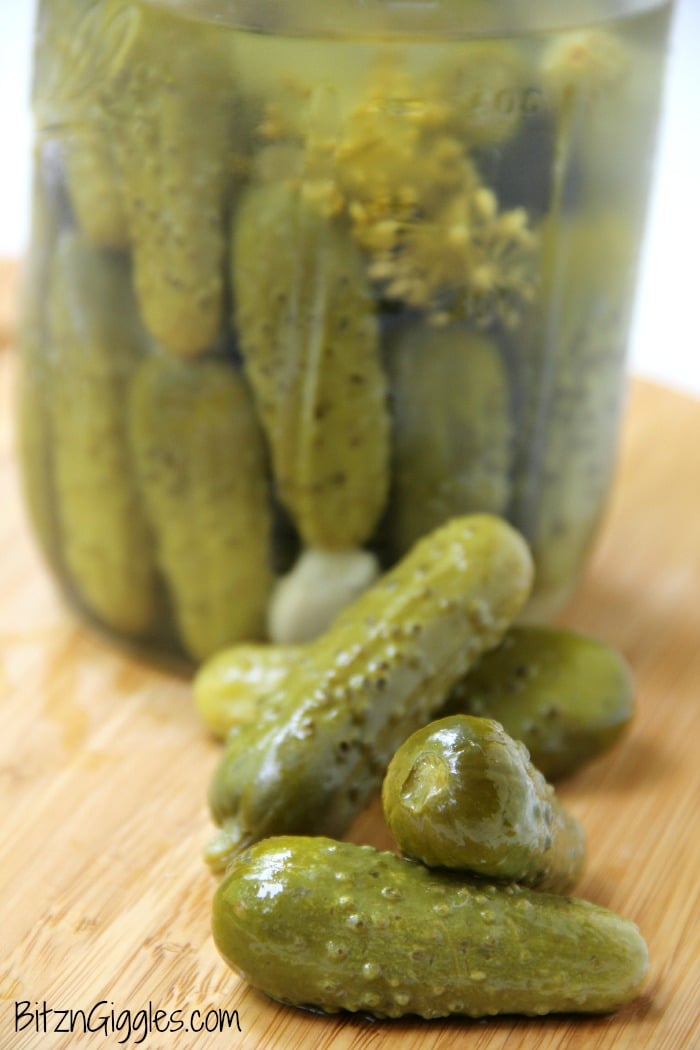 On the bright side, Terrie did can some dilly beans a couple weeks ago, so I hope she feels sorry for me when football season really kicks in and decides to share a jar or two. Psst. . .Terrie, if you're reading this, my birthday is October 8. 🙂
Alright, so even though I didn't CAN this year, I did have enough time to make these Overnight Pickled Vegetables. A couple of quick notes about these veggies:
You can eat them alone or stick them in a Bloody Mary (a jar of these veggies makes a great gift!)
There's no waiting once you lid and band them – you can eat them the next day
They take minutes to make
They will impress your friends (You'll get a lot of, "You made these?")
THEY ARE DELICIOUS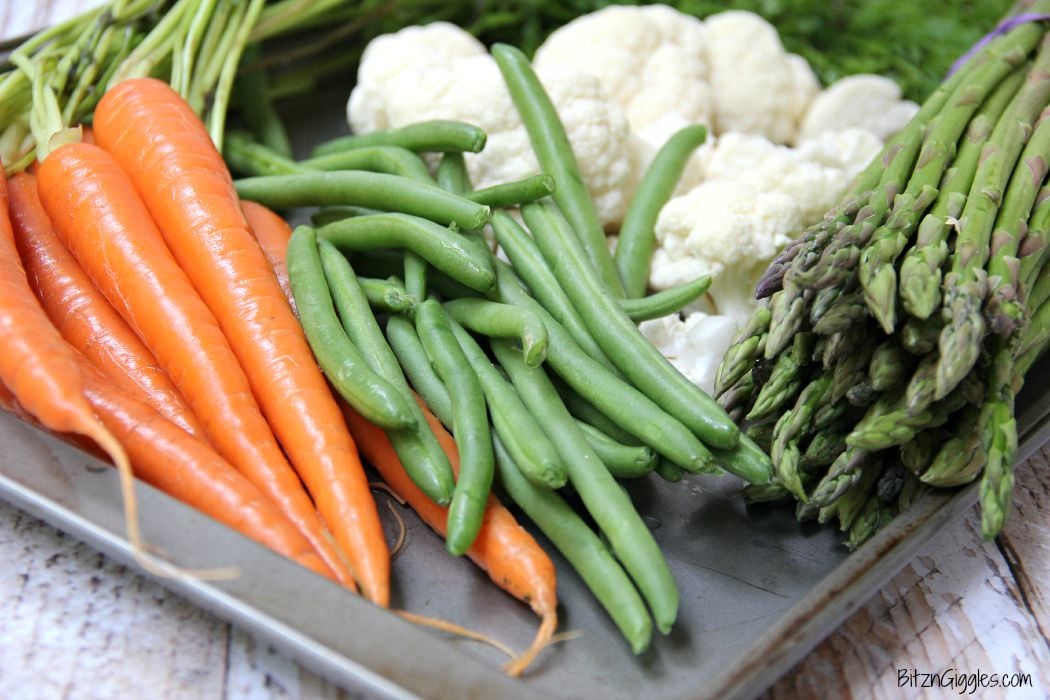 I mean, take a look at these fresh vegetables. Just for the record, I didn't even peel my carrots. I kept them "rustic" looking because that's the way I like them!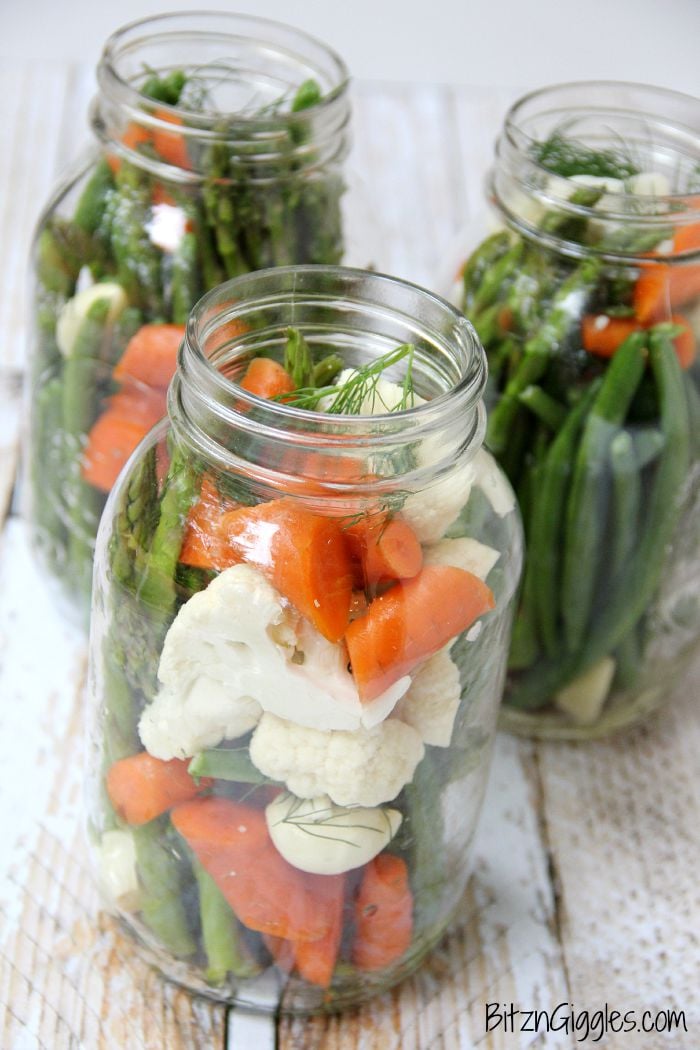 The recipe I'm sharing today makes one quart of vegetables. I tripled the recipe and made three quarts for my family. The brine is a combination of vinegar, water, sugar and a variety of whole seasonings and spices.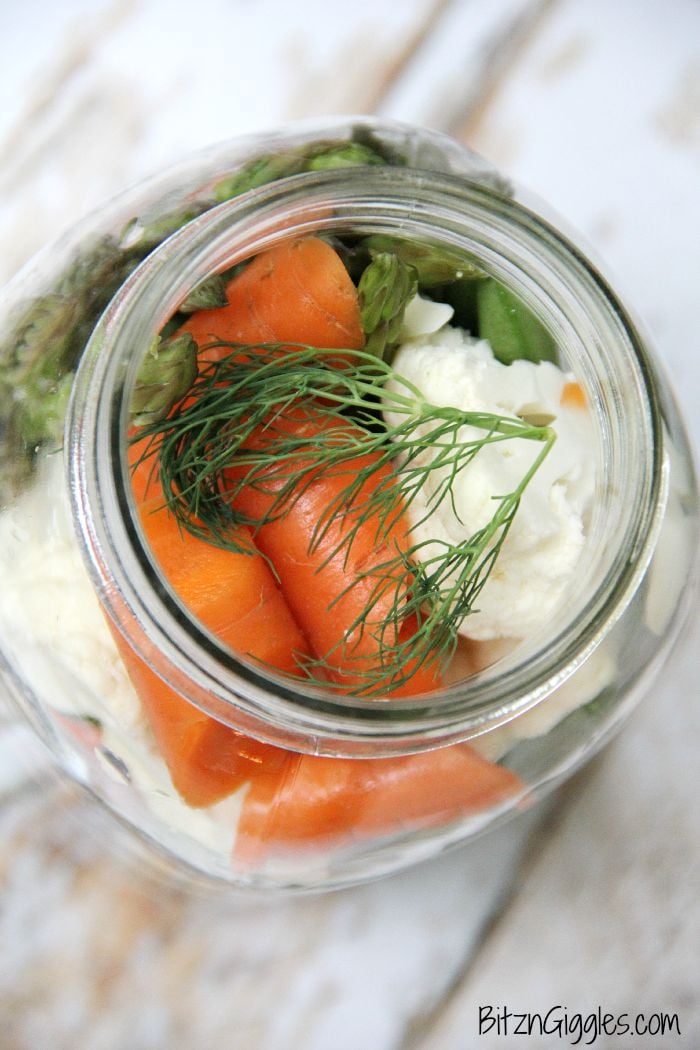 Fresh peeled garlic and dill sprigs are added to the bottom and the top of the jar, just like my dill pickle recipe. Once the brine is poured into the jar, you lid the jar, band it and place it in the refrigerator overnight.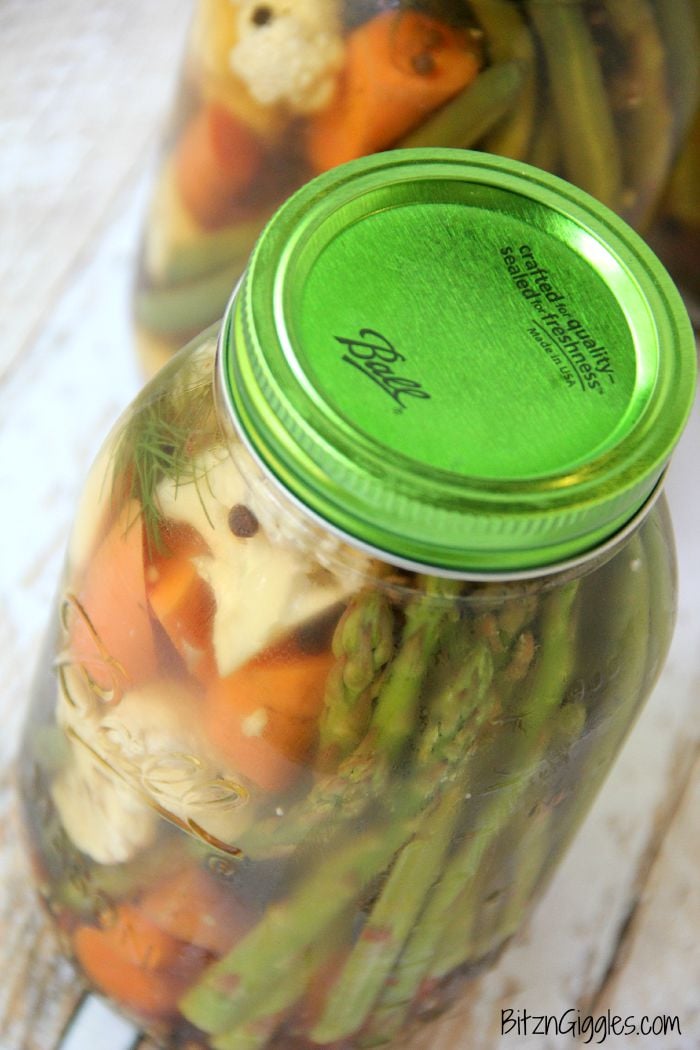 In the morning, these veggies are ready for a taste test. While you can eat them the next day, they continue to get more flavorful with time. The vegetables will keep for a few weeks in the fridge. When you run out, just make more. It's that simple.
So, if life is busy for you, too, and you just don't have enough time this year to can, make these delicious pickled vegetables! They're as impressive as pickles, but much more simple, and practically. . . effortless!! Enjoy!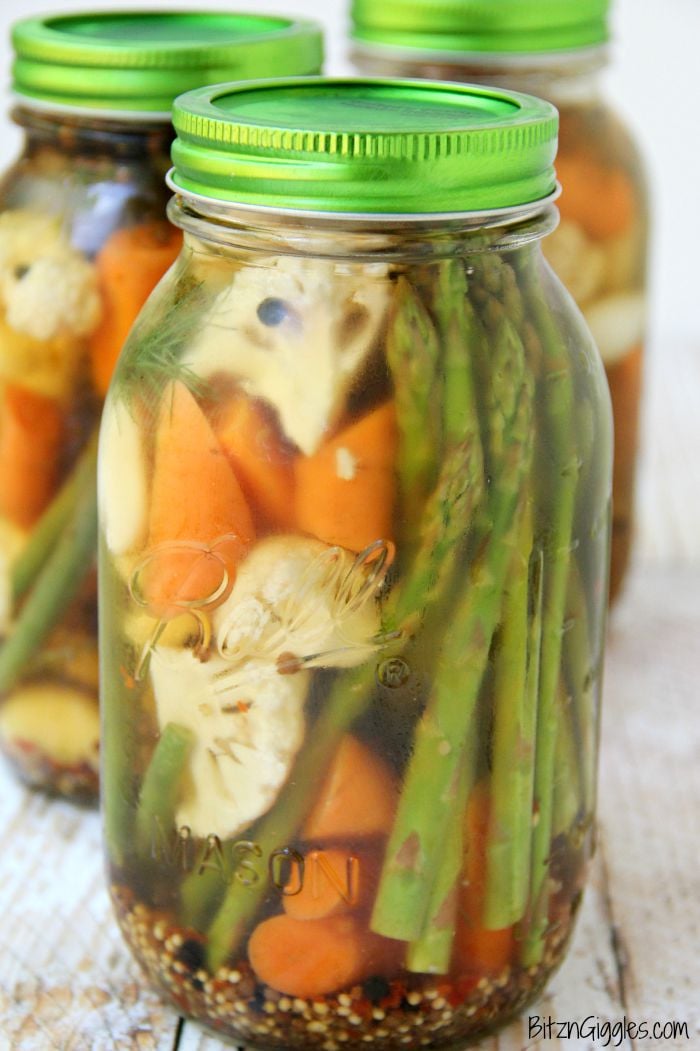 Overnight Pickled Vegetables
Perfectly pickled vegetables, great for eating alone or garnishing your Bloody Mary!
Ingredients
10 green beans, ends trimmed
10 asparagus spears, trimmed
4 carrots, sliced at an angle
4 cauliflower chunks, cut into smaller pieces
2 cups distilled vinegar
1 cup water
3/4 cup sugar
2 tablespoons kosher salt
4 garlic cloves, peeled
2 fresh dill sprigs
1 tablespoon black peppercorns
1 tablespoon whole coriander seeds
1 tablespoon celery seeds
1 tablespoon mustard seeds
1 teaspoon red pepper flakes
Instructions
Place two of the garlic cloves and 1 dill sprig at the bottom of a quart mason jar.
Pack the jar tightly with the vegetables.
Place the remaining garlic cloves and dill sprig at the top of the jar. Set aside.
In a small saucepan, bring the rest of the ingredients to a boil. Reduce the heat and simmer for 10 minutes.
Remove from heat.
Add brine to completely cover the vegetables and lid and band the jar.
Refrigerate overnight.
Notes
Recipe makes 1 quart jar of vegetables. Vegetables will keep for a couple weeks and become more flavorful over time.
Nutrition
Calories: 1515
Sugar: 211
Sodium: 15214
Fat: 13
Saturated Fat: 2
Unsaturated Fat: 6
Trans Fat: 0
Carbohydrates: 316
Protein: 57
Cholesterol: 0
(Visited 22,404 times, 1 visits today)