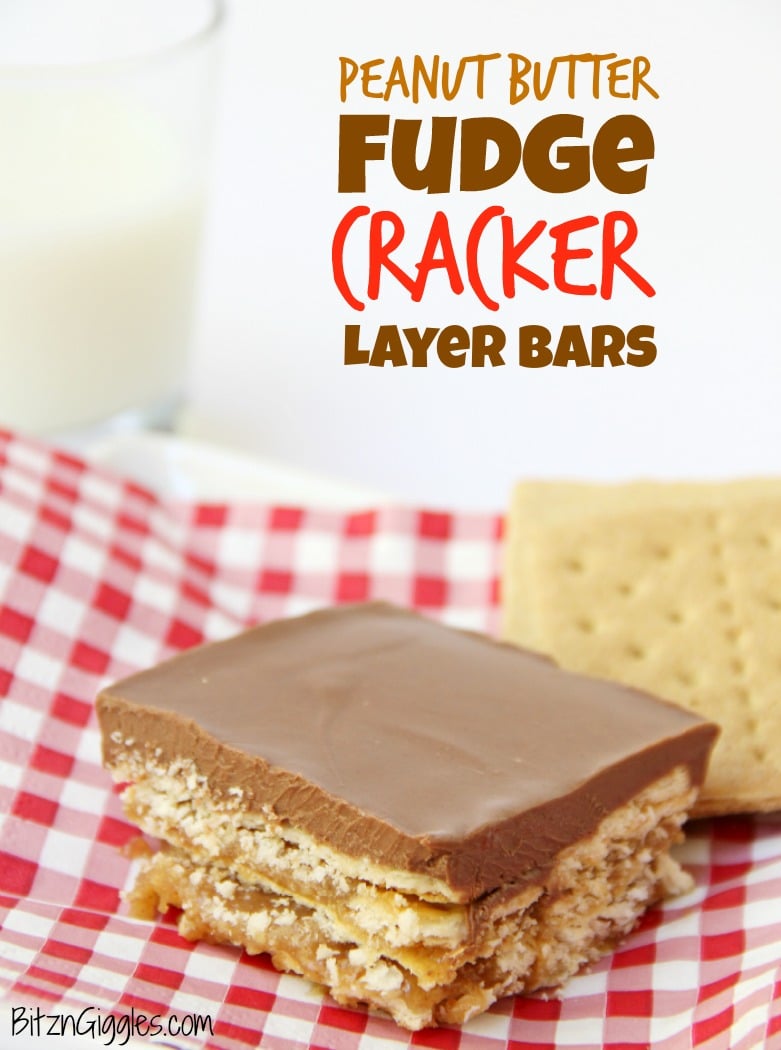 So, you guys. I just celebrated my birthday yesterday. Why is it that you get less and less excited about your birthday as you get older? It started out as a rainy, dreary day and I'm not sure I was ever able to bring myself out of that funk I was feeling from the minute I woke up. But today, TODAY is a new day and let me tell you what – EVERYTHING is better with chocolate. . .and peanut butter.
These Peanut Butter Fudge Cracker Layer Bars are so easy to prepare and you won't have to heat the oven AT ALL!! Yeah for no preheating! I even included a numbered tutorial for you to walk you through the steps for preparation. Are you ready?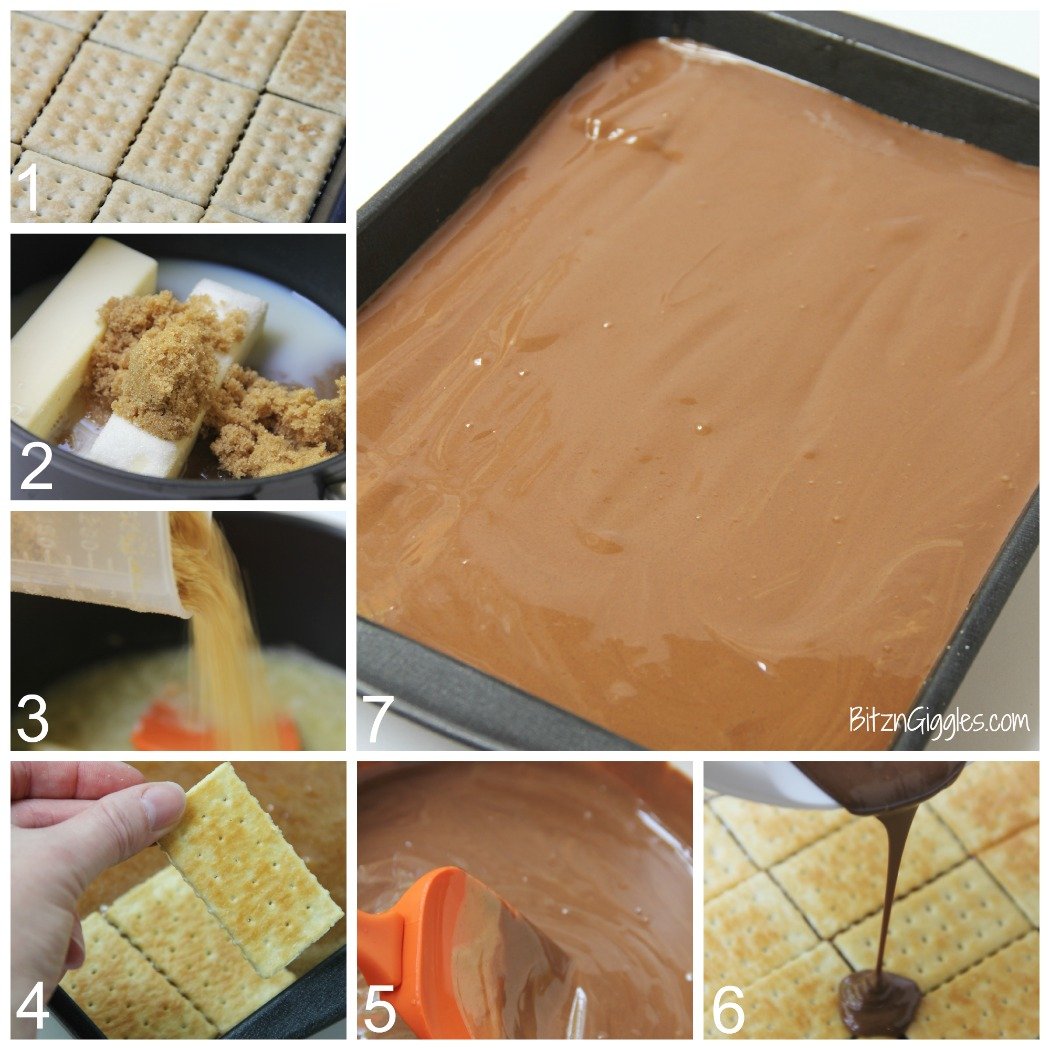 Spray the bottom of your pan with nonstick cooking spray and line the bottom of the pan with club crackers.
Combine butter, milk and sugars in a saucepan on the stovetop.
Add some graham cracker crumbs to the pan, bring to a boil and stir constantly for about 4 minutes.
Pour half of the mixture in the saucepan over the crackers in the pan. Lay down another layer of club crackers. Top with the remaining mixture in the saucepan. Top with one last layer of club crackers.
In a microwave-safe bowl, melt the chips and peanut butter, stirring until smooth.
Pour the chocolate mixture over the top of the crackers in the pan and smooth with a knife.
Now, you just place the pan in the refrigerator for a few hours and allow the bars to set. Next time you take a peek, you're going to have a pan full of bars that look something like this.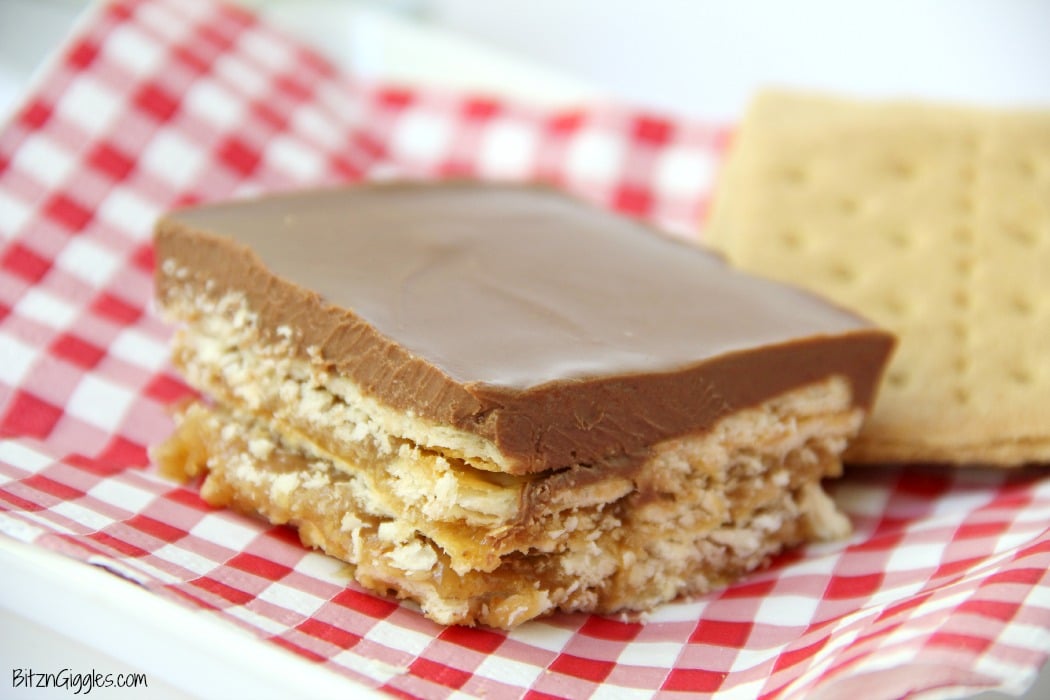 Umm. . .yeah I know. Pretty decadent and amazing, right? The longer you leave the bars in the fridge, the more solidified the middle of the bars becomes. For the photos, I removed the bars from the fridge after about two hours. You can see that the bars are still a bit soft in the middle. HEAVEN!! Quick, run and get a fork and a cup of coffee.
These bars are the perfect combo of sweet and salty. About 80% sweet and 20% salty. I'm tempted to try these in a smaller pan and make the layers even higher and the fudge topping even thicker.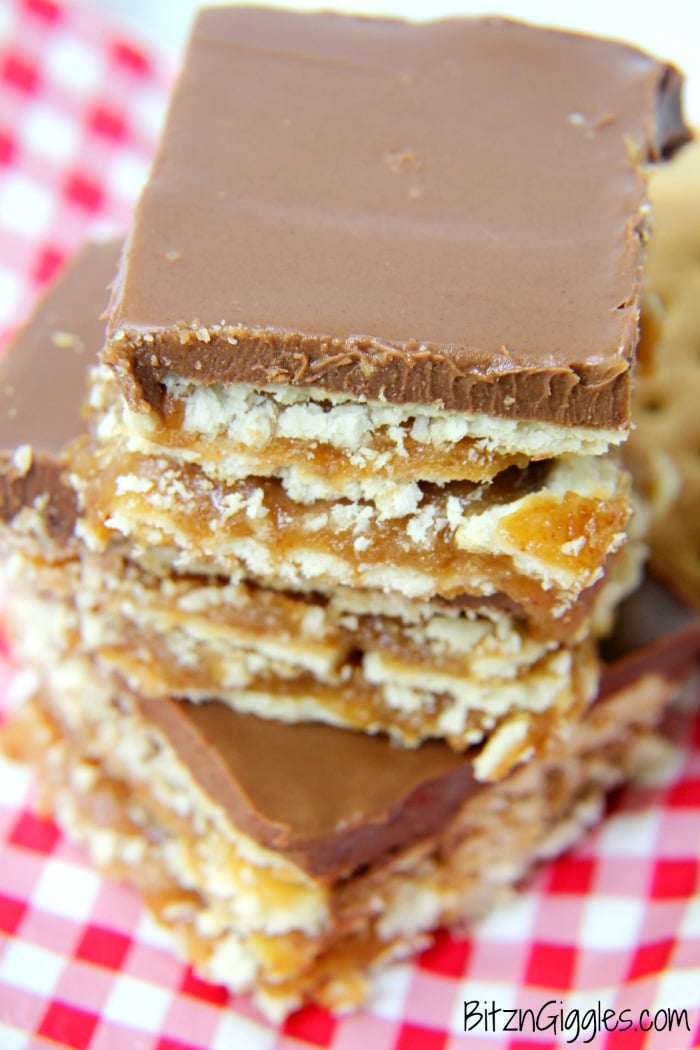 The fudge layer. Oh my goodness. Let's just call it thick frosting. See the above photo? Don't do that to your bars. I wish I could show you some of my behind the scenes sometimes. It's a hoot. In this particular shoot, my golden retriever had her nose about 1 inch away from the bars. While dealing with her I tried to reposition the layers a bit and they were all completely stuck together.
I had sticky fingers with no napkin but the one in my shoot in sight. So there I sat, letting the dog lick my fingers so I could take some more pictures of my uneven stack of gooey deliciousness.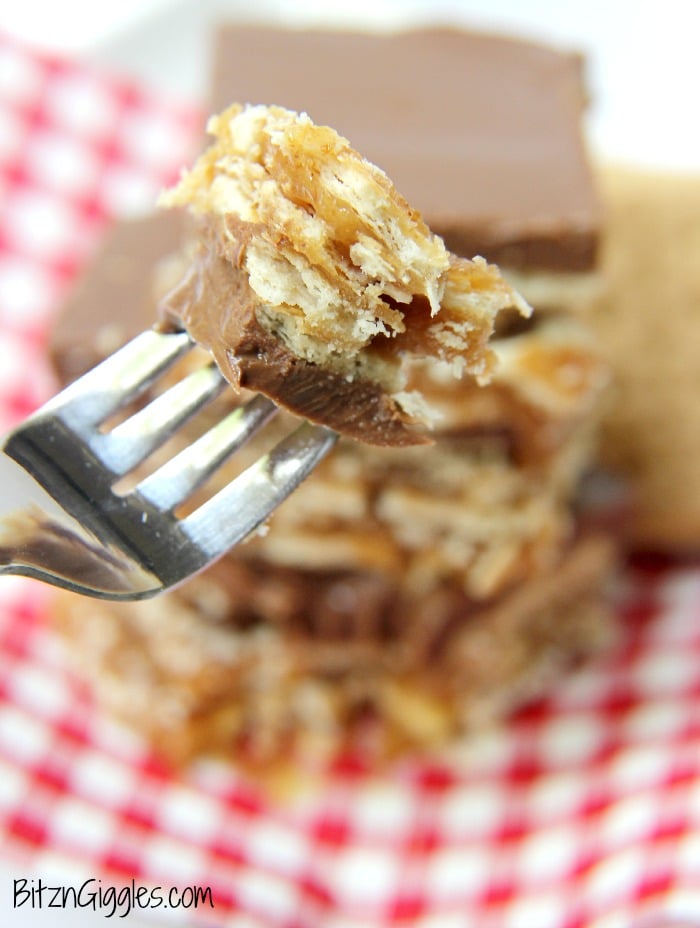 That's when you just wave the surrender flag, grab your fork and dig into the mountain of bars you just "glued" together. Where do you even start? The top, the bottom? If you really want to know, I started at the bottom. Just me, the dog, a big stack of bars, one napkin and a glass of milk. I had everything I needed.
I've decided. . .life is good, I am blessed. Being a year older isn't that bad. Just keep the peanut butter and chocolate coming and everything will be okay. Now, who's going to help me clean up this mess? 🙂
Peanut Butter Fudge Cracker Layer Bars
A sweet and salty cracker layered dessert covered in rich peanut butter chocolate fudge!
Ingredients
FILLING
1 box Keebler Club crackers (you'll use about 3/4 of the box)
2 sticks butter
1/2 cup milk
1/2 cup white sugar
1 cup brown sugar
2 cups crushed graham crackers
FROSTING
1 cup chocolate chips
1 cup Nestle Toll House Delightfulls – Peanut Butter Filled Morsels
2/3 cup peanut butter
Instructions
Spray a 9″x13″ pan with nonstick cooking spray. Line with one layer of club crackers. Set aside.
In a medium saucepan on the stove, mix butter, milk, sugars and graham crackers.
Bring to a boil, adjust heat to medium low and stir constantly for 4 minutes.
Pour half of the filling over the club crackers and spread evenly.
Top with another layer of club crackers.
Add the rest of the filling on top of the club crackers. Spread evenly.
Top with a third layer of club crackers and set aside.
In a microwaveable-safe bowl, melt the chips and peanut butter, stirring until smooth.
Spread over top of club crackers.
Place in refrigerator to cool for at least 2 hours.
Cut into bars and serve.
Notes
Keep leftovers stored in refrigerator.
Nutrition
Calories: 9003
Sugar: 792
Sodium: 3883
Fat: 546
Saturated Fat: 204
Unsaturated Fat: 306
Trans Fat: 8
Carbohydrates: 952
Protein: 139
Cholesterol: 534
(Visited 3,052 times, 1 visits today)