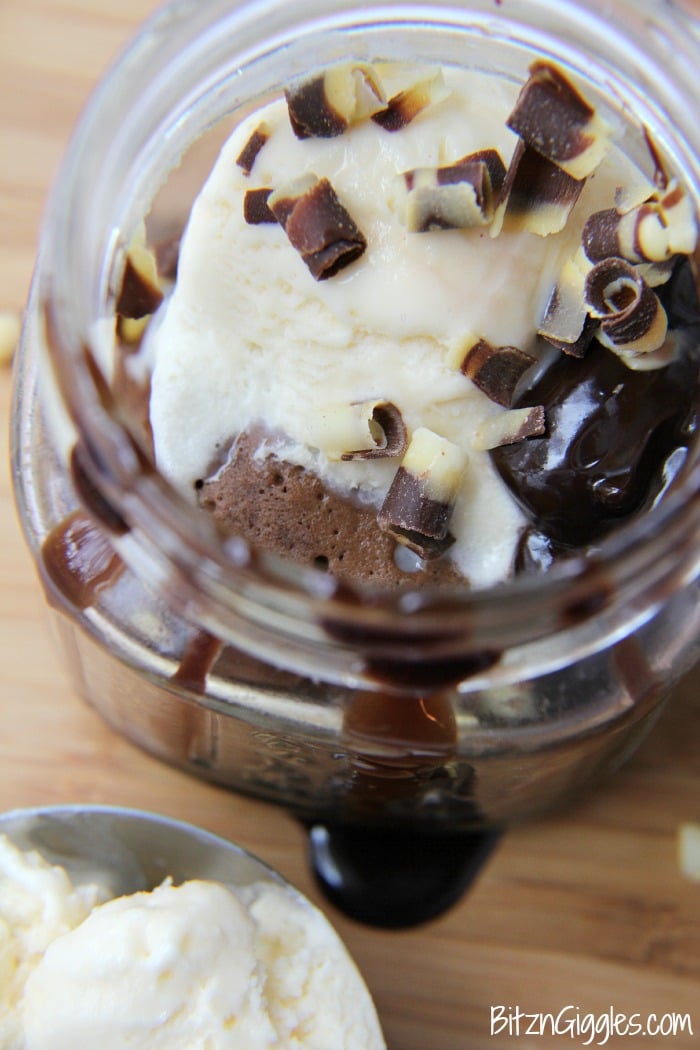 Guys, I've been craving sweets lately like nobody's business. That's not good. Why? Well, because summer is upon us. . .and that means shorts and swimsuits. Yikes. All winter I've craved comfort foods – noodle dishes, casseroles, chili and tacos. Aye yea yea (is that how you spell that?). And now that the weather is starting to warm up, I'm craving sweets. Like, four opened boxes of Oreos in the pantry, sweets. I don't want to make full pans of bars and brownies to have in the house. I'd be a goner for sure.
So, what I've come up with instead is a dessert that's already pre-portioned. Let me tell you about this Peanut Butter Fudge Mason Jar Cake . . .it's super simple to throw together and it takes ONE minute to cook. . .IN THE MICROWAVE. Can I get an amen?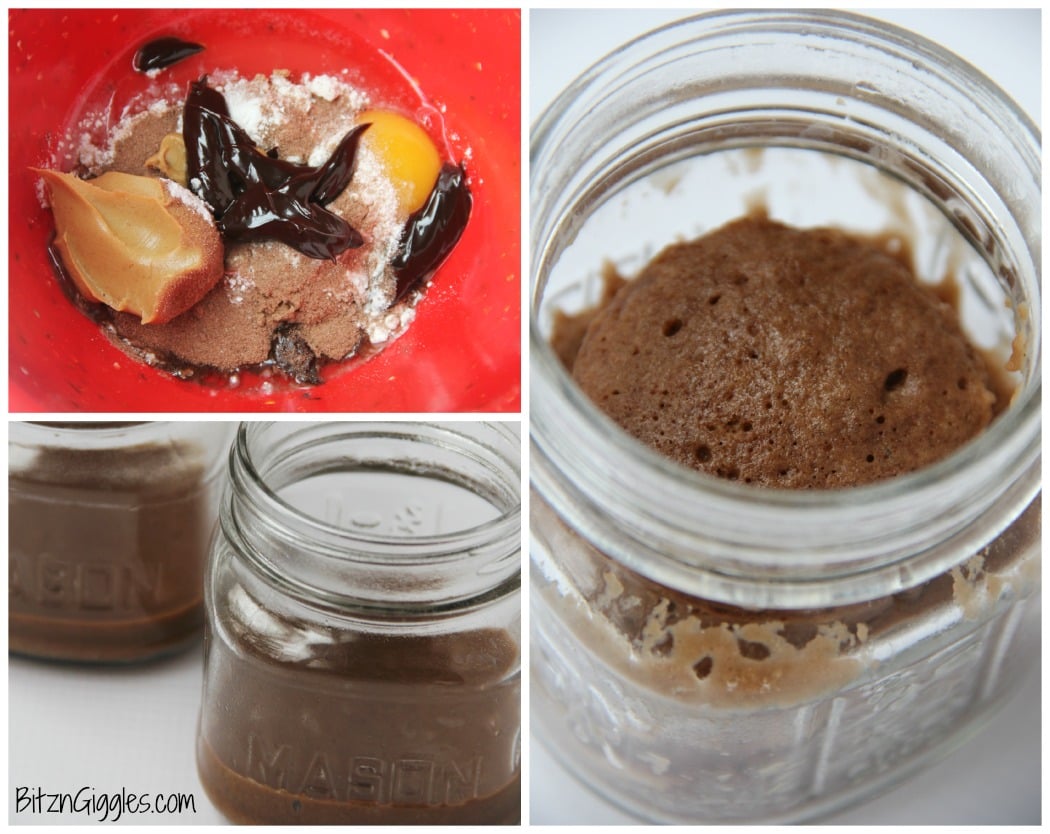 This is a dessert for two, and the recipe is divided between two eight ounce mason jars. You knew you could put mason jars in the microwave, right? Let me tell you one reason why a mason jar cake is better than a mug cake. . .mason jars come with a lid.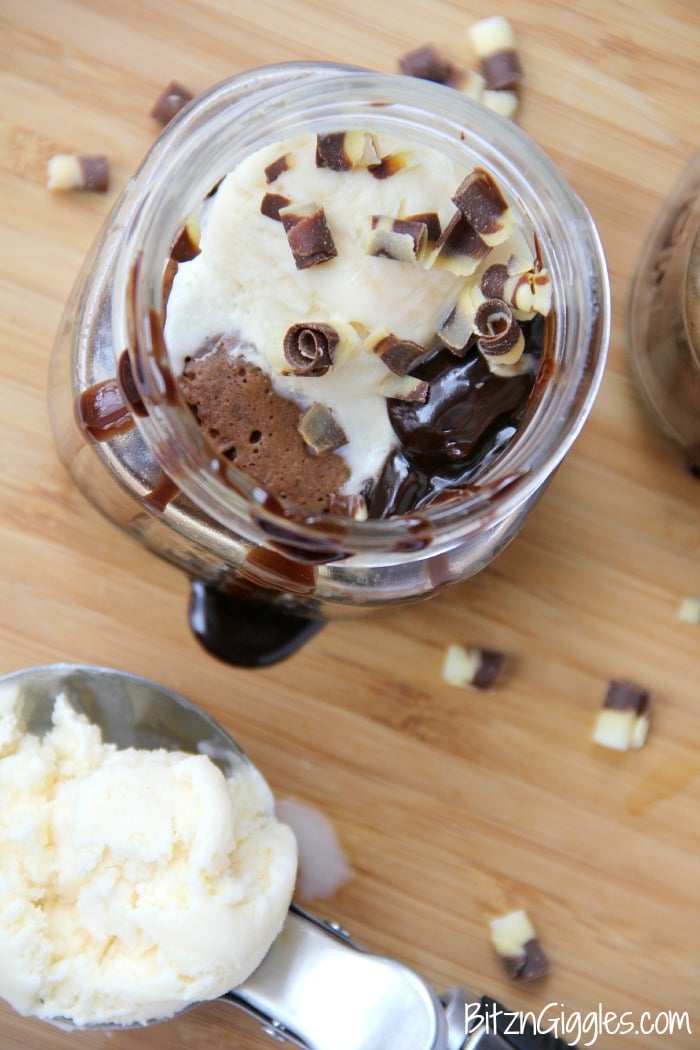 You can actually make the cakes beforehand and then cover them until you're ready to serve. If necessary, pop them back in the microwave for a couple seconds to warm them slightly before you top them with a scoop of ice cream.
The ice cream is required, by the way. It's part of what really makes the cake. It's a little like molten lava cake except the fudge is baked into the cake, the cake doesn't bake around it. And just for good measure, I like to pour a little more fudge over the top of the cake when it's warm and ready. If you don't have any chocolate curls, use chocolate chips. Be creative.
I'm telling you, this could be yours in minutes flat. Preparation takes no time at all. What a quick and easy dessert when you're pressed for time. Holy yum. Grab your mason jars and your spoons, people. We're going in.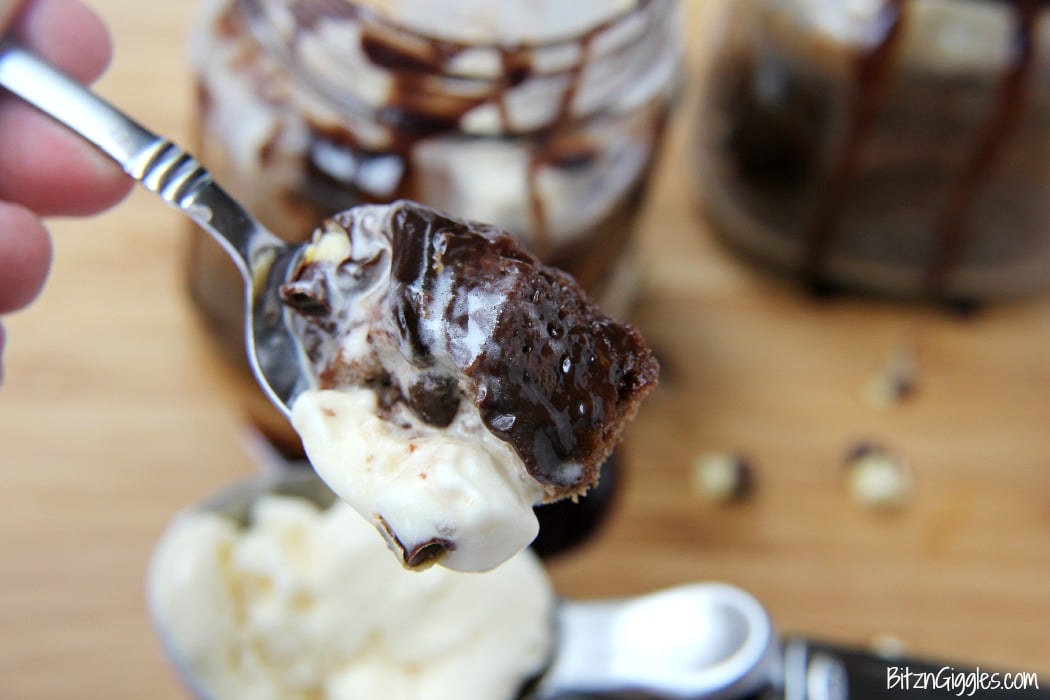 Peanut Butter Fudge Mason Jar Cake
A decadent peanut butter fudge cake made in the microwave in under 1 minute! Top with some vanilla ice cream and fudge – it's heavenly!
Ingredients
1 egg
1 Tablespoon brown sugar
1 Tablespoon peanut butter
1 Tablespoon hot fudge sauce
1 Tablespoon flour
1 Tablespoon chocolate malted milk powder
1/4 teaspoon baking powder
2 scoops vanilla ice cream
Additional hot fudge sauce and chocolate curls for garnish
Instructions
In a medium-sized bowl, mix the egg, brown sugar, peanut butter, fudge sauce, flour, malted milk powder and baking powder.
Spray two 8 ounce mason jars with nonstick baking spray and divide the batter into the two jars.
Place the jars in the microwave for 60-80 seconds.
Put one scoop of ice cream into each jar and top with extra hot fudge sauce and chocolate curls.
Serve immediately.
Nutrition
Serving Size: 2
Calories: 861
Sugar: 87
Sodium: 677
Fat: 28
Saturated Fat: 13
Unsaturated Fat: 12
Trans Fat: 0
Carbohydrates: 126
Protein: 27
Cholesterol: 154
(Visited 6,494 times, 1 visits today)