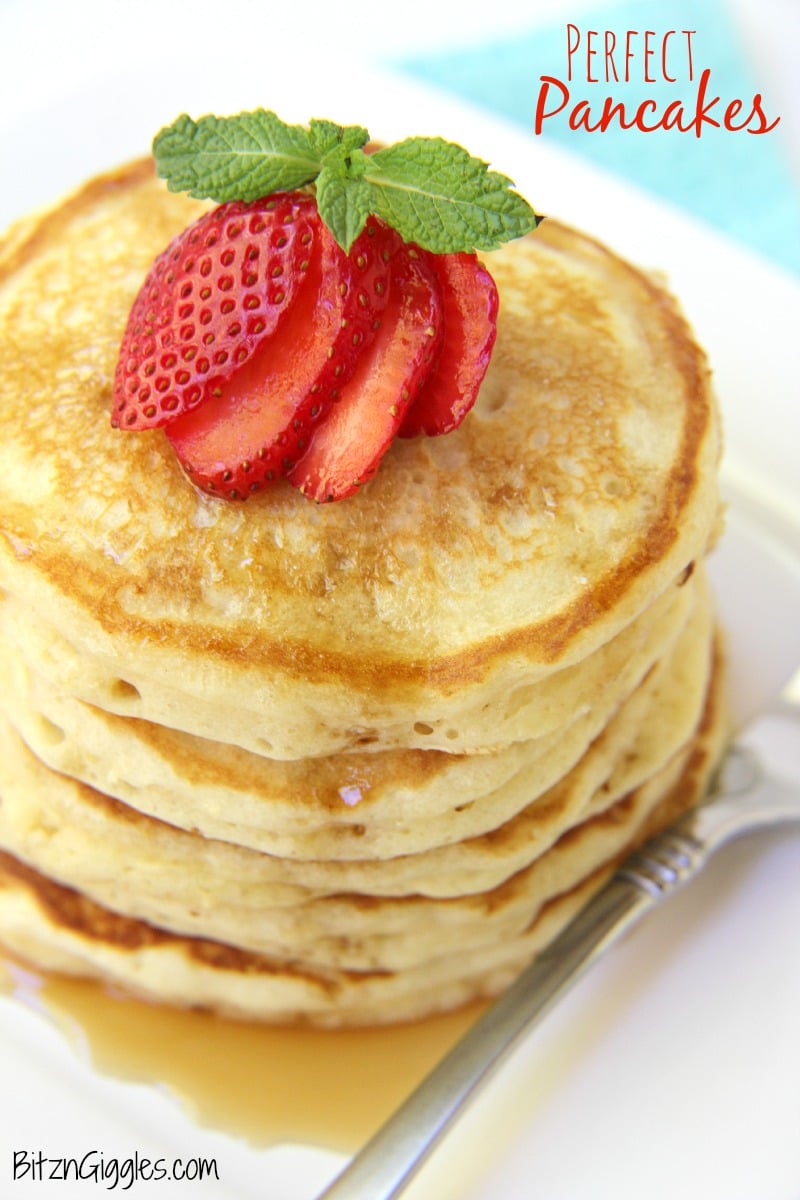 So, a little fun trivia about my blog. This is the FIRST breakfast recipe I've ever posted. Crazy, right? I think the reason why is because in addition to blogging, I work full time. I'm often creating my recipes in the late afternoon or evening because I'm working during the day. Pancakes, however, are a perfect meal choice for breakfast, lunch or dinner. In fact, our family has them quite often on weeknights because they're quick, easy and incredibly delicious!!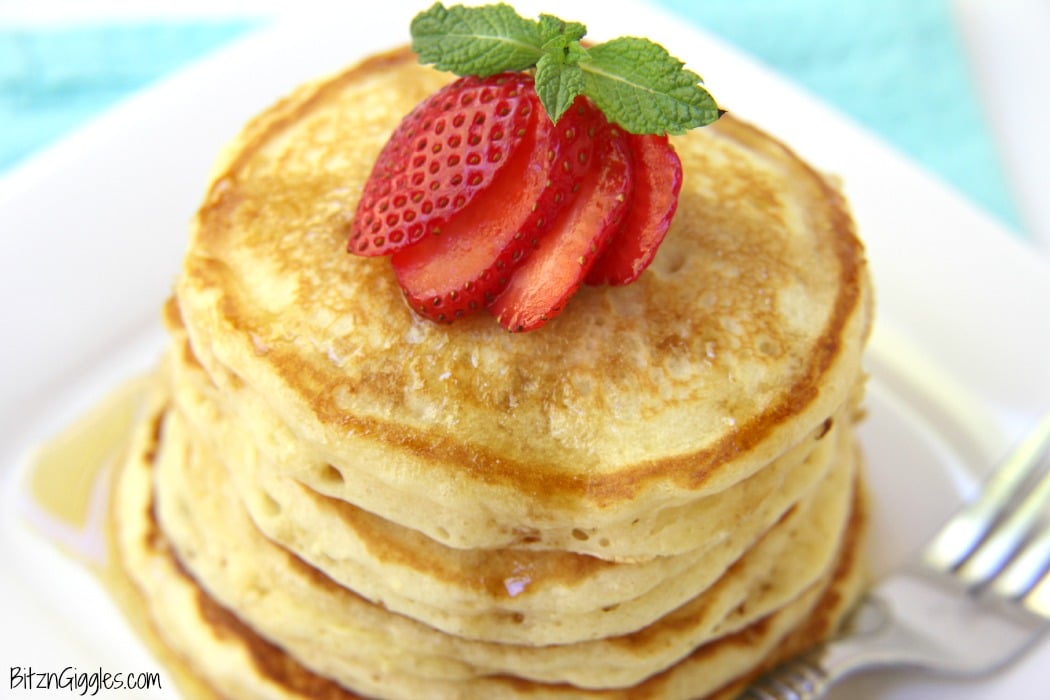 If you've spent a little time around the blog, you'll know that I'm all about smart shortcuts. I'm not ashamed to use cake mix from a box or use creamed soups from cans. As long as I'm creating something delicious my family can enjoy, it's all good. With pancakes, however, I whistle a bit of a different tune.
I've had pancakes from a box, the freezer section and I've made them from scratch. Homemade Perfect Pancakes are by far the most delicious. The pancake recipe I'm sharing today is tried and true.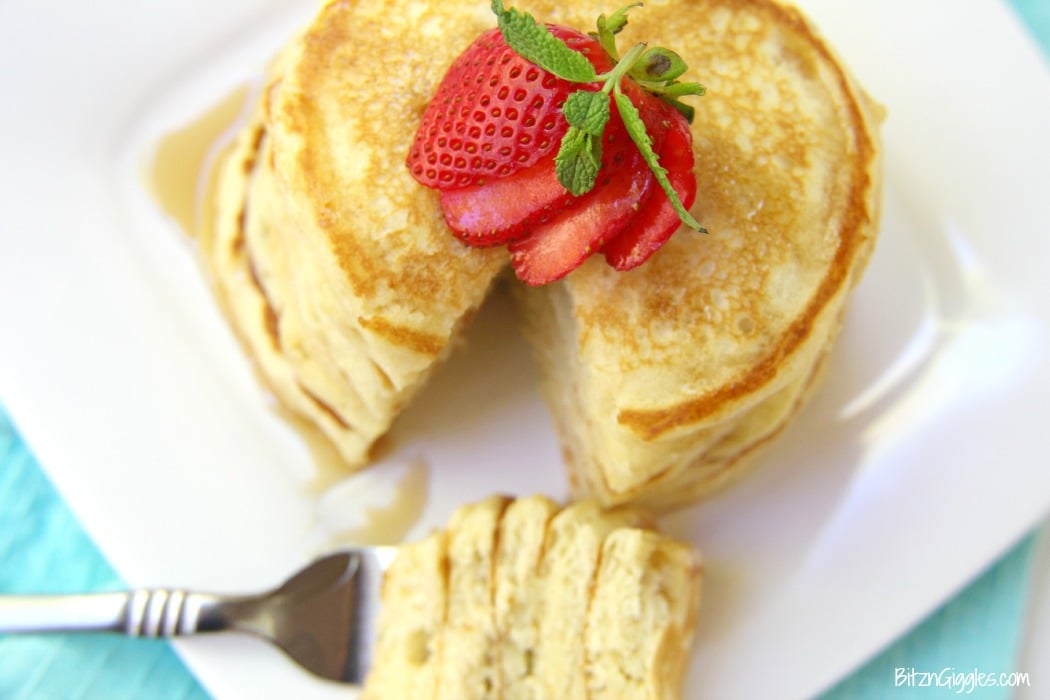 It includes a bit of a secret ingredient that produces the thickest, fluffiest pancakes you've ever had. Any ideas? I won't keep you in suspense. It's vinegar. Have you ever had pancakes with vinegar in them? No? Well, you must, because that's the secret to the thickness. So, you're wondering, can you taste the vinegar? NOT AT ALL. You won't even taste a trace in the pancakes. Magic? Maybe.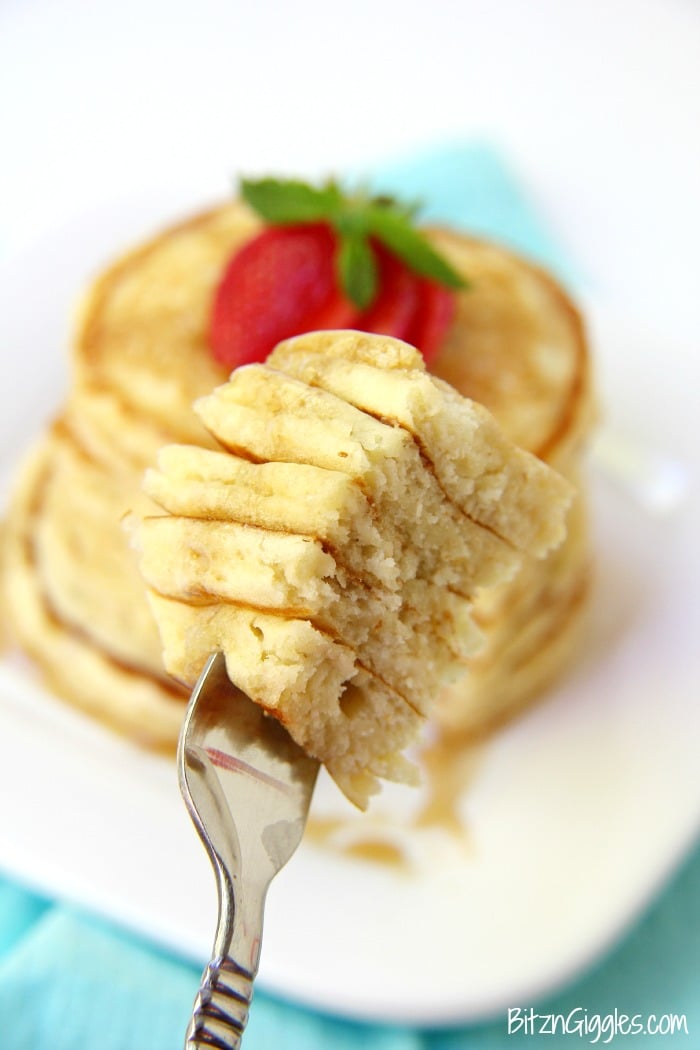 The vinegar is mixed with milk to create a mixture similar to buttermilk. I mean, just take a look at this stack of perfection. Holy moly. I fit that whole forkful in my mouth. I did. TMI, I know.
So, it's settled then, you're going to try these, right? I guarantee that your family will love them as much as we do. Get that syrup ready because these babies are so thick and fluffy they'll be able to soak that syrup up by the spoonful. YUM!!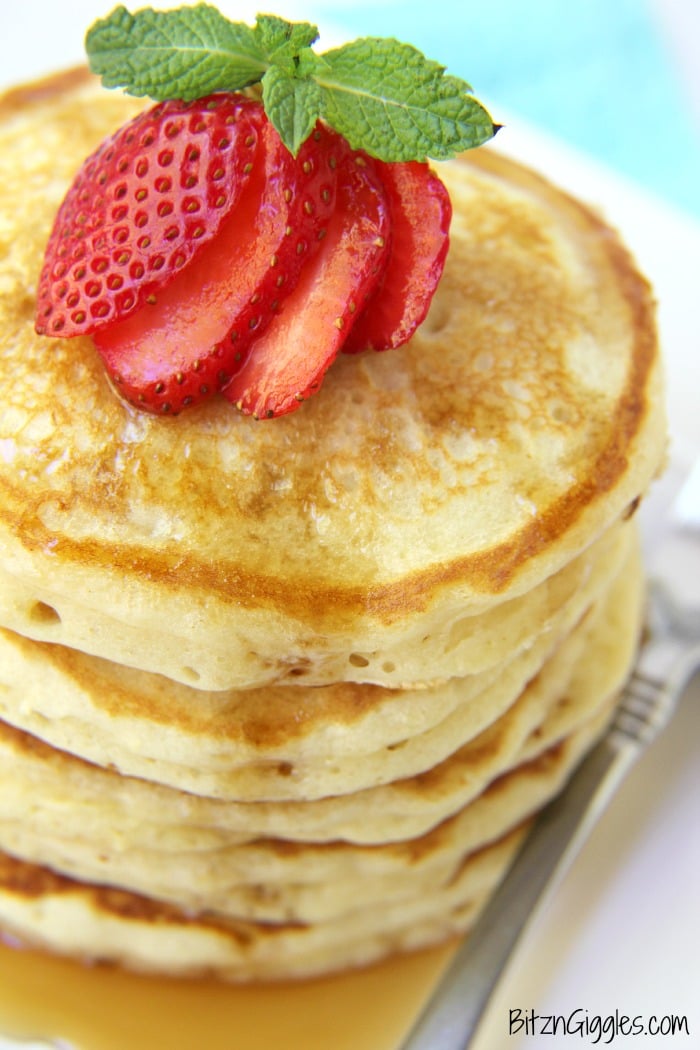 Perfect Pancakes
A secret ingredient in these pancakes makes them super thick and fluffy. They are melt-in-your-mouth delicious cakes the entire family will enjoy!
Ingredients
1 cup flour
3/4 cup milk
3 tablespoons white sugar
1 teaspoon baking powder
2 tablespoons distilled vinegar
1/2 teaspoon salt
1/2 teaspoon baking soda
pinch of cinnamon
1 large egg
1 teaspoon vanilla
2 tablespoons butter, melted
Instructions
In a small bowl, combine the milk and vinegar and let sit for 10 minutes.
In a separate, larger bowl, combine all of the dry ingredients.
Add the egg, vanilla and butter to the milk and vinegar mixture and mix together.
Pour this mixture into the larger bowl with the dry ingredients and whisk until lumps are gone – but don't over mix.
Let the pancake batter sit for 10 minutes.
Heat an electric skillet to 375 degrees.
Spray with nonstick cooking spray.
Scoop 1/2 cup of the batter out of the bowl and pour onto the skillet.
Allow to cook until bubbles are visible on the top of the pancake.
Flip and brown the other side until cooked through.
Serve with syrup and fresh fruit if desired.
Notes
Recipe makes about 5 large, thick pancakes.
Nutrition
Calories: 990
Sugar: 48
Sodium: 1977
Fat: 33
Saturated Fat: 19
Unsaturated Fat: 11
Trans Fat: 1
Carbohydrates: 145
Protein: 25
Cholesterol: 262
(Visited 4,285 times, 1 visits today)