So, I'm starting to feel the holiday crunch. Along with all of the planning comes yummy treats to share with your family and friends. One of the things we love most here at our house are Oreos. These Reindeer Oreo Treats are bound to steal the hearts of kids AND "kids at heart."
Here's what you'll need to make one of the reindeer:
Ingredients
Double-Stuffed Oreo
Wilton's Candy Dip (I used the light cocoa flavor)
Tree-shaped pretzel
Candy google eyes
Marshmallow (1 regular size)
Red M&M
Instructions
Take your Oreo and set it on top of a piece of waxed paper placed on top of a cookie sheet.
Then, carefully split the Oreo apart. Take your tree-shaped pretzel and break it apart, also. Press two of the pretzel pieces into the crème-filled side of the Oreo cookie. And don't worry, the antlers don't need to be perfect. Most deer antlers aren't!
Now melt your candy chips in the microwave following the instructions on the container. Once the chocolate is smooth and creamy, take the plain side of the Oreo cookie and dip both sides into the chocolate.
Place the chocolate-covered Oreo side back on top of the crème-filled side. The melted chocolate will act as an adhesive and secure the antlers and cookie halves in place. While the chocolate is still warm, place the google eyes into the chocolate.
Next, take your marshmallow, and with a clean kitchen shears, cut it in half and then trim one of the halves so it's a bit more rounded. One of the sides will be sticky. Place the marshmallow sticky side up into the softened chocolate and then put the red M&M on top of the sticky side of the marshmallow.
And there you have it. A fun, quick and easy treat to make this Christmas. Let the treats sit for about 30-45 minutes in order for the chocolate to harden and then store in a covered container to keep fresh.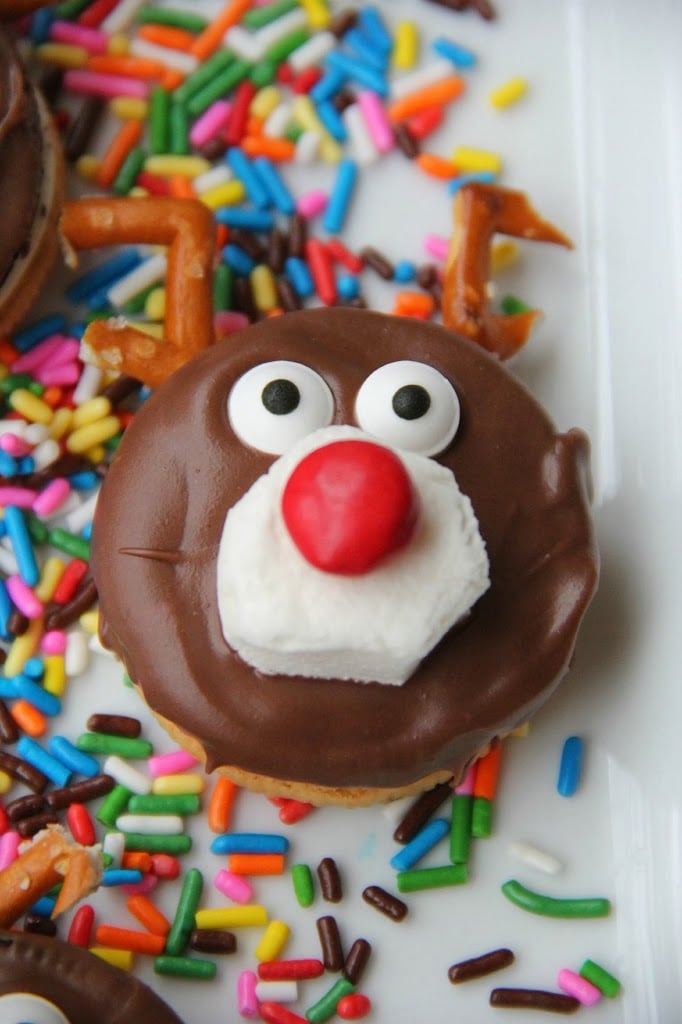 (Visited 1,136 times, 1 visits today)